A lot has been said about sexist beer labels in the last few years. Considering who our president is, expect things to get worse before they get better. What's genuinely surprising is how creatively bankrupt these labels can be. Simply put, if you think you are being creative by putting a scantily-clad blonde woman on the label of your blonde ale, you're a complete airhead.
We take you now to a meeting of the marketing department of a craft brewery (usually the owner and a guy who wears several functional hats, including Packaging)…
"So how are the labels coming for our blonde ale release?"
"Well, take a look at these amazing mockups the designer we hired put together!"
"Oh wow! These are great!"
"Yeah, I think the fact that they have a blonde woman on them really sets us apart!"
"A blonde woman! On the labels for a BLONDE ALE?!?"
"Clever, right?"
"BRILLIANT!"
The following labels were registered with the Alcohol and Tobacco Tax and Trade Bureau during the past calendar year.
The Shameful
It's bad enough that the following breweries couldn't be bothered to do something different with their blonde ale labels. These are downright offensive.
Don't get us wrong… We know the overly sensitive can find something to get offended about in any situation. We're hardly the poster children for political correctness. I mean, half of us is Josh. These are just plain SHAMEFUL.
Mississippi Brewing Company Blonde Sandy Bottom Ale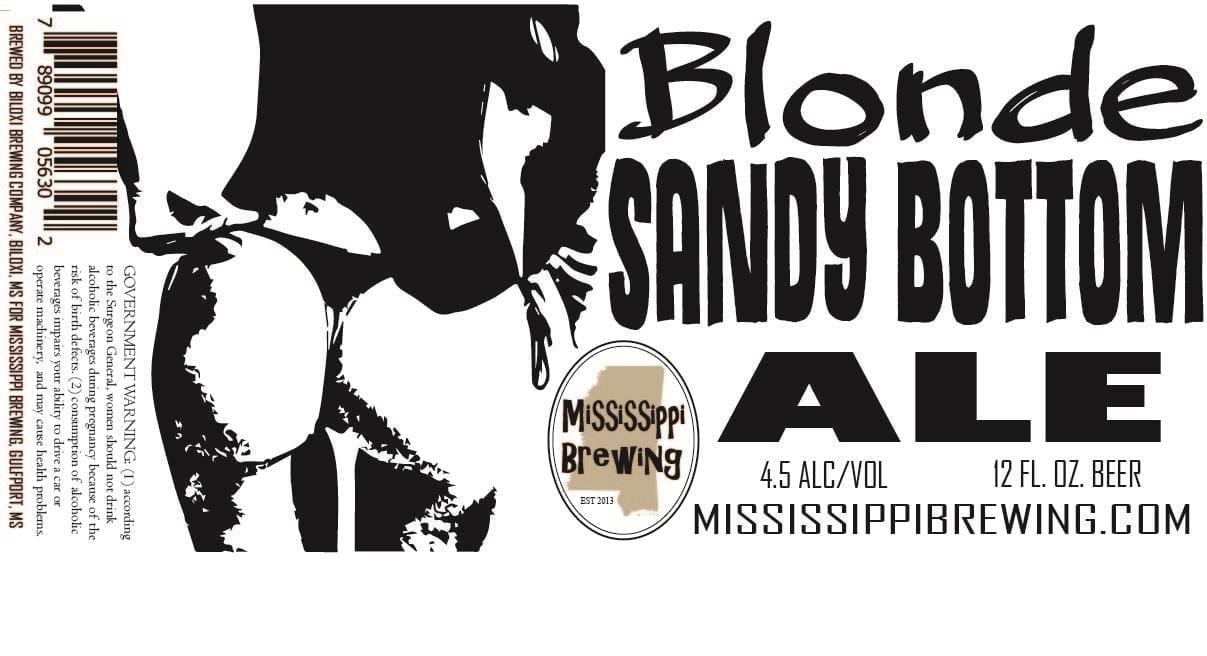 Surprise! Our first label doesn't have a blonde woman on it at all! Just a thong-swaddled caboose.
"So if you could summarize our campaign for this beer, how would you do it? Give me your 'elevator' pitch for Blonde Sandy Bottom Ale."
"DatASS!"
"Go with it!"
To be fair, I suppose this could be a guy's butt.
Salty Nut Brewery Hawt Blonde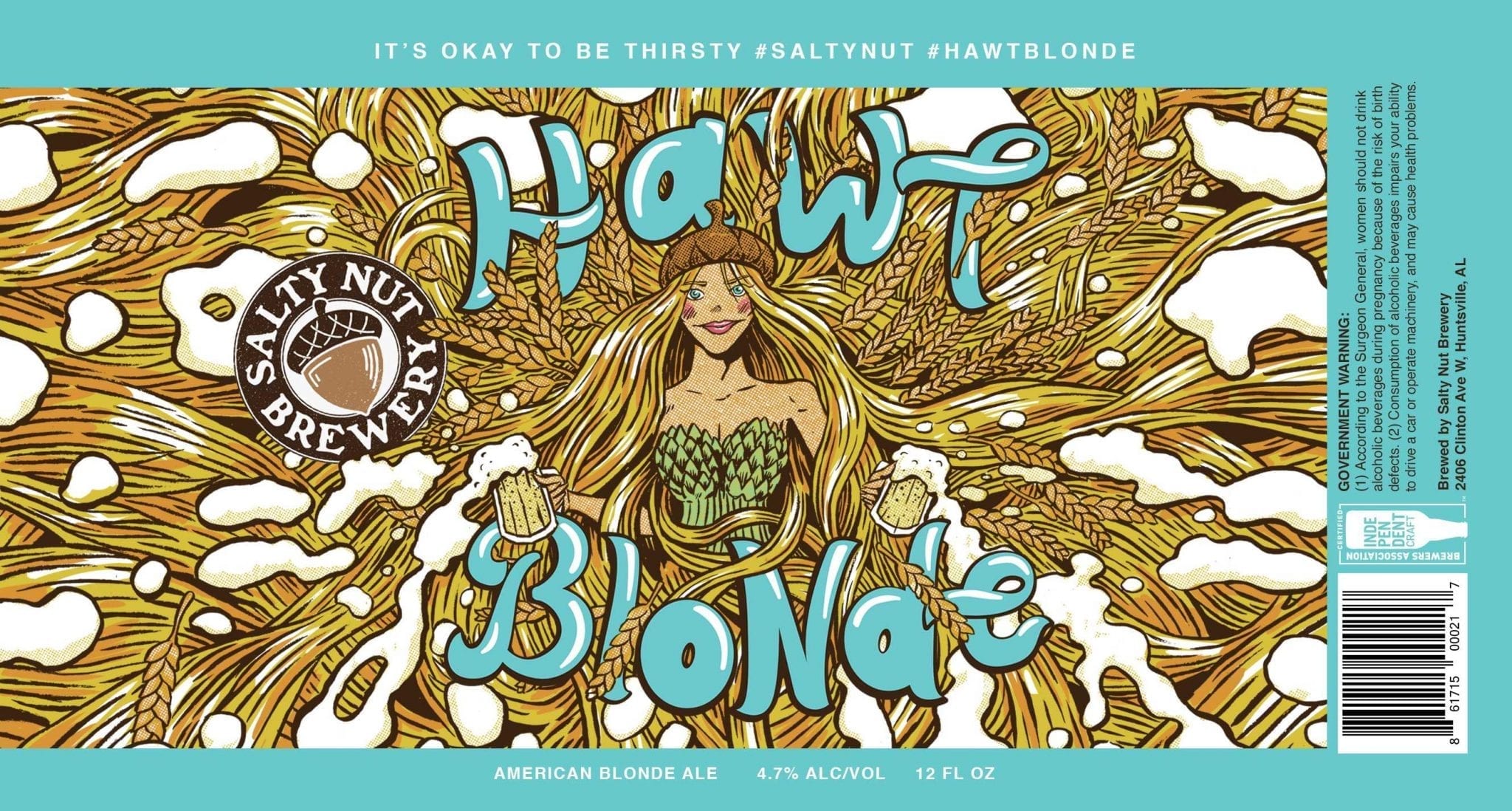 Let's pretend for a moment that the woman's hair on this label doesn't appear to be covered in ejaculate (a "salty nut" if you will). I have to admit, the hop bra is kind of clever.
Okay, enough pretending…
In case you aren't "with it", the Urban Dictionary defines "hawt" as "an acronym for 'having a wonderful time.'" Nothing got in her eye, so I guess that could be true.
Salt Creek Brewery Damn Blonde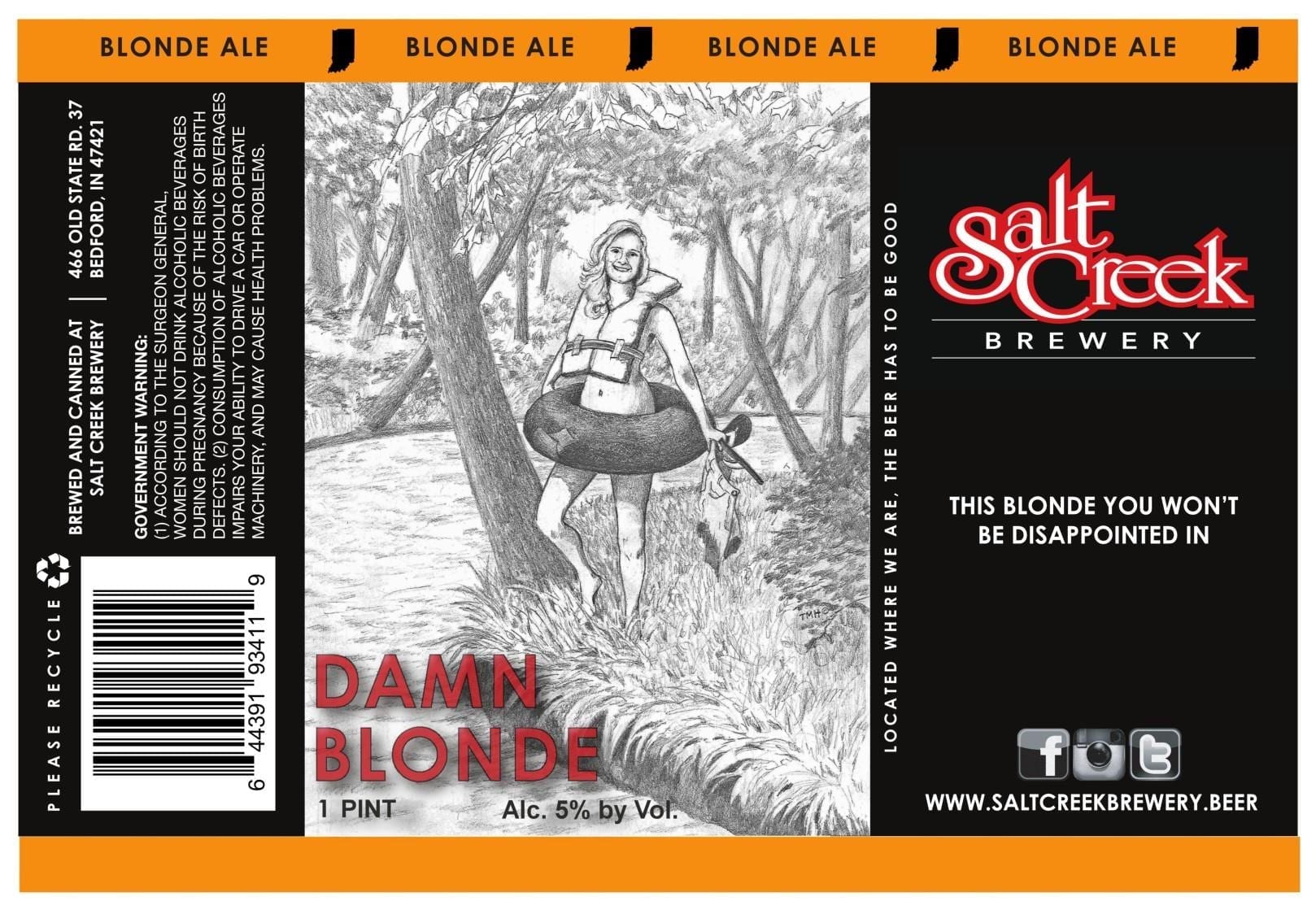 I'll Eat Your Soul
Josh: Welp, now we know what Mike Pence jacks it to. I made the mistake of zooming in on that butter face and zoned out for a good 3 minutes staring blankly and going "uhhhhhhhhhhhhh…".
At first glance I thought the flip-flops and shorts were a pistol and a fish stringer. That subtle idiosyncrasy would have leveled this up to Pawnee courthouse mural worthy, but, nope (Knope?), we're stuck with dime-store sandals and what appear to be ripped up pants dripping with feces.
Even the Brewery slogan "Located Where We Are, The Beer Has To Be Good" reads more like a self-help mantra than a statement of fact. Speaking of, that tagline ain't helping matters any "The Blonde You Won't Be Disappointed In" screams crying divorcee spilling his guts to everyone uncomfortably that gets too near him at the bar in a small-town pizza joint waiting for a table to open up. "Even my golden retriever left me, and he was a blonde… Just like that CUNT Barbara. I wish I could drink her, but you know she'd be bitter! Bitch. Don't mind me, I'm just tellin' it like it is. You wanna sit with me while you wait? Where are you going? Oh, that's okay. No, go on… Asshole."
Christ, this label is depressing. I sincerely believe that every time someone sticks their head in an oven to kill themselves, they find one of these beers there waiting.
Reel Deel Brewery Irish Blonde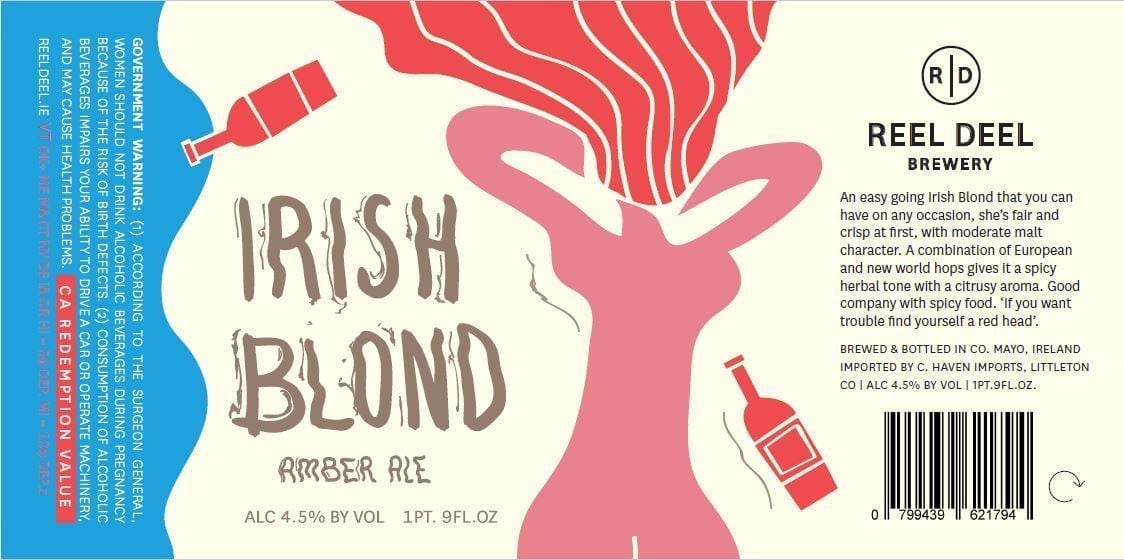 Okay, so I guess this isn't a "blonde" ale, but actually an amber. That doesn't excuse this really awful, and particularly ugly, label.
I don't think I'm making this up: the woman on this label appears to be passed out, face down, naked, on the beach, and red from overexposure to the sun. Right? Am I missing anything? So by "If you want trouble, find yourself a red head" you guys mean "Find a nearly dead redhead who may have recently washed up on the shore"? Great advice.
Gig Harbor Giggly Blonde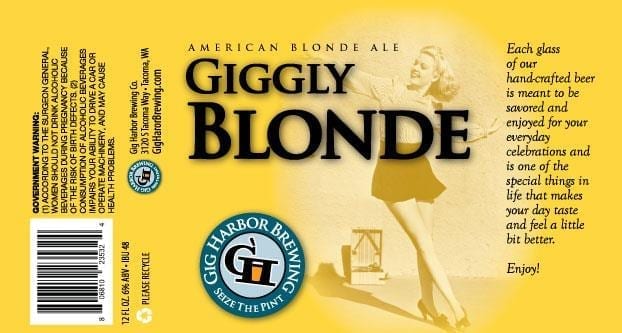 Josh: Brought to you by the same folks who brought you the Old Kuntry Kitchen menus, and proving the point that you can, indeed, make a beer label exclusively using MS Paint. It's got everything you need: Olde Tymee Photo, Anti-Aliased Text field, conspicuous logo, and some BIG FUCKING TEXT with motherfucking outer glow, bitches! You could change only the text and have an ad for a nursing home, dance studio, personal injury law group, or Aryan dating service. This is, indeed, the Plymouth Reliant of beer labels.
Mother Earth Brew Co Born Blonde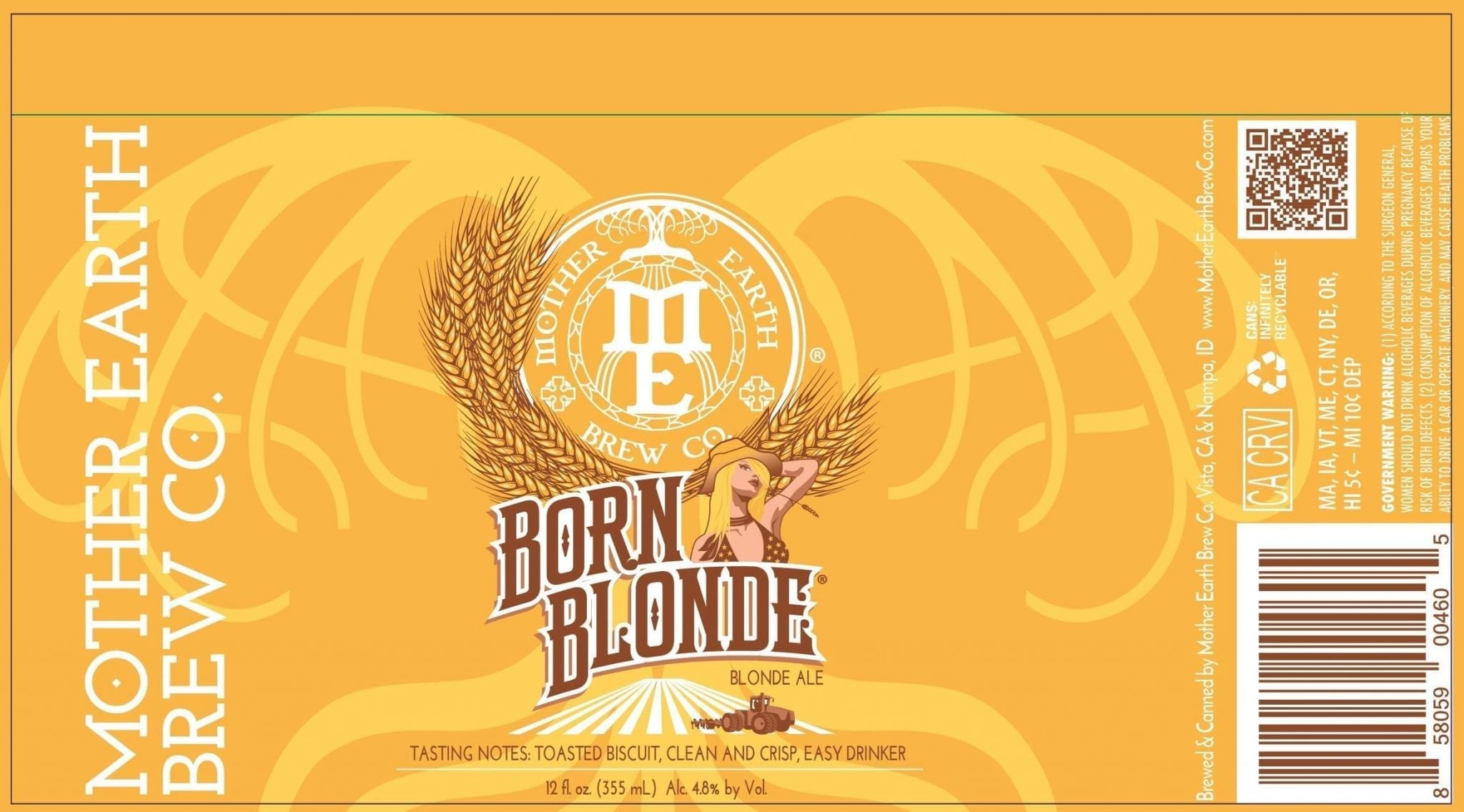 According to their website, "Nothing overly complicated here." That's good. You need to keep things simple for blonde women, right?
The Uninspired
It's painfully easy to find blonde ale labels where it just seems like the brewery couldn't be bothered to even try to stand out. Don't look for a sharp marketing team here, folks. These labels will put you to sleep.
Front Street Brewery Cherry Bomb Blonde
This has been going on for 25 years?
Drifter Brewing Company Cape Town Blonde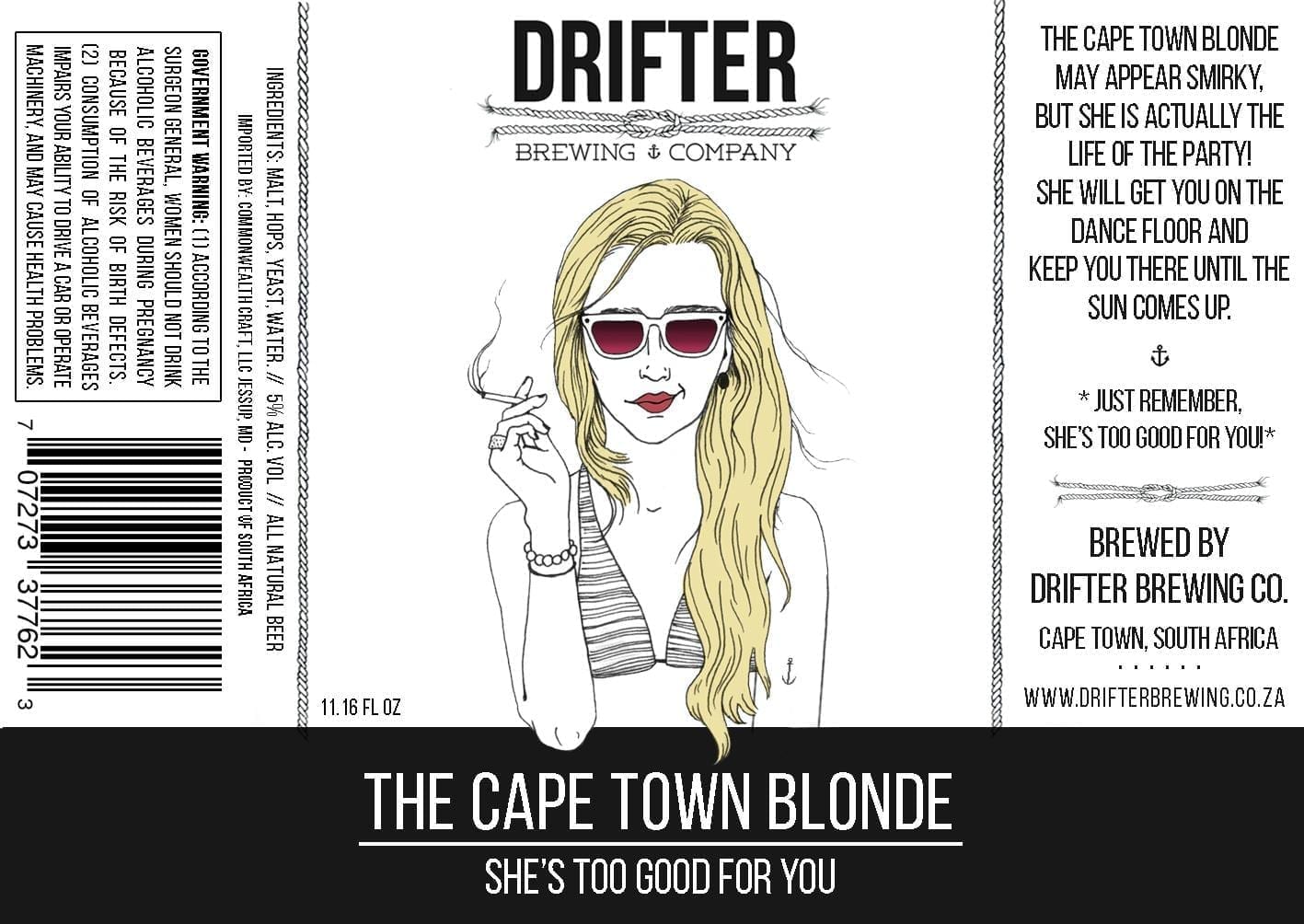 Josh: Aside from the vapid sizzle text, I have a soft spot for this one. I sorta like the Raymond Pettibon meets Berke Breathed illustration with the simple font and black wrap at the bottom, but what I really love is what's just out of frame on this one. All that I know about South Africa comes from Die Antwoord, Die Hard 2, and D(i)emolition –that one episode of The Young Ones when Rick staged a lentil boycott–, so that girl may be "too good" for those south hanging C.H.U.D.s, but I can spot some grade "C" trailer-trash when I sees it. I GUARANTEE if she takes off those glasses that those eyebrows touch in the middle and her left eye is way up and to the left of looking straight at you. Pan down and you're gonna find a 4 month baby bump with a crudely rendered tattoo of a dolphin jumping through a navel piercing infected from rubbing against a pregnancy distended belly-button, being picked at by her left hand while clutching a half-empty bottle of whipped-cream vodka. Is she the life of the party? Absolutely! Unfortunately, that party looks like a mash-up of Eyes Wide Shut and Hee-Haw. Fuck. Yeah!
Left Nut Brewing The Lappland Blonde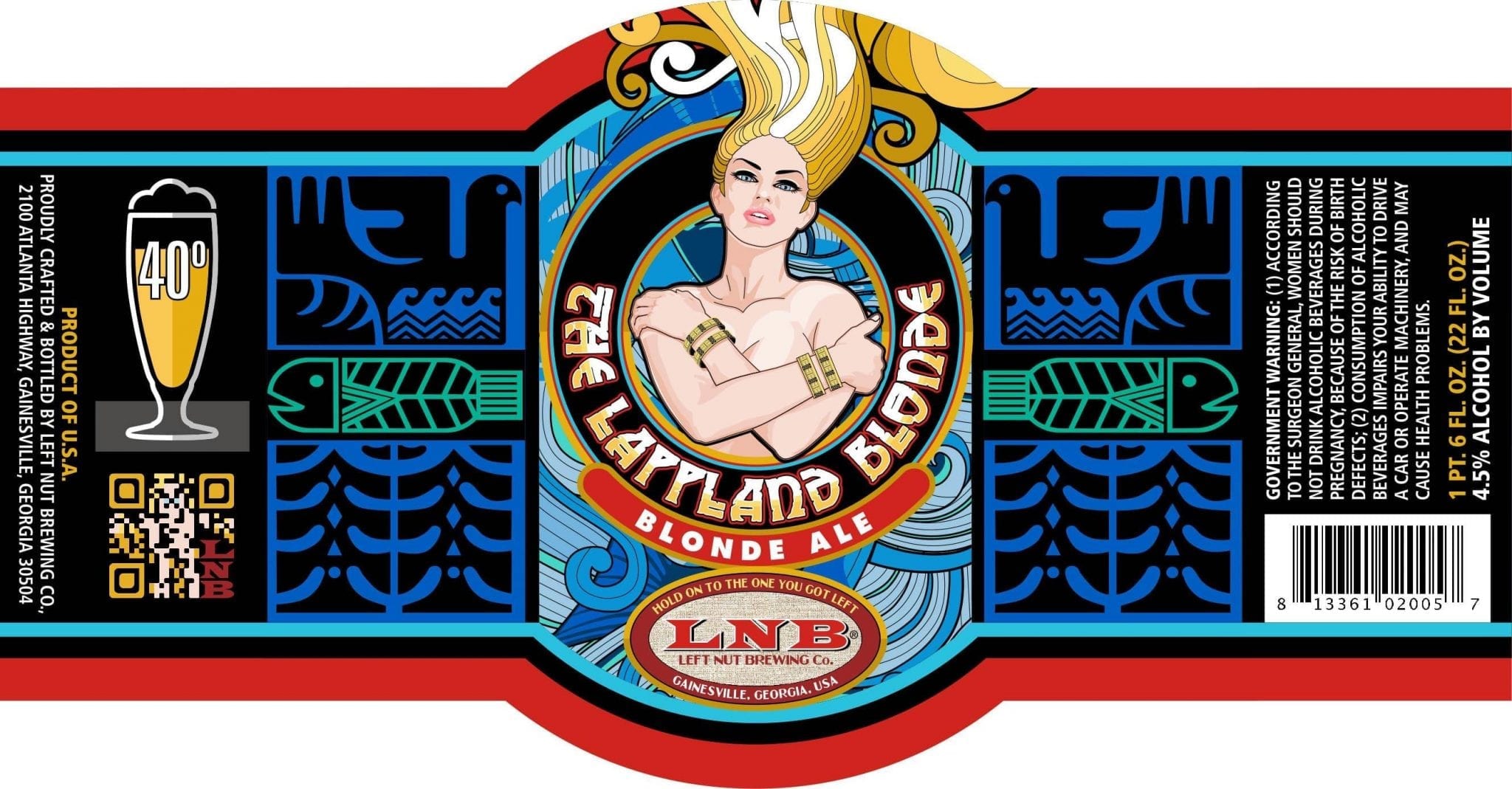 The creative folks over at Left Nut Brewing hope you enjoy this Scandinavian stereotype. They are also curious if you feel that seven typefaces are enough to put them in the same label design company as Lagunitas.
Granite Falls Brewing Knotty Gurl Blonde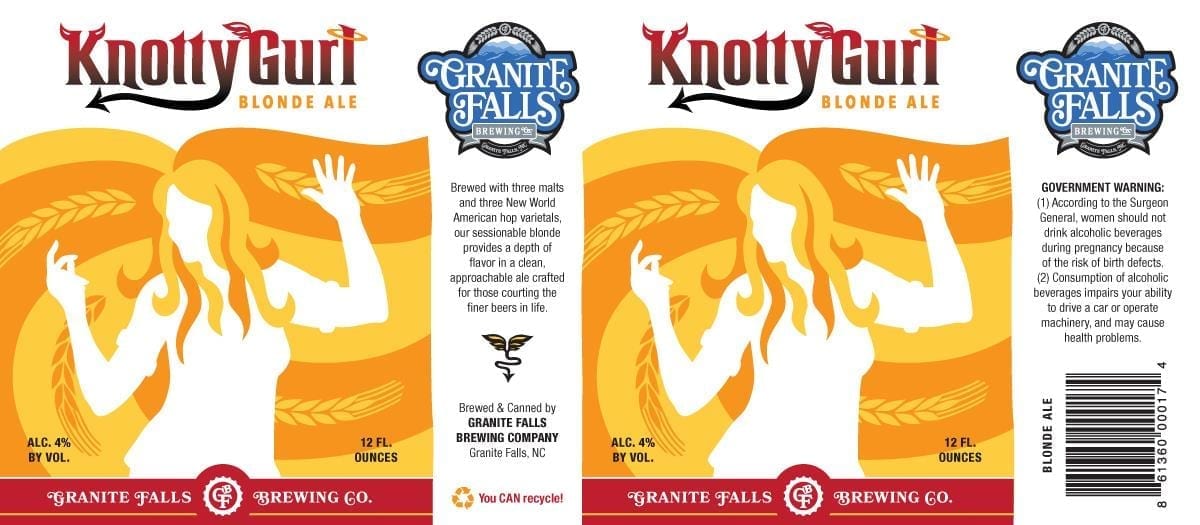 This one isn't necessarily offensive. We just can't figure out what's going on here. Is she dancing? Laying down? Suffering from gluten intolerance? Very confusing.
The logo suggests she is both angel and devil, but not tree for some reason.
Plus we're taking points off for the spelling of "gurl". Unless you are in a band or write for Cosmo, there's no excuse for that nonsense.
Mistress Brewing Company Blonde Ale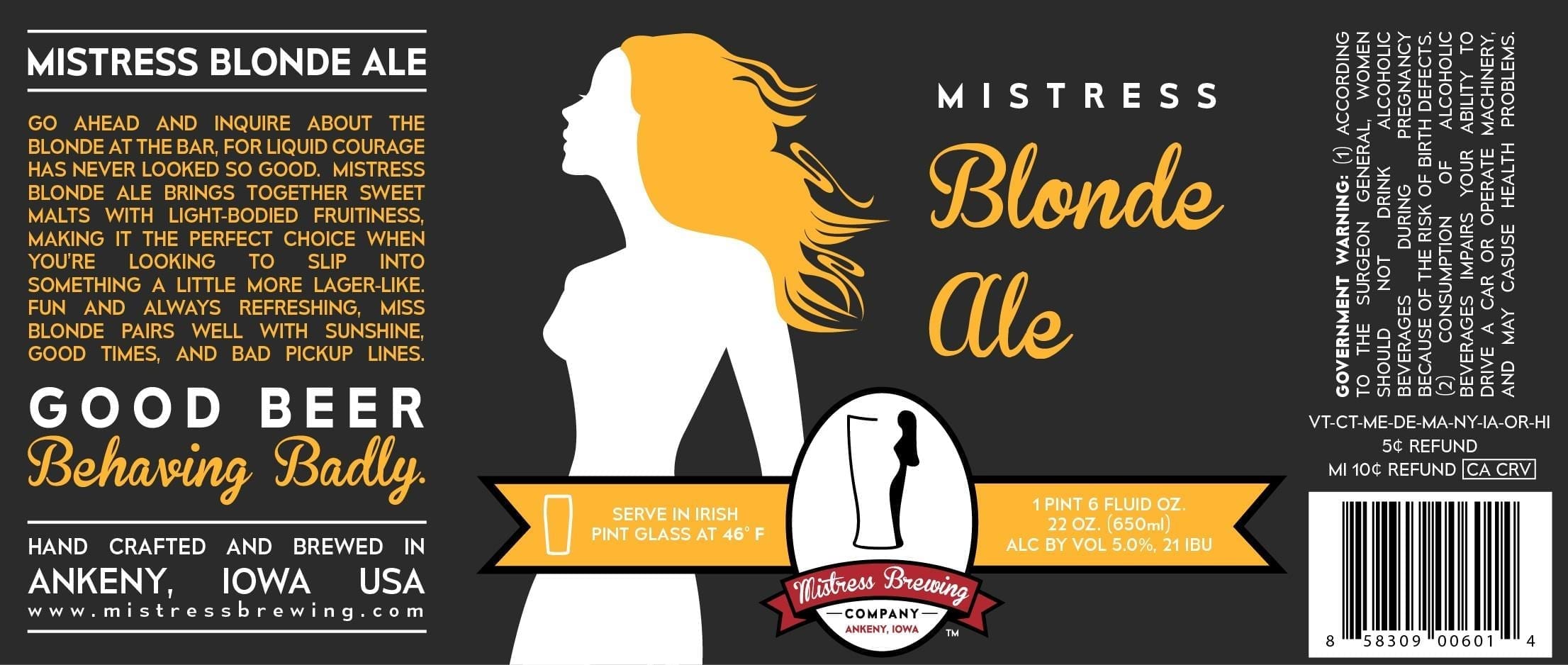 Someone head to Ankeny, Iowa with a fistful of smelling salts! I fear their designer passed out at their Wacom, perhaps using it instead of a mirror on which to snort lines.
I mean, come on people. If this label doesn't win the "Wet Noodle" Award for lack of effort, I don't know what does. The only thing limper is their logo.
Great South Bay Brewery Blonde Ambition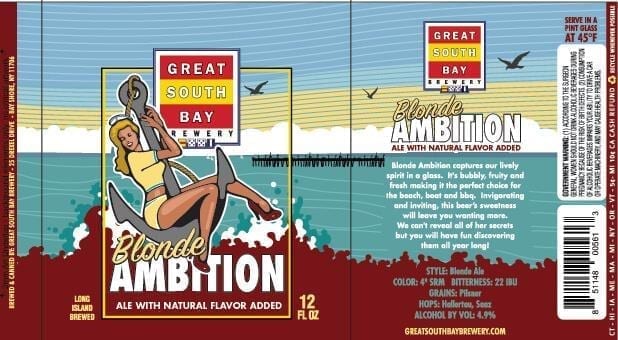 Josh: I don't hate this one by any stretch, but like Long Island itself, it ruins a nice thing by throwing too much at it.
Guy 1: "We got a nice sea-scape going on here, and I think the gulls are serene enough that hopefully everyone will forget that they're the absolute fucking worst."
Guy 2: "Can we put on a sunbathing girl?"
Guy 1: "Well, there's not really a beach, so…"
Guy 2: "Make her float."
Guy 1: "Uhhh…"
Guy 2: "On a magic anchor!" … "And she's wearing red high-heels!"
Guy 1: *mutters under breath… loses will to live… fucking does it*
Y'all like clip art and stupid fonts?
We couldn't even be bothered to comment on these yawn-worthy excuses for beer marketing. Suffice it to say, none of these will be winning any design awards anytime soon.
The Forgivable
Nightlife Brewing Company Gunfighter Blonde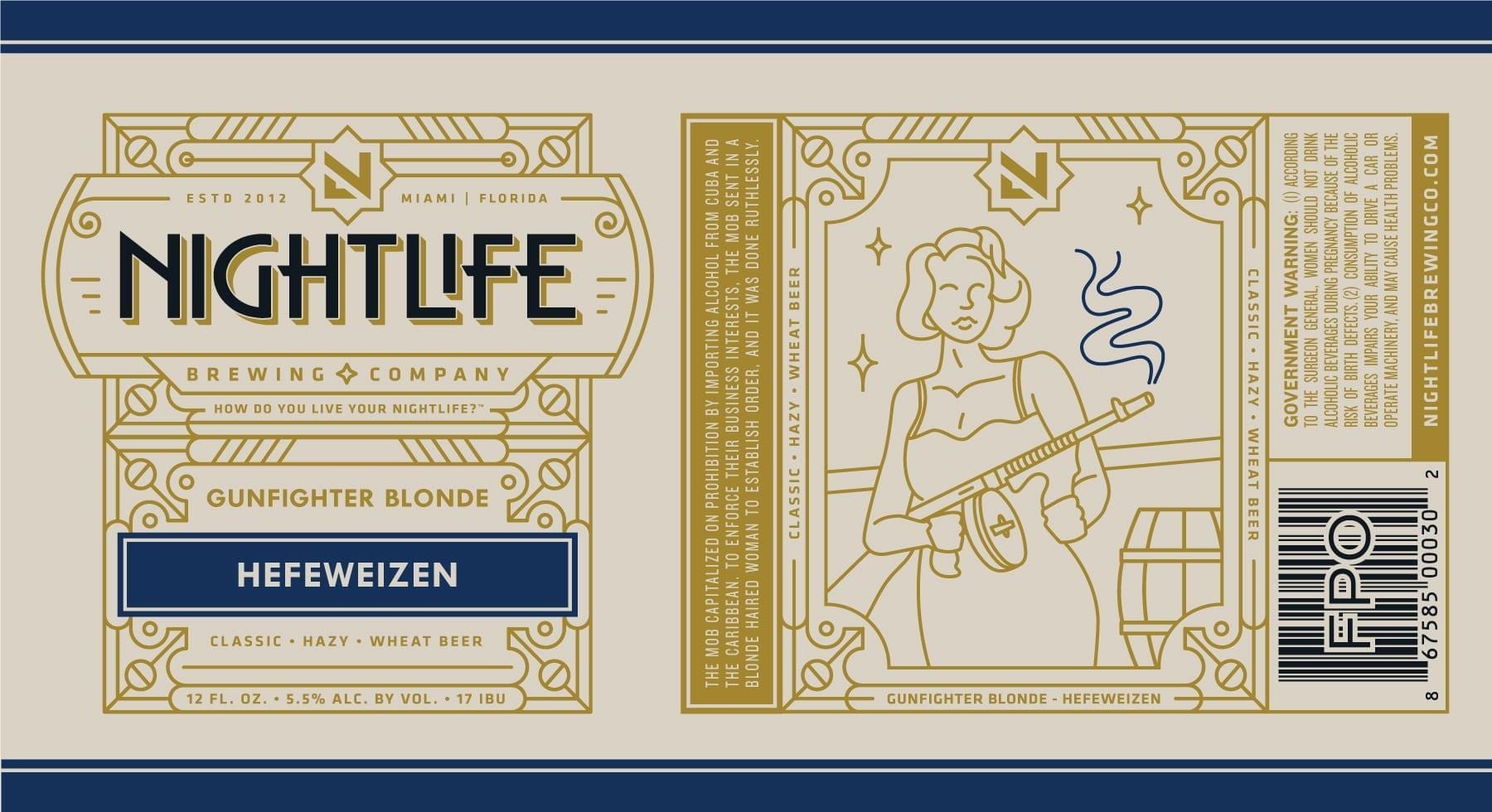 Josh: Here's another art-decco label, but this time we have a elegantly simple line drawing. We have a blonde lady, but instead of the typical bikini bimbo, we have a full-figured, fully clothed hard bitch packing a Thompson submachine. So, that's cool. The one thing that's killing me is that Heffeweizens aren't considered blonde, they're whites. This is an insignificantly pedantic thing, but it is DRIVING ME INSANE. It's the zymurgic equivalent of painting a Starfleet insignia across the hull of the Millennium Falcon. Some people just want to watch the world burn… dicks.
Bent Brewstillery Witty Blonde Dry-hopped White Ale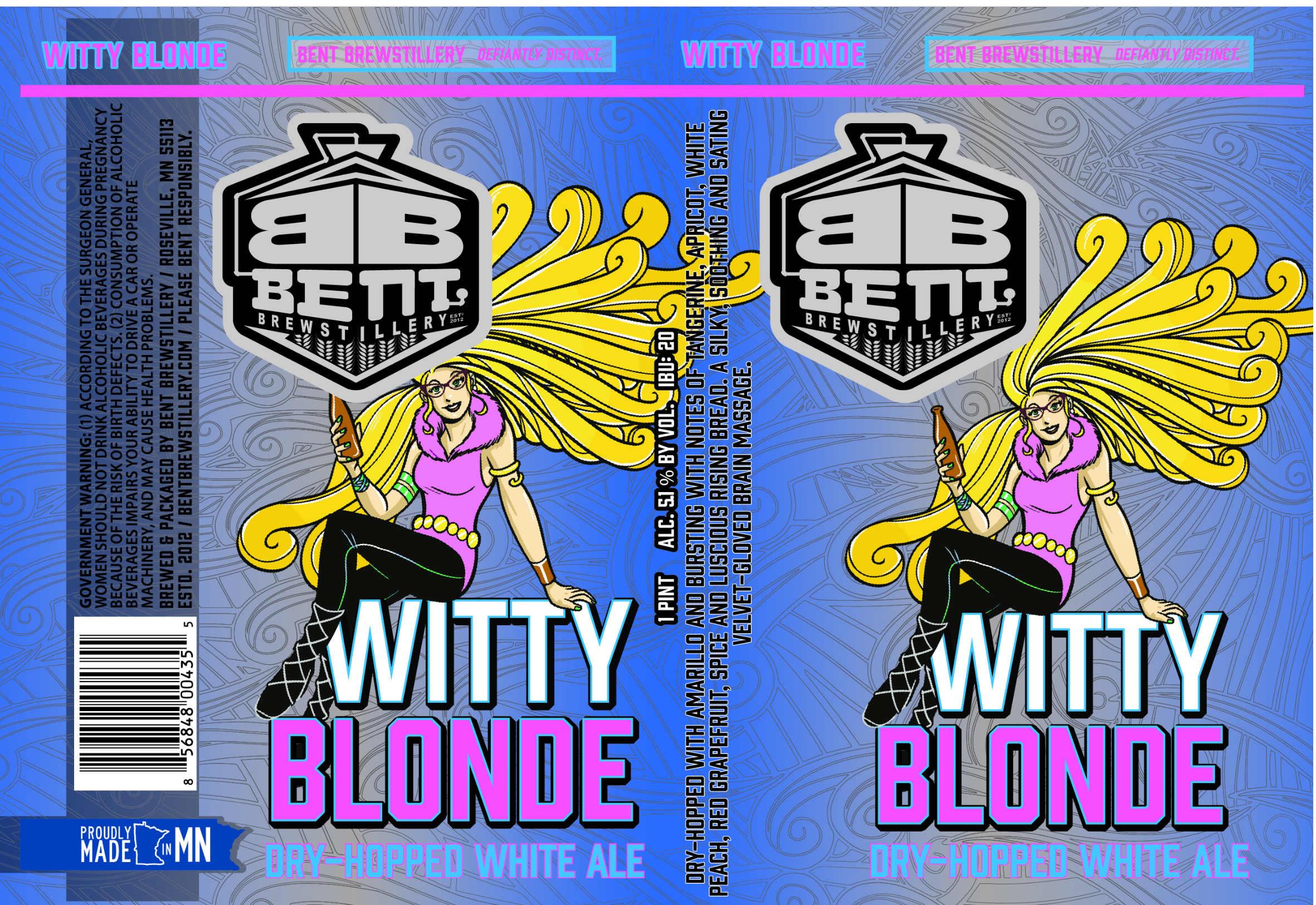 See page for author [Public domain], via Wikimedia Commons
Josh: In a world where Jem and the Holograms meet Kitsune of the nine tails, we're just fine with this blonde "fox". Google it, philistines.
Craig: I find it fascinating that, of all the labels we looked at, this is one of two where the woman actually has a beer in her hand. You can be on our labels, ladies, but don't you drink our beer!
Remember ladies, "Men don't make passes at girls who wear glasses."
Blonde Pearl Pale Ale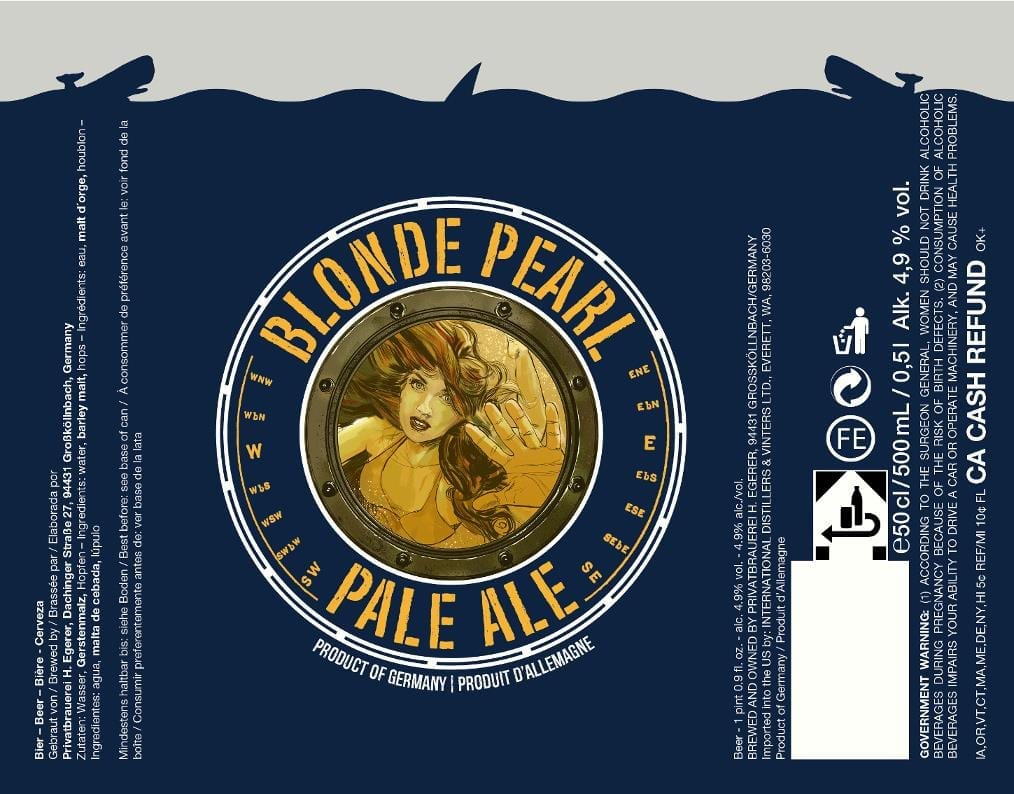 I like this one because it's a visual LOST reference and the illustration is really nicely done. That said, blonde snuff art is not the greatest way to sell your beer. Just sayin'.
Oh geez! I just realized she may just be drowning in the vat! So I can only assume Blonde Pearl sacrifices a woman for every batch.
I Can Dig It
The Inspirational
Magic Hat Art Hop Ale Imperial Blonde Ale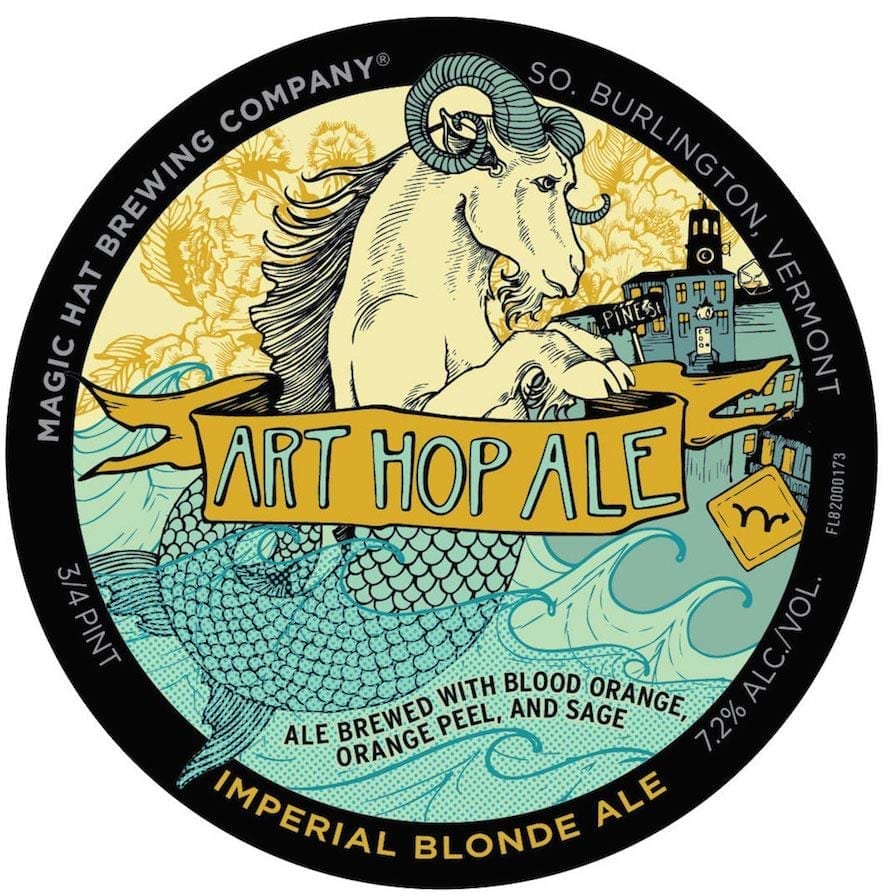 Case in point: Who embellishes an Imperial Blonde Ale with a Capricorn goat?!? Magic Hat, of course, if it's their Art Hop Ale! This label is gorgeous with nary a buxom blond in sight.
Harry Kahn from Magic Hat marketing was kind enough to speak to this label's merits. "To sum it all up, Art Hop Ale is our way of expressing our passion for the artists in our community and in our brewery. Hilary (the designer of this year's Art Hop Ale) is an incredible artist and we hope Art Hop Ale creates many opportunities for people to appreciate her work."
Crosstown Brewing Company Siren Blonde Ale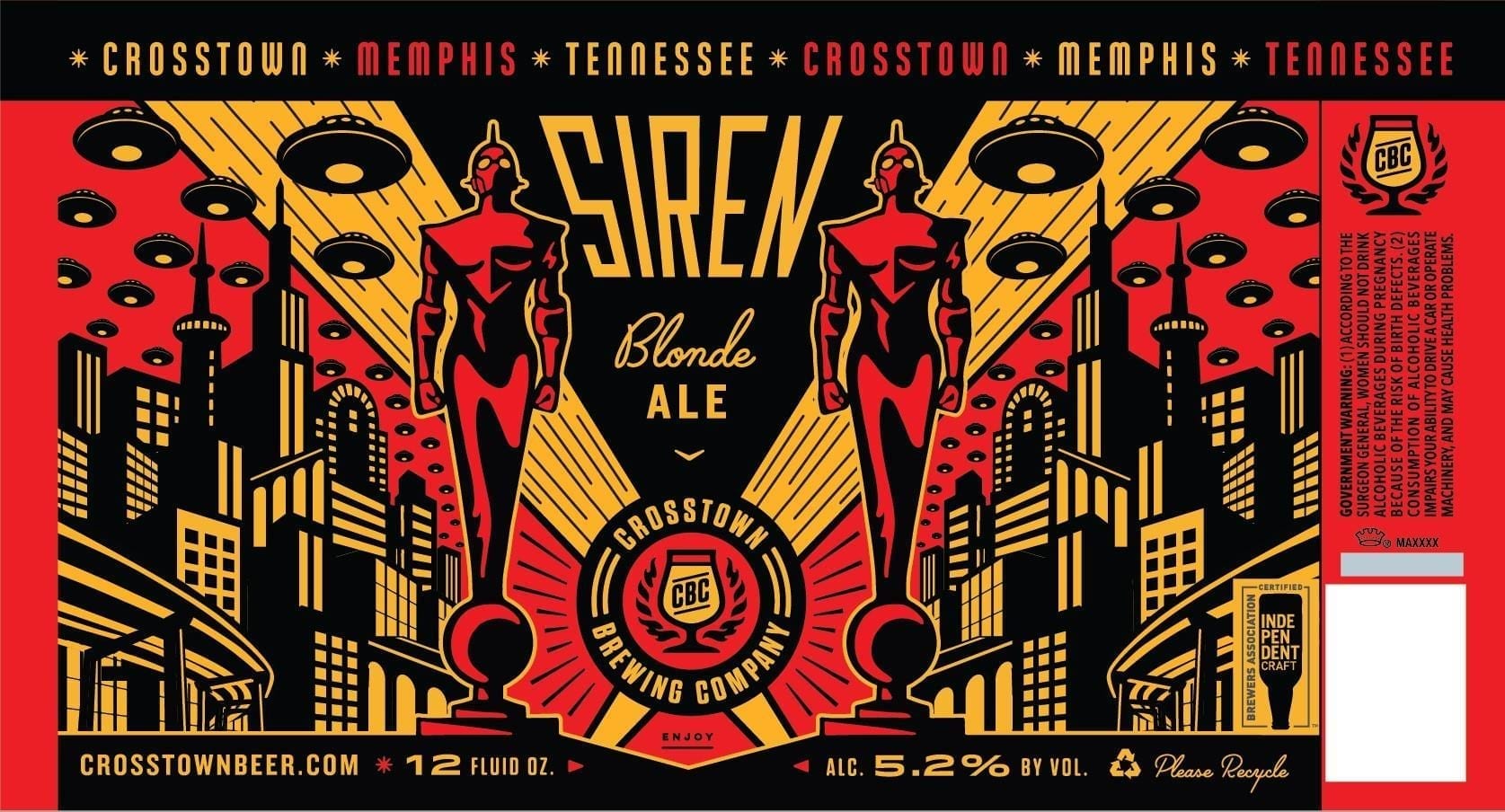 Josh: I have no idea what this sci-fi art-deco label has to do with blondes, but this crazy-ass Ultraman meets Rocketeer meets Iron Giant meets Invasion of the Saucer Men meets Ayn Rand motif doesn't disappoint. In fact, hearing all that together makes perfect sense… aaand now I want a beer, so there you go.
Greenpoint Beer Milk & Honey Blonde Ale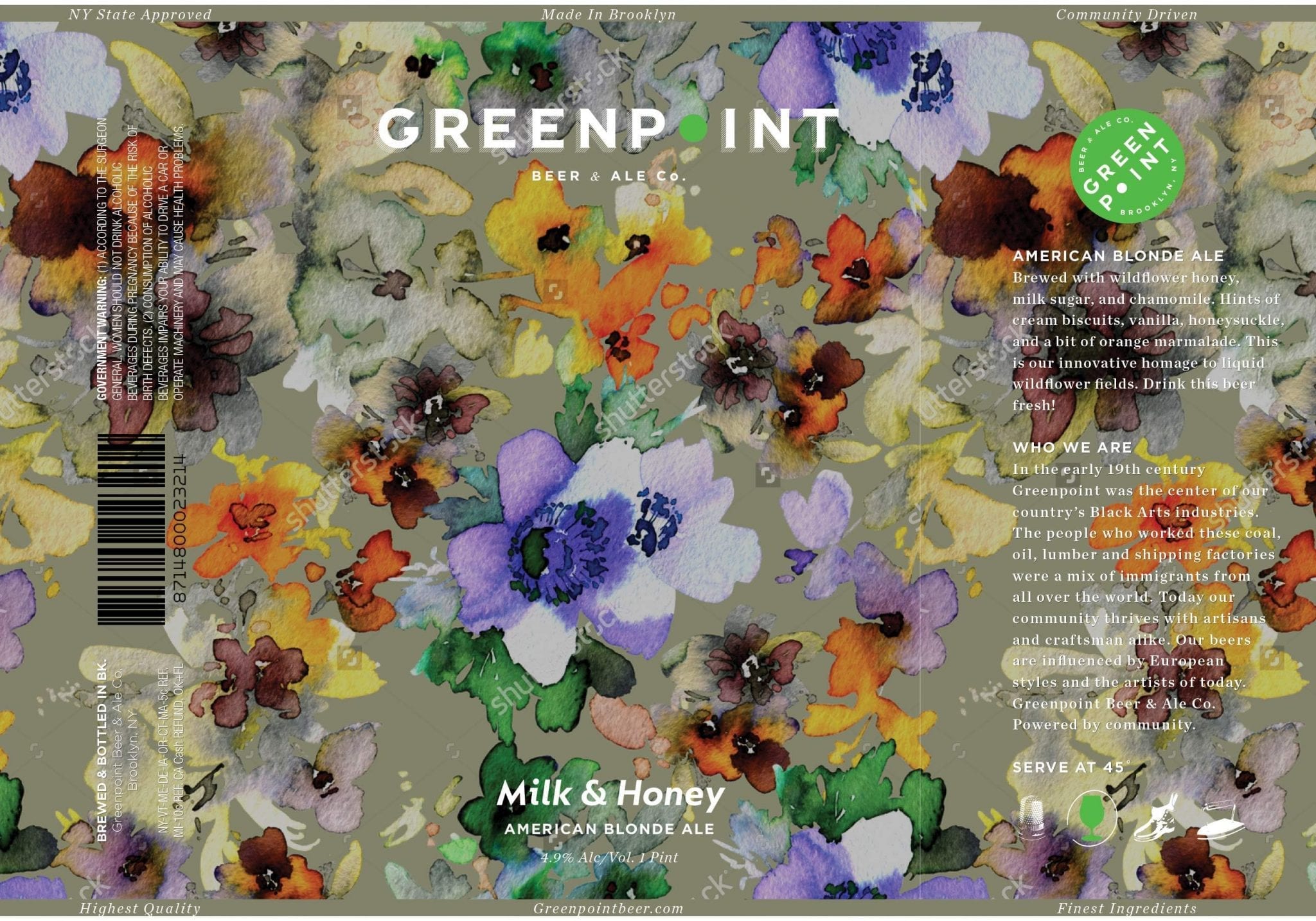 Greenpoint Beer does some amazing abstract label art. We included them back in our best of for May for their Continuous Feedback IPA. The pattern created with these watercolor flowers seems very appropriate for a Blonde Ale brewed with wildflowers. Assuming they pay for their images from Shutterstock so they can remove the watermark, that is!
Saranac Blueberry Blonde Ale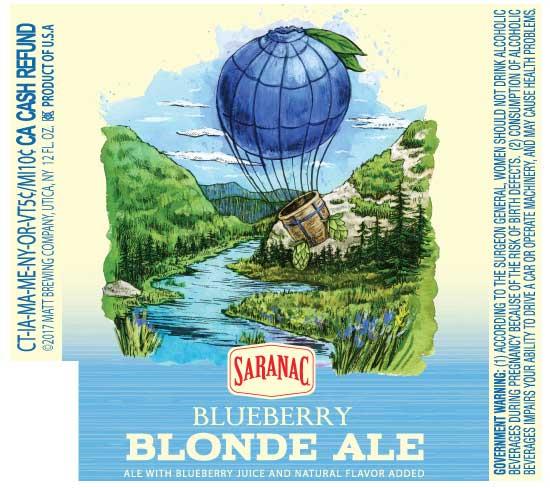 Saranac, you could have easily put a directionally-challenged blonde woman in the basket of your blueberry balloon. Not only do you deserve points for not going that direction, I feel that the hop cones as sandbags (ballast?) are downright creative.
In Summary
There's some really awful label art out there. We could easily focus on it monthly and take the low road. We've included some stinkers in the past that were just too awful to pass up and even those few instances have gotten us a lot of easy attention. Everyone loves a train wreck.
We live in a world where our first Orange President sits in the Oval Office and haters feel empowered. The bar can't get much lower. Any opportunity to call out rampant sexism and creative bankruptcy should be jumped at. Yeah, it's easy, but so is looking the other way.
Label images research made possible using the highly recommended LabelVision search tool at ShipCompliant.