I'm playing a little catch up with the weekly label report. Week 50 had some shiny little gems.
Magic Hat Brewing Company Art Hop Ale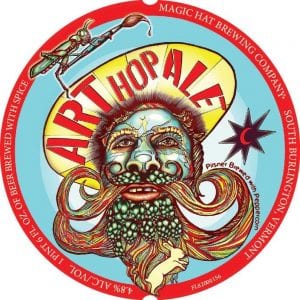 Fans of Whisker Wars will appreciate this off-the-wall label. This hop-bearded gentleman has more surprises in his facial hair than Captain Caveman.
The art was created by Nicole Christman of Vermont for Magic Hat's 2014 Labels for Libations contest.
The contest is limited to Vermont residents, so if you are a local, keep an eye out for the 2015 call for entries.
Bent Brewstillery Über Lüpin Schwarz IPA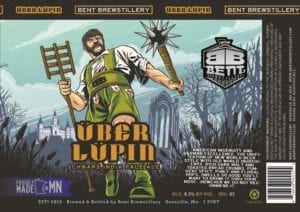 rmed with a morningstar and mash paddle, this lederhosen-clad giant is ready to get you to enjoy a black (schwartz) India Pale Ale.
Awkward perspective aside, I really love the use of subdued colors for the European countryside background. I'm probably a dummkopf for not knowing the name of the ruined cathedral back there, but perhaps an astute reader could help me out.
Prairie Artisan Ales Funky Gold Amarillo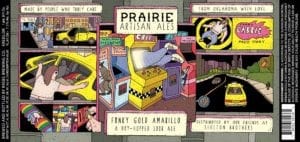 Comics on beer labels are starting to appear all over. Arcade Brewing is doing their Six Pack Stories. Three Floyds is planning a series of comics featuring their characters and written by Brian Azzarelo.
Here's Prairie's latest take on the sequential art label. Only I'm having a tough time following the sequence. I think we're playing a taxi cab-themed video game in which a magical rainbow portal takes us to an arcade where we are playing a taxi cab-themed video game in which…
Alameda Brewing Company El Torero IPA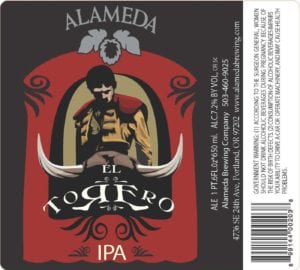 At first I thought maybe there wasn't much to say about this solemn-looking matador. There's a mood being conveyed here with the high-contrast play of light and shadow.  It's simply done and effective. But the more I look at him, the more I feel there's a story being told on this beer label.
Those horns are precisely where you don't want them and he's either accepted the fact that he's about to get gouged, or he's so sure of himself that he feels bad for this bold bull. Either way, it's time for a drink.
Defiance Brewing Company Origami Spaceship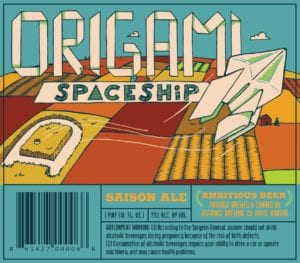 Playful and comical, this papercraft craft appears to have dropped into a field to make a crop circle. Maybe he's on his way to Space Station Middle Finger.
Even though that looks like an 'A', I'm going to assume it's a 'D' for Defiance.
Label images research made possible using the highly recommended LabelVision search tool at ShipCompliant.