Right about this time of year, the shelves of beer purveyors are laden with images of pumpkins and grinning jack o'lanterns.  The season of the pumpkin beers is in full swing and so also, pumpkin beer labels.  Here are 10 of my favorite labels:
#10 Terrapin Pumpkinfest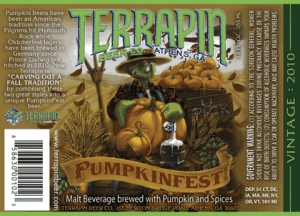 Okay, maybe not so spooky, but I thought this derpy turtle farmer stood out from the standard jack o'lantern beer label art I see all over the place.
Terrapin's founder and brewmaster Bruce "Spike" Buckowski met artist Richard Biffle at Bonnaroo one year and asked him to create their label illustrations.  Biffle is best known for his work with bands like The Grateful Dead.
The Art of Richard Biffle
Terrapin Beer Company
#9 Sam Adams Fat Jack Double Pumpkin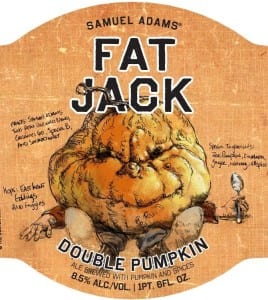 Another unique approach to the standard gourd-emblazoned label is this double pumpkin from Sam Adams.  Instead of a grinning, perfectly-shaped carved pumpkin, we have an ugly, shriveled, and warty "bottom of the pile"-looking guy with an contented smile on his face.  He's positioned on top of a pile of clothes as if on display on someone's front porch.  I'm not sure why he has a spoon.  Maybe he ate some more attractive pumpkins.
The illustrations for this series of 22 oz small batch bottles were created by Dahl Taylor.  According to Taylor's website, this style is a new direction for the artist.  "This work represents a shift from traditional media to a digital medium of merged, hand drawn art and a Photoshop painted style."
I love the sketchy, mixed media look and I will definitely be writing an article devoted to the rest of the labels in this series.  And the beer is good too!  I gave this beer 3 1/2 stars on Untappd.
Sam Adams Fat Jack
Dahl Taylor Art
#8 Flying Dog The Fear Imperial Pumpkin Ale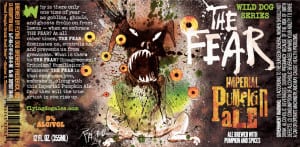 Ralph Steadman does all of the labels for Flying Dog Brewing (since 1995) and he's in top form for this label.  This scary dog is exactly what you might be afraid of on Halloween night.
Ralph Steadman
Flying Dog Ales
#7 Elysian Night Owl Pumpkin Ale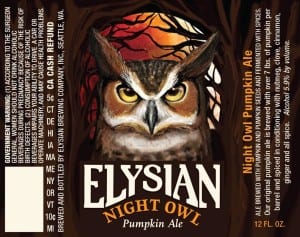 The owl on this pumpkin beer label doesn't give a damn if you drink it or not.  He's on the hunt for mice or possibly something larger.  I love the night sky and gnarly tree branches behind him.  It really sets the mood for this type of beer.  Assuming you don't get your eye pecked out.
Corinne McNielly has worked for Elysian Brewing creating their beer label art for the past six years.
Corinne McNielly on Twitter
Elysian Brewing
#6 – Avery Brewing Rumpkin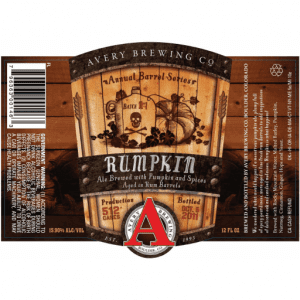 I thought this take on the pumpkin beer label was very unique.  Avery's pumpkin ale is aged in rum barrels, so this label features a corked rum jug resting in a pumpkin patch.  The image appears to be carved into the wood of a barrel.
All of Avery's beer labels have the same basic shape – a rectangle with an arch across the top.  Usually the subject is framed within that arch but in this case the cleverly used the shape to incorporate the barrel.
This pumpkin label art was created by John Paul Lumpp at Windgate Design.
#5 – Long Trail Imperial Pumpkin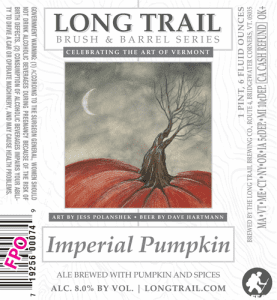 Vermont artist Jess Polanshek won the Long Trail Brewery Label Design Contest back in August of 2013.  Her gorgeous art is featured on their Imperial Pumpkin.  This is the first time I've ever seen an artist credited on a label for their artwork and I hope it's not the last!
This painting captures the grey, dreary spirit of the season in a very clever manner – the pumpkin stem becoming a leafless tree on an orange landscape.
Jess Polanshek's Website
Polanshek of the Hills on Facebook
Polanshek of the Hills on Etsy
#4 – Weyerbacher Imperial Pumpkin Ale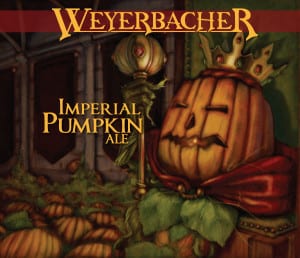 The emperor of all pumpkin beer labels?  This grumpy jack o'lantern wears a crown and cape and carries a scepter.  His realm is the pumpkin patch (although and indoor one?) and he even seems to be sitting on a throne.  I love the fact that he's got a candle lit inside his hollow head.
I couldn't find anything about the artist for this label, except that his name is Sean Clark.  But I will keep searching!
#3 – Cambridge Brewing Great Pumpkin Ale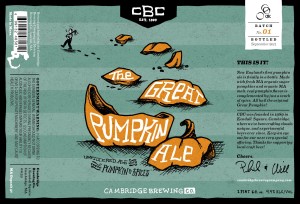 This is just an example of good illustration.  It's whimsical and well done.
Cambridge Brewing's pumpkin beer label was designed by freelancers Will Thomas, Bryant Ross, and Peter Strut.  I'm not sure who the illustrator of the bunch is, but they all have a clean, consistent look.
#2 – Elysian Dark O' The Moon Pumpkin Stout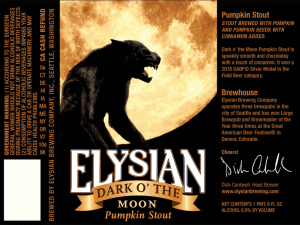 You have to admit, putting a werewolf on your pumpkin beer label is pretty bad ass.  And this isn't Micheal J. Fox – this guy is scary.  Reminiscent of the finest fantasy art out there, this wolf is all bite!
Cheers to Elysian for two pumpkin beer labels on this list!
I couldn't find anything about the artist for this label, but I will keep searching!
#1 – Uinta Brewing Oak Jacked Imperial Pumpkin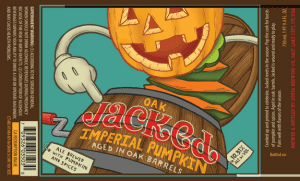 I love this jack o'lantern/jack-in-the-box hybrid!  I wish I could get my hands on this beer cuz it sounds amazing!
This pumpkin beer label was illustrated by Trent Call from Salt Lake City, UT.
trentcall.com and swinj.com
Uinta Brewing