So we did this contest and it was a big hit. Maybe you heard of it. Anyways, folks voted for the best beer labels of 2020 and there were hundreds of candidates. One of the winners, her name is Stephanie Stevenson, placed in the Top Ten, winning our mildly-coveted ARTBREW badge, with her first and only beer label, "Nevermore", for Core 3 Brewery. That's right, her first beer label EVER beat out hundreds of others. Let's see what makes her tick!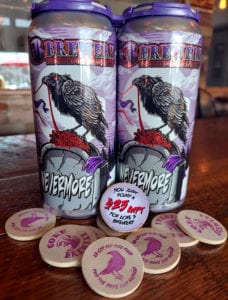 Thirsty Bastards: Our readers said that "Nevermore" was one of the best beer labels of 2020. Can you tell me the story behind its conception?
Steph Stevenson: When Alexi told me the name of my first label art for Core 3 Brewery was "Nevermore" I was stoked! I'm a big fan of dark/horror art as well as Edgar Allen Poe. I was actually given a pretty solid concept to start with going based off of the poem; the raven on a gravestone pecking away at the beating heart, the castle in the background, and the shredded purple curtain blowing through the window. I immediately went and re-read "The Raven" and took notes of any other little details I could add to allude to the story, and then dug into the illustration.
TB: What is your favorite label you've done so far for Core 3 and why?
SS: Haha well Nevermore was my first with Core 3 so naturally that's my favorite! Being my first with a brewery I am proud to be part of, I wanted this label to be special. So I went all out – from illustration to production/finishing, package design and even some cool marketing! I obsessed over the details and when it came to coloring the art, I wanted to keep it very simple with a limited color palette, going for one of my favorite color combos – purple and red, which ended up working really well! We were happy with the label art alone, but then decided to take it even further by adding a spot metallic red finish on a gloss label, which really made the red accents pop. Then we went with using bright purple paktechs to tie the whole package together… and boom!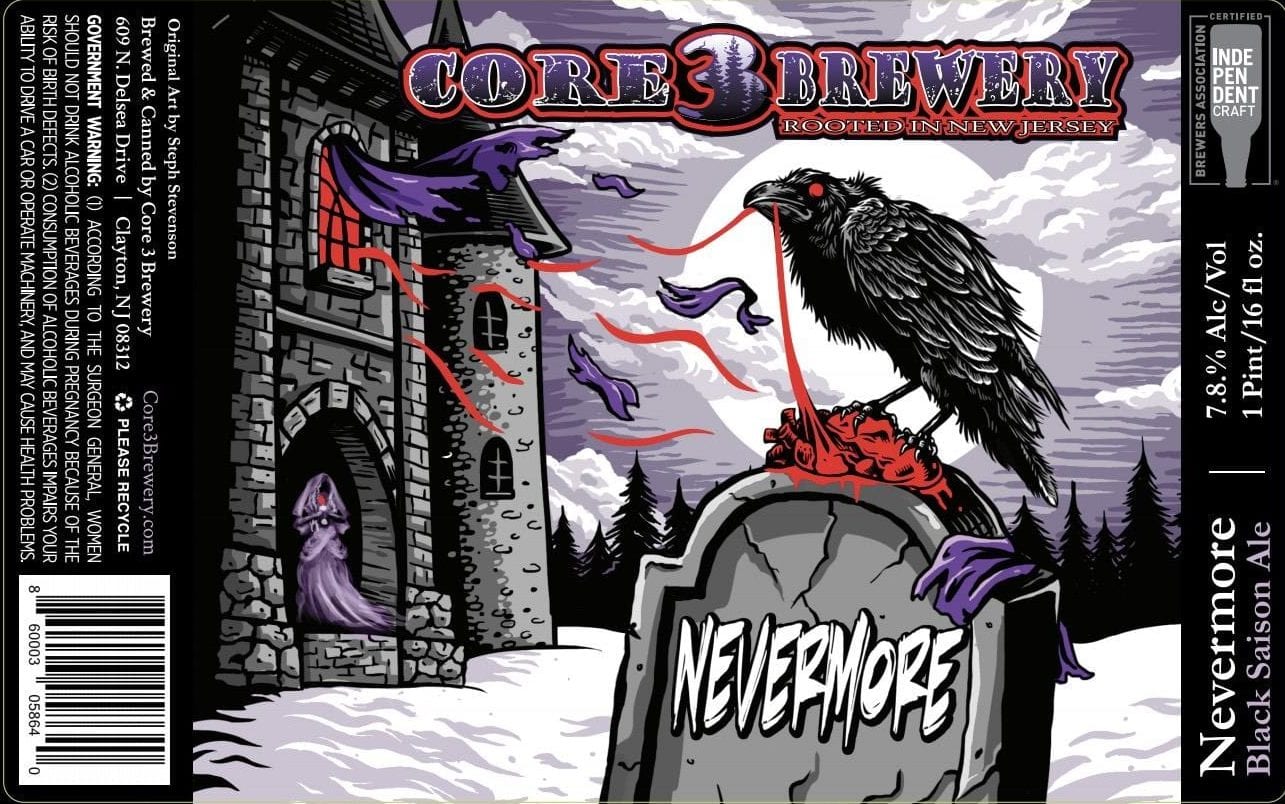 TB: How did you get started making labels for Core 3?
SS: Right before I started with Core 3 Brewery I was in a weird place after losing hours with my main design gig due to Covid. Like a lot of people, I had a lot of free time to re-evaluate where I was and what I wanted to do. With the craft beer industry booming, I always find myself in awe over the creative label artwork I find in stores (which admittedly I frequented even more around this time!) and always imagined seeing my own artwork on those shelves.
Anyway, fast forward I put myself out in a little craft beer fans group I joined on Facebook, asking if any local breweries were looking for artists or designers, just as some side work. I was so excited when my favorite hometown craft brewery, Core 3 reached out and took me in. I started as a server, then was given little design projects to start, gaining their trust until finally was asked if I wanted to create a label. (I may have hinted and pushed the idea a bit haha!) I couldn't be happier with the success of my first official Core 3 label and can't thank them enough for the opportunity.
Nevermore is my first and only label that I have done personally. Though, I have worked on a couple labels for a micro distillery as a designer at a graphic arts and print studio. I enjoyed working on these labels so much and gave me the urge to do more. I feel extremely lucky to say I am looking forward to adding to this list and designing more for Core 3.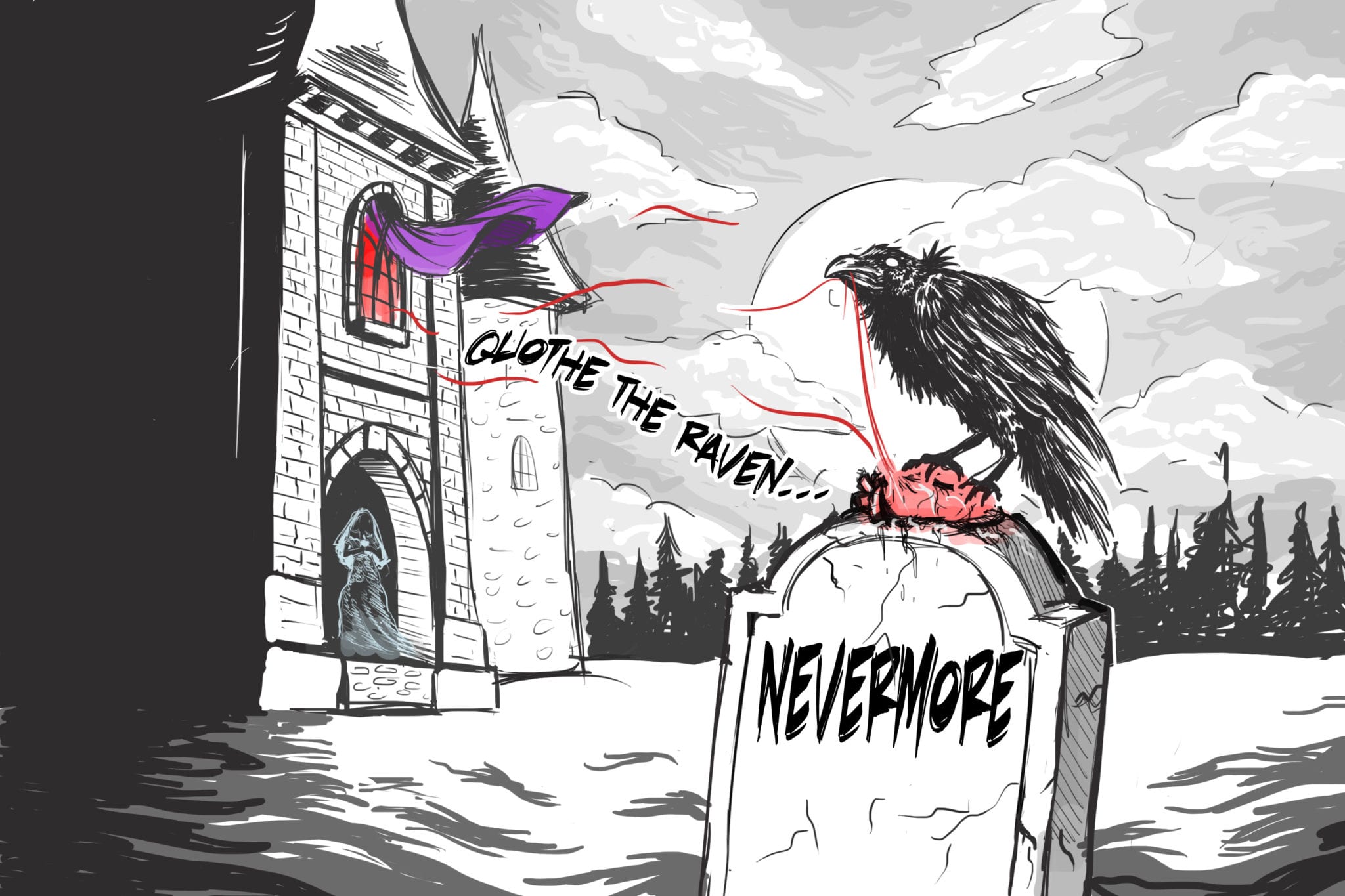 TB: Where are you from and where did you learn to be an artist?
SS: I was born and raised In the small town of Clayton, NJ surrounded by all types of natural environments within driving distance…from the Pine Barrens (home of the Jersey Devil!) to the Jersey beaches. I spent most of my time outside, camping with family or even just exploring, where my fascination with the natural world began and is evident throughout my artwork.
I know it sounds cliché but I've been drawing as long as I can remember, starting with wolves, dinosaurs, and fantasy creatures. When I was about 13 I asked for a Wacom tablet for Christmas, it was all I wanted and may have been the best gift I'd ever received. I spent hours upon hours every day practicing digital art, studying animals, anatomy and teaching myself the programs.
I later enrolled in Moore College of Art and Design in Philadelphia, PA, graduating in 2016 with a BFA in Illustration. During my Junior year of college I landed an internship at Devilfish Ink, a graphic arts and print studio which turned into a full time job up until I started branching out with Core 3.
TB: Can you tell me a bit about your process? Are you all digital? Traditional? Mix of both?
SS: Definitely a mix! I'm the type of person that doesn't like to limit myself or get too comfortable only using one medium; I get bored easy! I admire and enjoy working in so many different styles, from bold and graphic poster art to my more realistic, yet surreal watercolor paintings which I show as gallery work. The common theme however usually tends to be elements of horror/dark art.
TB: What other art do you make?
SS: Going back to the last question, I also do a lot of watercolor paintings! These I enjoy to explore the more traditional "fine art" side, always centered around nature and dark surrealism. Then on the other hand, I also really enjoy doing fun or "less serious" illustrations of classic horror monsters and occult imagery, usually in pen & ink. These I tend to sell prints of at punk rock art markets as well as online.
I do personal commissions as well, usually pet portraits as I always enjoy drawing animals!
TB: How can your fans find you and your work? Can they buy your art?
You can find my work on a few platforms. My instagram is usually the most active/up to date. You can also buy prints, stickers, and other fun things through my Etsy shop.
Steph Stevenson's Website
Steph Stevenson on Instagram
Steph Stevenson's Etsy Shop
Optional Question:
True or false: The best beer label art looks like it could also be Magic: The Gathering card art.
SS: True! Absolutely. I've seen some pretty dang creative beer label art that would totally look good on a Magic card too.