This may come as a surprise to you, but I usually drink beer when I am writing posts for this site. What may ACTUALLY surprise you is, I usually do that writing in bars and not from home. I find that if you are used to working in coffee shops, you can be just as productive, if not more, working in bars.
I have a home office that I love. Working from home is awesome, but if that's all you do, then you are denying yourself one of the great perks of the remote work lifestyle – working ANYWHERE. If it weren't for the dog insisting that we hit the streets several times a day, I'd rarely encounter another human being.
Staying Home Can Be Unproductive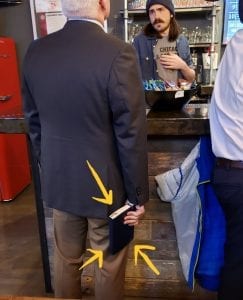 If you are like me, a change of scenery can be just the productivity boost you need to distract you from that sinkful of dishes or overflowing laundry hamper. I could go to a coffee shop to rub elbows with the masses, but I'm much more comfortable going to a bar.
Even if you don't work from home for your day job, sometimes you just need to get some shit (GSD) done. For me, that means writing for this site and drawing for Hard Cheap Knock. For you, it might be that novel you've had in the back of your head, or just paying utilities. Grab your laptop and head to a bar to start that newsletter you've been dying to blast out to your friends.
Why does working in bars drinking have such a bad rap? Well, people make bad decisions while drinking. Bad decisions about work can be, well, real bad.
If you can harness the creative power of alcohol and show a little discipline, you can be a productive powerhouse while living the dream of combining two things you love: your work and booze! We're here for you and this guide will give you the tools you need to get some serious shizz DONE!
Oh hey! FYI… any links on this page that lead to products on Amazon are affiliate links and we earn a commission if you make a purchase. Thanks in advance for your support!
You're Just An Alcoholic Looking to Justify Your Bad Decision-Making
I mean… touche. Also, ouch.
Before you judge me too harshly, allow me to educate you on the creative benefits alcohol bestows upon your… grey matter? Okay, I'm too buzzed to know what color the part of your brain is affected, but that's where Google comes in!
The Benefits of Alcohol on Work
According to a study conducted at UIC in 2011, moderate intoxication was shown to "improve performance on a creative problem-solving task". A group of 40 test subjects were split into two groups, one buzzed and one sober, and given puzzles to solve. The drinkers not only solved the problems with greater accuracy, but they also did so faster than the teetotalers. "Additionally, participants in the intoxicated condition perceived their problem solving to be less analytic and more intuitive than the sober controls."
Conclusion: Creative work is best done with a bit of a buzz.
I can totally attest to this from my own experience. Here's the proof (and shameless plug): I created this entire hilarious comic while imbibing at my favorite beer-slinging establishments.

Written, drawn, and colored all while drinking in bars. It can be done! Fueled by booze? Perhaps. Did I have a TON of fun letting loose and burying my inner critic under regular servings of stouts? I did, friends.
When to Say "When"
While having a drink can boost your creativity, having several can have a negative impact. Obviously, drinking too much will make you an uncoordinated mess, but just a bit too much alcohol can impact your ability to focus.
The trick is to pace yourself, watch your ABV intake, and in the event you do get a little sloppy, do something else. Read some news, chat with the bartender, or simply go home and do that laundry. If you are going to do sloppy work, don't do any work.
In the case of my comic project, I stayed away from intricate line work and details if I found myself a little too buzzed. Maybe I took a break or called it quits for the day. The last thing I wanted was to make poor decisions and ruin my hard work.
Don't Let Booze be Your Crutch
The last thing you want is for you to need a drink in order to be productive. Allow alcohol to grease the wheels, not drive the bus. If you find that you can't be creative without a little drinky, you need to find other means of inspiration.
Also, let's not forget that alcohol can have just as much negative impact on your sleep as caffeine does. Lack of quality sleep is the enemy of quality work.
Why Coffee Shops Suck For Productivity
Your local Starbucks isn't really that great for getting work done. Cafe tables are small. Users are fighting over the power outlets. The music is too loud and often NOT your style. The only open space available is right next to a flatulent 10-year-old getting tutored in Math and sucking on a packet of fruit puree. This is not a GSD scene!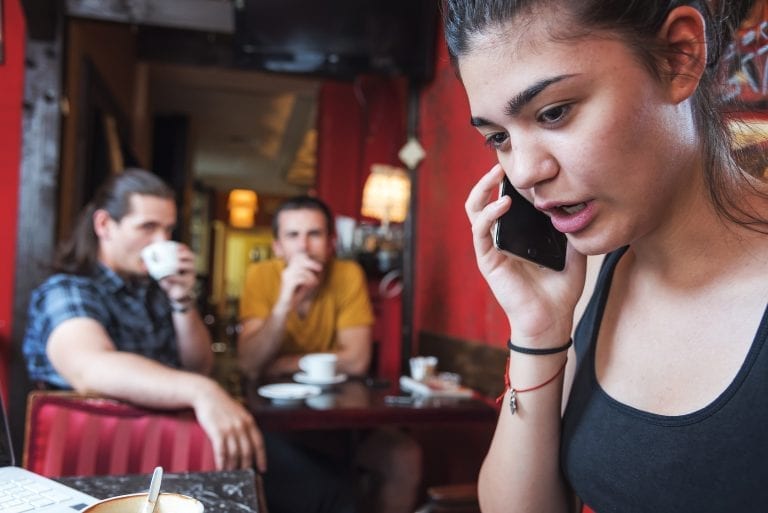 Besides, there are no better people out there than Beer People and they can mostly be found in bars!
The Precarious Lure of Caffeine
Let's talk about your caffeine problem for a moment, shall we? We all know that it's the shot in the arm we need to get our day started. Caffeine's positive effects on productivity, concentration, and focus are no mystery. However, spending several hours, downing cup after cup is not necessarily the "Path to TCB".
Don't get me wrong, I love coffee. Another outstanding perk of not going to an office is dodging the swill that the Facilities Department picked out of a local beverage vendor's catalog that seemed reasonably palatable and cost-effective. I love to be able to craft my own hot caffeinated beverage and I do it with style: I'm a burr grinder, pour-over, local dark roast snob! (Thanks a lot Brian from Abacus Coffee Roasters!)
I also limit it to two, 14-ounce cups a day and stop drinking it by 2:00 PM.
Most caffeine experts will tell you, there's a time of day when you should simply stop drinking coffee. This advice is usually a statement of hours relative to the time you plan to go to bed. It's usually 6-7 hours. There's good science here, but at the end of the day (or even early in the day), if you are hunkering down for a 3-hour work session, you should not be drinking coffee that whole time.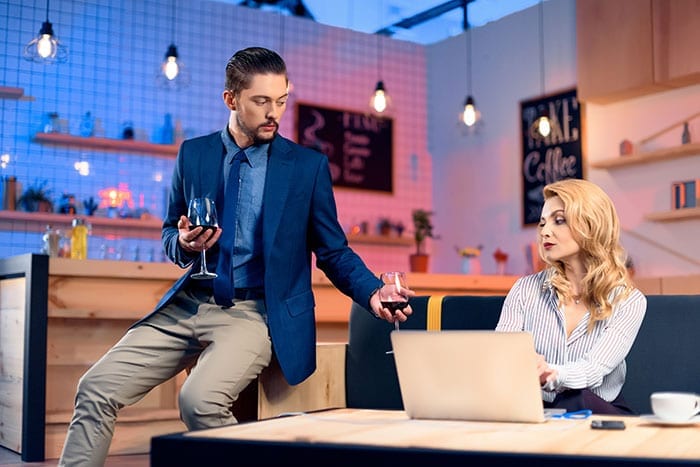 I say, trade your coffee shoes for beer shoes like Mister Rogers putting on his sneakers.
Coffee After Drinks…
You CAN, however, use coffee to balance you while working in bars. Say it's 2:00 PM and you've just finished your second lunch beer while banging out reports. That's the perfect time to have a cup of coffee and most bartenders will make you some. This will slow down your booze intake and give you a caffeine boost. As long as you're buying beverages, your bartender will keep your glass or mug full.
What You Need To TCB-GSD Working in Bars
WiFi
Obvious, right? Most of the time, you are going to be working on a laptop or tablet. If the bar you are working in doesn't have WiFi, tethering from your phone is a good secondary option.
If you do use the WiFi from the bar, it's not the worst idea to have a good VPN service in place. Some companies supply VPN, so talk to your IT guy if you don't have that set up. If you need a decent VPN service, we like ProXPN.
Bar Service Format (Low)
I can't stress this one enough: Find yourself a bar where you will be left alone. If you want to get shit done, you want to find a bar where they have either no table service or just really lousy table service. Less attention equals fewer distractions.
I really enjoy working at Chicago's Beermiscuous. There's NO table service – you go up to the counter to order much like a coffee shop and bring your beverage back to your table. A close second is a bar like Bitter Pops. It's small and there's no table service to speak of. If you want a beer, you get it at the bar or you serve yourself with a "tap card". Both establishments require me to do the ordering, so my concentration isn't broken by being checked upon.
You may do just as well with a bar where the table service is just bad. Sometimes being ignored by the staff has its benefits. I'm not naming names.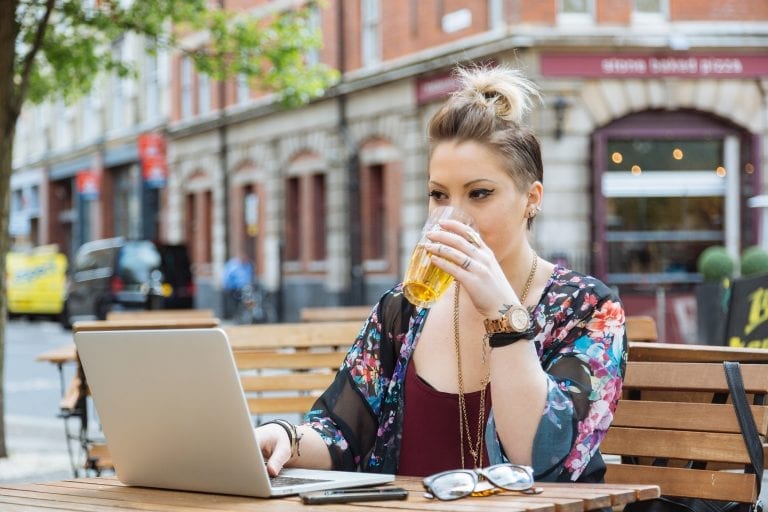 Snacks and Water
DO NOT attempt to work at a bar without eating snacks and drinking water. It doesn't matter how productive you are if you end up with a hangover the next day. Even if the bar at which you are working doesn't serve food, you can usually buy snacks there. Nuts or jerky are good options.
I see lots of bars adding iPad-based food delivery kiosks with little menus on the tables. These usually involve a partnership with a nearby eatery. Take advantage of your options to cushion your system with food.
And, of course, pacing yourself with a glass of water between drinky drinks will keep the dehydration at bay. If you aren't doing this anyway, you aren't the professional drinker we like to call a reader!
If you are good to yourself, you can be productive again at the bar the next day. And the next day…
Your Personal Soundtrack
You're not going to be productive if the bar is blasting "Cotton-Eyed Joe" on repeat.
Sometimes you simply cannot escape the horrible taste in music of the bartender. It's just how it goes, so be prepared. Bring your headset or earbuds. HAVE A PLAYLIST. I have one for creative work that puts me in just the right mindset. Your mileage may vary and this can take some experimentation to get right, but find your audio groove.
If you don't know what music on which your brain fires most effectively, Medium.com has a handy guide to get you started.
…Or, if you like Portishead, Saint Etienne, and the Amelie soundtrack, you can try my personal creative Spotify playlist.
Trustworthy Clientele
This one might not be so obvious, but here's the thing… You're going to need to use the bathroom at least once while you are working in bars.
You have two options: You can pack all of your stuff up and take it with you every time, OR you can put a few tempting items into your pocket, screen lock your laptop, and go do your business. You cannot do the latter if you are in a crappy corner bar with patrons of questionable morals.
As you know, we live in Chicago, where suit-clad gangsters are around every corner just waiting to force a marijuana cigarette into your mouth before they plug you full of holes. In selecting your bar, find a nice balance that is neither touristy, nor completely "hole-in-the-wall". You may be the only one trying to do work, but if you aren't, all the better!
A little vigilance can go a long way. Make friends with your table neighbors or the bartender. You can ask, "Do you mind watching my stuff?" It's okay. Just don't leave your $2K Macbook and iPad Pro out dangling in the breeze while you take the Browns to the Superbowl.
Have a Plan
Not every bar is good for the kind of work you want to do. If I have a lot of writing to do, I can kinda do that anywhere there is a flat surface. True, not all bars and stools have the speed typist in mind, but generally speaking, you can bang on keys anywhere.
If I am drawing on my iPad for Hard Cheap Knock, I can't do that at the bar. Same for analog drawing in my sketchbook. I need to sit at a table.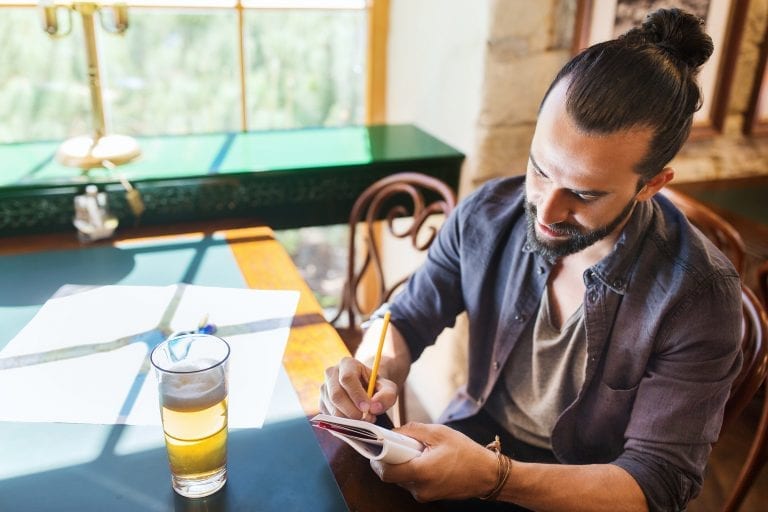 Table service works into the equation here too, especially if you are doing work that interests others (it happens!). If I'm just doing coloring on my iPad, and I don't mind interacting with a server, I can do that at a traditional bar with table service like Local Option. That way, if I get into a conversation, my workflow isn't too terribly broken. If I need to just put my head down and GSD, I might go elsewhere.
Don't forget the awesome functions of Untappd and BeerMenus when it comes to picking a place. Tonight, I banged out a huge portion of this post at Bitter Pops because they were doing "Barrel Aged Madness" this week. I got a $20 flight of Goose Island Bourbon County and Revolution Brewing Deep Wood Series beers. I was only one of 5 people in the bar for most of that time. I sipped the finest barrel-aged beers Chicago has to offer while I wrote about working in a bar while working. In a bar. So meta. You can't beat that.
The Best Work to Do in Bars
Writing

Drawing

Creative Problem-Solving
Research

Creating a presentation

Story-Planning
The Case For Walking
If you're going to "get out", fucking get out! I know it's tough if you don't live in a big city, but walking there and exploring your neighborhood should be part of the process. You're going to get plenty of sitting in today – use your frickin' legs! Which leads me to…
Recommended Gear
I know, you've already got a messenger bag or backpack that you throw your laptop into when you travel. If you're on a budget, and you've already got the gear, you are probably set. I have a separate bag I use for working in bars that keeps me lean and light. If you're a Road Warrior, this might not be for you, but I thought I'd do a good old fashioned "What's In Your Bag" because no one ever asks.
The Bag
I cannot tell you how happy I have been with my Timbuk2 Heist convertible bag. It's not too big, it's not too small, and it's both a backpack and a messenger bag. I'm able to get my 12.9″ iPad, my Samsung Chromebook Plus, a sketchbook, various pens and pencils, Thirsty Bastards stickers, and a folder for art paper. When I'm in Power Walking mode, it straps tightly to my back and doesn't weigh me down.
Timbuk2 Heist Briefcase, Jet Black, One Size
A convertible briefcase with sleek lines and Slick features

Internal organizer for pens, phones, and other small stuff

Rear magnetic slip pocket

Multiple carry options: briefcase, shoulder bag or backpack

Soft polyester canvas body
Prices pulled from the Amazon Product Advertising API on:
Product prices and availability are accurate as of the date/time indicated and are subject to change. Any price and availability information displayed on [relevant Amazon Site(s), as applicable] at the time of purchase will apply to the purchase of this product.
Power
I am well into a "USB Type-C World" with both my phone and my Chromebook (not yet with the iPad). So it's nice to have a compact charger that will take care of both. The RAVPower Wall Charger Adapter does a great job with both and it doesn't take up a ton of space in your bag.
USB C PD Charger with GaN Tech, RAVPower Wall Charger Adapter 45W Type-C Power Delivery, Ultra-Compact Compatible MacBook, Dell Xps 15 13, iPad Pro, Nintendo Switch, iPhone Xs XR X and More, White
The thinnest MacBook Charger: built with premium Egan feet circuitry for power that packs a punch in an ultra-thin design (0. 59 inch) thats half the size of regular wall chargers

Rapid Charge: USB-C charger delivers 45-Watts of power to charge and recharge all of your important devices at a high speed with PD 3. 0 (5V / 3A, 9V / 3A, 12V / 3A, 15V / 3A, 20V / 2. 25A)

Wide compatibility: smart sensor technology instantly recognizes and provides the optimum charging efficiency for your Device from 5 output levels

Travel ready: sleek and compact body with a foldable plug for a pocket-sized charger with world-wide voltage so you can take it on your adventures

Safe & Reliable: UL certified Plus built-in safeguards to protect against any damage such as overcharging, overheating and short circuiting
Prices pulled from the Amazon Product Advertising API on:
Product prices and availability are accurate as of the date/time indicated and are subject to change. Any price and availability information displayed on [relevant Amazon Site(s), as applicable] at the time of purchase will apply to the purchase of this product.
Water
Bring your own water vessel. Lots of establishments will refill it for you, but especially if you are walking, you should have a good amount with you and a handy way to carry it. Clip it or slip it.
Conclusion
So there you go, fools! You've got everything you need to plan your next productive outing at a bar. It may take some practice, but what doesn't? Practicing anything while drinking is hardly like work at all.
If this guide was helpful for you, please tell us in the comments. Did YOU get sh*t done in a bar? Let us know!