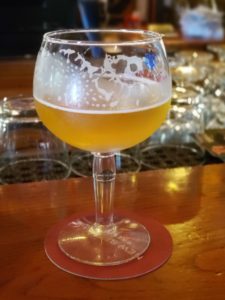 Honey beer is no new phenomenon. This drink, historically classified as braggot, is believed to have been around since the 12th century. Honey has been used in a myriad of beer styles to introduce a new realm of flavor, aroma, and mouthfeel into styles like the India Pale Ale, Kolsch, Blonde Ale, Saison, and more. What exactly is a honey beer, and what do the two have to do with each other?
Honey is a versatile ingredient, and it can be used in several types of specialty beers, such as honey wheat beer and honey pumpkin ales. But how does honey in beer change the taste and flavor of the drink? Continue reading for more on the history of honey beer, what it is, how it's made, and the differences between it and other ancient drinks like mead.
What is Honey Beer?
Honey and beer are no stranger to one another. The two make a great concoction that's enjoyable in many different forms. Honey beer is sometimes called braggot: a type of beer-honey cocktail. Though there's no set definition of braggot, it's made by fermenting honey and malt together. In that case, braggot is the marriage of beer and mead.
Honey beer does not have to be a braggot. Honey can be added to any beer style, and it's up to the brewer to decide what style works best with this special ingredient. Honey can be added directly into the wort during the boiling part of the brewing process (usually at the back end of the boil) or it can be added during secondary fermentation.
For all of you homebrewers out there: honey is fermentable, so limit your secondary fermentation honey additions and make sure fermentation has finished before bottling.
Does Honey Even Go with Beer?
We here at TB have a difficult time imagining anything that doesn't "go with beer", but we get what you mean.
As brewers continue to push their limits in the world of beer, many different ingredients are used every day to find the next big thing. Honey has been used in beer since what historians say was the 12th century. Dating back centuries, honey is no stranger to beer, and it's safe to say that it has stood the test of time.
Honey does go with beer. It does particularly well in IPAs and German Weiss beers. The added sweetness and mouthfeel make a big impact on these styles and implement a refined honey taste.
What Does Honey Beer Taste Like?
Honey beer should be a harmonious mixture of honey and malt. As such, a honey beer should be a balanced beer with prominent notes of honey on the nose and tongue. Since honey beer requires a base beer style, it will taste mostly like that style with additional notes of honey tacked on.
Some beer styles take over the flavor, and the honey addition isn't as upfront. Honey beer is sweet and smooth from the honey's texture. A lot of honey beers include herbs and spices in the recipe that partner with the sweetness to make intricate and complex profiles.
There are different honey types, such as wildflower honey and orange blossom honey, which are used to make honey beers. The type of honey and when it's added to wort determine the honey beer's taste. Depending on the type of honey used, a honey beer may evoke scents of cactus blooms, dandelions, citrusy flowers, and orange blossoms.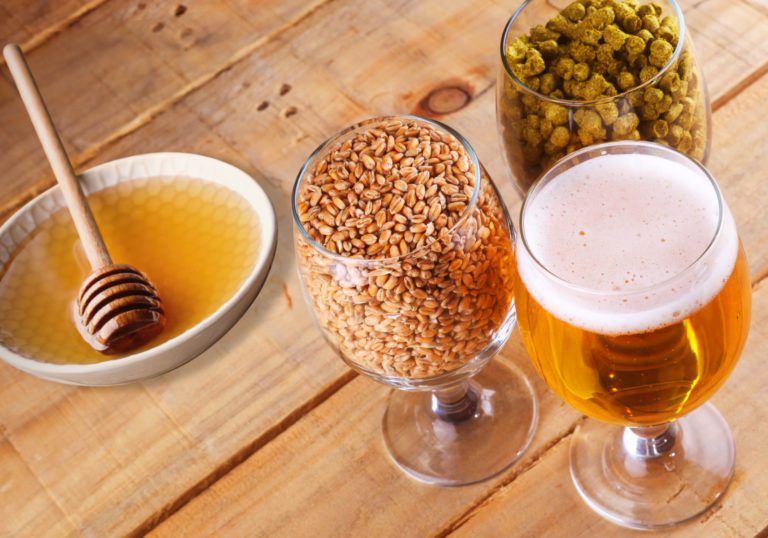 What Is Braggot?
Braggot is a honey and beer mixture. It's brewed with honey and malted grains to produce what's called braggot. Braggot has a strong honey and malt aroma that does not overpower each other. It's relatively clear and tastes mostly like the base beer style used, with honey notes. A lot of beer styles have been experimented with to produce honey ales and lagers.
Are All Honey Beers Considered Braggots?
The Beer Judge Certification Program actually considers Braggots to be meads first with malt extract added. "A braggot is a mead made with both honey and malt providing flavor and fermentable extract. Originally, and alternatively, a mixture of mead and ale."
Given the BJCP guidelines, you would be forgiven to think that you need to have at least 51% of your fermentable sugar sourced from honey. That is, "A mead with beer in it." That said, the BJCP also states, "The fermentable sugars come from a balance of malt or malt extract and honey, although the specific balance is open to creative interpretation by brewers."
BUT! One more caveat: "If any other ingredients than honey and beer are contained in the braggot, it should be entered as an Experimental Mead." So if you are entering your beer into a homebrew competition, you need to be careful.
The History Of Honey Beer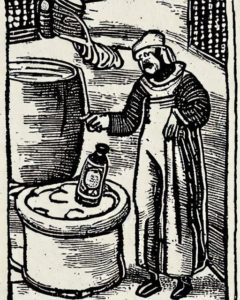 When did these two meet? Well: it's complicated. Some say Braggot (a honey-beer concoction of some sort) originated in Wales. Others say Ireland, and some say England. It's generally accepted as having originated somewhere in what's now the United Kingdom.
Braggot is traditionally brewed with 50% honey and 50% malt, though that's not the formal declaration. However, although there are no set rules for the composition of braggot, it tends to taste the best when that rule is as closely followed as possible.
Others claim that braggot was originally made by mixing beer with mead (another ancient alcoholic beverage, made by fermenting honey). With the obscurity of its origin and its formal composition, many honey beers can taste very different from one another and are often brewed in a variety of ways. All of which include honey and malt to some extent.
Is Honey Beer Mead?
Mead is a fermented beverage brewed exclusively with honey. It's sweet or dry depending on the recipe and often takes on the flavor of fruits and other ingredients used. There are no hops or malted grains of any kind in mead.
Beer is brewed with water, hops, yeast, and malt. Putting honey in beer does not make it mead. Adding honey will make it a honey beer. Depending on when it's added and what type of honey is used, the beer will take a more or less sweet flavor and aroma, as well as a different color.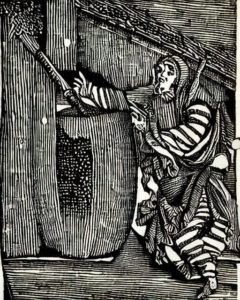 Brewing With Honey
Honey can be added to beer in large or small quantities. After all, you don't have to follow the 50% honey 50% malt rule–feel free to add in as much as 10% honey for a more subtle flavor. At around 20-30% honey, you will start to notice a dominant sweetness.
In The Boil
Honey's carbohydrates are 95% fermentable, which means that adding it to the beginning of the brewing process will get rid of its residual sugars. If you add honey with about 10 minutes left in the boil, you will get a subtle honey flavor and aroma in your beer. The National Honey Board recommends pre-processing honey at low temperatures to obtain a stronger flavor before adding it at the end of the boil where it's exposed to high temperatures.
During Fermentation
Additionally, you can add honey to your beer as it's fermenting. Depending on your recipe and the type of yeast used, wait some time for your yeast to krausen (when your yeast is at its peak production) and add the honey directly into the fermenter. Similar to dry-hopping with hops, this process will give your beer a potent honey aroma with secondary flavor characteristics.
During Secondary Fermentation
For the homebrewer, Nicoli Carr over at kegerator.com has a great article about his best practices in brewing beers with honey. According to Carr, to preserve the most honey character and flavor, adding it to a secondary fermenter is the best approach.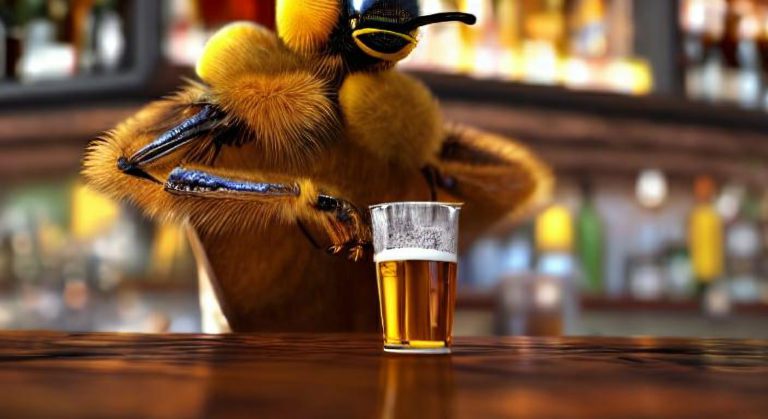 What Styles of Beer Work Best with Honey?
Almost any beer style works well with a little bit of honey added during the brewing process. You can turn any beer into a sweet and refreshing honey beer by adding it during or even after the brewing process. Put honey in an IPA to bolster any sweet notes–this works especially well with English IPAs that are already on the sweeter side.
Putting honey in beer can directly impact the level of sweetness. Other styles to consider are blonde ales, saisons, Bière de Garde, or any farmhouse ale.
How Do Different Types of Honey Affect the Final Product?
The source of the honey can impact its color and flavor. Darker and more potent honey will impart darker and more potent honey flavors in the beer. Generally, you'll want to match the overall profile of the beer with the type of honey added to avoid any clashing flavors or aromas. An alternative to raw honey is honey malt.
Some common honey varieties used in brewing include Clover, Alfalfa, Wildflower, and Buckwheat.
Some Great Honey Beers
Here's some of the highest rated honey beers on Untappd. Some we've tried. For others, we're going by others drinkers' reviews.
Jester King Brewery Bière De Miel
Farmhouse Ale | 3.84 on Untappd

Jester King added Texas wildflower honey to this brew during the boil, fermentation, and re-fermentation. That's a lot of freaking honey. I'm guessing you'll probably taste it.
Read our interview with Jester King artist Josh Cockrell.
Buy Jester King Beers from Craftshack
Lo Rez Brewing Bière De Miel
Farmhouse Ale | 3.70 on Untappd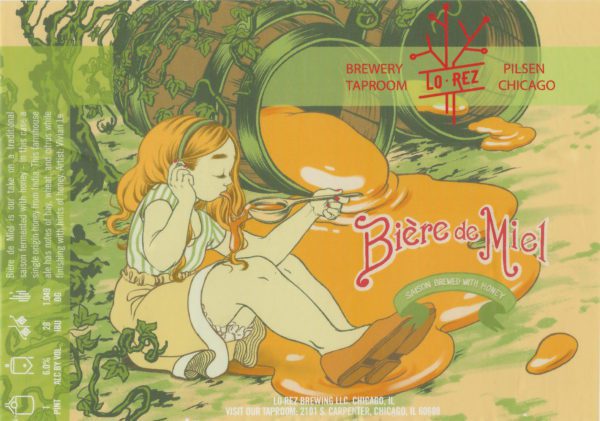 This is one of my personal favorites, so I'm popping this to the top of the list. Lo Rez fermented this Saison with single source Indian honey to provide a smooth mouthfeel and light honey notes. The Belgian yeast, cloves, wheat, malt, honey, and other spices can be found in its aromas, while the flavors of honey, citrus hops, cloves, and other spices come through. They also do a lavender version which I have yet to try.
Read our interview with Lo Rez artist Vivian Le.
Revolution Brewing Honey Jacket
English BA Barleywine | 4.28 on Untappd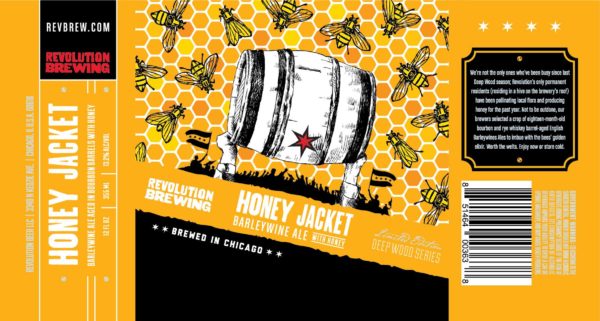 Sadly no longer in production and not on the schedule for release this year, this Barleywine is made with honey from hives on the brewery's rooftop. I still have a few cans, but I'm not sharing.
You can read our interview with label artist Scott Buoncristiano here.
3 Floyds Brewing Sköll
Imperial Porter | 3.89 on Untappd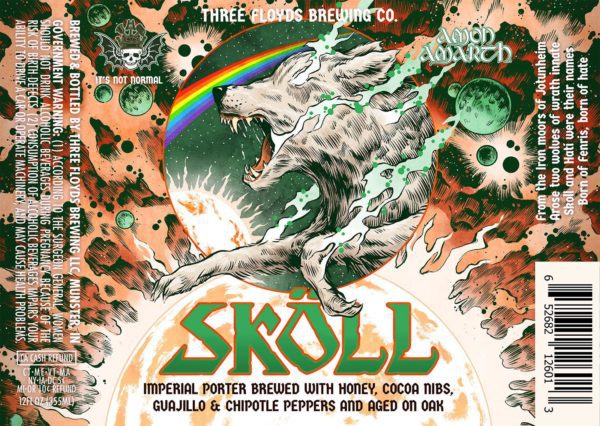 There's a lot going on in this one. Suffice it to say this is not a honey-forward porter. All of these flavors are working their own magic to balance out sweet and hot against an 8.5% backbone. That's a lot to ask of a humble porter.
Give it a try, I'm a traditionalist when it comes to dark beer… Skoll scared me for a moment, and I liked it.
The spiciness and heat from the pepper seems somewhat restrained at first, but it grows with time. The subdued chocolate character is dry and lightly bitter — like old, stale Bakers chocolate. Dry, smoky finish.
Off Color Brewing Scurry
Kottbusser | 3.57 on Untappd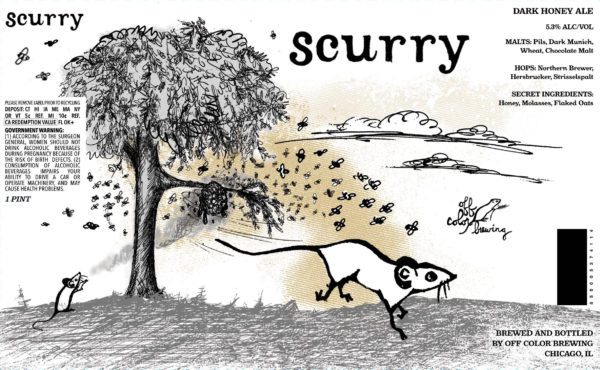 Okay, I swear this is the last Chicago-area beer on this list.
This one is so good, Josh had it on draft at his wedding.
Light, honey tones complemented by a pretzel-like dark hops flavor
New Belgium Honey Orange Tripel
Belgian Tripel | 3.79 on Untappd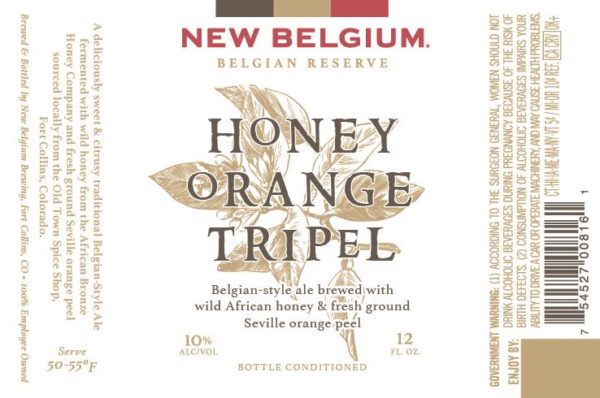 A Belgian Tripel is the top of my list for beers I'd like infused with honey flavor. Maybe it's a color thing in my mind, since Tripels are already honey-colored, but also, I feel the citrus base blends with the floral sweetness of honey. It makes sense to me that New Belgium would look to orange peel to compliment this pairing and it's delightful.
"In the end, we created a big, sweet and citrusy Belgian-style Tripel with thoughtfully sourced ingredients."
Some reviewers catch a hint of banana, which is what the yeast brings to this style.
Bayou Teche Brewing Miel Sauvage Braggot
Wine Barrel-Aged Braggot | 3.76 on Untappd
It's been a few years since I had this one, but I brought it to a bottle share and it was a big hit. Louisiana's Bayou Teche injected as much "frenchiness" as they could, using French barley and aging the ale in French white wine barrels: "The floral tones of the honey and fruit and vanilla tones from the wine barrels compliment the bready malt character to make this a truly unique beer."
Alvarium Beer Company Honey Shot NEIPA
NEDIPA | 4.09 on Untappd
If you came here to read about a beer that is recognized by the National Honey Board, look no further. Alvarium's Honey Shot won awards in their annual Honey Beer Competition in both 2019 and 2020.
Honey Shot is a beer brewed with Citra hops, whirlpooled with wildflower honey and dry-hopped with an impressive amount of Citra hops. The result is a creamy, full-bodied, NEIPA.
Most reviewers report that sweet wins in the balance battle here, but you came for the honey, right? You'll find mango and papaya flavors with only a hint of resiny-pine.
Smell has notes of fresh mango and peach. On the first sip the taste had a honey flavor, but this became less noticeable over time and the bitter and hoppy flavors became more pronounced. Tastes like mango, peach, pear, and tangerine. A tad bitter and a judicial bit of resin. I found the creamy mouthfeel quite enjoyable.
Icarus Brewing Milking It & Honey IPA
IPA | 4.24 on Untappd
This beer is like a smooth, creamy paradise in your mouth, with delicious fruity and hoppy flavors, plus a hint of sweet honey. Reviewers say the pineapple flavors perfectly complement the beer's full, round mouthfeel.
Brewed with lactose and wildflower honey, Milking it & Honey is an NEIPA with a malt bill heavily accented with wheat and oats. Then, Icarus dry-hopped the wort with hops that impart fruity, hoppy flavors with hints of sweetness. Reviewers say the beer's sweet pineapple flavors complement its full, round mouthfeel.
Smooth and creamy with fruity hoppy flavours and honey sweetness.
Greenpoint Beer Milk and Honey American Blonde Ale
Blonde Ale | 3.74 on Untappd
This blonde ale has wonderful honey flavors up front, a touch of sweetness from the milk sugar, and a bready malt profile. Reviewers say it is light, but flavorful, with the sweetness and flavor of honey up front. According to Greenpoint, this classic of their menu got a recipe refresh in 2022, so if you've had this before, try it again! This new Milk & Honey was brewed with New York State honey, chamomile flowers and Lorien hops from Indie Hop Farms.
The sweetness of the milk sugar was enough to complement the honey and orange marmalade and even had me looking up what chamomile was.
Like a wild flower meadow in a glass. Perfect balance of floral hops with honey and chamomile.
Indeed Brewing Company Mexican Honey
Mexican Lager | 3.71 on Untappd
Brewed with Mexican orange blossom honey and Amarillo hops, Mexican Honey Imperial Lager is a refreshing and smooth cerveza. This beer has a beautiful orange hue, great carbonation, and a lovely thick body from the honey. Most reviewers warn that the high ABV sneaks up on you. Guess they don't know the definition of "Imperial" as it pertains to beers. Silver Medal winner at the Great American Beer Festival of 2014!
Belching Beaver Must Be The Honey! Blonde Ale
Blonde Ale | 3.52 on Untappd
We would be remiss to exclude this beer with a little secret history behind it. Belching Beaver quietly renamed their "Me So Honey" blonde ale with honey and there's still Untappd check-ins as recent as summer of 2022. Hats off to having the good taste to do away with a bad pun.
Buy Belching Beaver Beers from Craftshack
As of this writing, Craftshack still hasn't bothered to update their store images:
References
Beer Judge Certification Program M4A Braggot
Brewing With Honey | National Honey Board