Have you ever tried to buy craft beer online? I'm not talking about local liquor delivery – a decent online beer retailer. If you're like me, you've found it rather difficult to buy beer online. It shouldn't be!
After trying several services available, we here at Thirsty Bastards have found that Tavour.com is the best way to buy beer online. At its core, Tavour is simply a great way to get amazing beers from all over the U.S. delivered to your door. Not only is it a stellar subscription service with flexible delivery options, but Tavour also offers up hard-to-find beers on a daily basis – often several times a day. If you are an "Untappd drinker", Tavour will get you checking into beers that will make your friends jealous.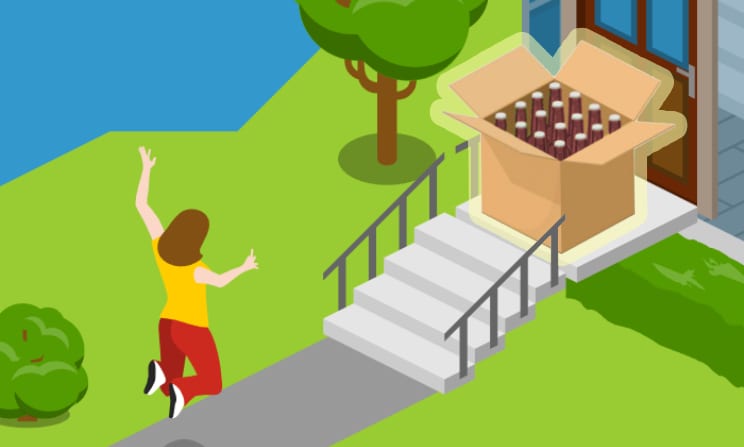 Beers offered by Tavour come from all over the US and can include rare finds from Illinois, Colorado, Oregon, Alaska, Georgia, New Jersey, and many other states. Tavour includes ratings from Untappd whenever possible.
We know you're used to shopping "Amazon-style". You add items to your cart and when you're happy with the items you picked out, you place your order. Sadly, we have not been able to find a shopping cart-style service for craft beer that measures up. The good news is, the service we prefer, Tavour, is even better. When you install their app, you get notifications of new beers being sold. These can be added to your open box that ships when you say you'd like it.
How Tavour Works
You can buy beer online at Tavour in two ways: by selecting a personal Subscription Plan, and by buying featured "Current Beers". The subscription is tailored to your beer style preferences, but Current Beers is where the magic happens.
Your Crate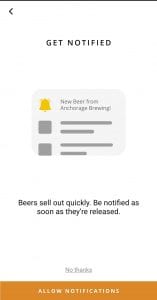 You "load up" your Crate of beer simply by being a member and deciding if the daily offerings are right for you. With the mobile app, you will get notifications when new offerings become available. If you like what you see, add it to your crate and it's locked in for your next Crate shipment.
It's important to note that you are charged for items at the time you add them to your crate, NOT all at once when your crate ships. So if you are keeping an eye on your beer budget, you can just ignore the notifications… IF YOU CAN!
Even though this is not "shopping cart"-style online beer buying, it's good to know you have three days to cancel and request a refund for beers within 3 days of adding them to your Crate. You just need to make the request via email at support@tavour.com.
Not that you'll be disappointed with what comes in Subscription Plan – the beers are top-notch! But take the app for a spin and see what beers pop up as they become available and you'll see what we mean. You'll have a crate full of beer from across the country on your doorstep in no time.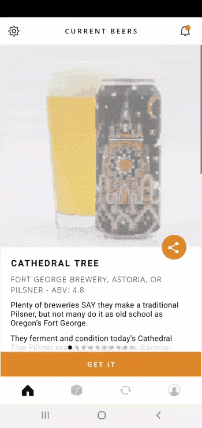 You can visit Tavour right now and receive to get $10 off your first purchase, on us!
A Note About Tavour's Packing and Shipping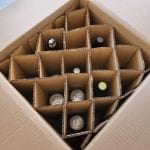 Even though we would LOVE IT if Tavour used our tried and true method of shipping beer, they do a GREAT job packing. We've never received a single broken bottle or ruptured can. Not every service we've tried can say that, trust us on that.
Your Crate will arrive via courier and you will have to provide proof of age to accept it. Tavour recommends that you ship your Crate to your place of work, but we are all home anyway now, right?
If something untoward does occur, just contact support.
Subscription Plan
You don't need a subscription, but there are three things you need to be aware of: 1) If you choose to commit to a Subscription Plan, there is no shipping fee for that Crate. 2) There are three Plan options: monthly, every other month, and every third month. 3) There are also two quantity options for the Plans.
Any "Current Beers" selections that you've added to your Crate at the time your Subscription Plan Crate ships will be included in the same box. When you first get started, you'll have 3-4 weeks to add Current Beers to your Crate, so your first one will likely be a doozy.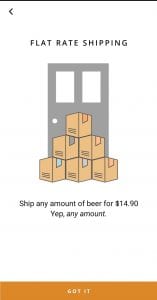 Not all shipping on Tavour is free. If you receive a Crate shipment that does not align with your subscription shipment, you will be charged a flat fee of $14.90 for shipping regardless of how much is in your Crate. That said, if you choose the monthly option and allow your crates to be shipped on the default schedule, you will never pay for shipping.
So just remember, if it's in the same box as your Subscription Plan Crate, shipping is totally free.
Each subscription Box has a 6- or 12-Beer option and Monthly, Bi-Monthly, and Quarterly delivery options. The more frequent delivery options save you a bit of cash, but also, the barrier of entry into a subscription starts at $74.00 quarterly.
6-Beer Boxes
$70/month, $72/every other month, or $74/every third month (quarterly)
12-Beer Boxes
$125/month, $129/every other month, or $133/every third month (quarterly)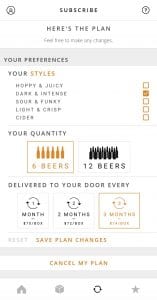 Additional subscription options include five Style preferences: "Hoppy & Juicy", "Dark & Intense", "Sour & Funky", "Light & Crisp", and "Cider". You can choose one, several, or all styles for your subscription box.
Making changes to your Subscription Plan is also super easy. If you find you want to try other styles or just want to take a break, you can do that very simply on the Subscribe panel in the app.
What is Tavour Pass?
Think of Tavour Pass as the "Amazon Prime of Craft Beer". Tavour Pass is $49 a year and grants you unlimited free shipping for all Crates of at least 12 beers. This is a great option if you don't want a subscription OR you find yourself ordering more frequently than your subscription schedule.
What is Tavour+?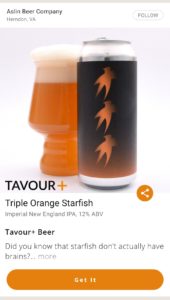 In April of 2022, Tavour also announced an invite-only plan called Tavour+. We're not sure what the criteria is for invitation, but we signed up without a second thought. Tavour stated that the number of memberships available is limited.
Tavour Plus is $119 per year and includes the unlimited free shipping you get from Tavour Pass as well as early access to special releases, new breweries, and "select new beers".
Members-only offerings will have the Tavour+ logo on them so you know when these special releases drop.
| | | |
| --- | --- | --- |
| | Tavour Pass | Tavour+ |
| Unlimited Free Shipping on Crates of at least 12 beers | | |
| Discover new beers and breweries | | |
| Early access to special releases | | |
| Annual Fee | $49 | $119 |
Getting Started With Tavour
Here are the easy-peasy steps to get started with Tavour.com
Click here to register with Tavour and get $10 off your first purchase.
(or install the app and use the referral code "542244")
Check that Tavour is legally allowed to ship to your state (enter zip code)

Set up payment info
Choose your subscription
Install the Tavour app (available for iOS and Android)
Make sure you have notifications turned on and keep your eye out for the next offerings
Shop for beer! And/or wait for your next Subscription Crate to arrive. This is the hardest part.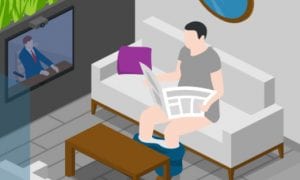 Get $10 off your first order when you join Tavour today!