I have to admit, it took me a long time to warm up to Clown Shoes Beer. You would think that a brewery that puts as much into illustration as Clown Shoes would really appeal to me. And Clown Shoes has recruited some top-notch artists for their beer labels. Two things about their labels changed that really reeled me in: 1) They stopped framing the illustration and went full bleed with the art, and 2) Clown Shoes hired Michael Axt as their main illustrator. The result is bottles that jump right off the shelf and I challenge you to ignore them!
Booty and Controversy
Clown Shoes labels have always had a sense of humor about them. The first ones I remember seeing where Tramp Stamp and Brown Angel – both very "booty-focused" labels by Stacey George. Ms. George is a phenomenal artist, and let's be honest, these are sexy, clever labels, but they simply did not pull me in.
I first noticed Michael's artwork when I was reading about the ridiculous lawsuit against Clown Shoes over the name of their Vampire Slayer Stout. The revamped label, now called Undead Party Crasher, had a style I hadn't seen on a label before. A low-angle action shot blends monsters, monster hunters, pop culture references, and the shoes of a clown in a way I hadn't seen outside of comics art.
"I was unaware of the legal stuff until Gregg (owner) called me about doing the label.  He was pretty much like hey we don't want to fight this because it would cost too much so here is what I want to do.  'I want a party of undead getting crashed by "someone".' Originally the label had a vampire getting staked, but our lawyer thought we should just avoid vampires all together, so I switched him to a werewolf."
It was also the first label Michael was asked to do without the framing of the illustration – a perfect storm!
Extremely Talented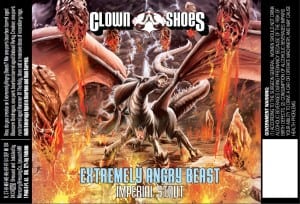 I was drinking an Extremely Angry Beast Bourbon Imperial Stout and of course I had to tweet (via Untappd) about how amazing the artwork is. Michael responded over Twitter and I reached out to see if he wouldn't mind lending some insight into his process, art and what makes a Clown Shoes label.
Michael was contacted by Clown Shoes through hireanillustrator.com. His first job for them was Crunkle Sam American Barleywine. My favorite part of that label is the eagle getting shot in the backside by fireworks.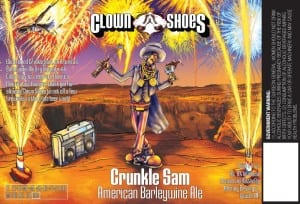 Originally from Philadelphia, Michael calls western Massachusetts his home where he lives with his wife and daughter.
While Michael has not drawn for comics, the influence is very heavy on his work. "My mom tells me the first thing I ever drew was Spider-mans head.  I just never stopped drawing.  I would spend hours in my room listening to music and copying my favorite comic pages." Having been encouraged during his high school years, and with the benefit of an "amazing art program, he went on to attend the Savannah College of Art and Design.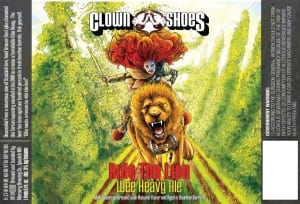 When asked which Clown Shoes label was his favorite (so far), Michael says it's Ride The Lion. "I have a big problem with how women are portrayed in most fantasy art.  Unrealistic leather straps that are supposed to somehow protect against an axe blow.  So getting to make a badass Scottish warrior woman riding a lion was pretty fun."
There's a lot of subtle detail in Michael's illustration and I don't just mean playing "Find the Clown Shoes" (although that's pretty fun). In Ride The Lion, the warrior woman is sporting Braveheart-style paint on her smirking face and she's slashing the nearby hop vines as she rides. The lion has a cask of ale hung under his maned chin like a St. Bernard on his way to rescue and avalanche victim.
True Or False?
The best beer label art looks like it could also be Magic: The Gathering card art…
"True! It's funny you ask that because that was absolutely my mindset for the Extremely Angry Beast label I just did. I typically send Gregg 3-6 sketches of ideas for each label. That one was described as magic card-esque. While I don't actually play, I have often been tempted to buy packs just for the art. I actually follow a lot of those artists on social media. Some seriously amazing art."
I could easily see this Angry Beast in a Magic deck.
How To Follow Michael
Michael contributes to Longboxes on 22s, a hip hop/comics mashup blog which is pretty freaking awesome and hilarious. "Some friends and I are in the process of finishing a book now that we want to put on Kickstarter."
Michael does commissions and can be contacted on his website, michaelaxt.com. He and Clown Shoes are in the early stages of putting together a book of the label art done over the years.