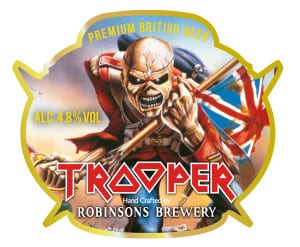 The Trooper is a beer "created by Iron Maiden" according to the Robinsons website.  It seems that lead singer Bruce Dickinson is a big fan of craft beer and his input went into the making of this British ESB.  The Trooper label features cover art from the Iron Maiden single of the same title.  The original image was painted by long-standing Iron Maiden collaborator, Derek Riggs.
The song itself appears on their fourth album, Piece of Mind.  It is based on the Charge of the Light Brigade at the Battle of Balaclava 1854.  Like all of their albums, the Trooper label features the zombie-like Iron Maiden mascot, Eddie (aka Eddie The Head).
According to Riggs' website, he did his best to research the proper uniform worn during the Crimean War.  Lacking good reference material, he got as close as he could and "made the rest up".
A little history lesson
Thanks to a communication misunderstanding during the Battle of Balaclava, the famous charge resulted in unprecedented casualties as British soldiers attempted a full-on assault against Russian artillery.  Presumably Eddie is cleaning up on the battlefield.  He carries a bloody sabre and a tattered and blood-stained British flag.  The grim reaper stands by.
Riggs was solely responsible for the album art for Iron Maiden from 1980-1992.
So How's the Beer?
Trooper is great with a meal.  I tend to drink heavy, high ABV beers so a lighter, less potent beer complimented my food very well.  Nice hop balance.
I gave it 3 stars on Untappd
Buy The Trooper on LetsPour.com
Links and such
Derek Riggs' Facebook
Derek Riggs on Wikipedia
The Trooper Lyrics on Metrolyrics
Really nice detailed slideshow of the history of Eddie
BLA favorite Christopher Quinn over at The Beer Temple does a thorough vidcast review not only of the Trooper, but an amazing overview of the British Mild style.
Update
Looks like there's a new version of the label: