It was a huge week for awesome labels! Every one of these could be its own post. I can't say that every week. Let's dig in!
The following labels were registered with the Alcohol and Tobacco Tax and Trade Bureau during the 6th week of 2015. They have been selected for their aesthetic appeal or simply because I thought they were cool.
Three Heads Brewing Sir Shock-A-Lot Double Chocolate Milk Stout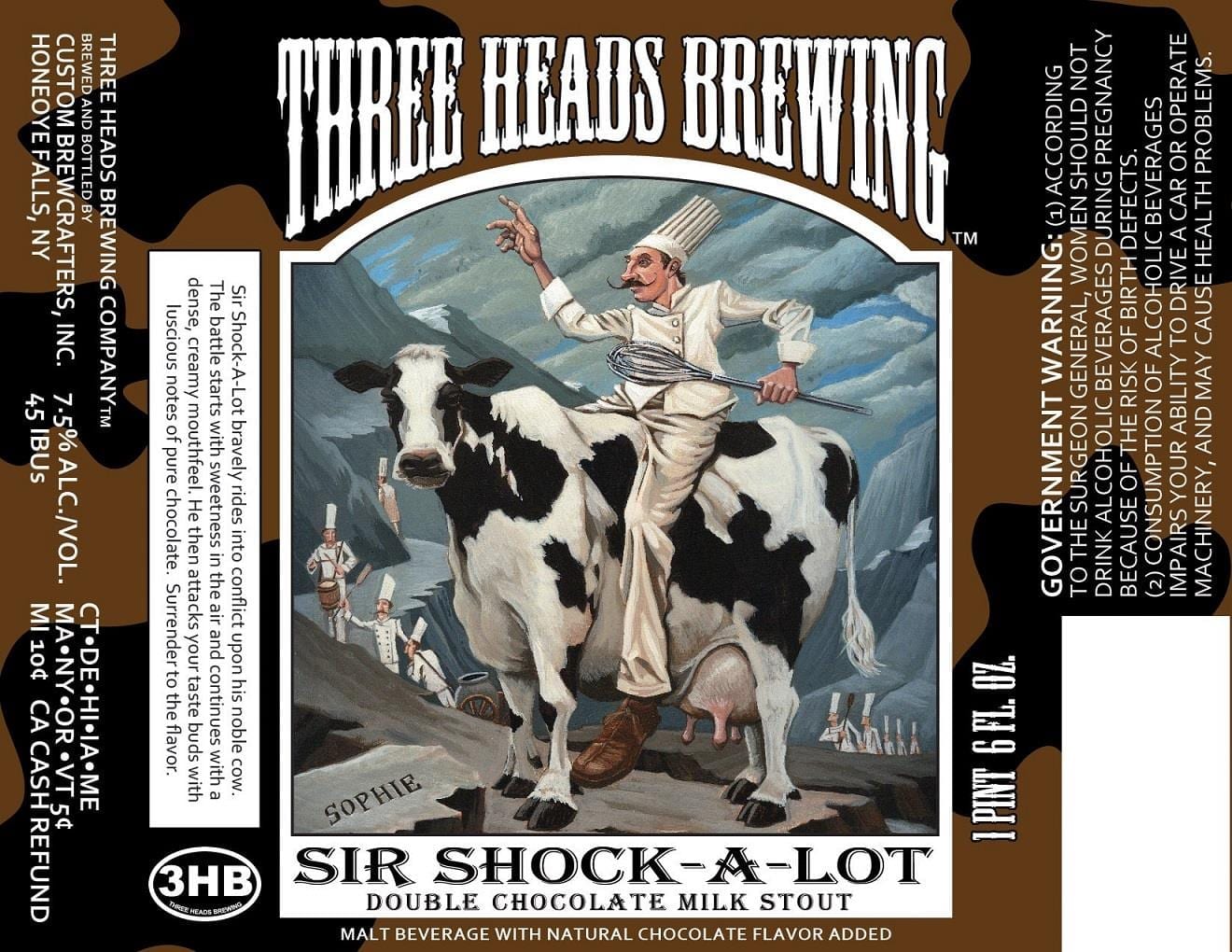 I'm struggling with the influence of this painting. I can't quite pin it down. I feel like the rocks, and jagged mountain pathways have a surrealist look to them, but I'm also reminded of images like Dore's Divine Comedy.
Sir Shock-A-Lot, it seems, is leading his fellow chefs into battle from atop his mighty cow. His weapon of choice is a large whisk. Also, I don't know who these chefs are fighting. The absurdity of this scene is reinforced by its quirky style.
I'm going to assume that the name "Sophie" carved into the stone is the signature of the artist. I can't seem to find anything out about who that artist is.
@beerlabelsart Our artist is Allen Firlit. He's our secret weapon

— Geoff Dale (@3HeadsBrewing) February 28, 2015
Clown Shoes Ballad Of Minnie Quay Old Ale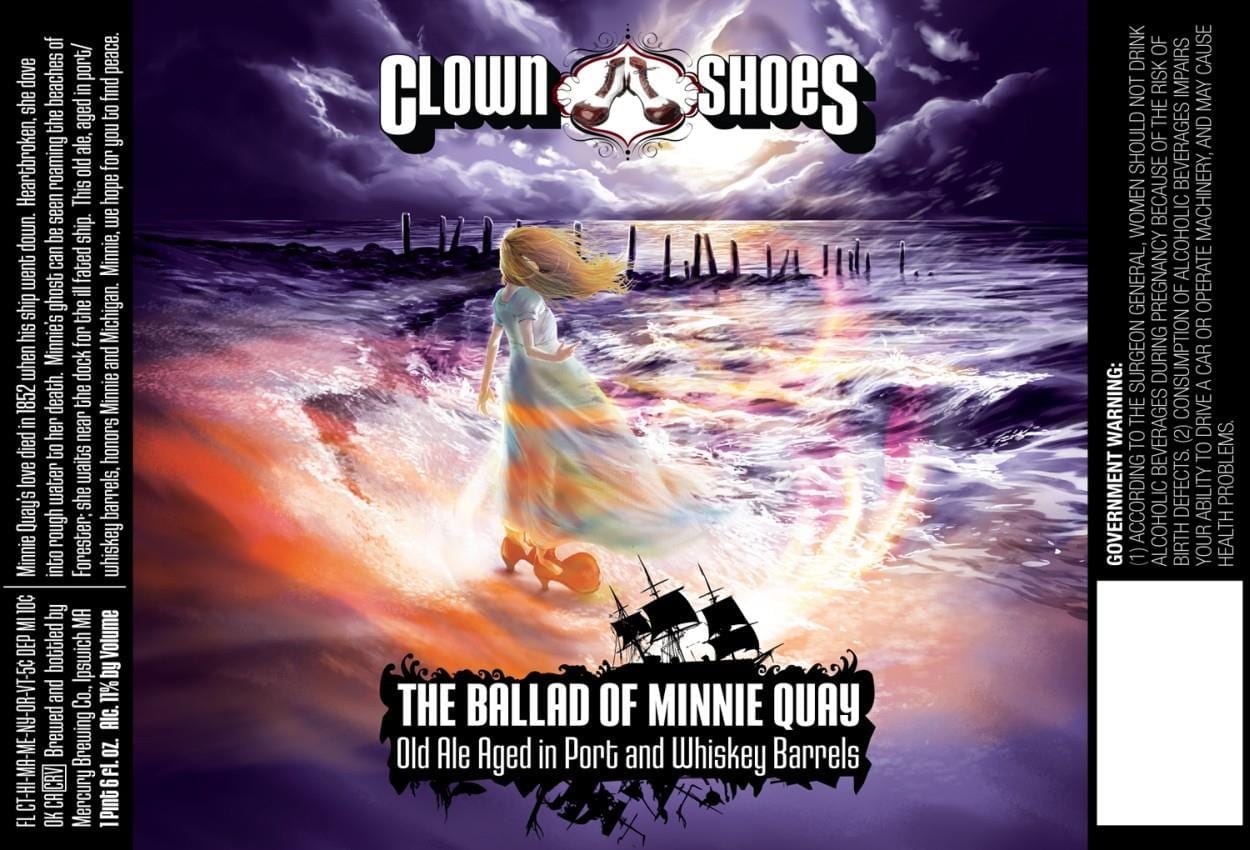 Michael Axt has outdone himself with this gorgeous seascape. I almost feel like it's a bit tragic for such a beautiful painting to require the appearance of their trademark namesake. The clown shoes don't quite belong, do they?
The story on this label reminds me of the Sinead O'Connor song Jackie, but I suppose there're lots of stories like this.
I love the graphic treatment framing the name of the beer too.
Figure Eight Brewing Intergalactic Belgian-Style Brown IPA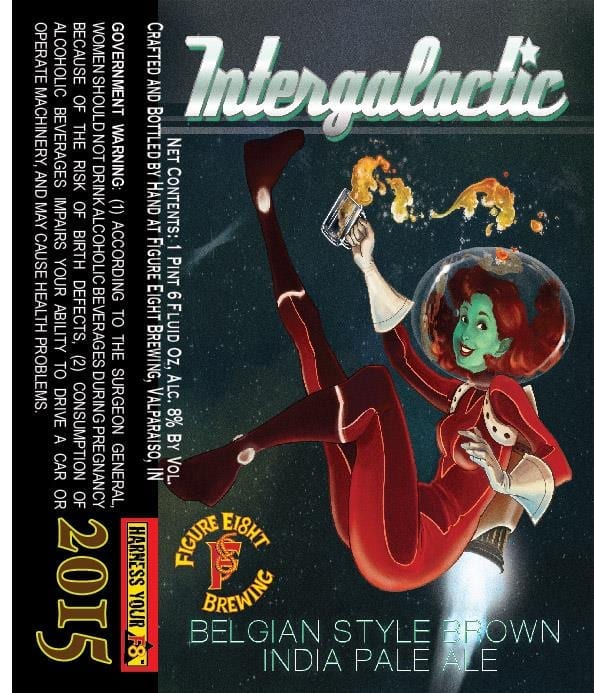 I figure I'm about three labels shy of a post on just pin-up space girls. Each one is just as awesome as the last! I can't imagine this one will be enjoying that beer anytime soon. It's probably already yellow frozen globs floating in the vacuum of space.
This sent me down a Google image search rabbit hole of the origins of the "fish bowl" space suit, but I couldn't find anything definitive. If any of you readers have any insight into this, I'd appreciate a little direction.
Narragansett Innsmouth Olde Ale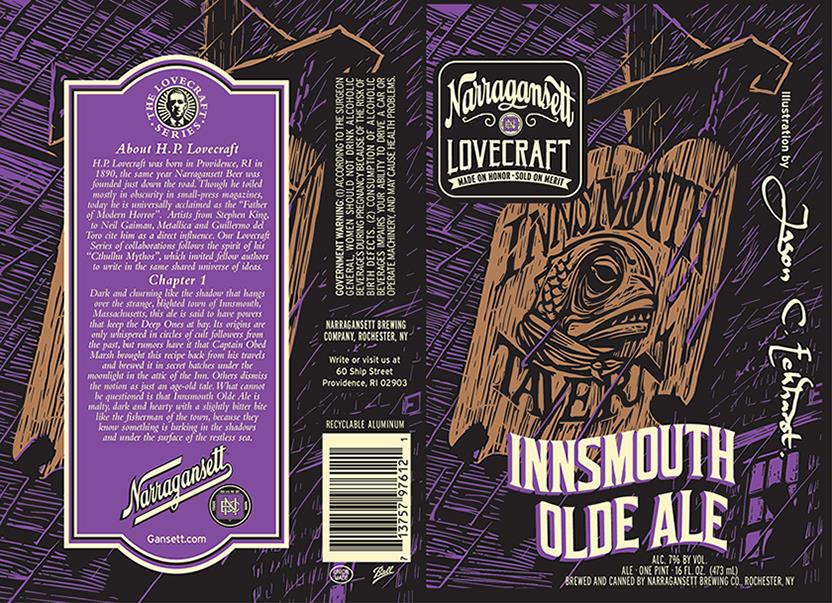 This is the second in Narragansett's series paying tribute to their favorite local author. He's one of mine, too.
Innsmouth, Massachusetts is a fictional town created by American author H. P. Lovecraft as a setting for one of his horror stories, and referenced subsequently in other of his works and of those other authors who wrote stories carrying forward the Lovecraftian tradition.

Lovecraft first used the name "Innsmouth" in his 1920 short story "Celephaïs" (1920), where it refers to a fictional village in England. Lovecraft's more famous Innsmouth, however, is found in his story "The Shadow Over Innsmouth" (1936), set in Massachusetts. This latter Innsmouth was first identified in two of the sonnets in Fungi from Yuggoth. Lovecraft called Innsmouth "a considerably twisted version of Newburyport", Massachusetts.
I've not read "The Shadow Over Innsmouth", but I suspect it has to do with lizard-like creatures as portrayed on this label.
As the label clearly states, the woodcut artwork for this label comes from Jason C. Eckhardt. He is well known in the publishing world for illustrating the works of Lovecraft.
Central City Detective Saison
I pulled this one because it jumped out at me as being extremely stylistically similar to the work of Micheal Avon Oeming on the comic Powers. I'd forgotten the name of the character it reminded me of and a quick Google image search revealed the image to the right. Now, I kind of wonder if this doesn't belong in the Swipe File.
It seems that Central City has straight up stolen the likeness of Detective Deena Pilgrim from the comics series by Oeming and Brian Bendis. Rut roe.
Off Color Brewing Bare Bear Finnish Sahti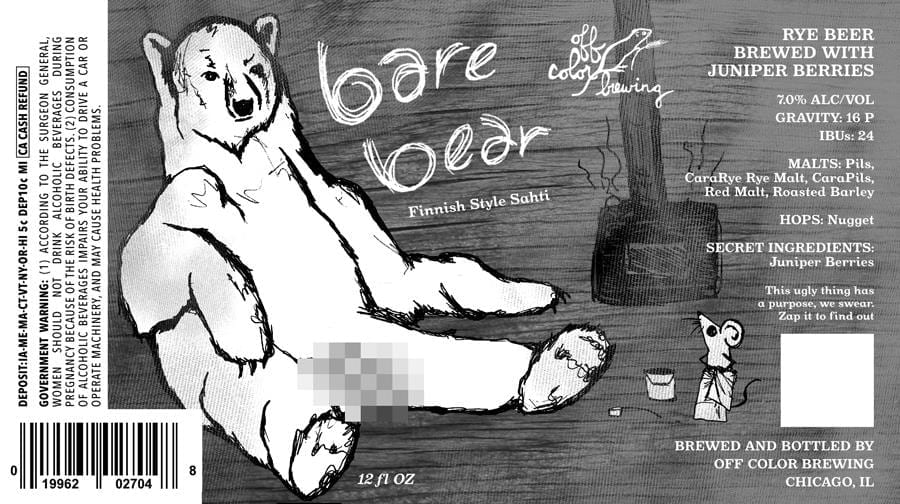 Did you think I wasn't going to give a shout out to a Chicago brewery this week? Wrong!
I visited Off Color's facility last week, and I saw a palette of this beer ready to ship. I just tried it tonight, and it's pretty darned amazing. There's a great little history of the Sahti style on the Off Color website. It seems anything Finnish occurs in the sauna, so this bear and mouse taking a steam is very appropriate.
Eyesore of the Week – Rivertowne Jah Mon IPA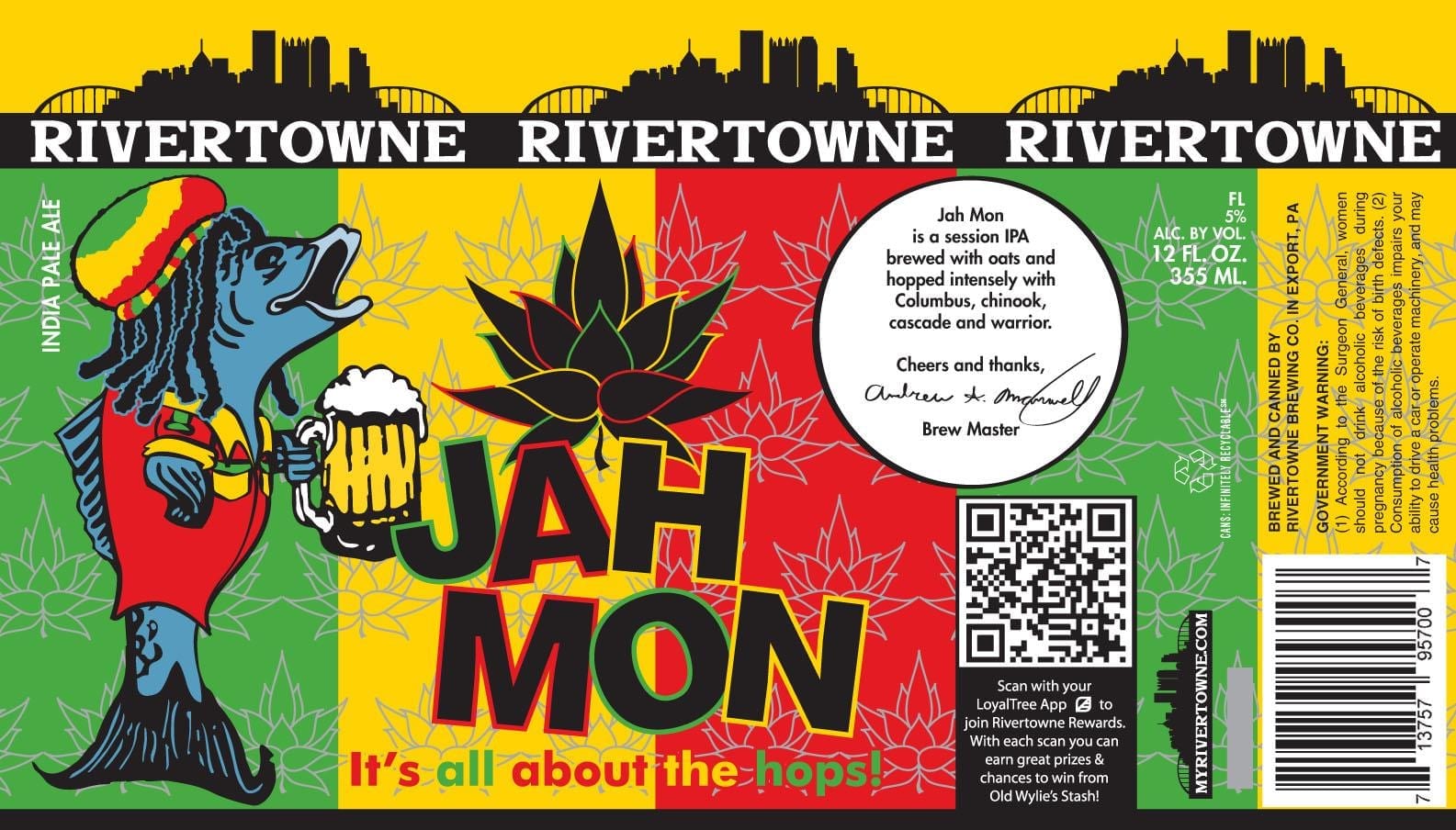 When it comes time to adapt your time-honored fish mascot to package up your Jamaican-themed "Jah Mon" IPA, there's a few ways you can go about it. You take the conservative route and adopt the colors in a subtle way, or you can over the top and pray for the best. Rivertowne went for broke and gave their mascot Rastafarian dreadlocks.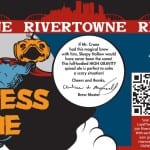 Wylie, the fish, appears to be Rivertowne's mascot. He adorns several of their labels including the particularly inventive Headless Wylie where he is portrayed as the Washington Irving horseman.
I don't claim to know how to make your beer-drinking fish mascot more attractive. I guess Charlie The Tuna comes to mind. All I know is someone at Rivertowne needs to go back to the drawing board.
Label images research made possible using the highly recommended LabelVision search tool at ShipCompliant. 
Wikipedia contributors, "Innsmouth," Wikipedia, The Free Encyclopedia, http://en.wikipedia.org/w/index.php?title=Innsmouth&oldid=642803844 (accessed February 15,