From what I hear, Avengers: Engame will be available this week on Blu-ray. I'm 100% certain that you'll be having all your homies over for an A:E viewing party, complete with cosplay contest, "Bobbing for Infinity Stones", "Pin the Gauntlet on the Thanos", and spoiler-free beverages.
The fine folks over at fun.com reached out to let me know that they'd made some really sweet Avengers: Endgame-themed labels available for download. Print them up, stick them onto your bottles of choice, and watch everyone try to guess what's inside. We did our own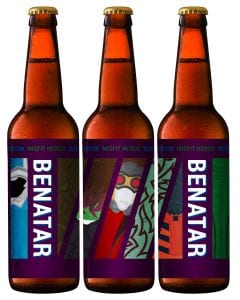 Thirsty Bastards: My favorite label in the set is Benatar? Can you tell me the story behind its conception?­
Abby Bartels: Truth be told, Benatar was one of the last labels in the collection to be created. I was struggling to figure out how to represent all the different characters. Once I figured out the layout for the label it was just a matter of bringing some of the main elements of each Guardian to life.
TB: What is your favorite label you made for the Avengers: Endgame-themed beer labels and why?
AB: Yibambe was the first one to be created as a whole and kinda set the tone for the whole collection. Between the styling of the main characters and the overall layout of the label I really like how it turned out.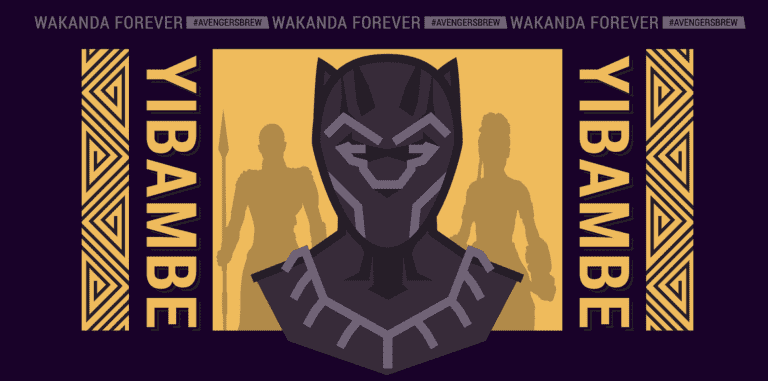 TB: What inspired you to create the Avengers: Endgame-themed beer labels?
AB: We knew we wanted to do something to go with the Avengers: Endgame digital release. We brainstormed a lot of different ideas and after a fair amount of discussion we landed on doing beer labels, which excited me since it was it my wheelhouse. As far the artwork goes I was really inspired by Sunday Lounge's logo for Colorado Brewers Rendezvous in 2017. Clean and simple linework. It really gave me the starting point for all of the main artwork on the labels.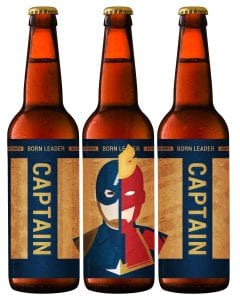 TB: So these are made to be printed and applied to beer bottles? What a great concept. Have you done this before?
AB: Yes, I've been working within the beer world for a long time. I actually worked at a brewery for 8.5 years including work in the taproom, museum, gift shop, and 2.5 years as an in-house graphic designer. Designing there was fun, it included collaborating on label designs and working on packaging and signage. When I left the brewery and came to FUN.com, one of the first big projects I got to work on was our Disney beer labels. (https://www.halloweencostumes.com/blog/p-713-12-disney-beer-label-printables.aspx)
TB: I noticed that you didn't associate these labels with beer styles. Any reason for that? Would you like us to do that for you?
AB: When we did the Disney beer labels we included a beer style for each; however we realized we were limiting people to what styles of beer they could be using them for. By leaving it off, it allows everyone to pair each label with whatever beer they see fit. So by all means, match them up!
TB: Where are you from and where did you learn to be an artist?
AB: I'm from New Ulm, MN originally (which happens to be quite a big beer drinking town). I remember when I was younger my dad always said I had an eye for design and would always ask my opinion on anything design that crossed his desk at work. So I ran with it through college and here I am today.
TB: Can you tell me a bit about your process? Are you all digital? Traditional? Mix of both?
AB: Straight off the bat, it was a matter of figuring out what characters were going to be going together along with possible names for the combos. After that I grabbed my pens and notebook and just started sketching out ideas. Then brought it back into Illustrator and tried a few of the ideas in a couple different styles. Found one that I liked and ran with it.
TB: What other art do you make?
AB: I do a little bit of freelance work from time to time, mostly logo work, but for the most part I do my best to unplug and avoid computers when I'm not at work. That just means I channel my inner grandma to get creative. I do a lot of quilting, needle work, crocheting, modern calligraphy and photography. I like to stay creative in all types of different forms. Check out my Instagram to see what I mean!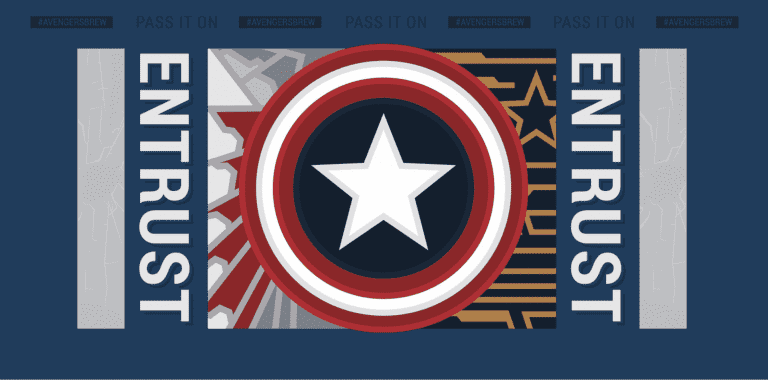 TB: How can your fans find you and your work?
AB: Checkout our blogs:
fun.com
halloweencostumes.com
Abby Bartels on Behance
Abby Bartels on Instagram