Hey artists! Did you know that if you reach out to us and you have a sizable body of label artwork out there, there's a great chance we'd love to interview you? No? Steve Kitchen of Parallel 49 Brewing did (via our Facebook page), and look where it got him! Steve has been making "beer characters" for Parallel 49 Brewing for a VERY long time and he's got a huge body of work to show for it.
Thirsty Bastards: My favorite label you've done is Jerkface 9000? Can you tell me the story behind its conception?
Steve Kitchen: The Jerkface label is so ridiculous! The brewery owners found that when insulting each other if they added 9000 to the insult it would resonate so much better. It was then that they they asked me to come up with concepts for 'Jerkface 9000'. I sketched out a few ideas featuring the Jerkface character, whilst trying to make him look as obnoxious as possible.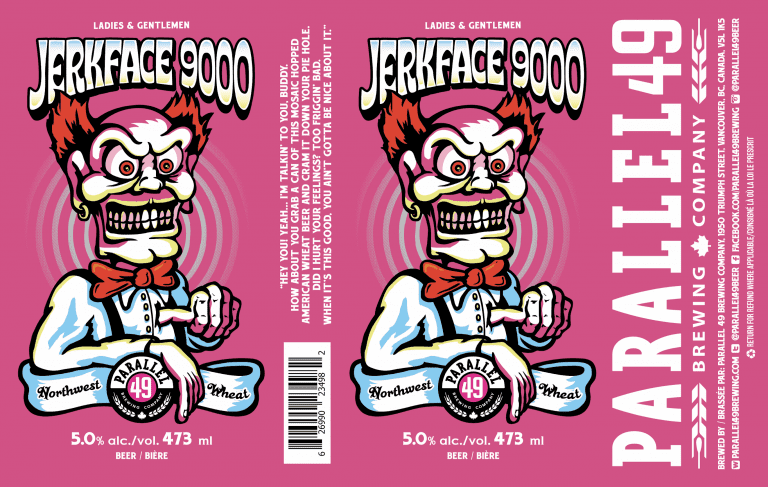 He's prodding himself in the chest with his thumb because even he knows he's a Jerkface, he's proud of it – the worst kind of Jerkface! The circles in the background and the font style choosen give it that Carnivaleque theme, the bright pink was thrown in to amplify the ridiculousness & grab attention on the shelf
TB: What is your favorite label you've done so far for Parallel 49 Brewing and why?
SK: The label I designed for Parallel 49's recent 7 year anniversary, Matador, is my current favourite. It has a directness and intensity that I'm always looking to capture with any of our character labels. The use of detailed patterns or textures contrasting with the bold lines of my character art is an aesthetic I enjoy.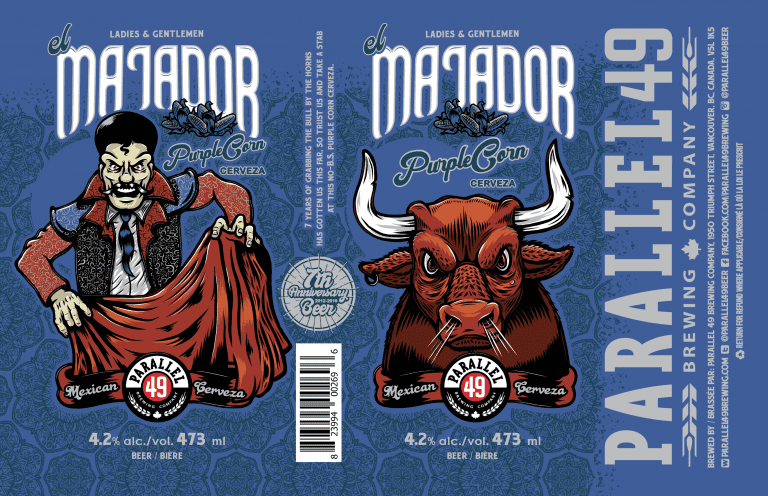 There are have been so many labels through the years to chose from but other favourites would have to include Filthy Dirty, Trash Panda, Troll Juice, Advocate, Nefairious, Bodisattva and the Craft Cousins/Brews Brothers series.
TB: How did you get started making labels for Parallel 49 Brewing?
SK: My background is mainly working in the music industry. The brewery owners liked the zany, random gigposters I'd been producing for local bands/festivals that they had seen around East Vancouver and wanted that same approach/style upon their beer bottles.
I started by pitching a set of 6 designs at the brewery owners with the idea that, as each beer had character, each beer WAS a character. I felt it important to have at least a couple of design elements that would carry over across the range of six, for example, the logo and beer style banner at the footer of each character. Those design decisions still live on today and hopefully make a Parallel 49 beer recognizable on shelf with even the quickest of glances.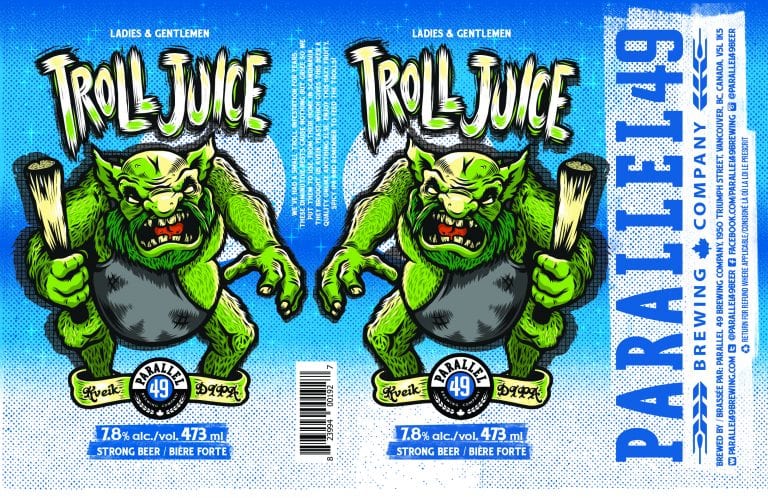 Marissa Mills, Marketing Director for Parallel 49 Brewing: Our process is quite fluid, and varies slightly with each label that is completed. Generally, we come up with a beer style and name, and then pass the name on to Steve to develop the art concept and overall look and feel of the labels and boxes.
Steve, the Owners and Marketing come up with names and concepts through conversation and emails back and forth whenever we get inspiration. The name for Trash Panda Hazy IPA was found when we ran a staff contest to name our upcoming beer, however the majority of our products are named by the ownership group.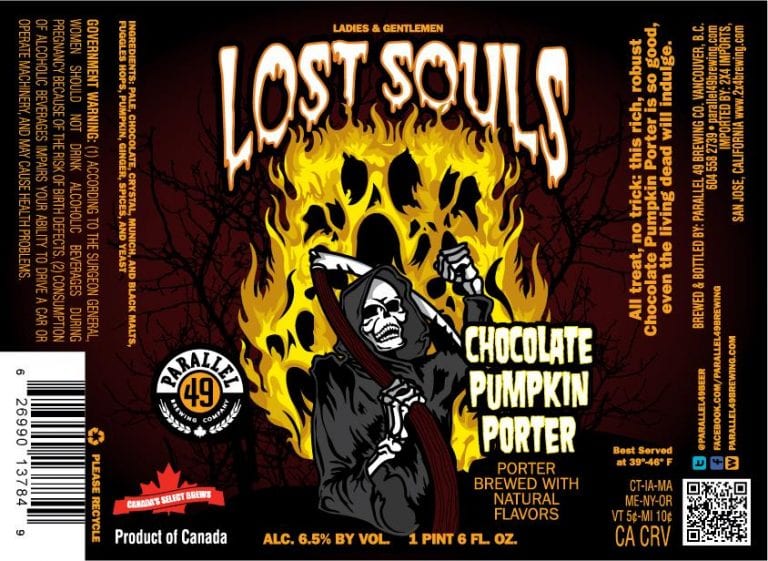 TB: Do you have a list of labels you've done?
SK: I lost count years ago and have never compiled a list, we're always pushing on to the next thing and that suits me well
I dare say we're looking at 100+ releases/labels with Parallel 49 right now, the majority of which can be found on the website. Further to those, we've done special release collaboration packs, advent calendars featuring original beers, tasting room exclusives, a premium cork & cage series & a number of mixer packs containing exclusive beers/artwork – For me that's the epitome of a good craft brewery that the releases come thick and fast. Parallel 49 like to run with ideas and experiments and are not afraid to take chances with it's creativity across the board from brewing to marketing/artwork.
Although I don't have a list, I do have a physical copy of every beer we've released, with a view to exhibit them all upon the 10 year anniversary.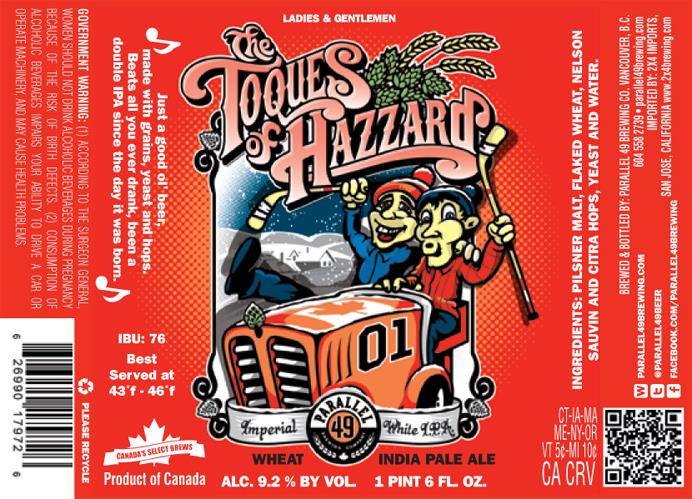 TB: Where are you from and where did you learn to be an artist?
SK: I'm from the UK, east England to be more precise. I'd been drawing stuff all my life & studied graphic design at college after leaving school. College really opened up my eyes to what graphic design could be, discovering print making, art history, screen printing, letraset and the creations of my fellow students really inspired me to work hard at it. I did everything by hand back then and that traditional design education has served me well in the style I still produce today.
I've worked in various roles around the world as a designer doing everything from surf apparel to straight up branding. I have been freelancing under the monicker Combination13 for almost 14 years now.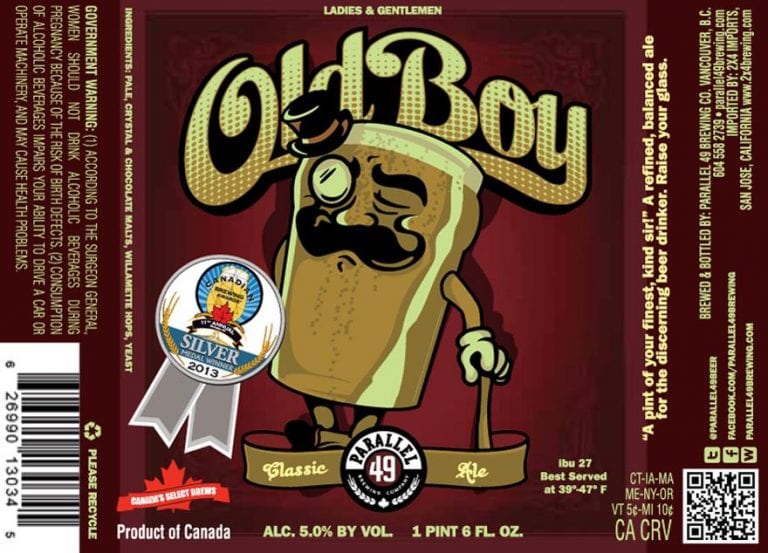 TB: Can you tell me a bit about your process? Are you all digital? Traditional? Mix of both?
SK: The majority of my beer label artworks start with a pencil sketch. I'll then move onto a tablet to draw up my design more precisely before shifting to my Mac desktop to add the final touches and print set up. I do love to get the paintbrushes out and I wish I had time to do that more often!
TB: What other art do you make?
SK: I still design regular gigposters, album covers, and merch designs mostly for bands and festivals in and around the west coast here. [I] have been putting together the cover art for classic rock n roll magazine Vive Le Rock since it's inception in 2011. I've recently been designing a few wrestling event posters for a local promotion, which has been great fun and something different.
Aside from that I've put up a few large murals and wheat pastes around Vancouver, and like to do the odd one-off collection of character trading cards and such to give away at my art shows because I love the novelty value.
TB: How can your fans find you and your work? Can they buy your art?
SK: My instagram is the most active place online and I also have a Combination13 Facebook page and a neglected website.
95% of my artwork is commercial and on products, so in that respect it's always for sale! For special music events, festivals and art shows I often sell poster prints on site. I have another art show coming in November at Parallel 49 (in association with Culture Crawl) where I will have original artwork for sale. Plus, the Parallel 49 website now has a store feature where you can buy merchandise featuring my creations.
Combination13 on Instagram
Combination13 on Facebook
Steve Kitchen's Website
Parallel 49 Brewing on Twitter
Parallel 49 Brewing on Instagram
Parallel 49 Brewing on Facebook
Label images research made possible using the highly recommended LabelVision search tool at ShipCompliant.