In a world where you can have anything you need, delivered to your door within a handful of days (or less), it seems ridiculous to think that this does not apply to beer. Beer distribution shares a lot in common with food distribution – not every item for sale can possibly be available everywhere in the world unless it has the manufacturing system and demand to support it or storage longevity to keep it from going bad.
You can buy a book by an author in a tiny village on the other side of the globe, but you cannot always drink his beer, let alone feast your eyes on that beer's label. The Long Tail doesn't apply to beer, but it works GREAT for books.
Brewed For Taste is a wake-up call for anyone who thinks that their local beer label game is the best in the country, let alone the world. This gorgeous volume is a coffee table book for the beer culture nerd who is also globally-aware.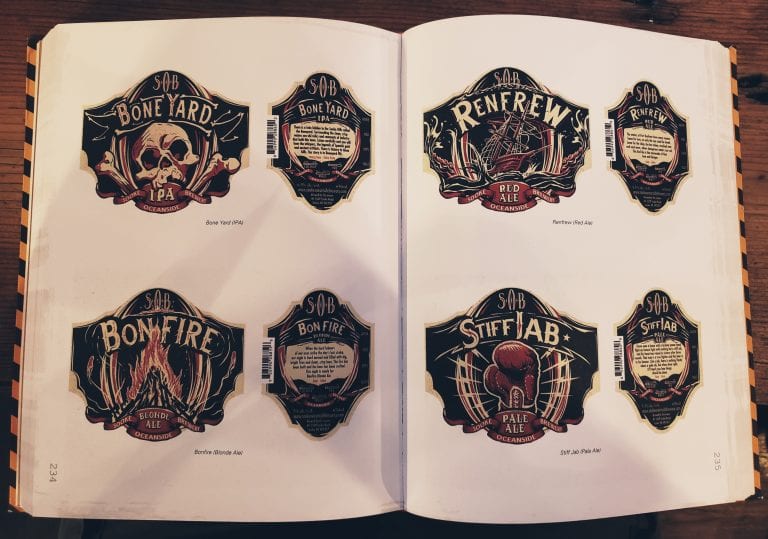 There's a handful of avenues out there to keep abreast of beer label design and illustration. The package design industry has lots of eye-friendly sites. Began evacuating is good for this. Our old friend Oh Beautiful Beer hasn't slowed down. And then there's the wonderful world of books! You remember those, right?
Should we be surprised that there are hundreds, if not thousands, of beers currently in production that we've never seen before? Not only is the answer a resounding "yes", but we should be making much more effort to be exposed to what is going on in the furthest reached of the Beer Label Globe.
This is the purpose of Brewed For Taste.
On The Subject of Owning Dead Trees
I don't buy very many printed books these days, but when I do, they are art books. Digital does not do justice to illustration and design. Heck, I would go as far as to say that you can't truly appreciate these labels unless they are wrapped around a beer vessel, but a printed book is the next best thing.
I've only personally gotten my hands on some of the beers featured in this book by interviewing the design house responsible for Driftwood brewing spectacular labels Driftwood brewing spectacular labels, Hired Guns Creative. In fact If you don't believe me when I say you need to see labels on bottles, you should see how Hired Guns' labels look. You'll see what I mean.
Quick Take!
Brewed for Taste is a hefty book. The pages are heavy and no expense has been spared in the print quality. When detail is the focus, you'll rarely find a page with more than two appropriately-large labels on full display and sometimes just one per page. It's clear that this is intended to be an art book first and the quality is very high.
In some cases, where some additional attention to detail is prioritized, the publisher has decided to print one single label as a two-page spread. In these instances, I've been very impressed that nothing is lost in the valley of the spread. these labels look really great bigger than their intended print scale.
I cannot emphasize enough how global this book is. Despite being written in English, if you are looking for a book about labels design and beer culture in America, this is not it. And that's a good thing! It's easy to have your blinders on about the States' place in this trend. We didn't invent beer labels and we're not the only ones breaking ground in this area.
Maybe that's just me though. I tend to locate artists and labels based on what has been registered with the US TTB. If there were an easy way to browse the labels being made in Europe, for example, we'd have a much different, and richer, website.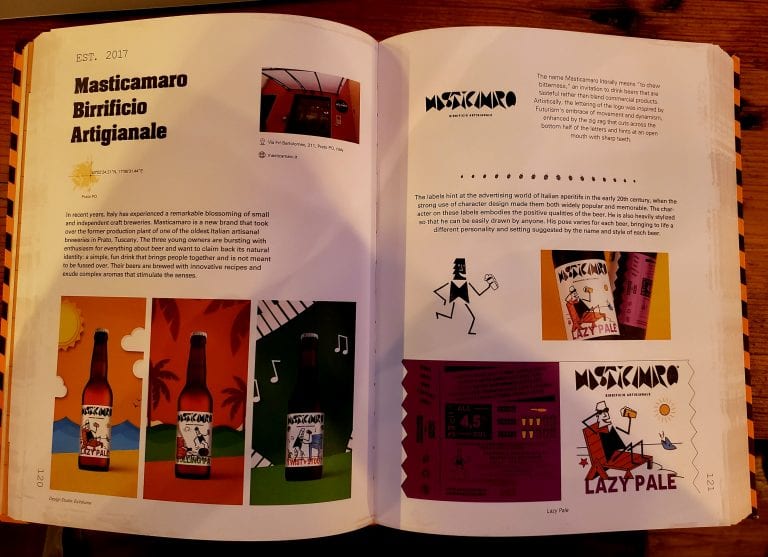 What's really great about this book, for me at least, is how much I learned about the history of labels, their application techniques, and how advances in technology have influenced their design.
Do I need to be provided with examples of label art themes like "Scenery-Based", "Activity-Based", or "Animal-Forward" Labels? Not really. It's charming, but it feels like filler (this coming from a guy who has considered expanding his post about labels featuring astronautslabels featuring astronauts!). That said, the "Typographic Labels" section is well-curated, but my appreciation for it likely stems from the style falling outside my wheelhouse. The themed section seems unnecessary.
Brewery Details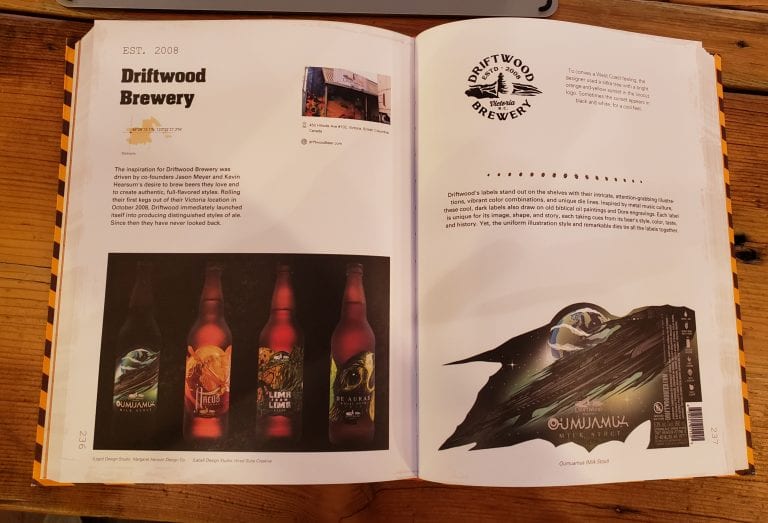 Each brewery entry has some cool metadata to accompany it, including:
Brewery biography
Map icon of the brewery's location complete with latitude and longitude
Year established
Address of the brewery
Website
Thumbnail image of the exterior of the actual building
An analysis of the brewery's name and logo
Of course, each brewery's section features several, large, nicely matte-printed, examples of their finest labels. Each is captioned with the beer name, which is especially helpful if the label is not in English.
Here's one area where I wish this book went the next step: Say you want to know who "Brewery #44" is on the map. It looks like its probably in Texas in the US. So you go two pages backwards to the index, find #44, you see that it is Unlawful Assembly brewing and it is on page 290, and off you go. No biggie.
But where is that #44 on the brewery details page? What if I want to go backwards and I want to know where Bukovac, Serbia (#8 RazBeerbriga) is in relation to Bicaz, Romania (#6 Wicked Barrel Brewery)? It's easy if those numbers are on the detail pages. It's a big pain because they aren't. Good luck using this book to plan your next trip.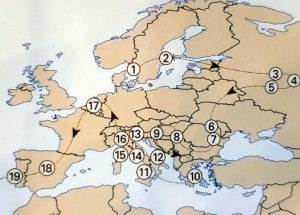 That said, I've made a lot about consuming Brewed For Taste from the maps provided. It very much rewards the casual random page-open. If you want to just skip around this book, which is what all great coffee table books are for IMO, you will be treated to no end of rewards. Crack open Brewed For Taste at anywhere in it's 2 inches of breadth and you will be treated to the finest beer label visuals from all corners of the world.
Beer Timeline
One really cool feature of this book is the gatefold "Beer Timeline". This huge fold-out timeline and map is broken out into several infographics that would make for great stand-alone print items.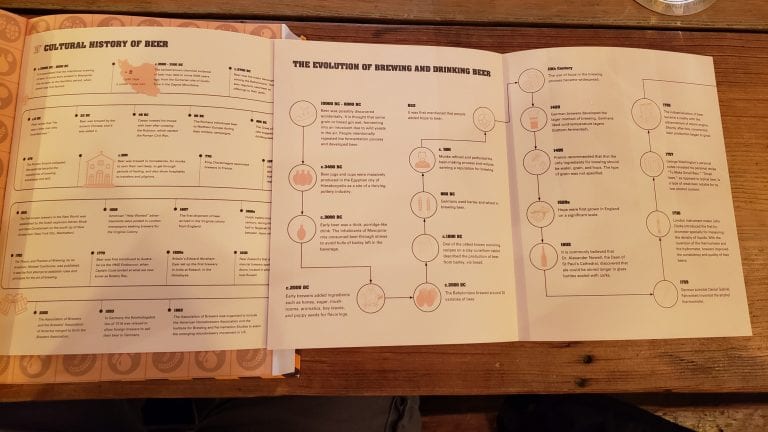 The Evolution of Brewing and Drinking Beer
Taking up a full five pages of the fold-out, this timeline tracks significant years in beer culture, from 10000 BC to the present. Each date features an icon representative of it's subject. For example, there's a map icon of Australia for 1805 when hops were first cultivated there. Did you know what year the pull tab was introduced? Ever wonder how Porter got its name? The first recorded mention of hops in brewing? It's all here!
It's fun to meander through the history of our favorite beverage, and this book does a great job hitting the high points – all 45 of them!
Cultural History of Beer
I'm not quite sure what she's this timeline apart from "The Evolution of Brewing and Drinking Beer", except that it is smaller and less illustrated. The subject matter seems very similar and the dates are just as wide-ranging. It's accompanied by a map, so perhaps it is more geographically-focused?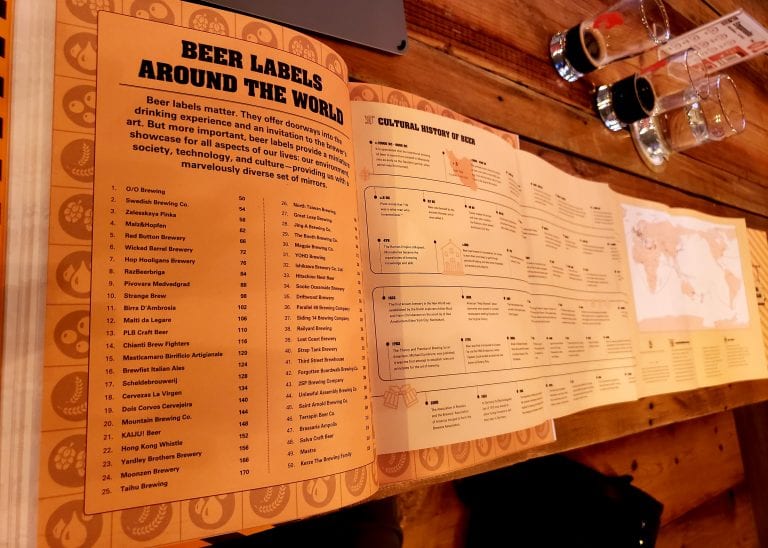 Map
The map is probably not as well thought-out as the rest of the fold-out. The icons are small. The map is small for the amount of information that is being presented. Locations are numbered with a legend below, but the details get lost in areas like Western Europe where it's impossible to discern one country from another.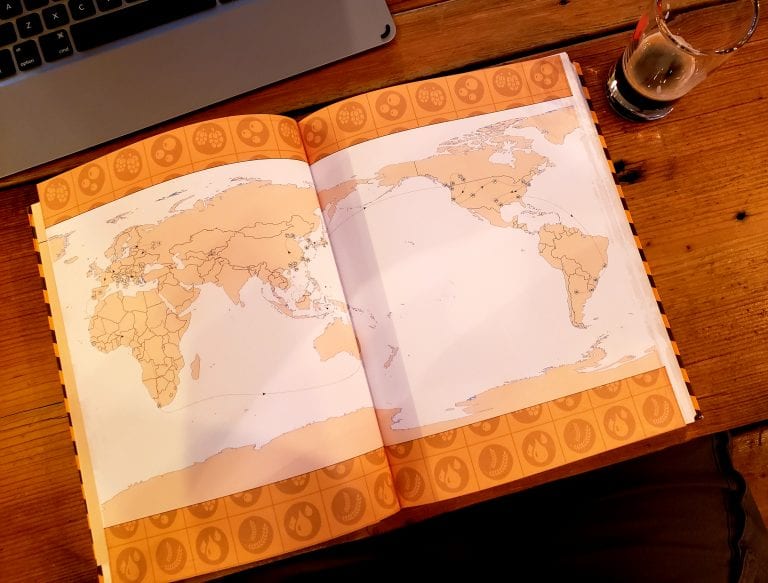 The map is intended to be a visual index of the world's "Long-Established Breweries". It also features a tiny icon of a beer stein in select countries "where beer first appeared". There's also a path of the "route of the spread of beer". It's not entirely successful in conveying the information.
There's one more map that follows on the next two pages where a bit more detail can be seen.  The numbered locations are here, but they represent the breweries that are featured in the book. It's cool to see the range and it further emphasizes the global representation of the breweries featured.
It will take all of your willpower to keep from pinching-to-zoom these maps.
Summary
I can't imagine who could not enjoy having this book laying around their home, just begging to be picked up and thumbed through. If you are looking to expose yourself to beer label design and illustration from all over the world, this is definitely the book for you. If you've never made an attempt to see what the label world is like, this is your "crash course". From seasoned traveler to introvert homebody, if you've got a functioning pair of eyeballs, you'll not only love having this book around, but you'll also impress your visitors.
---
This review written under the influence of Bitter Pops Original Beer Shoppe, 3345 N Lincoln Ave #102, Chicago, IL.