The only thing I know about Sparks, Nevada is what I've seen recently on I Am The Night. It's no surprise that their beer doesn't make it here to Chicago. If it did, labels like Mindful Fermentation, with the rainbow palette of Bryce Chisholm would jump off the shelves, both visually and literally. Which is why it's no surprise that it made our Top Ten Beer Labels of 2018!
Mad props to Revision Brewing for going outside traditional illustration sources for their label imagery. As you'll read below, Chisholm is a street artist who can work at a scale as large as the side of a building, or as small as, well, a beer bottle. And everything in between.
Thirsty Bastards: We've heard all about Mindful Fermentation from Revision Brewing co-founder Darla Roberts. Let's talk about Playafication. Can you tell us the story behind its conception?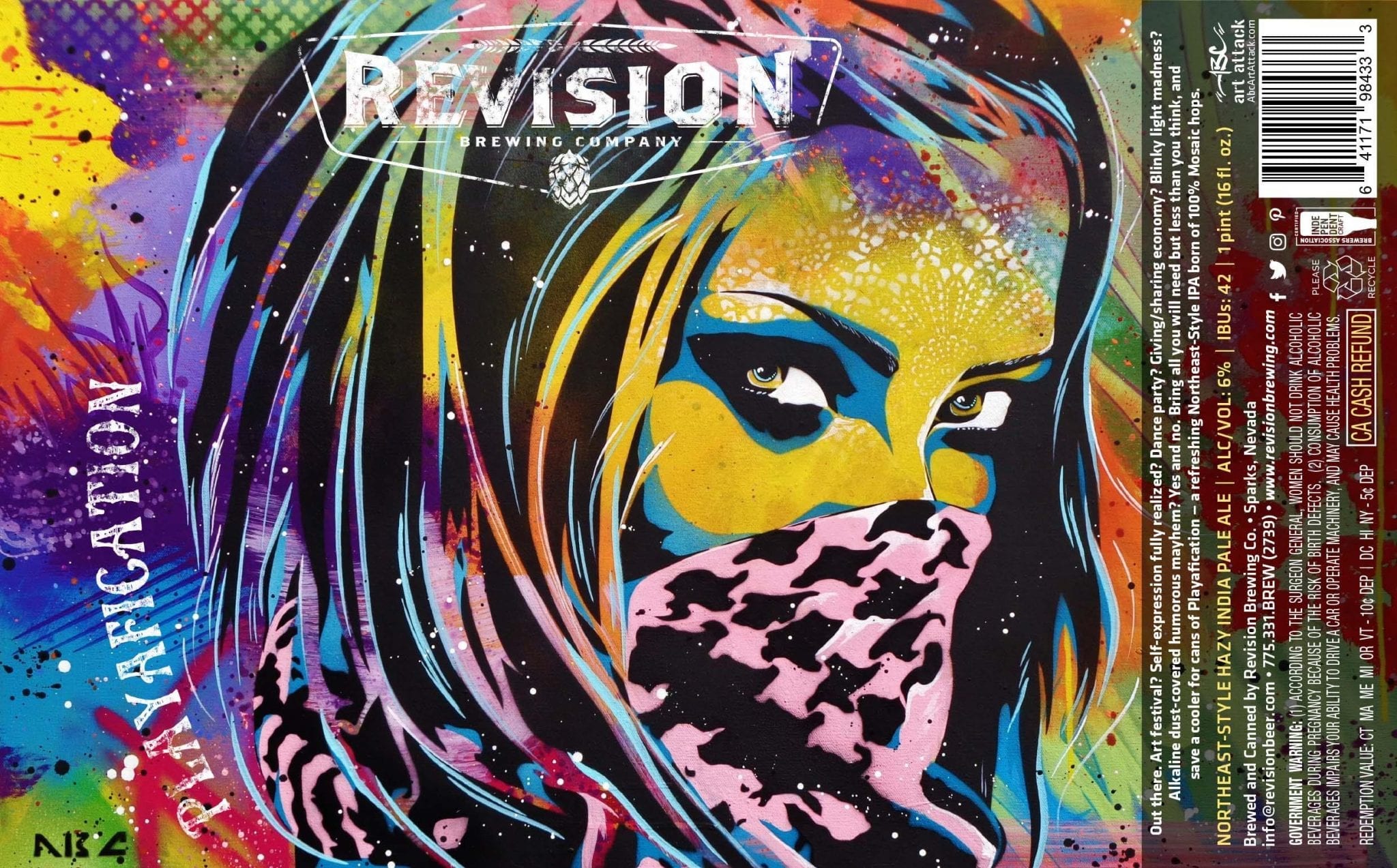 Bryce Chisholm: Playafication is actually my favorite label I have done so far as well. I had originally painted this image a few years ago, and it has also been one of my most popular paintings I have done. I called her Resistor, and she has been kind of an iconic image to show that woman strength and power. And standing up for your beliefs, and fighting for what is right.
TB: How did you get started making labels for Revision?
BC: Revision had contacted me about doing a label similar and I was happy to do a different version for the label Playafication.
So first I did Playafication and then Mindful Fermentation label. The first was a different version of a painting I had done. Mindful Fermentation was a more specific painting based on the name of the Revision beer. So it has been fun to work toward a specific theme and try to make that design work into the label. For me this would be more of a commission, when someone gives me some ideas and then I make that into a work of art. Which can be fun when working further past my comfort level.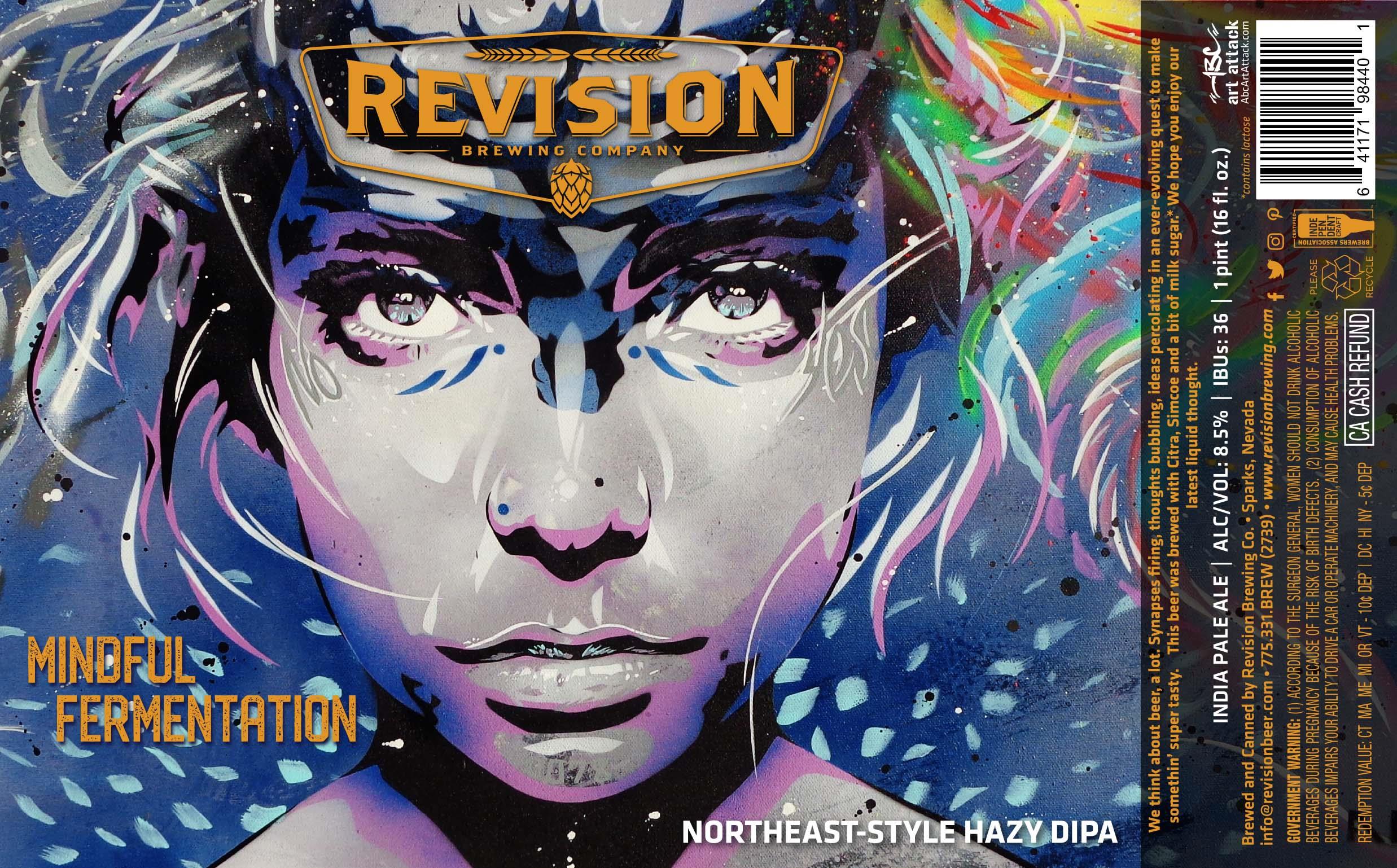 TB: What place does beer culture have in your world? Were you aware of the work Revision was doing prior to working for them?
BC: Beer culture is a big part of my life, well because I like beer. I have family members that are in the industry and we get to try a lot of different styles and breweries. And also breweries are a great part of traveling. It really gets us out exploring a new city and looking for a new brewery to try. And yes I was well aware of what Revision was doing. Anytime a new brewery opens up, I've got to go check it out, try a few and see what they are about.
TB: Where are you from and where did you learn to be an artist?
BC: I was born in Reno, Nevada. As soon as I was old enough I traveled and tried a few other towns, but I realized that Reno was kind of that happy medium place. Not too big, not too small. All the seasons. Mountains, desert and everything in between.
I am mostly a self taught artist. I started sketching at school, then graffiti and black books. In college at the University of Nevada Reno (UNR), I started turning my drawings into paintings and making cool creations. I kept on painting for years, after work, and during that time I really started to develop my own style. I also had a regular job during that time, until the market crashed in 08′, and that is when I decided to give art my full attention. I have been luckily enough to have been doing it since.

TB: Can you tell me a bit about your process? Are you all digital? Traditional? Mix of both?
BC: My process begins with drawings and sketches. I like really colorful backgrounds that are similar to an abstract graffiti wall. I call this my art therapy session, because this is the most free and unplanned part of my process. Next I will often turn those sketches into a stencil, by hand cutting out sheets of paper with an exacto knife. I like working this way as it allows me more freedom while I am creating. I can be sloppy or fast and can revert back to the base stencil if needed. I then do freehand spray paint and also blending and line work more traditionally, with a brush. My work is all traditional in the sense that it is all created by hand and not digitally.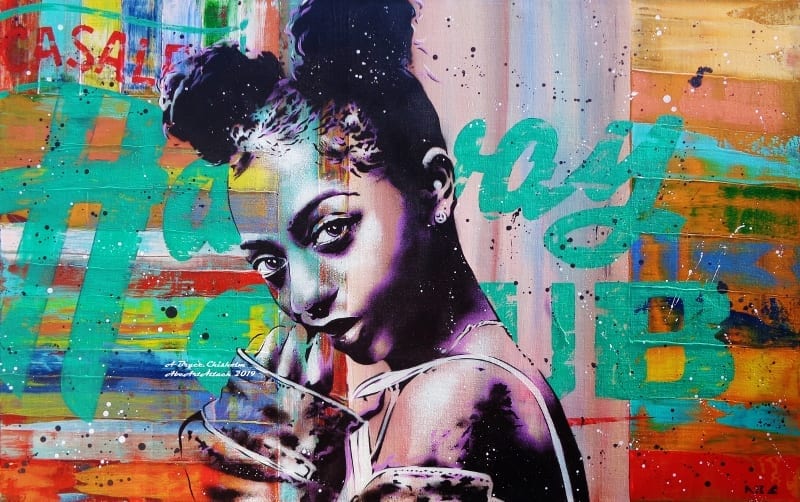 TB: Is this your first foray into illustrating for package design?
BC: Yes, these two labels were my first foray into beer label design. But I have done all kinds of random projects such as album covers, custom guitars, posters, shoes, glasses, clothing, stickers and magnets. I think coming up as a street artist you really need to be diversified and ready to go on any surface with any idea.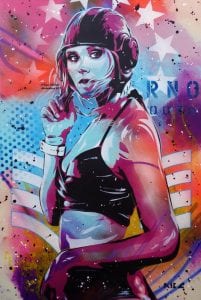 TB: What other art do you make?
BC: I do a lot of traditional painting on canvas, stone, tile, wood, skateboards and basically anything I can get my hands on. I also do large murals on the sides or inside of businesses, schools and parks. Over the past few years that has been a big portion of my work. It is always fun on a mural because you never know what you are going to get: from the elements, surfaces, weather and people.
TB: How large do you work? What substrate do you usually work on? When I think of spray paint and stencil, I think "large scale" and even plywood or canvas.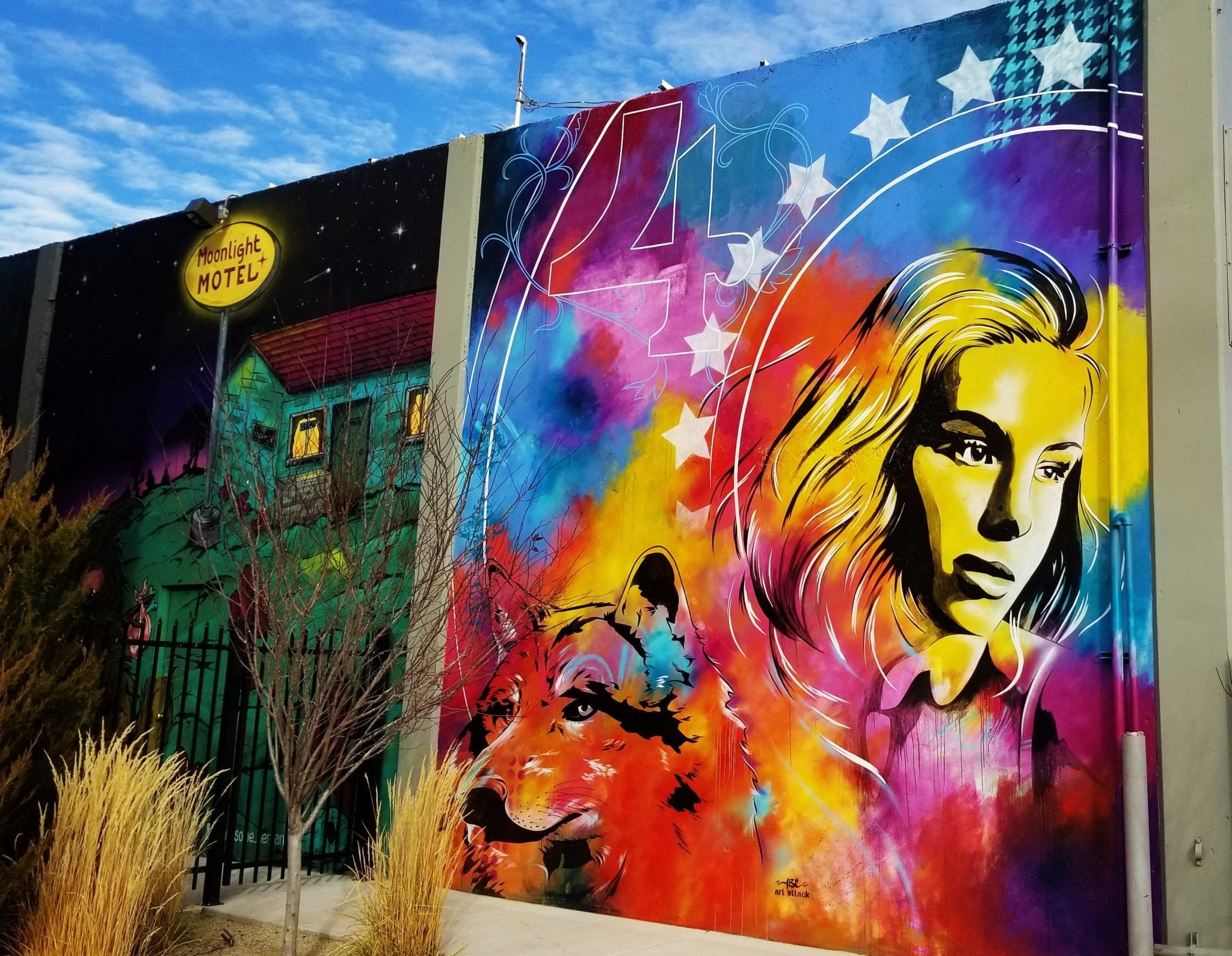 BC: All my work greatly differs in size. I do work on many surfaces such as small canvases and paper to large wood pieces and concrete buildings. Most commonly I paint on 11″ x 14″ to 48″ x 60″ canvas and wood panels. The pieces I created specifically for Revision Brewery were on 24″ x 36″ canvas. This is a great size for a label, as it is very similar to a wrap for a can. It also is a good size as they hang in the brewery and people can see the original artworks.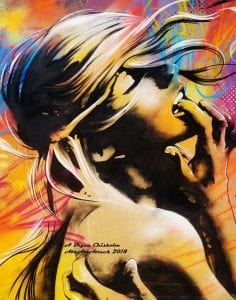 TB: How can your fans find you and your work? Can they buy your art?
BC: Yes I definitely sell artwork. Currently at the D Gallery in Palm Desert, CA. Also several local establishments in Reno, NV. Or you can always find me online @AbcArtAttack.
I go by the name AbcArtAttack, so people can find me on any of your favorite online platforms @AbcArtAttack.
Revision Brewing's Website
Bryce Chisholm's Website
Bryce Chisholm on Instagram
Bryce Chisholm on Facebook
Bryce Chisholm on Twitter