It's not unheard of for us to interview artists with just a handful of labels to their credit. What's exciting about interviewing Joana Fraga, whose third label has yet to be released, is that she's just getting started with making label art for Chicago's very own Odious Cellars. As head brewer and founder Reeve Joseph puts it, "She's proven to be an integral part of the team and will clearly be a pillar of our success."
Thirsty Bastards: My favorite label you've done is "Rubied Perspective"? Can you tell me the story behind its conception?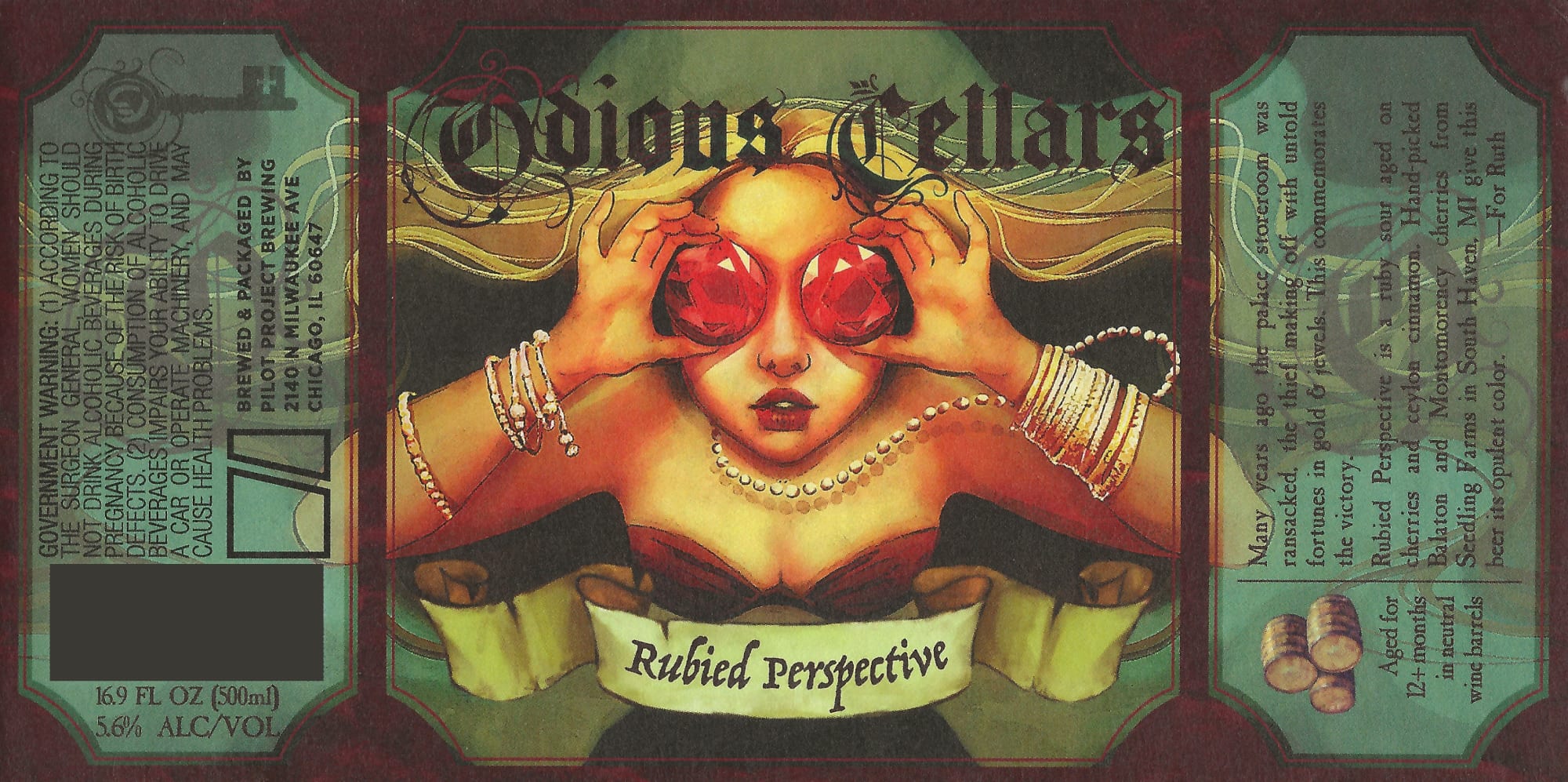 Joana Fraga: I'm glad you like it! When Odious Cellars told me about the beer flavours, I was immediately inspired by the pair Oak Aged Ruby Sour and Oak Aged Golden Sour! So my first proposal was to work with both Ruby stones and Gold as the primary concepts for Rubied Perspective and Symbol of Avarice.
While searching for inspiration, I came across photos of stonecutters! Do you know how they look through the stone to check for any imperfections? One of these photos had a diamond perfectly aligned with the stonecutter's pupils, and it was an amazing way to highlight the stone on the picture while making it a proper composition. So I imagined this woman looking through huge rubies, and Rubied Perspective was born!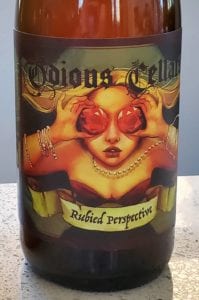 TB: What is your favorite label you've done so far for Odious Cellars Brewing and why?
JF: I have to say Rubied Perspective has a special place in my heart. Not only the concept worked incredibly well, but also drawing female characters is my specialty! The color composition is also my favorite!
TB: How did you get started making labels for Odious Cellars Brewing?
JF: I was approached by Odious Cellars through email. They really liked my drawing style and ideas from Instagram, and I must say they are one of the best clients I had! I had a lot of creative freedom to really explore the themes they gave me! I really appreciate the respect they had for my work.
Reeve Joseph: I found Joana after countless hours combing through Instagram and deviantart. Joanas work immediately stood out to me as something I would love for Odious. I messaged Joana to ask her interest in creating labels for us and before I knew it, we received rough sketches for the existing three labels.
For Symbol of Avarice, I had given her an overwhelming amount of detail and information regarding art direction. Just from the names and ingredients for Rubied Perspective and Physis Nomos, she sent over some potential sketch concepts. After seeing her interpretations, I was immediately put at ease and realized that moving forward, I need to just give her the basic info and get out of her way.
We're now planning for the next three releases from Odious and Joana has once again proven a bit of a mind reader, bringing these beers to life through her craft with minimal input from me.
TB: Where are you from and where did you learn to be an artist?
JF: I am from the northeast part of Brazil, from a city called Salvador! Being an artist in my case is a more or less a family career. Both my parents are artists (my mother is an invitation designer and my father is an a 3D modeler and game designer), so I was encouraged to keep pursuing art since early days. I'm the only one in the family who pursued illustration, though!
TB: Can you tell me a bit about your process? Are you all digital? Traditional? Mix of both?
JF: My process is 100% digital! But I LOVE the effect that traditional paintings give off, so I always make an effort to texture my work as it was painted on canvas! As I result, I'm often asked if my work is really digital, hahaha
I use Clip Studio Paint and Photoshop, and for texturizing I like to patchwork filters using Filter Forge! I have a video on how I use Filter Forge here:
TB: What other art do you make?
JF: I specialize in surreal style art! I always make an effort to add surreal twists to my pieces.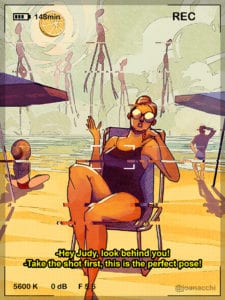 I'm also a webtoon artist! I have one completed story called Judy in the Apocalypse. And my second webtoon, Medusa, comes out in December (hopefully!)
TB: How can your fans find you and your work? Can they buy your art?
JF: You can find me on Instagram. I also have a Patreon for my webtoons!
You can buy my art directly from me on my website.
Joana Fraga's Instagram
Joana Fraga's Patreon
Joana Fraga's Online Store