I first discovered the art of Kyle Shold late last year when Heathen Brewing's Reindeer Tears was released. Kyle's got a new label hitting the shelves for Heathen, Mega Dank IIPA, and he contacted me to let me know about it.
Beer Labels Art: Tell me a bit about your latest label for Heathen Brewing: Mega Rank IIPA.
Kyle Shold: Earlier this year I was hired to revamp Heathen's Mega Dank label and during the meeting the idea of Transformers was brought up. Of course this was just one of the many ideas discussed but me being the 80's sci-fi geek that I am I latched onto that idea pretty quick. I ended up doing several color concepts using the idea of a giant robot as the central figure.
One of the things I enjoy about the conceptual phase of things is how the ideas I present can lead to new ones from the client. They may have a very nebulous image of the look and feel but it's only when an image is placed in front of them can they see if it is right or wrong. That's very cool to provide that understanding. That's what happened quite a bit with Mega Dank. The giant robot concepts lead to the idea of the setting being in a forest. Which eventually lead to a buried tiki logo or hidden temple. Some of my concepts had tangled vines and roots which lead to clumps of hop vines. They also wanted marijuana plants to be incorporated but we ended up toning that down quite a bit for the actual bottle label.
"One of the things I enjoy about the conceptual phase of things is how the ideas I present can lead to new ones from the client."
My "final" for Mega Dank was the same temple and drawing but a nighttime scene lit darker. I liked it alot but it actually continued to go through several iterations before approval. I can honestly say that the feedback and approval process with Heathen Brewing made it a better label. Sometimes the process can be frustrating but when both parties have a mutual respect for one another you can end up with a very rewarding collaboration and an even better finished product.
But you'll notice there is still that robot incorporated into the art. It was almost excised. But I like the idea of a bottle label telling a mini story or at least looking like there is a story in progress. I thought the robot at the top helped give that temple some what of a story. Luckily, the good folks at Heathen agreed.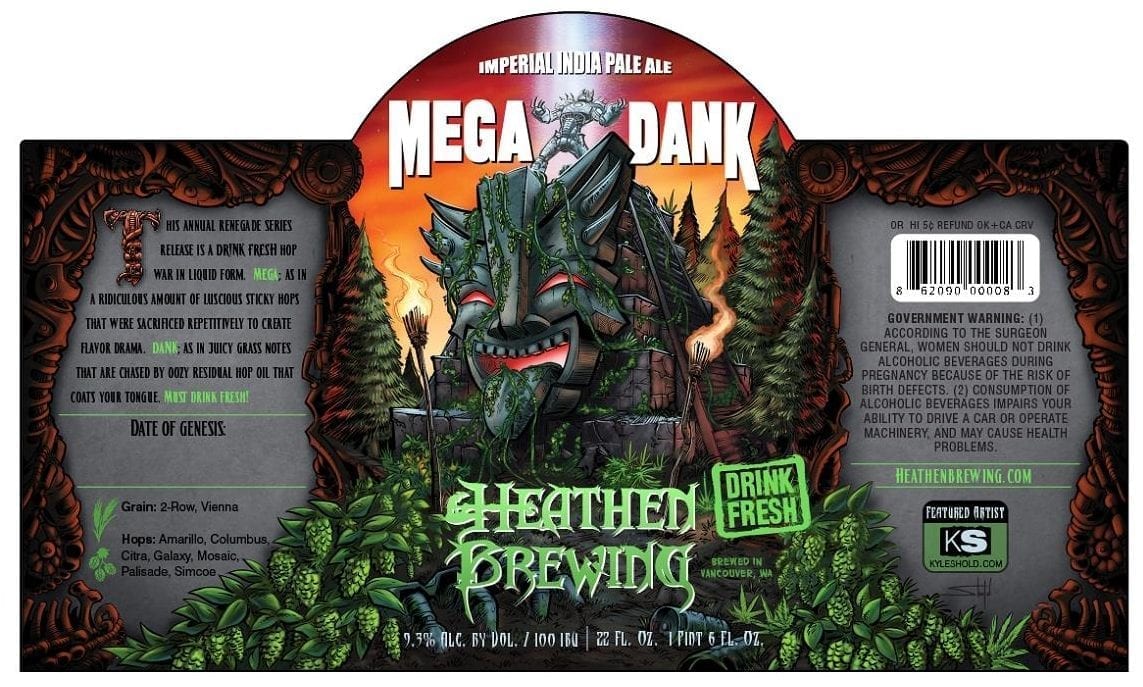 BLA: My favorite label you've done is Sinderalea? Can you tell me the story behind its conception?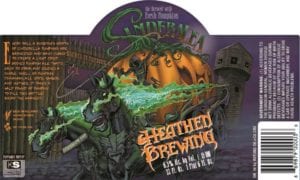 KS: Heathen Brewing has a seasonal pumpkin ale that they release around October. When they asked me to do it their only real requirement was it had to have pumpkins in the theme somehow. Otherwise it was pretty open. It seemed to me that with a name like 'Sinderalea' it made sense to push the Cinderella fairy tale into darker territory. Because that's the primary design direction for Heathen anyway which is they like their labels to be darker in tone and a little bit mischievous.
I only did a couple initial concepts at first. One of which had to do with a shattered glass slipper which I don't think I even presented because it just didn't come across the way I wanted it to. The other was one I really liked which had a nude woman with a Heathen tiki tattoo floating fetal position inside a translucent pumpkin tank. I think they liked this one but it was deemed a bit too much. After a couple other studies I landed on the horse and carriage theme which once the idea popped into my head came together really fast. I sent over a color comp which had orange flames at the time and a dark mountain top castle. They loved it! The only major revision was to have Fort Vancouver in the background. I'm very pleased with the finished piece.
BLA: What is your favorite label you've done so far for Heathen Brewing and why?
KS: At this point I've only done three completed labels for them and, honestly, I love all of them. I think if I had to choose it would be Mega Dank because it is the one I completed most recently and I'd like to think that with every new piece I do I become a better artist.
I have another Heathen label that is in the concept phase but is currently on hold. I'm hoping I get the opportunity to move forward on it because I think it could be my best one yet!
BLA: I noticed that Heathen Brewing gives credit to the illustrators on their labels. That's pretty rare and great to see. Has that helped you get more attention?
KS: This is a really amazing thing about Heathen and one of the many reasons I love working with them. Obviously, they don't need to give up precious space on their label for artist credit but in all aspects of their operation, they believe in promoting the talent they work with. I remember working on my first label for them and they sent me a template for how I should do the artist credit and I was really surprised by it. I almost felt a little dirty promoting myself on their label. However, I got over that aspect pretty quick! I'm grateful for the added name recognition. As a freelancer, every little bit helps!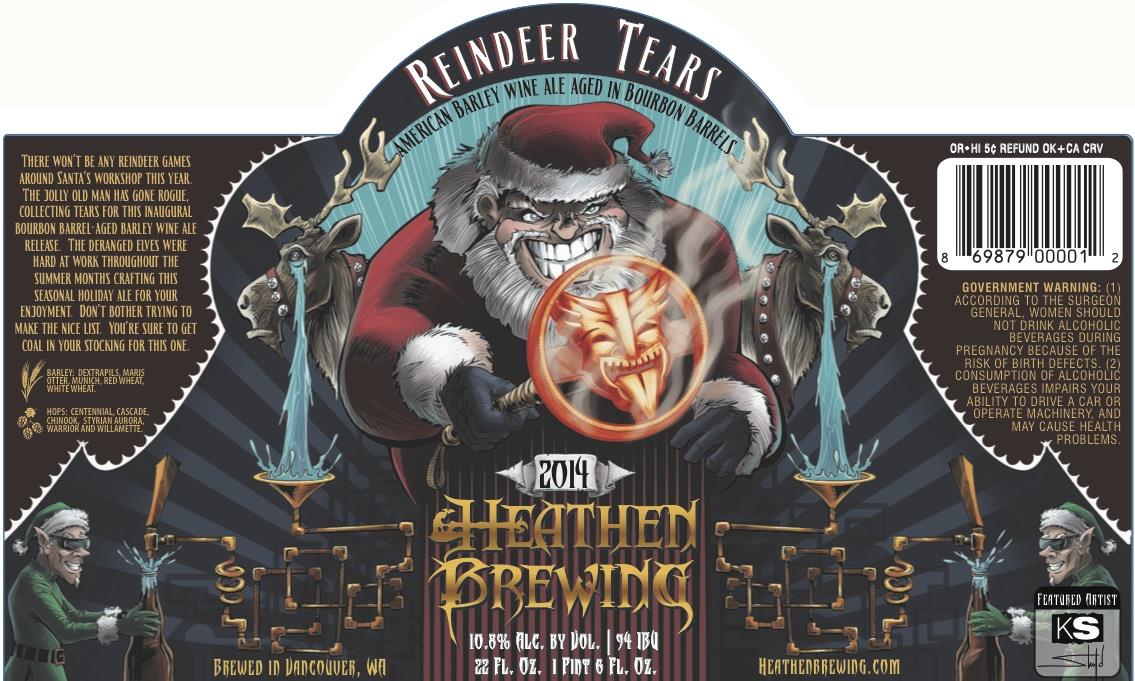 BLA: How did you get started making labels for Heathen Brewing?
KS: I was searching for ideas to make my freelance career a reality. I can't remember how the specific discussion came up regarding beer labels but a good buddy of mine mentioned Heathen Brewing. He knew of a lot of the local craft breweries and said that Heathen was probably the best one around and that doing a label for them would be huge. I'm not sure if it was the timing, my email wording, my portfolio or all of it but in no time, I had a meeting set up with them. It was super laid back. I went in prepared to show my portfolio and push for the job but I quickly realized I was basically already hired for the 'Reindeer Tears' label. That initial trust in my skills to deliver for them really solidified my loyalty to Heathen.
BLA: Do you have a list of labels you've done?
KS: In addition to the work I've done for Heathen I did work on a label for Loowit Brewing Company which won't be released until later this year and some work for Double V Distillery. I've also done a set of five labels for a new company called Kerr's Brewing which is also not ready for release just yet. A piece I had a great deal of fun doing was a growler label for a Brews & Bites event that is put on each month at the Beaches restaurant inside the Portland Airport.
BLA: Where are you from and where did you learn to be an artist?
KS: After high school in Sequim, Washington I attended the Art Institute of Seattle. I then got a great job in the video game industry as a background and conceptual artist at Humongous Entertainment. Working at H.E. was fantastic and where my real education as an artist took place. I worked in games for a full decade until I was given the opportunity to be Art Director for a magazine and trade show. I did that for close to eight years which gave me an entirely new graphic design skill set. Now I freelance out of Vancouver, Washington where I live with my beautiful wife and three daughters.
BLA: What other art do you make?
KS: As a freelancer I do a little bit of everything these days. In addition to the label work I've done comic books, posters, lots of T-shirt artwork, coasters, logo art, storyboards, stickers, makeup palette labels, web banner ads, print ads, you name it!
BLA: How can your fans find you and your work? Can they buy your art?
KS: I'm available at kyleshold.com where you can see samples of my work. I'm also on twitter (@Kyle_Shold), Instagram (@kyleshold) and on Google Plus (+kyleshold). I have original T-shirts for sale on TeePublic.com and Design By Humans
.
I can be contacted directly to purchase signed prints, original commissions or if you've got a job you'd like me to illustrate.
BLA: True or false: The best beer label art looks like it could also be Magic: The Gathering card art.
KS: False. The best label art is whatever style helps define the character and theme of the beer/company it represents. There is no defined standard for "best" label art.