Blue Moon Brewing (MillerCoors) is doing a special label event in celebration of their 20-year anniversary: "20 Up And Coming Artists, 20 Limited Edition Labels".
According to a press release, special edition 12-packs featuring these Blue Moon beer labels will be available. "All 20 original works of art will be celebrated in a one-time moonlit gallery event hosted by Villa July 1, in New York City. " If you want to head over to Blue Moon's Facebook page, you'll be able to vote on which labels will make a "top 10" cut. A panel will determine which of those 10 artists will receive a $20,000 grant. Facebook voting will be open from July 1 through August 31, 2015.
Blue Moon beer also began an Instagram account for the launch of this event.
The theme of all these labels is, obviously and quite literally, a blue moon. There's some really beautiful work here.
The artists' signatures are the only way to attribute each one, and that makes things a bit difficult to research. But I've done my darndest below.
Blue Moon Label #16 by Scribe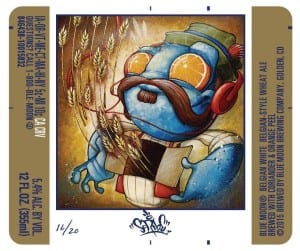 This blue guy is one of my favorites. At first I thought this one didn't actually have a blue moon in it until I realized it was his head! His orange eyes look incredible and I like how the ingredients are incorporated into the image.
Donald "Scribe" Ross is a Kansas City graffiti artist.
Blue Moon Label #17 by Conrad Garner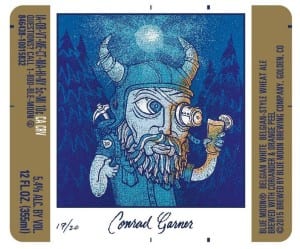 Conrad Garner's contribution appears to be an bold beer explorer analyzing a cold one under the light of the Moon. The beer even gives off a subtle golden glow. This character seems to be celebrating the adventurous spirit of the company and its 20 years are represented simply with the badge on the shoulder of his uniform.
RU following us on Insta (@BlueMoonBrewCo)? We've got something planned nxt Friday! #ArtfilledFriday #BlueMoon20Years pic.twitter.com/fYIJmVDUD5

— Blue Moon Brewing Co (@BlueMoonBrewCo) June 19, 2015