When your friends ask you to recommend a Mexican craft beer, what do you suggest? I highly doubt it's Corona, right? Nope, you tell them to drink a Modelo! Fizzy yellow water in the US has a reputation in the craft beer world for being garbage, but if that same product comes from another country, well, it's an IMPORT! Modelo has somehow set itself apart as the beer from Mexico a craft beer enthusiast is proud to be seen drinking.
What can we say about the Modelo beer logo. It's iconic, right? We looked at Modelo branding throughout the years and it's remarkable how steadfast they have remained with their look.
The Modelo Beer Logo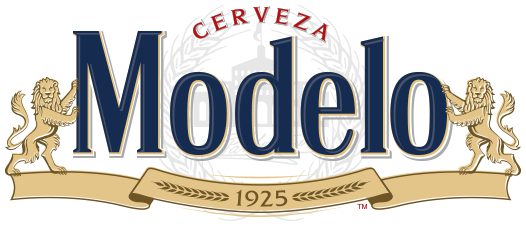 So let's break down this iconic brewing branding! From back to front, you can see the iconic barley stalks, common in brewing imagery, forming a wreath behind the logotype. There is also a building with a flag at the top. The original brewery, perhaps?
There's a detail that's easy to miss in the background of the Modelo logo – a signature. It's obscured in some versions of the logo, but in a 2018 version of the Especial label, you can more clearly see the signature of Pablo Diez. One of the founders of Cervecería Modelo, Pablo Diez Fernández remained the Honorary Chairman of Grupo Modelo until his death in 1972.

The bold, dark blue Modelo logotype is flanked by two lions which closely resembles the Coat of Arms of Mexico City where Grupo Modelo is headquartered. Even though the company first started in Tacuba, Mexico, Grupo Modelo also uses a lion in their logo. The message here: Ferocious! Lions represent pride and strength which syncs with Modelo's latest slogan, "Brewed for those with a Fighting Spirit".
You're going to see a lot of gold on these Modelo labels, and the images don't always convey that. Gold is the color of royalty, and the lion is the "king of the jungle". The company is trying to tell you something – this is a beverage for the distinguished drinker!
The reference to "1925" in the ribbon across the bottom represents the year the brewery was founded. Even more barley appears in this ribbon to remind you how important the ingredients are for their brand. I mean, it's not made of lions!
It's worth mentioning that Grupo Modelo also makes such popular exports as Corona, Victoria, and Pacifico. As of 2016, these brands are considered the portfolio of Casa Modelo under Constellation Brands.
Oh hey! FYI… any links on this page that lead to products on Amazon are affiliate links and we earn a commission if you make a purchase. Thanks in advance for your support!
Prices pulled from the Amazon Product Advertising API on:
Product prices and availability are accurate as of the date/time indicated and are subject to change. Any price and availability information displayed on [relevant Amazon Site(s), as applicable] at the time of purchase will apply to the purchase of this product.
Modelo Especial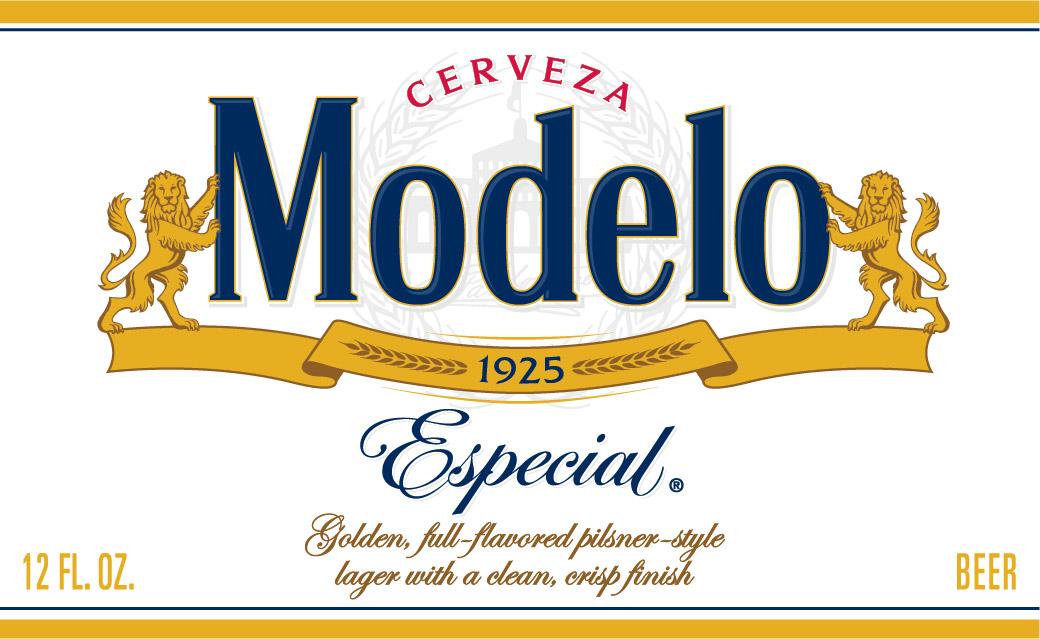 Modelo Especial is a pilsner-style lager that was originally brewed in 1925 for Cervecería Modelo's 10th anniversary. Its name actually translates to "special model" which I had to look up because that seems absurd. It may sound like a car, but it's TRUE!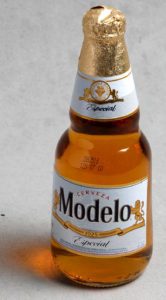 In crafting the recipe for Especial, the original brewers took inspiration from the traditional German brewing techniques that had made their way to North America. Don't forget – by 1925, the US had been knee-deep in Prohibition. If you wanted German-style beer in Mexico (or anywhere else in NA), you needed to get it from Germany. It didn't hurt that Cervecería Modelo had strong European roots via the influence of Pablo Diez who called Spain his home.
Let's not forget those funny shaped bottles! Yes, they're clear and yes, too much light will make the hops skunky, but that gold foil over the cap is classy AF!
We found several versions of the Especial label since 2010. While the Modelo beer logo remains relatively unchanged, we did notice that the text describing the beer has evolved over time. The 2010 label reads "Premium quality and flavor since 1925. Modelo Especial, a long lasting tradition." The earliest example of updated text we could find was in 2015 when it was changed to the current version: "Golden, full-flavored pilsner-style lager with a clean, crisp finish".
Modelo Especial Bottle Labels
Modelo Especial Can Labels
Negra Modelo
As we mentioned, the original inspiration for Modelo Especial was very much rooted in the German styles of brewing that had made their way to the West in the late 19th century. Negra Modelo is no exception to this influence.
Classified as a Munich Dunkel Lager, Negra Modelo was also released in 1925. If Especial is the "special model", Negra is the "black model".
While the label for Negra began as a fairly unique design, more recent reincarnations have inherited the same layout used on bottles and cans of Especial. Part of the 2016 rebranding for Casa Modelo included giving Negra Modelo a look that unified it with the other labeling. With a darker, more limited palette, the Negra label features all of the same elements – lions, barley, building, and signature.
Originally touted as "La Crema de la Cerveza", or "The Cream of the Beer", the "flavor text" on the Negra Modelo label has been updated as well. In 2020, text was added to describe Negra as a "Medium-bodied lager with slow-roasted caramel malts brewed for a rich, smooth taste". They definitely upped their Hyphen Game in recent years.
Negra Modelo Bottle Labels
Negra Modelo Can Labels
Celebramos Dia de los Muertos
On a "cool label" note, to celebrate the 2021 Day of the Dead, Modelo released special versions of their can labels featuring art by Los Angeles tattoo artist Mister Cartoon. These versions were released for both Especial and Negra.
Modelo Reserva
Did you even know that Modelo released wood-aged versions of their beers? Neither did we! Modelo Reserva was a 2019 release featuring Tequila and Bourbon barrel-aged variants. Well, "wood-finished" is a more appropriate description, but you get the idea.
With only a 5.5% ABV, I can't expect these to be cellarable, but I'd still be excited to try one!
Modelo Light
Any brewery with mainstream popularity is going to attempt to enter the Light Beer Market and Modelo is no exception. We would be neglecting our duties if we did not include the label for Modelo Light, first introduced in 1994, in our little expose.
Still brewed in Mexico City, the Modelo Light label throws tradition out the window. Gone is the Modelo Beer logo and other iconic brand elements. There's a lion here, but he's far from "front-and-center" – in fact, he's barely visible behind the text!
What would a light beer be without some means to determine how cold it is? That's right, the label features a "Cold Indicator" to show you that it is so "extra fria", you won't taste it!
Prices pulled from the Amazon Product Advertising API on:
Product prices and availability are accurate as of the date/time indicated and are subject to change. Any price and availability information displayed on [relevant Amazon Site(s), as applicable] at the time of purchase will apply to the purchase of this product.
Modelo Chelada
I didn't know Chelada was a thing before preparing to write this article. In case you don't know, Chelada is a beer cocktail made with different juices and spices and served with a salt rim. I need to make a point of trying one, but if the labels are any indication, they are "refreshing".
As you can see in the images, while these Modelo Chelada labels are more colorful to reflect their flavors, the consistency with Especial label, in terms of layout as well as the Modelo beer logo,  remains.
Well, there you go! A deep dive into the branding of the Mexican beer that craft beer drinkers love. Next time you are at your favorite Mexican restaurant or reaching into a cooler at a backyard gathering, we doubt you'll look at the Modelo Beer logo the same way!
References
Mental Floss: The Meanings Behind the Symbols on 20 Beer Labels
Wikipedia: Pablo Diez Fernandez
Vinepair: 12 Things You Need to Know About Modelo