And buffalos and dogs and fish and birds. Oh. My.
And ninjas.
The following labels were registered with the Alcohol and Tobacco Tax and Trade Bureau during the 3rd week of 2015. They have been selected for their aesthetic appeal or simply because I thought they were really cool.
Valiant Brewing Chernyy Medved Cherry Stout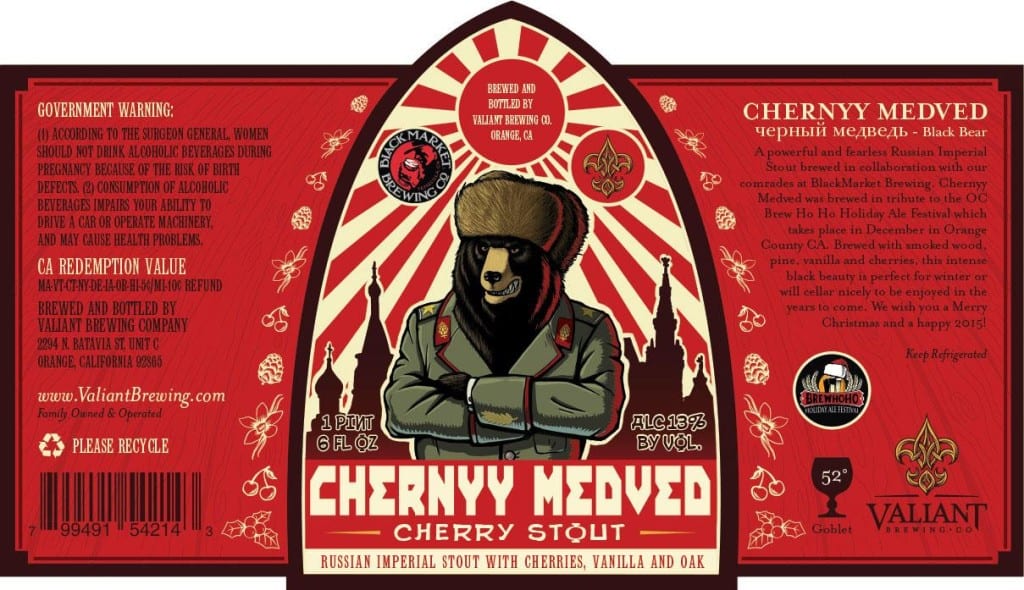 This is what it's all about folks. This beer label is the perfect representation of why I made this blog. If I can't make sure that everyone around the world sees this Soviet military-clad black bear, I might as well never get out of bed in the morning. This angry guy made my week!
21St Amendment Brewery Down To Earth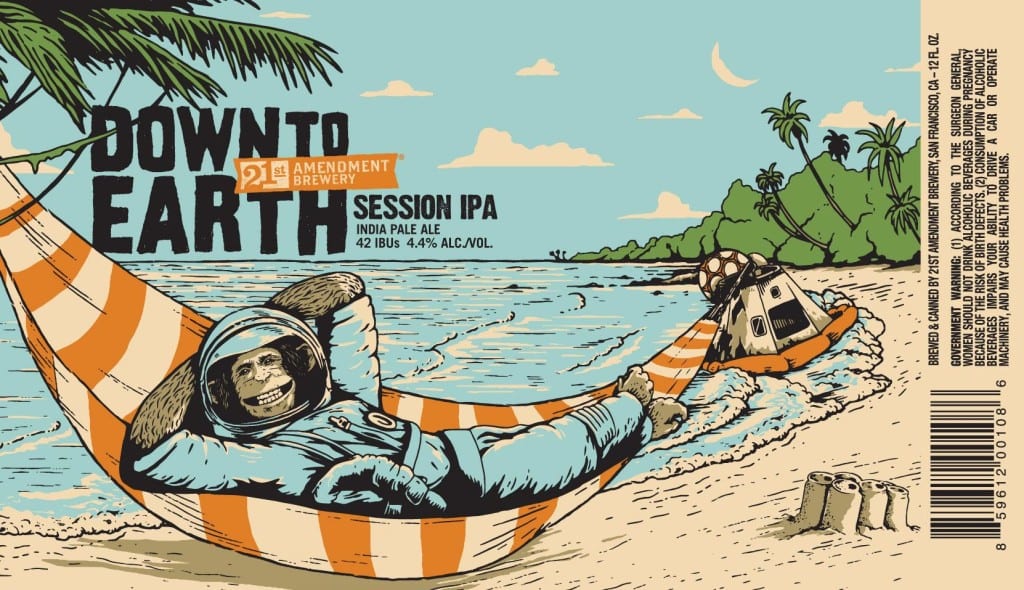 Space Monkey… reclines?
Welcome back Space Monkey. Your mission is complete – we have splashdown! What to do whilst waiting for retrieval in this remote paradise? A clever monkey will fashion a hammock from his parachute and kick back with a six pack. Cold beer is too much to hope for, but at least it didn't burn up in reentry!
I can't help but think this scene needs a bikini-clad welcoming party to push it into Bond territory.
UPDATE: Nearly all of 21st Amendment's beer label art is done by UK-based illustrator Joe Wilson. And this Space Monkey is no exception!
@beerlabelsart Oh yes, Certainly is!!

— JOE WILSON (@JOE_WILSON) February 12, 2015
Tin Man Brewing Damascene Apricot Sour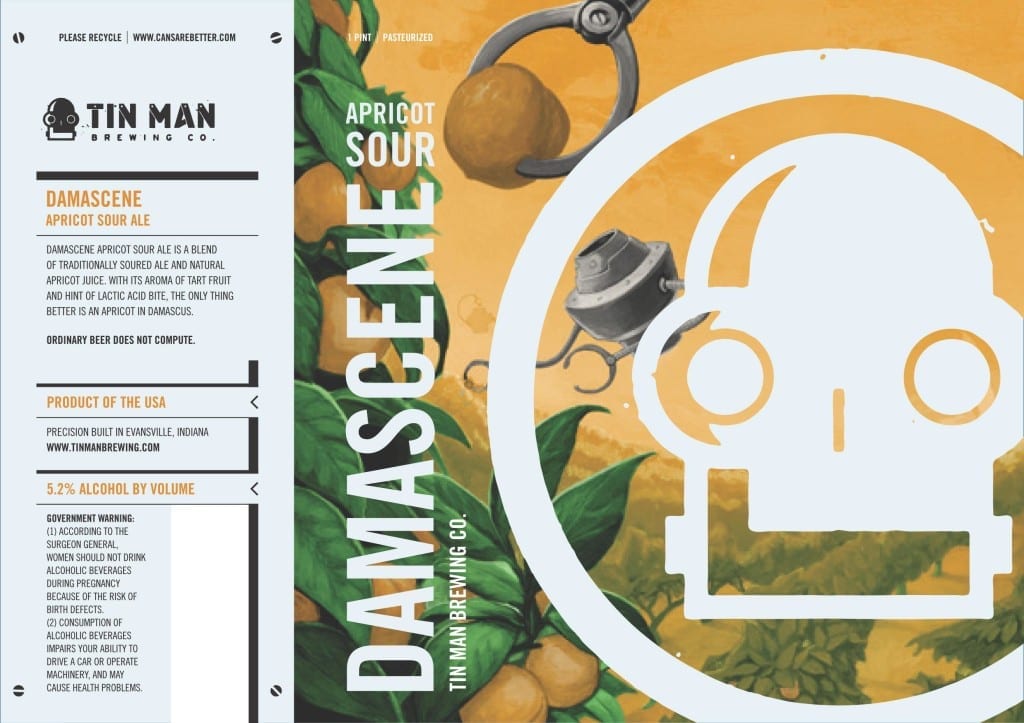 The only thing wrong with this gorgeous pulp-style, peach-picking robot painting is that it's such a tease. I want more! As much as I love the Tin Man logo for its sheer graphic awesomeness, what's going on behind him is so intriguing, I'm dying to brush him aside to take in the whole scene. I guess all I can expect to find is more harvesting robots, but why tease?!?
UPDATE: Damascene was painted by the extremely talented fantasy illustrator, Jacob Walker of Lizton, IN.
@beerlabelsart Our good friend & awesome artist @JacobWalker2000

— Tin Man Brewing (@TinManBrewing) February 14, 2015
Left Hand Brewing Co. Great JuJu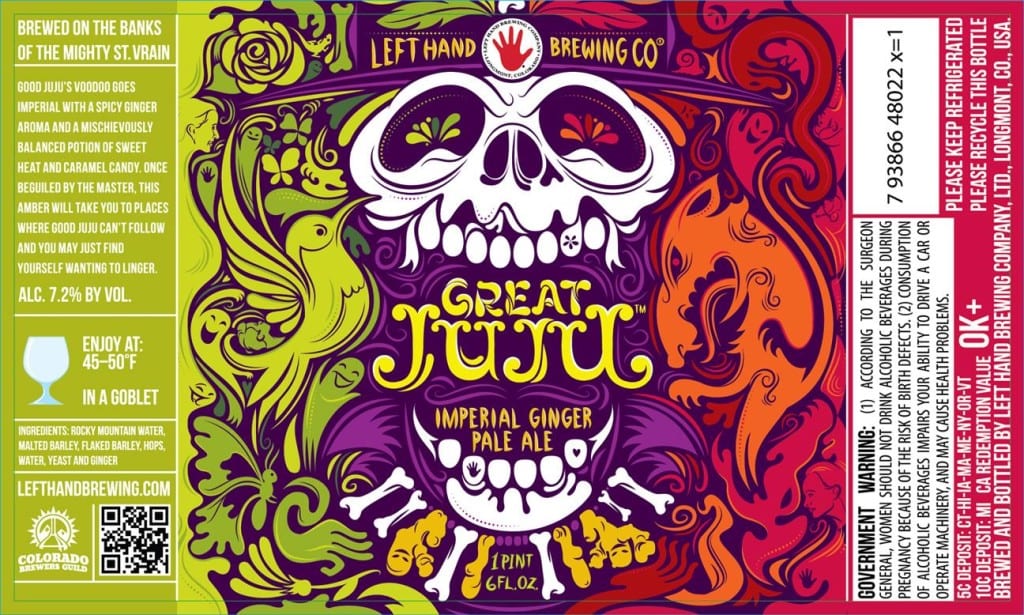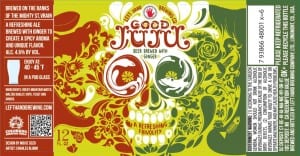 My favorite thing about Left Hand's labels is that at first glance they seem symmetrical. On closer inspection, there's a lot more going on!
There appears to be a good side and a bad side to this layout: friendly birds and spirits against angry beasties and ghouls.
Left Hand's labels are designed by the Moxie Sozo agency in Boulder, CO. This seems to be a variation on a beer label already on the shelves called Good JuJu.

Fargo Brewing Mighty Red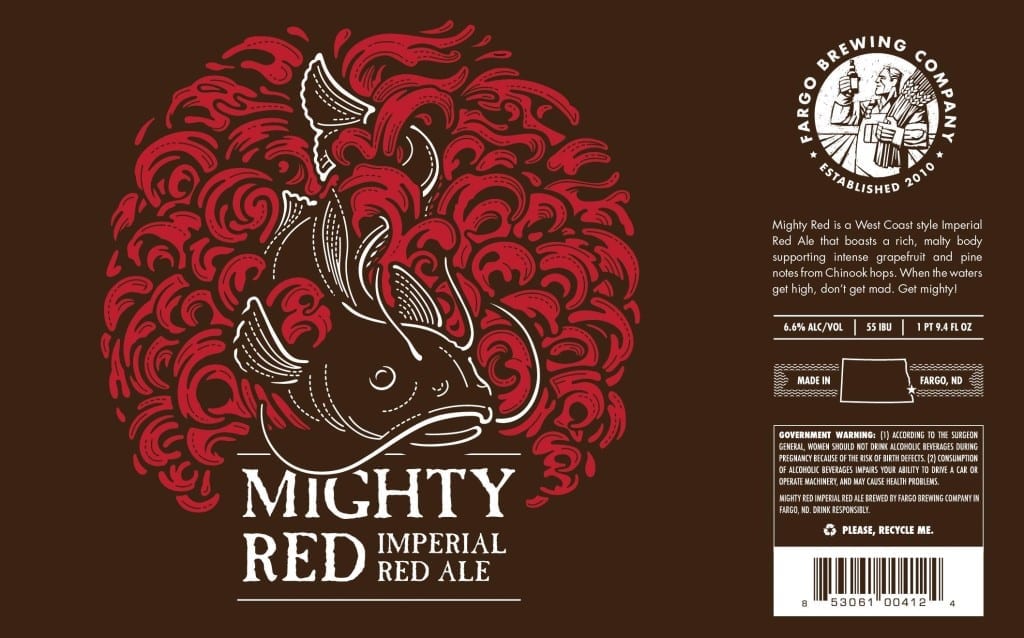 I've ranted in the past about the imagery you often find used for red beer labels, usually redheaded ladies. Not that I mind it, so much as it's not very original. Well how's this Koi fish drawn in a graphic tattoo style for original? I love the stylized red seaweed. He's mighty all right.
UPDATE: That's no Koi! It's a catfish! The illustrator goes by the handle @Charpie on Twitter (no real name provided).
@beerlabelsart It's a catfish from our local river created by @Charpie from http://t.co/STSEs8vVG1

— FargoBrewing (@fargobrewing) February 13, 2015
Flying Dog Supertramp Tart Cherry Ale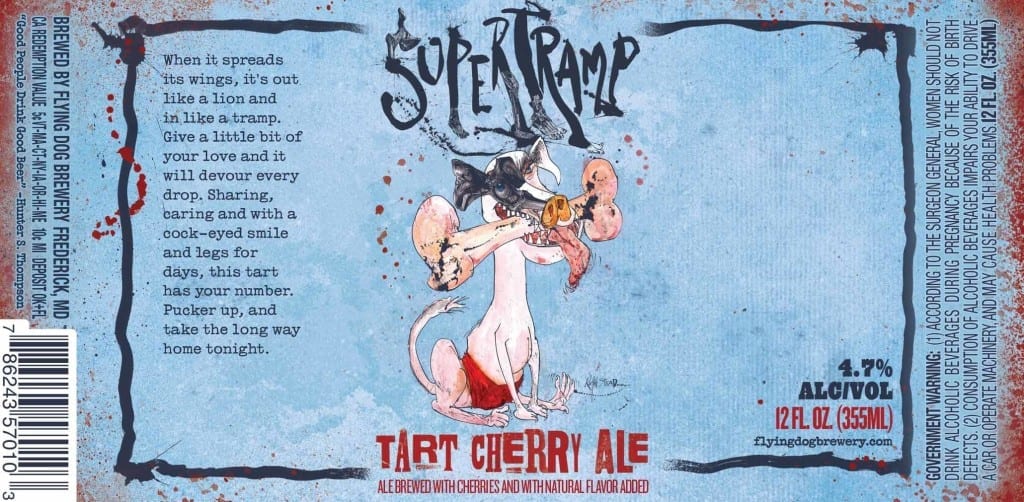 Okay, I'm just going to say this: I'm not fan of Ralph Steadman. It's purely opinions/aesthetic preference/my personal taste. That said, you can't dismiss his contribution to the look and feel of the packaging of Flying Dog Brewing. Steadman is the original "celebrity artist" when it comes to beer labels art. He's the first recognizable icon in beer label imagery and I have no problem awarding him that crown. I have heaps of respect for the man, his career, and his contribution to popular culture.
His art has simply never been my favorite.

Ninja of the Week: Asheville Brewing Company Evil Ninja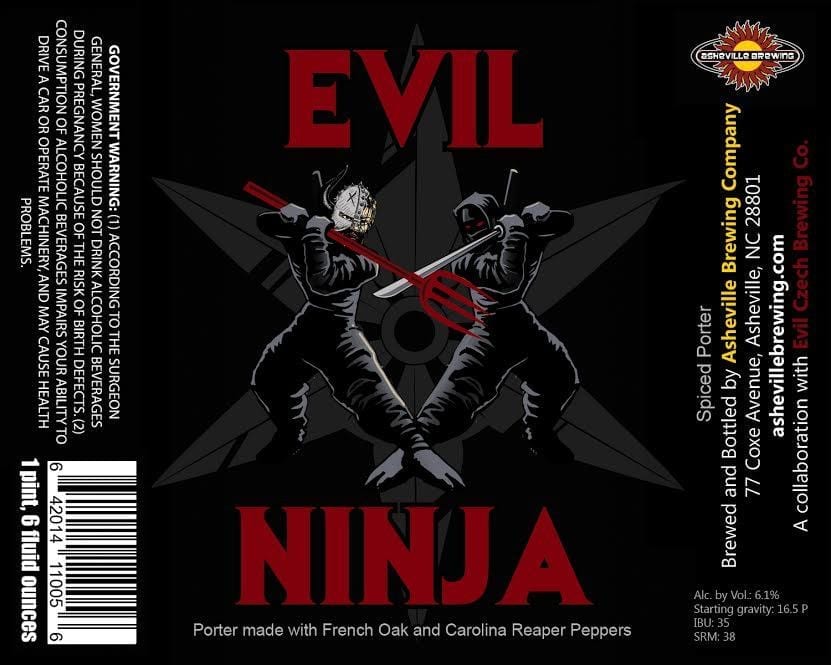 Oh boy! Another Ninja Porter!
So what makes a ninja "evil" you might ask? Well for starters, he doesn't wear a hood. He wears a Mad Max helmet. He also uses a poorly-drawn pitchfork instead of a katana.
Sorry Asheville. There's better ninjas selling beer out there.
Eyesore of the Week: Big Hole Grand Reserve Mythical White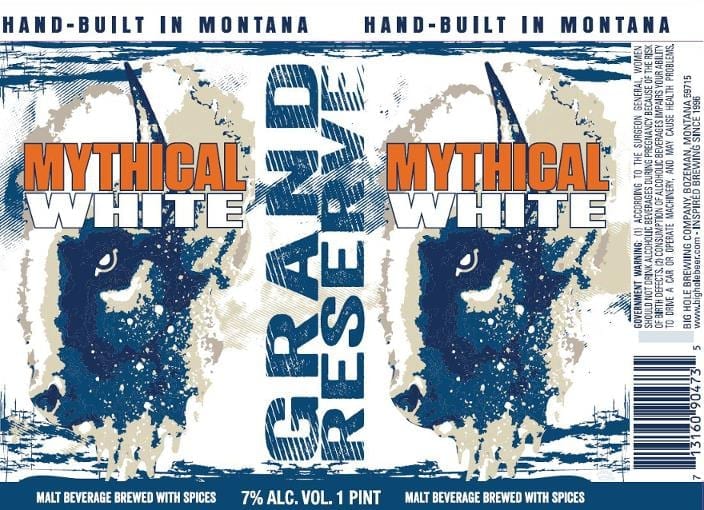 This week's Eyesore is kind of unique in that I actually think it's a beautiful illustration. I'm calling it out because it took me a ridiculous amount of time to realize that it's the head of a buffalo. And by "ridiculous" I mean, I looked at this thing for quite a while and only just recognized it when I started to write this post. I feel kinda dumb, but I JUST figured it out.
With only the eye as a point of reference, I thought it was some sort of horn-nosed dinosaur lurching out of the water. I mean, it IS called "Mythical".
The head seems to just be floating in space – there's nothing anchoring it to a neck. And why can't I see the other horn? I think moving the title is probably a good idea so more of the image is clear. Give this powerful image some room to breathe!
Label images research made possible using the highly recommended LabelVision search tool at ShipCompliant.