I was already following Wolfskulljack on Instagram for a little bit before I discovered that she wasn't simply an amazing illustrator… She's also a beer label artist! Her art is dark and primal in subject matter, but also in shape and line. Her work honors two sides of nature – stagnant death and repose and raw rage and fear.
…and, yeah, she draws A LOT of wolves.
It's inspiring to hear that the folks at Anchorage Brewing were fans of her work and reached out to her with a desire to put her art on their labels.
Thirsty Bastards: My favorite label you've done is "Endless Ending"? Can you tell me the story behind its conception?
Wolfskulljack: Endless Ending is at the moment the only custom piece that Anchorage has purchased! They specifically wanted Dall sheep to proudly represent Alaska, and it was Gabe Fletcher's idea to have the human skeletons inside the sheep to reflect previous can art, like "Within Us" and "Origin".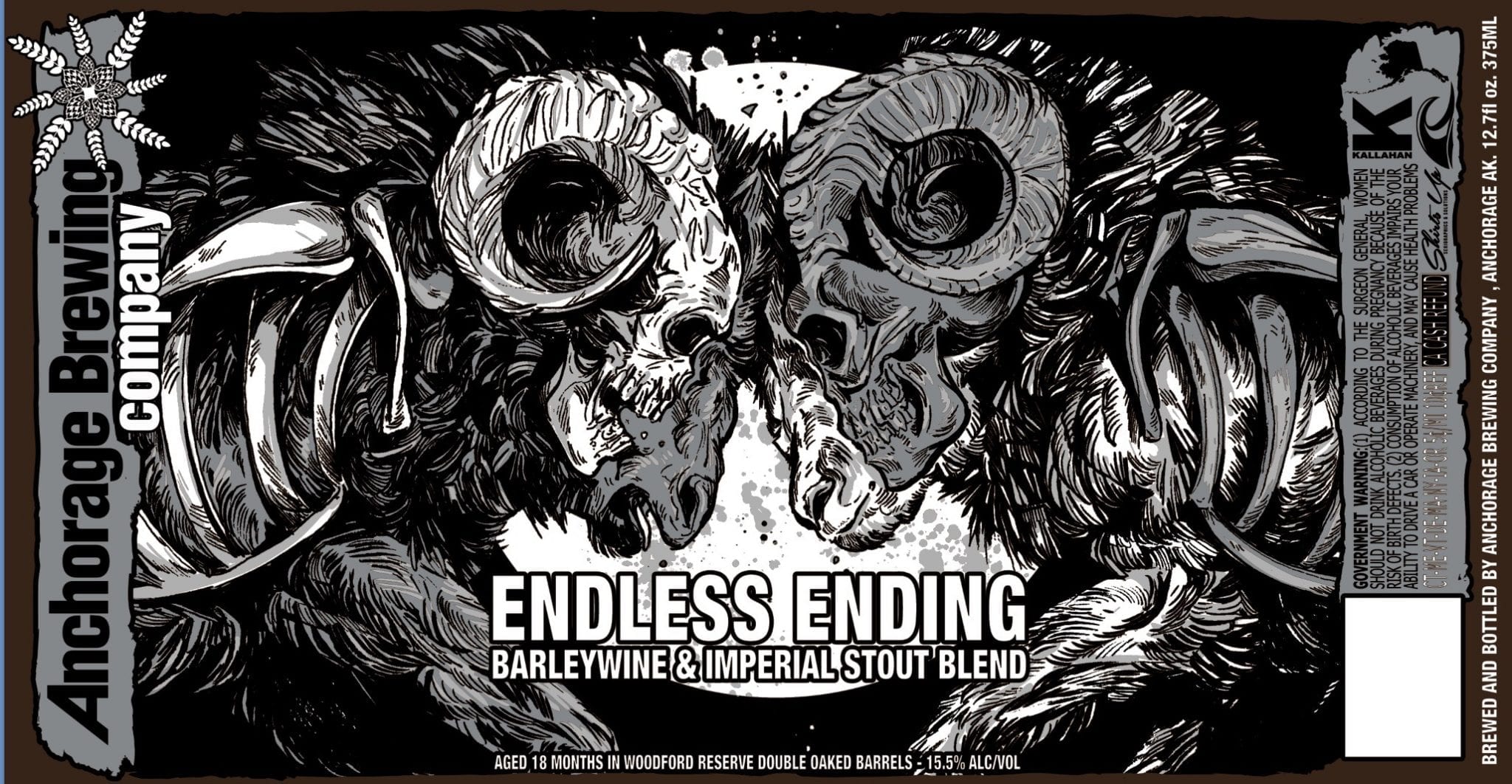 The human skeletons inside of animals theme is a reoccurring image of mine because I like to explore the hostile relationship between man and the natural world within my artwork.
TB: What does the "hostile relationship between man and the natural world" mean to you?
WSJ: My work does like to explore the hostile relationship between nature and mankind and seems to be even more relevant now with the ever growing climate crisis on our doorstep. The skeletons I like to focus on in my work not only hammers home that all living things share the same inevitable fate, but we are all built of the same materials.
As a dominant species, we have a responsibility to nurture the world around us, but seem to be so keen on conquering it instead. We are not above animal, we are apart of it.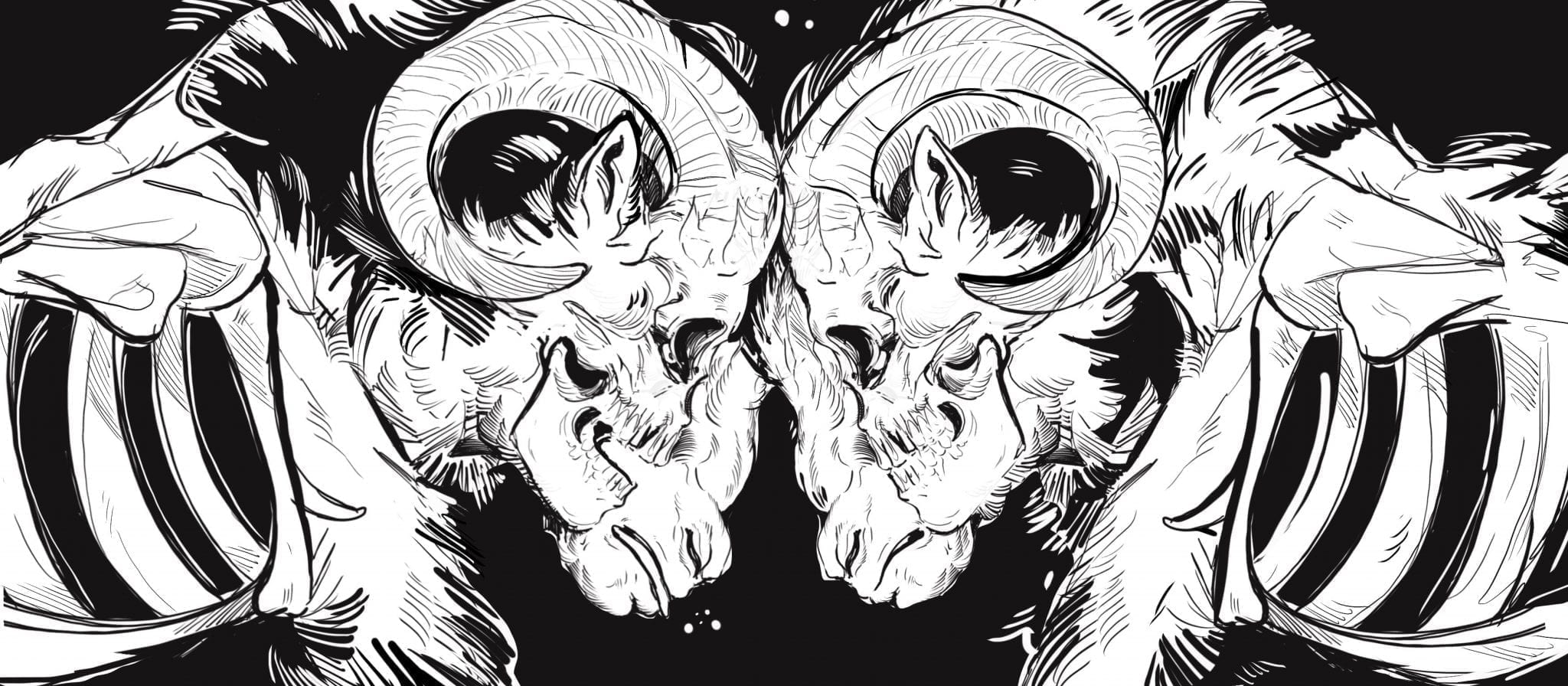 TB: I see that you are WAY into wolves and charities that help rescue them.
WSJ: haha WAY INTO WOLVES is very accurate! I cannot fully explain my connection with wolves without sounding like I've lost my mind entirely. It's been something inbuilt in me since I was a little girl and when I was about 6 years old I remember feeling so lost and sad that my wolf family hasn't found me yet. The message 'find your wolf family' has been so integral that it's not only expressed in my artwork but it's lead me Wolf Watch UK a coupe of years ago.
Wolf Watch UK is a non profit organisation who rescue wolves from captive situations and 2 years ago I signed up to their membership and paid to rent their cottage on the grounds for two nights. Wolf Watch is far from a petting zoo and the animals have acres of natural land to be seen or not be seen if they choose so. We saw no wolves the first day but in the dead of night we headed up to the look out cabin at the top of the hill and let out a howl. One by one the wolves answered back and I burst into tears, I had been calling for wolves my entire life and finally had an answer. It is still the most magical moment of my life that will stay with me always.
Two years on I am now a volunteer Team member of Wolf Watch UK.
TB: What is your favorite label you've done so far for Anchorage Brewing and why?
WSJ: The very first label that Anchorage purchased is Within Us which is a human skeleton inside of a crow. This is one of my favourite pieces because it came from a really emotional place for me as I was creating it and it was the first piece to be exhibited in two galleries. I love that Anchorage not only kept the the original name of the artwork, they credit me on the cans themselves, but it looks totally badass on a can of beer!! I'm very happy with what they did with it.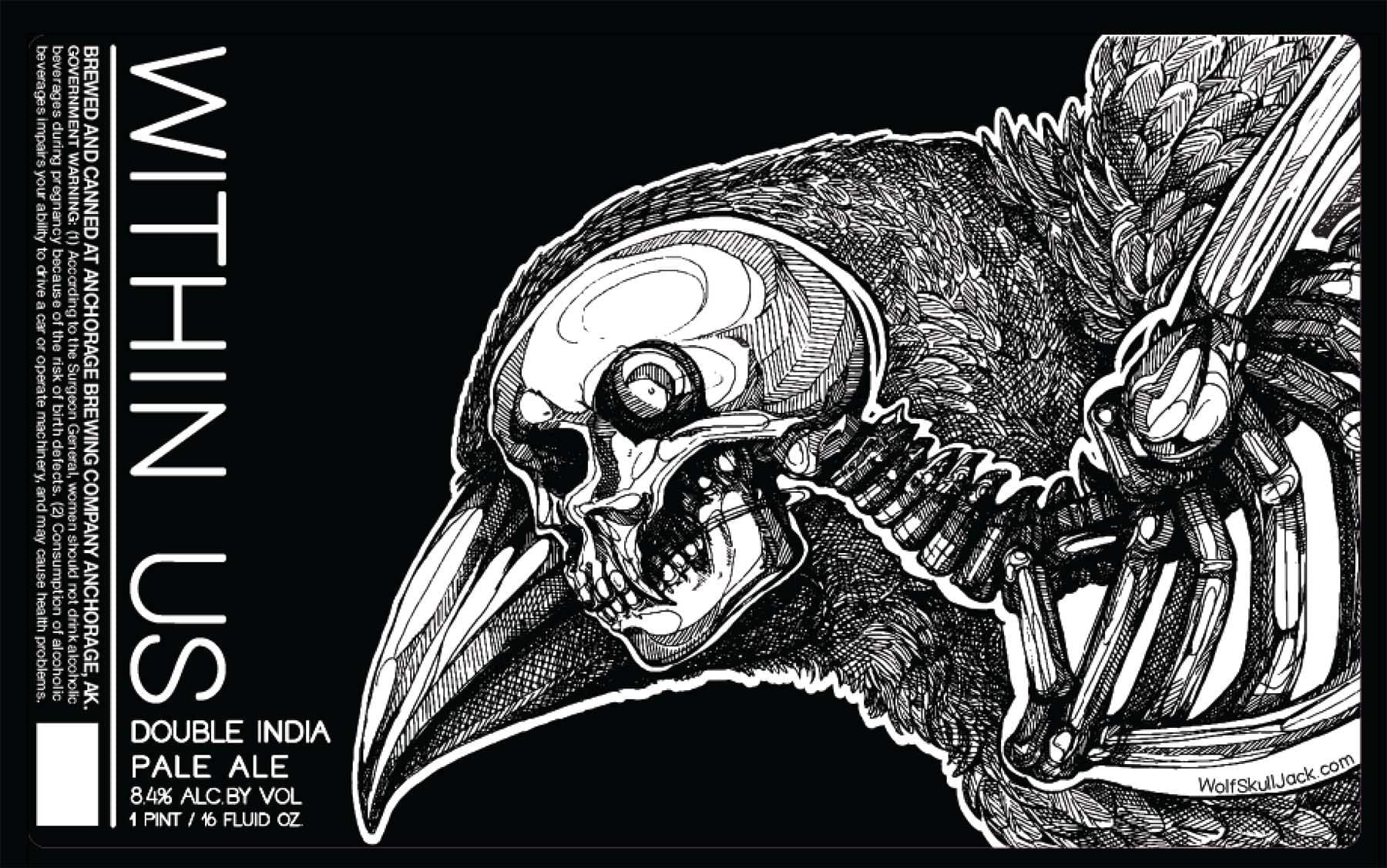 TB: How did you get started making labels for Anchorage Brewing?
WSJ: I got an email from Gabe one day and to be honest, I didn't think much of it!! I get a lot of companies reach out and want to offer 'exposure' or no payment at all and I assumed it wouldn't lead anywhere. Turns out Gabe had been following my work for a while and as we got talking he assured me that he wanted to pay his artists a fair wage. He was absolutely true to his word and we struck a deal.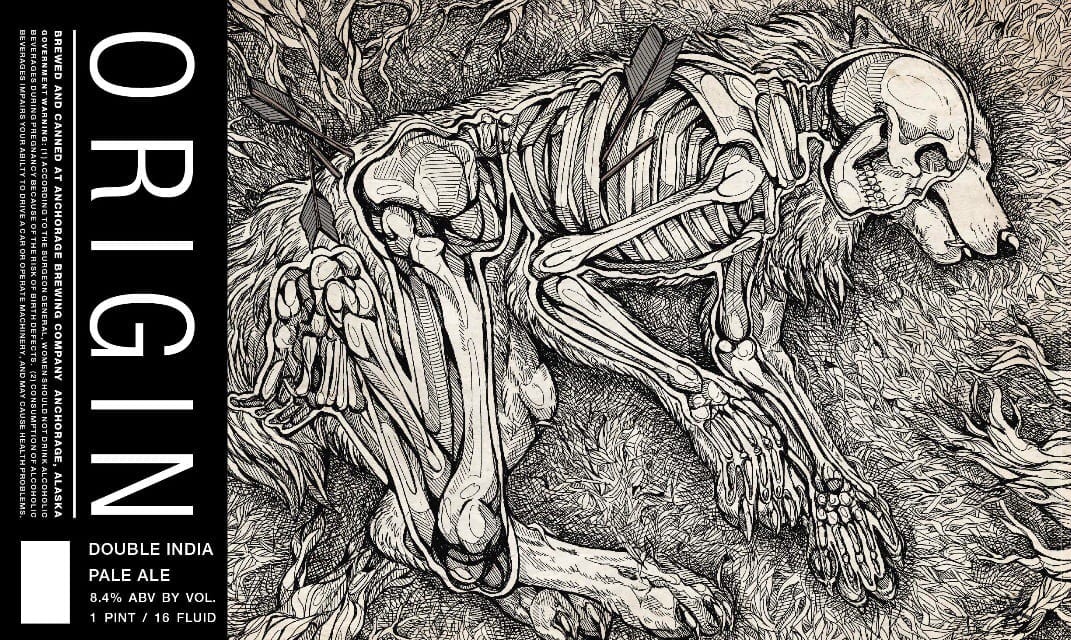 TB: Where are you from and where did you learn to be an artist?
WSJ: I'm a British artist living and working in the midlands, England! I've been drawing for an incredibly long time but doing art full time for about 6 years now. I went to the University of Gloucestershire, but to be honest, I worked 6 LONG years in call centres before doing art full time after I graduated. It's not easy to get illustration work right after graduation.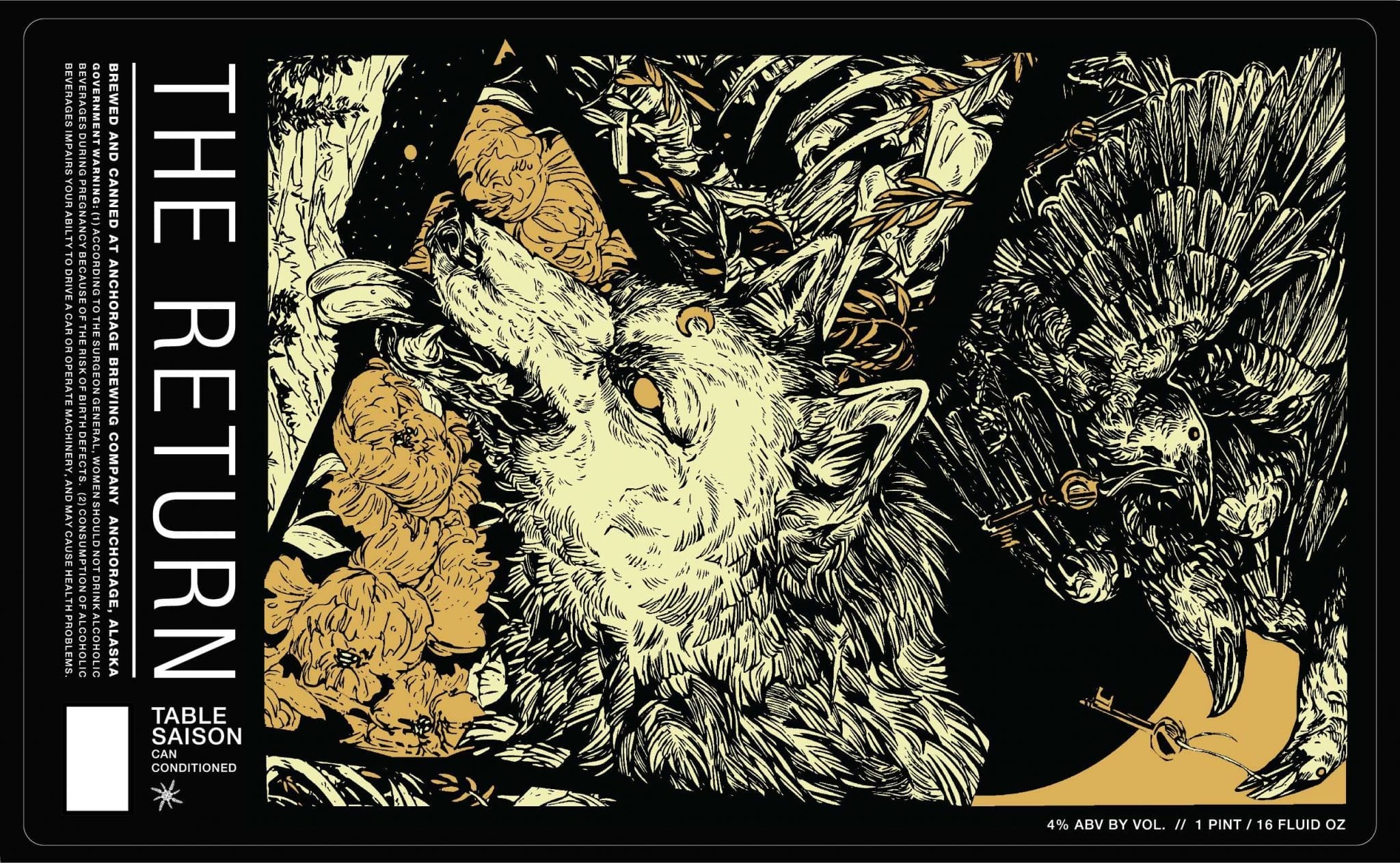 TB: Can you tell me a bit about your process? Are you all digital? Traditional? Mix of both?
WSJ: The majority of labels are mix of traditional and digital but lately I've only been doing mostly digital. I love to ink, it's very therapeutic! I've recently been doing a lot of digital inking on the iPad for most of my pieces done this year.
I feel very fortunate to be able to work with [Wolfskulljack]. She is an amazing talent and so easy to work with. I can't wait to get some more originals from her!

-Gabe Fletcher, Anchorage Brewing Founder and Brewer
TB: I was perusing your Instagram and it looks like you are using Procreate. Do you scan a pencil sketch and ink over it digitally? Or go from sketch to inks all in Procreate? What brushes do you use?
WSJ: With Procreate I sketch directly into it using the Technical Pencil tool and then ink directly using the Gesinkski brush. I love Procreate because I can't work at a desk (possibly an inner rebellion against school) and the iPad allows me to work wherever I want.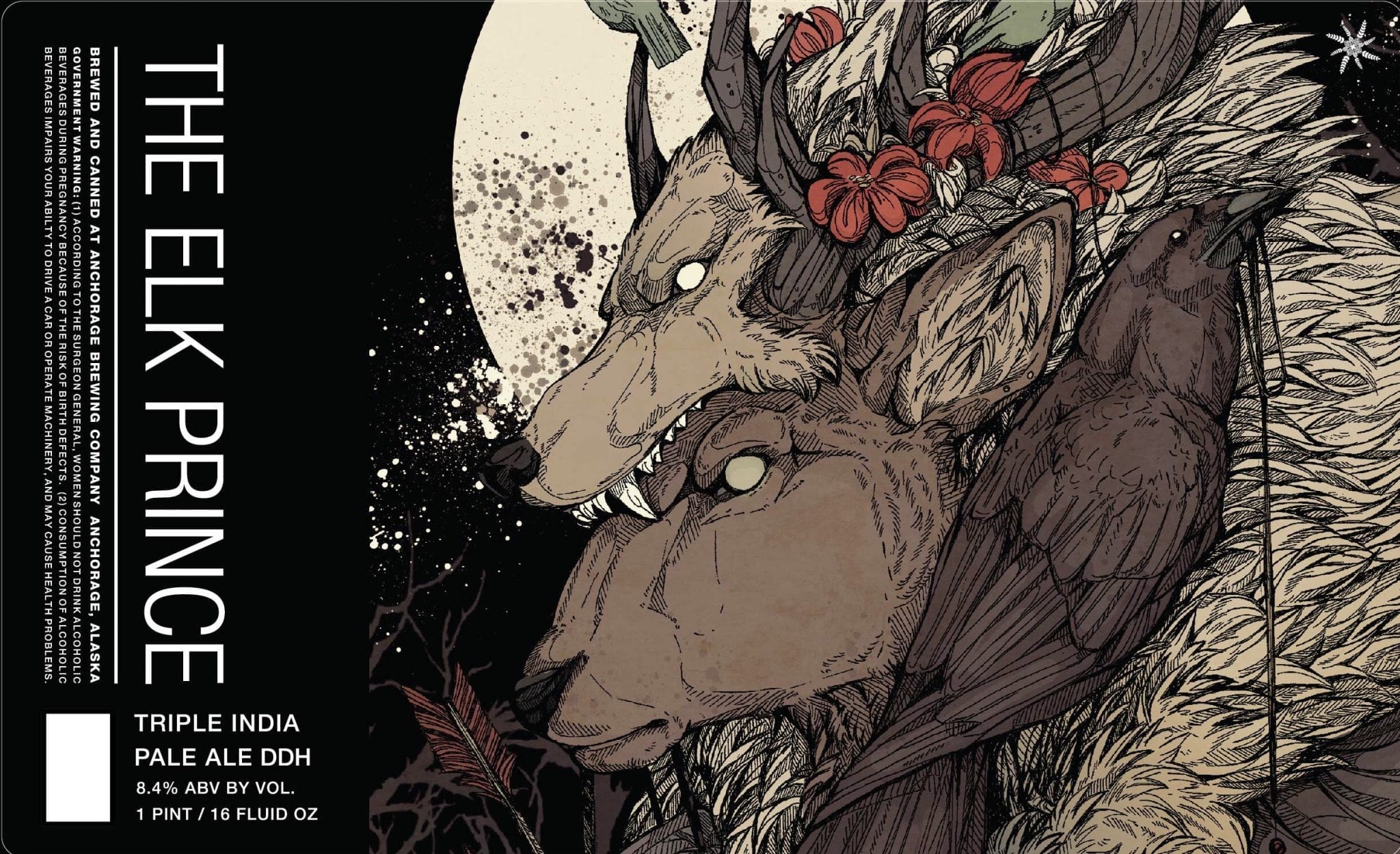 TB: What other art do you make?
WSJ: I am very fortunate to mostly make a living purely out of my personal work. I create books and t shirts. My latest client however is the mighty Metallica where I designed their tees and posters for the S&M2 anniversary tour which was pretty bonkers.
TB: How can your fans find you and your work? Can they buy your art?
WSJ: The best place to view my art is Instagram. And for now I have an Etsy shop.
Wolfskulljack's Website
Wolfskulljack on Instagram
Wolfskulljack on Etsy
Anchorage Brewing's Website
TB: True or false: The best beer label art looks like it could also be Magic: The Gathering card art.
WSJ: …..true! I love fantasy art so I'm going with it.
Label images supplied by Anchorage Brewing and research made possible using the highly recommended LabelVision search tool at ShipCompliant.