In love with Pumpkin Beer Labels
It's that time of year again. My FAVORITE time of the year. As I write this, I even have a pumpkin Belgian dubbel in my fermenter just gurgling away with gourd-alicious fervor. I LOVE pumpkin beers.
There's a lot of "meh" pumpkin beer labels and occasionally a "meh" pumpkin beer (but not often). These are the best pumpkin beer labels on the shelves this year, so feast your eyeballs and dream of drinking from these fall masterpieces!
New Belgium Brewing Punkick by Leah Giberson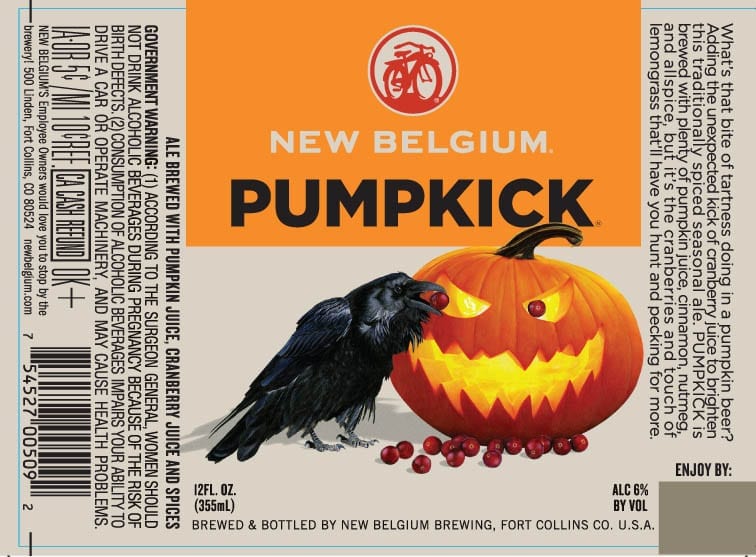 I'm long overdue for a post about Leah and the beautiful facelift she's given the entire line of New Belgium labels. This new version is not the literal take on the name of the beer previously adorning this label. How charming is this one?
Revival Brewing Bushido Pumpkin Ale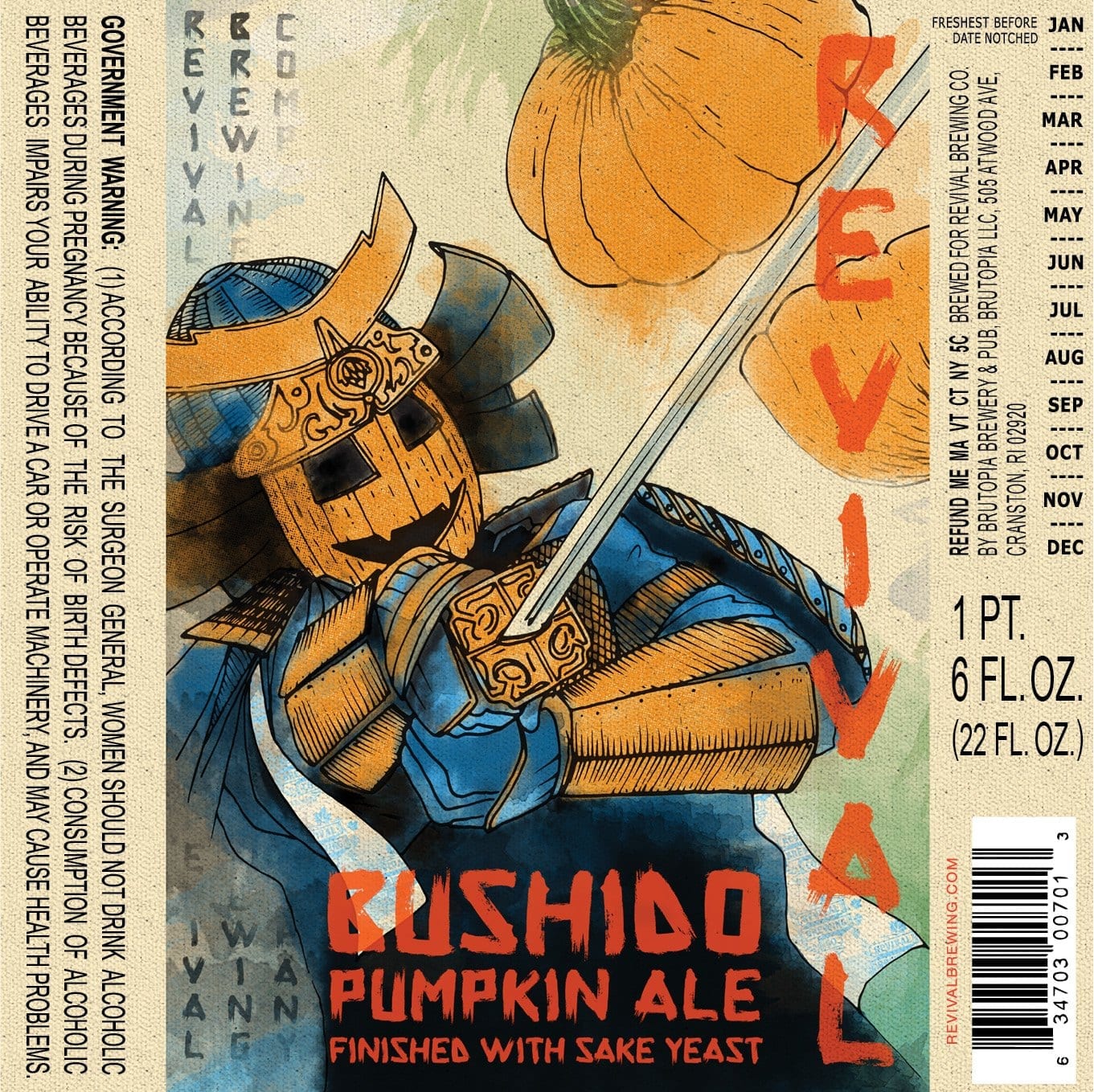 Pumpkin? Check.
Japanese influence? Check.
Jaw-dropping, clever kick-assery? CHECK! No… wait… Ass-kickery!
Um, check.
Bushido is of course the code of the Samurai. Revival's gourd-themed warrior is masked with a smiling pumpkin helmet. He practices his swordplay by slicing a very large pumpkin in two in much the same way the Reaper halves the Unicorn.
This gorgeous label is done in the style of a Japanese watercolor painting or Woodblock print. Even the lettering is laid out vertically!
Two Roads Roadsmary's Baby
Side-by-side against the original Rosemary's Baby movie poster, I'm sure you can appreciate how damned clever this one is. Nuff said!
Roadsmary's Baby was illustrated by Brendan Bayard at BRZoom in Baton Rouge, LA.
Steamworks Pumpkin Ale by Michael Halbert
Clockwork metal jack-o-lanterns flit around this label as if they are airbourne. The largest clockwork face is pierced in the eye by a rocket a la A Trip to the Moon. It seems this was limited in color because it was silk-screened on the bottle, but the intricate linework more than makes up for that.
Michael Halbert is a an amazing scratchboard artist. You can find lots of videos of his drawing process (like this one) on his YouTube channel. If you've never seen how scratchboard is different from pen-and-ink, you'll find this fascinating. The only thing better than watching an artist at work is watching while drinking a pumpkin beer.
Wisconsin Dells Pumpkin Ale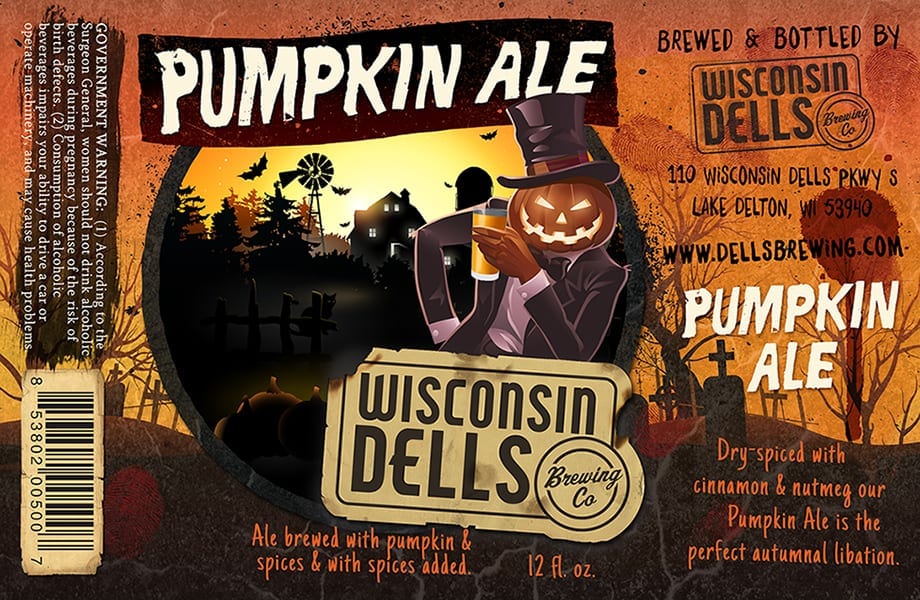 I'm a sucker for the classic Halloween imagery and this pumpkin beer label delivers. But I have to admit, there's some confusing elements to this label. The jack-o-lantern man seems to be welcoming us from a Stargate-style portal to a place just slightly less spooky than the one we see in the background. So is this the part of Wisconsin he travels to for beer? Is the graveyard also in Wisconsin? Cuz from all of the bloody fingerprints, it doesn't seem like a very nice place at all.
I reached out to Wisconsin Dells Brewing to find out who the artist is, but it seems it is their policy not to share this information.
Red Hook Out of Your Gourd Pumpkin Porter
This one is simple, but I really like how they incorporated the shape of the Red Hook trees into the design and made them mountains. There's even a very tiny house with bats flying out of it at the apex of one of them.
I was actually able to find this locally and it was delightful!
Naparbier Coop Pumpkin Tzar by Antonio Bravo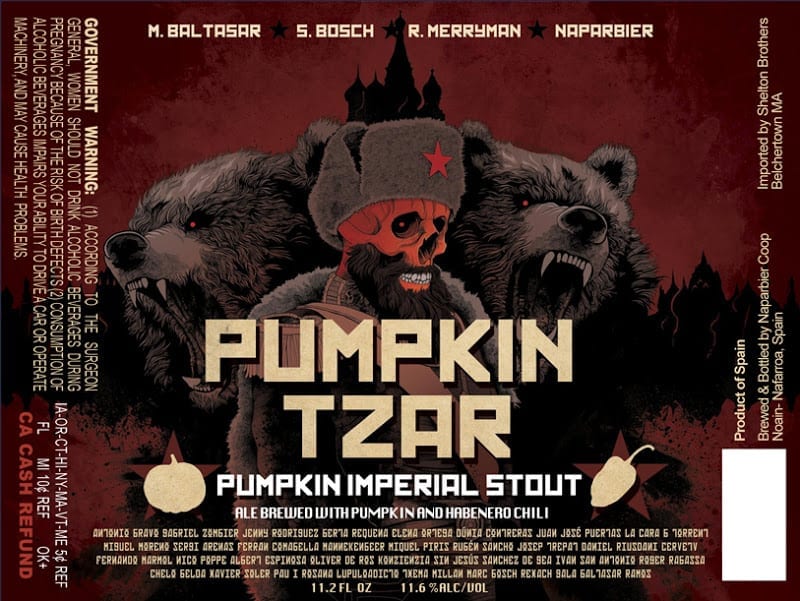 Okay, it's time to ask the kids to leave the room for a moment. It's about to get real adult here.
Okay? Gentle ears have left this space? Good.
WHAT THE FUCK IS GOING ON WITH THIS LABEL?!? IT'S FUCKING INSANE!
Seriously, it's gorgeous and amazing and damned beautiful and I'd put it on a bottle in a heartbeat, but WTF?!? I love it so much. And yet it frightens me. Will my face melt off except my facial hair if I drink this?
I love it so much.
Naparbier is a Spanish brewery and this chilling artwork is by the extremely talented Antonio Bravo.
Lucky Girl Haunted Pumpkin Ale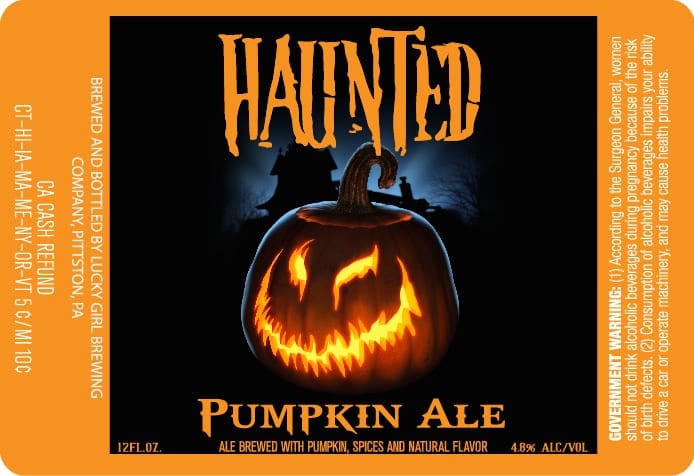 You could argue that this isn't the most original pumpkin beer label, but you can't ignore how well done it is. You've got the warm glow of the jack-o-lantern bouncing off the cool glow of the misty haunted house in the background – it's classic color wheel complimentary colors. The details are carefully constructed, right down to the glow on the edge of lid from the inside. We're pretty religious about our annual pumpkin carving and I have to tell you, I would not have the patience to whittle out all of those teeth.
Long Trail Pumpkin Ale
Oh hey, what's this? Didn't we look at a Long Trail pumpkin beer label last year? We did indeed. Long Trail loves artists and pumpkin beers, just like I do!
At first glance, this one isn't particularly spooky. It appears to be a collage of high-contract photographic images with some color added. I feel its reminiscent of the creepy midnight path Ichabod Crane had to traverse with the Headless Horseman hot on his tail. I watch the Disney version every year about this time and I wish I had this in hand to go along with it. Tarrytown is not all that far from the Vermont border…
Florida Beer Co. Gourd Shorts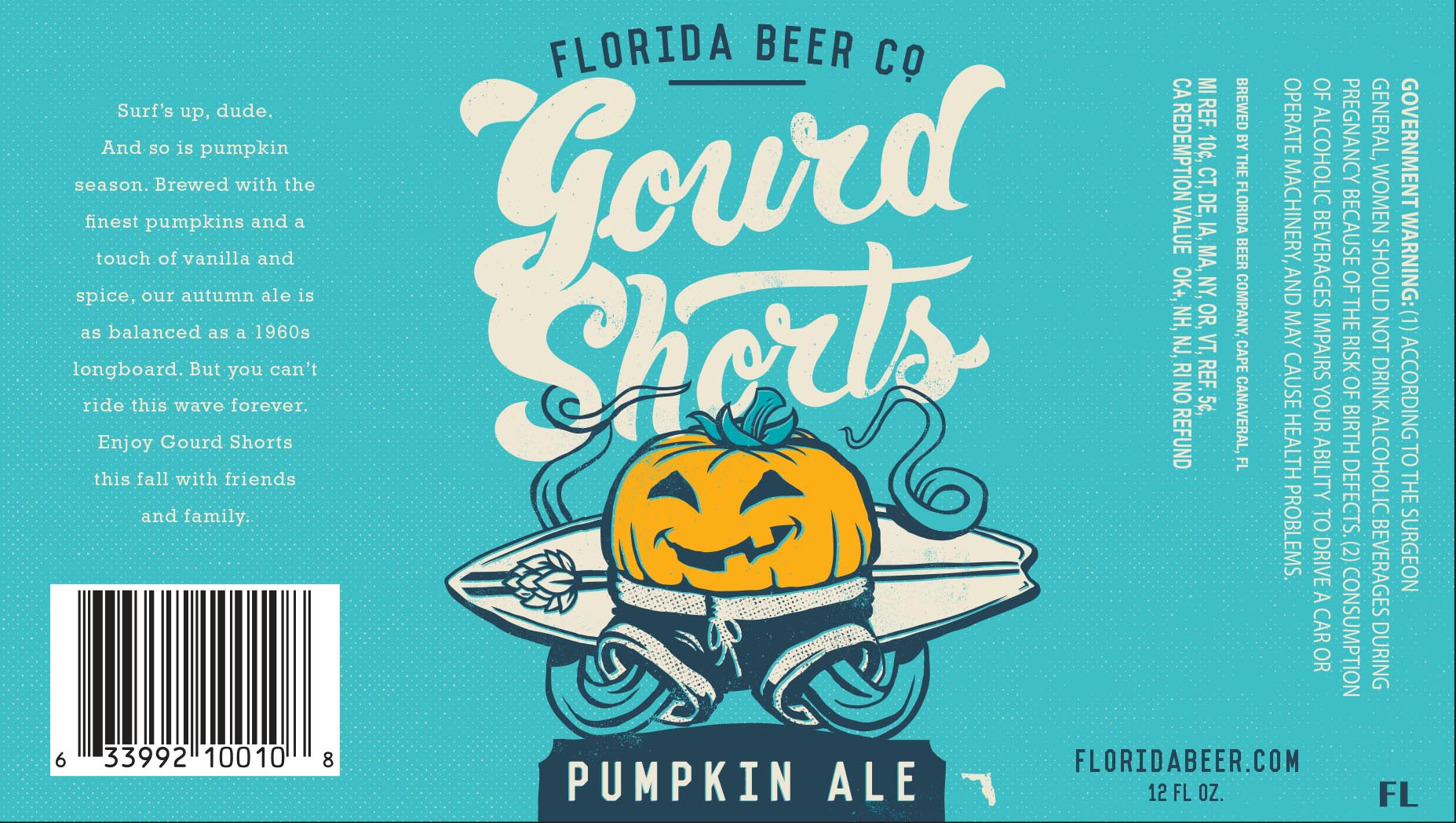 Okay, you are a Florida brewing company and you make a pumpkin beer… Combine those two elements and see what you get!
What Florida Beer Co. got is this offset press-style surfing jack-o-lantern. In shorts. GOURD shorts. It's simle and effective. I love the vines coming out of the legs of the shorts and the hop cone on the surfboard is a nice touch. Mission accomplished!
Bonus Spooky Label: Two Roads Route of All Evil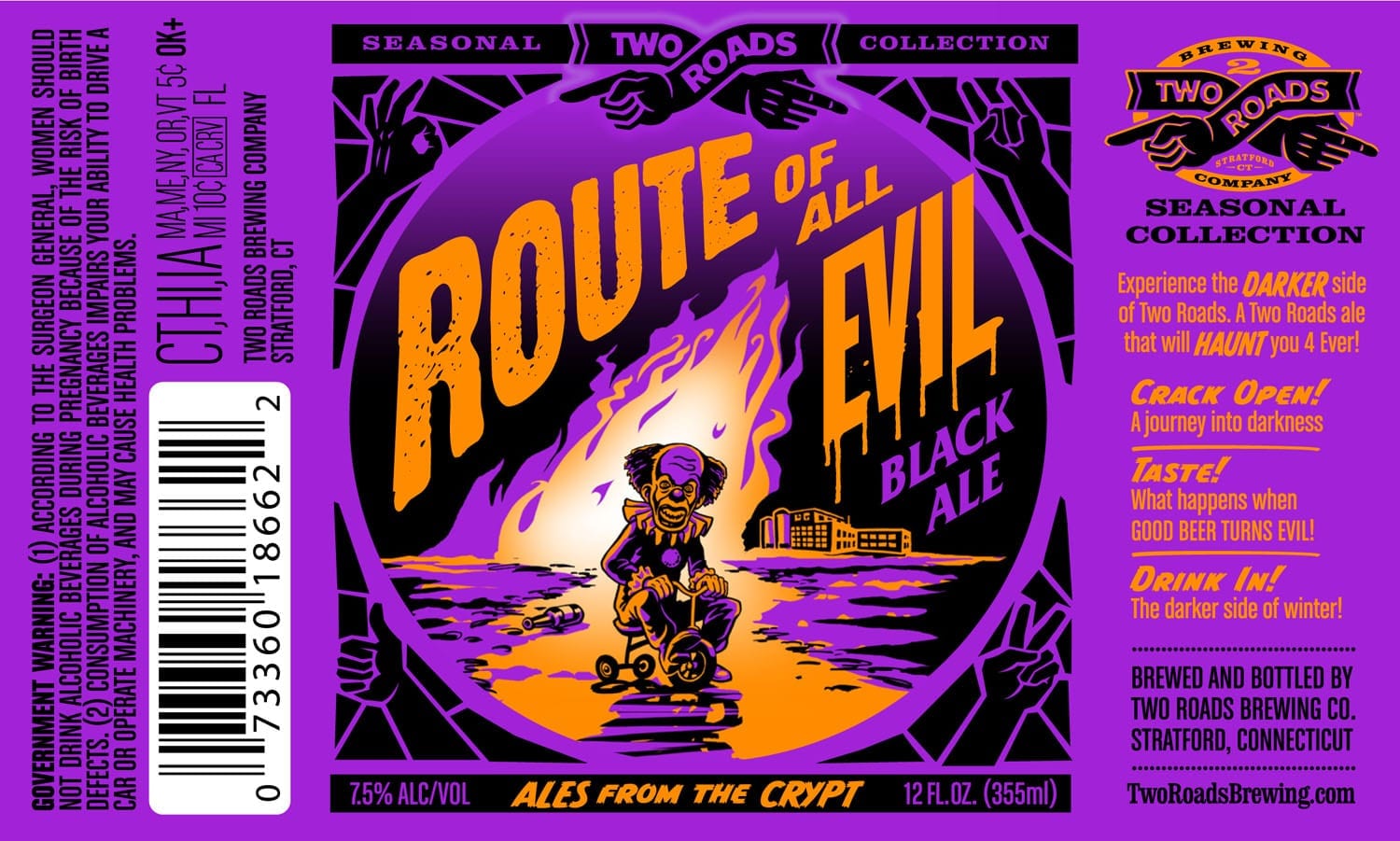 This isn't a pumpkin beer label, but it certainly is creepy! These guys are Two Roads could give 3 Floyd's a run for their money in the Evil Department.
The design on this label was also handled at BRZoom. This creepy illustration was Vitaliy Romanenko and Krist Norsworthy. Krist has a Society6 page here where you can buy his art.
---
Well folks, that's it for this year's pumpkin beer edition. While I enjoy drinking these beers more than I like posting about them, I LOVED writing this post. As always, if you have suggestions for artists or labels you want to know more about, use the Label Suggestions button at the bottom of the page or leave a comment! Thanks for reading!