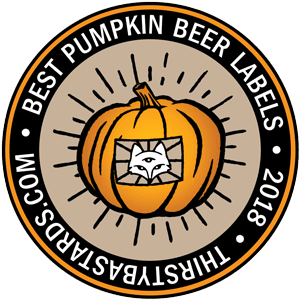 Here we are again, friends! It's late October, you're already PSL'd out, and oh so tired of wearing long pants. No doubt you've had a couple of pumpkin beers. Love them or hate them, they go with the season like crunchy fallen leaves and fake Target spider webs. We happen to think they are some of the best labels made all year, so we scanned and searched for the latest and greatest and chose these 13 as the absolute finest for you to admire.
In case you blinked, we didn't do a 2017 list. Heck, there's even some repeat customers, with new versions, from previous years' posts. The labels were so bad last year, it wasn't worth it to write a post of the "Best 2 Pumpkin Beer Labels". Like most things, I blame Trump even though Jared is probably in charge of he Alcohol and Tobacco Tax and Trade Bureau. But I digress.
Without further ado, grab a handful of Fun Size treats and pour these masterpieces into your eye holes!
The following labels were registered with the Alcohol and Tobacco Tax and Trade Bureau in the past year. They have been selected for their aesthetic appeal or simply because we thought they were really cool.
Frankenmuth Brewery Pumpkin Chucker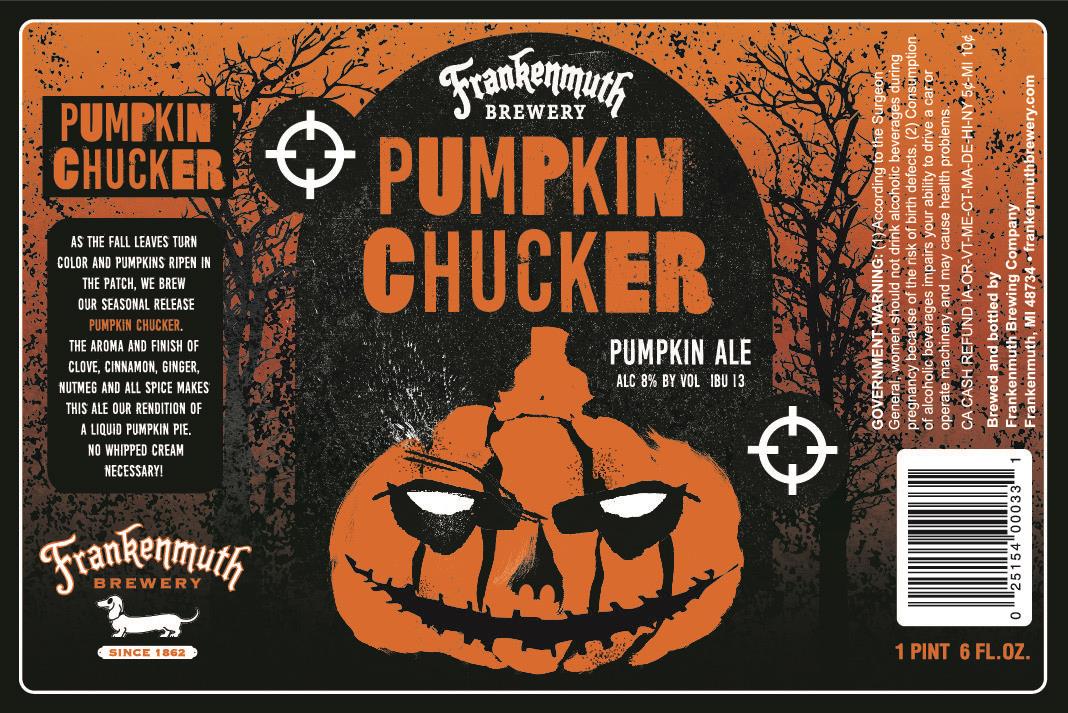 I reached out to Joe Osberger to get the story on this label by Frankenmuth's house artist Justin Hein.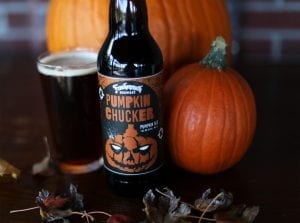 "The name Pumpkin Chucker is a play on the large catapults or trebuchets used to fling rocks, flaming oil or in our case pumpkins. A local farmer has a 40 ft. tall trebuchet who launches 60 to 80 lb. pumpkins beginning in September until they are gone in October. We thought that was kinda cool.
"The scary pumpkin was inspired by Halloween, horror movies and metal rock. We also added in a couple of target sights to let the pumpkin know he is going for a ride."
Justin Hein on InstagramFrankenmuth Brewery on Facebook
Frankenmuth Brewery on Instagram
River Horse Hipp-O-Lantern Imperial Pumpkin Ale
River Horse Tasting Room and Office Manager, Andrea O'Donnell, was kind enough to give me the backstory on this quirky label:
"The Hipp-O-Lantern label is a play off of "The Headless Horseman". The "horse" correlation seemed like a natural fit, and all of the imagery for that tale shows a really aggressive looking horse. We thought it would be cool to have a hippo looking the same, since most of our labels are more on the light hearted/goofy side.
"As for the beer itself, we use whole spices that are freshly hand crushed by the brewers the day they brew. No artificial flavorings, ever. The extra effort is definitely reflected in the flavor. We tried to make this a very balanced beer so you get the pumpkin spiced flavors, without losing the fact that it's still a beer and not a dessert."
River Horse Brewing Website
River Horse Brewing on Facebook
River Horse Brewing on Instagram
River Horse Brewing on Twitter
Ship Bottom Brewery Imperial Pumpkin Ale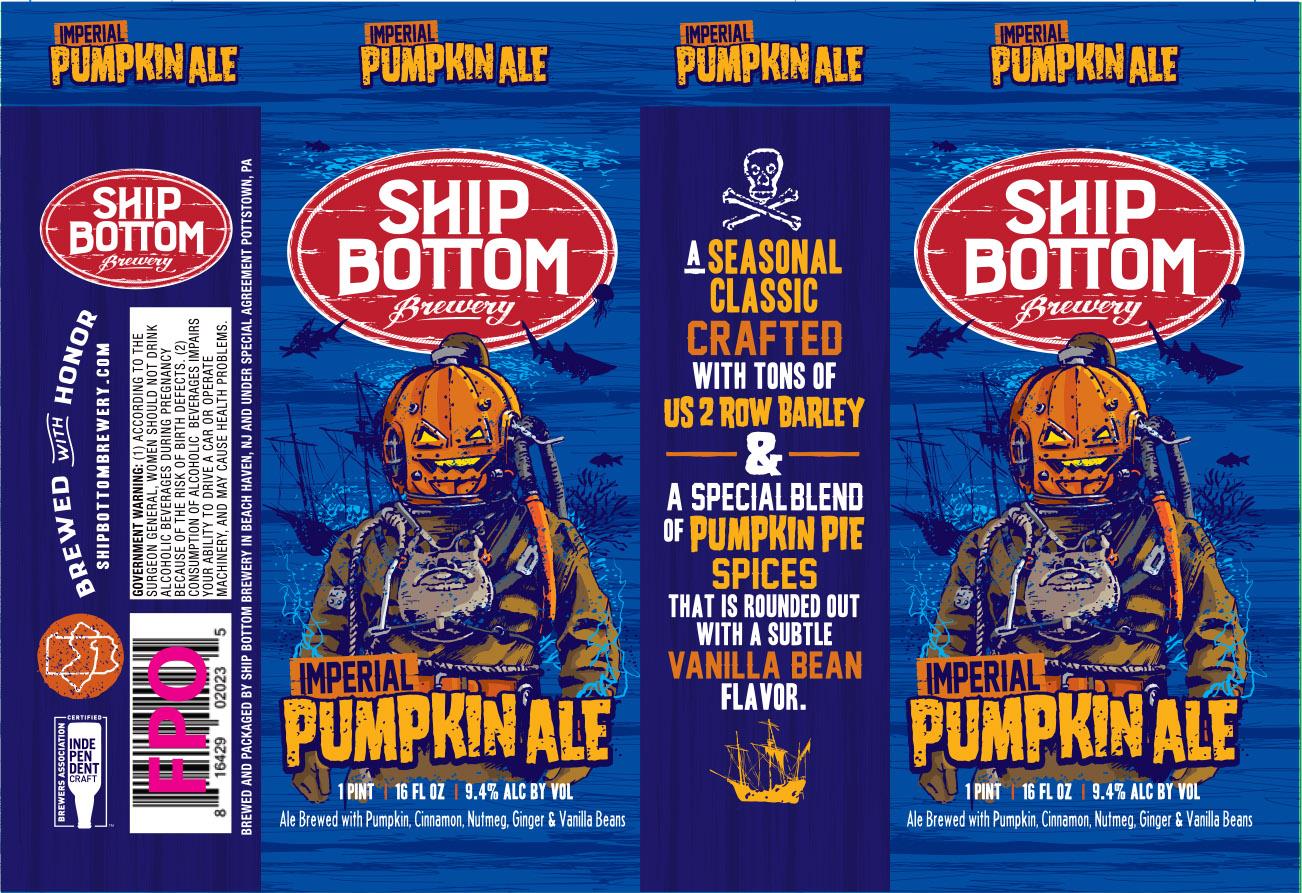 Terry Montimore, Creative Director at Goodwin Design Group AND artist on all of Ship Bottom's labels, had this to say about this deep sea take on the pumpkin beer label:
"The inspiration for all the Ship Bottom labels is a beach, surf, chill vibe, so when Rob told me he was doing a pumpkin ale, the big question was how do we make it 'beachy' or relate to any kind of surf/shore experience… after all Halloween/pumpkin does not usually enter peoples mind when they think beach, shore, or vacation. So after multiple concept sketches I ended up thinking, what if the 'pumpkin' was an old divers helmet and he was doing an underwater/sunken ship exploration, since Ship Bottom's name is based on a sunken ship.
"I feel it represents Pumpkin Ale well because while it retains Ship Bottom's overall theme it has a nice marriage of beach/Halloween/pumpkin. Because of the colors used are dark and a bit ominous, you get the Halloween vibe that is associated with the season of pumpkin ale, not to mention the giant jack o'lantern/divers helmet."
Ship Bottom Brewery Website
Ship Bottom Brewery on Facebook
Ship Bottom Brewery on Instagram
Ship Bottom Brewery on Twitter
Alewerks Brewing Company Imperial Pumpkin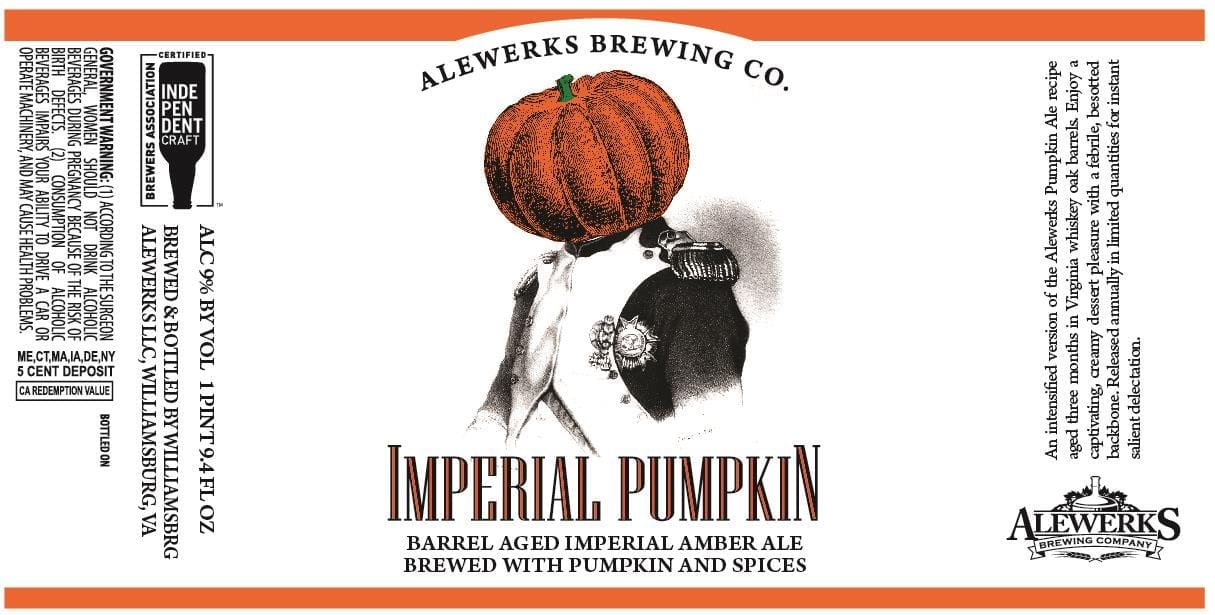 Jeff Phillips, the Marketing Director of Alewerks Brewing Company, gave us the skinny on why he chose this image. "The inspiration for the label is easy. When I think Imperial I think emperor, when I think emperor, I think Napoleon Bonaparte who famously crowned himself emperor of France (I have a print of the David painting of the event hanging in my house). And it seemed funny to me to plunk a pumpkin on Napoleon's head."
"Most anything that you see that's Alewerks came out of my head (and hand). I've been doing graphic design work for the last 20 years, primarily in apparel design (t-shirts), and been designing for Alewerks since 2009. "
Alewerks Brewing Company Website
Alewerks Brewing Company on Facebook
Alewerks Brewing Company on Instagram
Alewerks Brewing Company on Twitter
Iron Hill Brewery Pumpkin Ale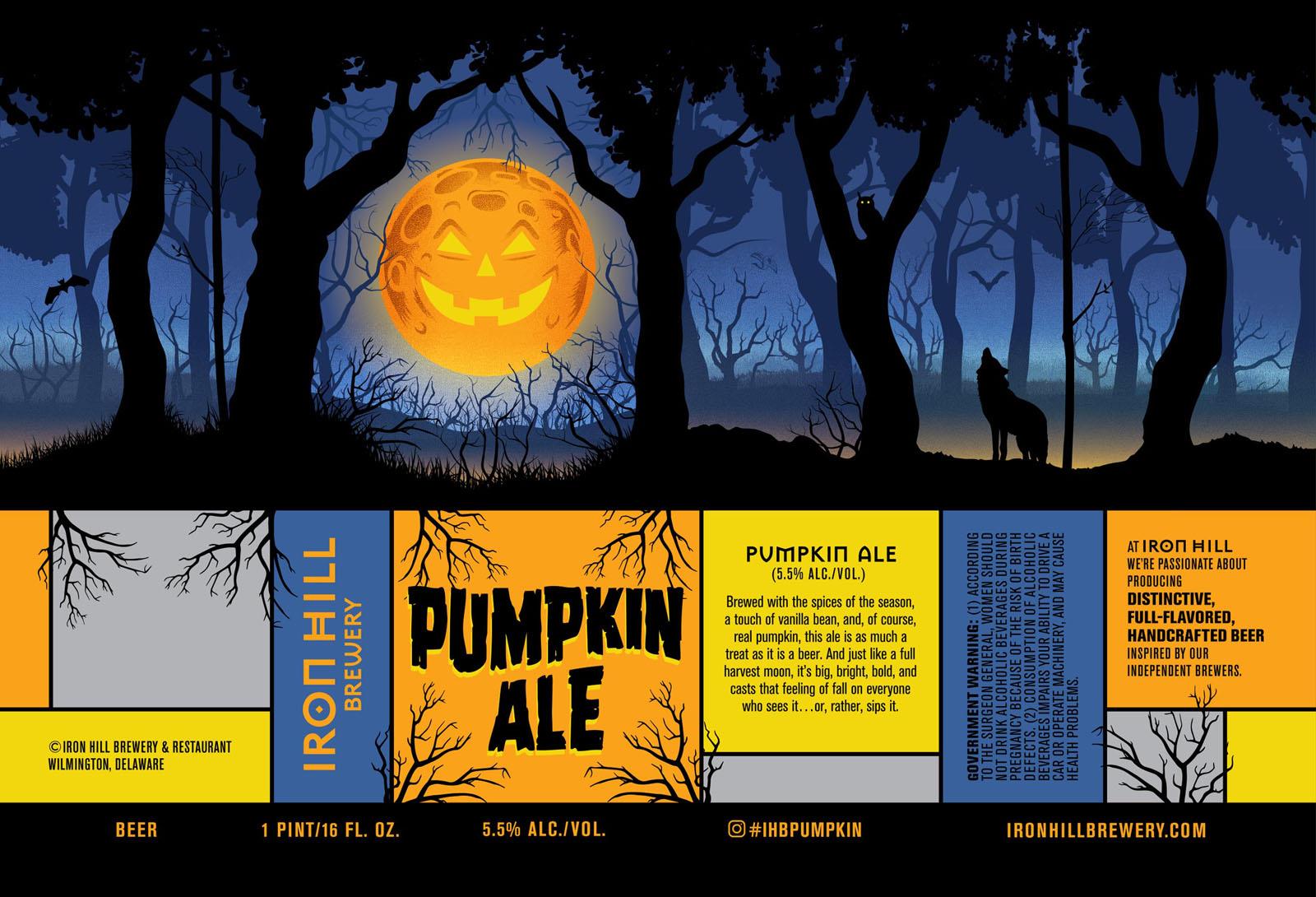 VP of Marketing for Iron Hill, Michael Hand, had this to say about this spooky pumpkin-lit landscape:
"The can was designed by the Smith Brothers Agency, based in Pittsburgh, PA. The design was inspired by the harvest moon, the full moon that appears in the night sky closest to the start of fall – the perfect time to enjoy our seasonal creation. The objective was to give the moon some additional character through the classic jack o' lantern face; not too friendly but not too creepy either. We wanted to create a nightscape that included a variety of creatures ranging from an owl with glowing eyes to the classic bat. For those who look closely, they will even find 'Malty', the bird featured in Iron Hill's corporate logo, cruising the night sky."
Iron Hill Brewery Website
Iron Hill Brewery on Facebook
Iron Hill Brewery on Instagram
Iron Hill Brewery on Twitter
Marble Brewery Pumpkin Noir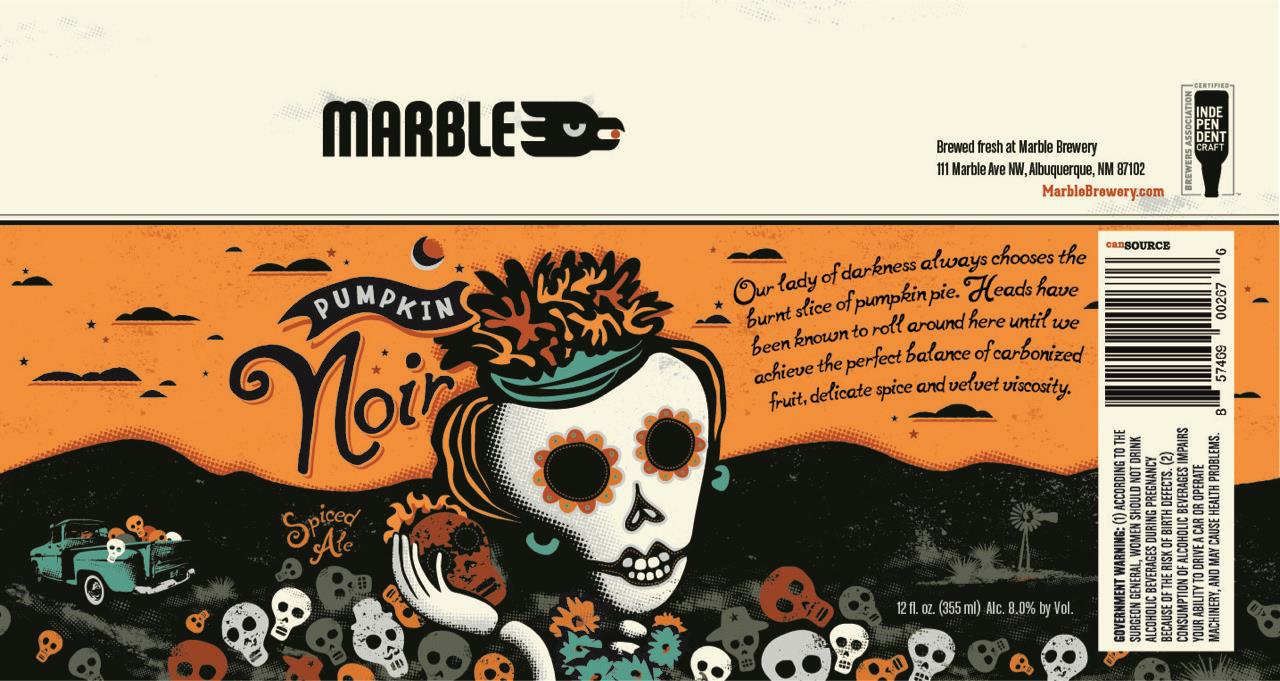 We're always fans of overlapping imagery of the Mexican Day of the Dead with the Halloween season. Marble's "lady of darkness" is a gorgeous example.
President and Brewmaster, Ted Rice, says, "I think this image represents Pumpkin Noir so well because they have so much in common. Both are dark, alluring, intriguing, and heady." Pun intended?
Len Romano is the designer and added, "The concept for Marble's seasonal beer label designs was developed by design and branding firm, Ripe Inc., utilizing images of local mural artwork found in the streets and alleyways of downtown Albuquerque. Each mural was chosen to support the creativity and attitude of the beer it represents, the artists were asked to participate and credited on the labels. The series of labels are literally an art gallery of local street creativity. The Pumpkin Noir label utilizes a sample of the mural titled Brainbow Alley by Larry Bob Phillips."
If you like this year's Pumkin Noir label, check out the equally festive 2016 version!
Marble Brewery Website
Marble Brewery on Facebook
Marble Brewery on Instagram
Marble Brewery on Twitter
Coney Island Brewing Freaktoberfest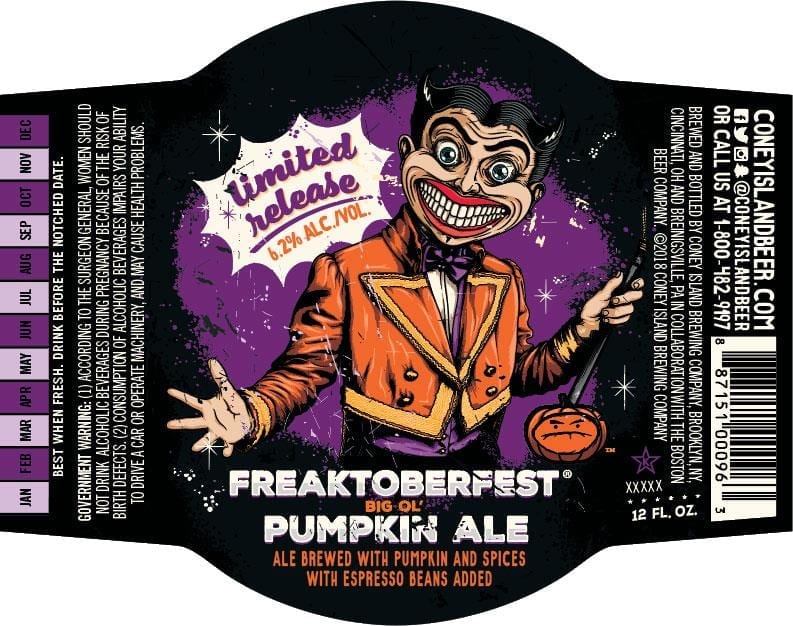 When we hit Coney Island up for a comment on Freaktoberfest, Jennifer Henry in their Media Relations department shared this:
"Tilley is the face associated with Coney Island, and was the previous logo of our brand. He had been featured on several labels (most notably Coney Island Lager and Freaktoberfest). We wanted to keep Tilley alive for Freaktoberfest, and imagined him as a carnival barker, welcoming you to the Freakshow!"
I feel like you can slap ol' Tilly on any label and make it pretty chilling. Tilly might also want to lay off the espresso beans… and now I want espresso beans in all of my beers.
Freaktoberfest is always a disturbing label. That's why we added the 2016 version to our Best Of.. list!
Coney Island Brewing Website
Coney Island Brewing on Facebook
Coney Island Brewing on Instagram
Coney Island Brewing on Twitter
The Explorium Brewpub The Gourd Land Holiday Spice Ale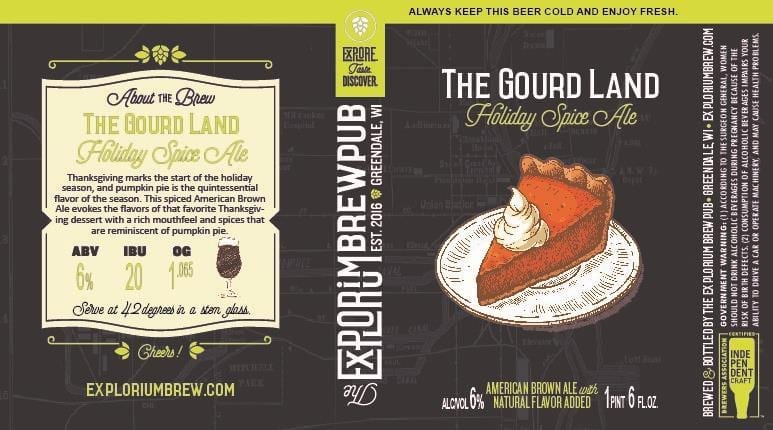 Owner and Proprietor, Mike Doble, did the design and artwork for this festive label.
"Most of my early labels were developed for simplicity and to evoke flavors through imagery. This beer is a brown ale that is spiced with pumpkin pie spices, but there is actually no pumpkin in the beer. With the addition of lactose for sweetness and a bit of creamy mouthfeel, it's like pumpkin pie in a glass. Thus the image of the slice of pumpkin pie with a dollop of whipped cream on top to prep the mind for the flavors in this beer.
"This is one of our most popular seasonal beers. We have a rum barrel aged version coming out for Thanksgiving."
The Explorium Brewpub Website
The Explorium Brewpub on Facebook
The Explorium Brewpub on Instagram
The Explorium Brewpub on Twitter
Dogfish Head Punkin Ale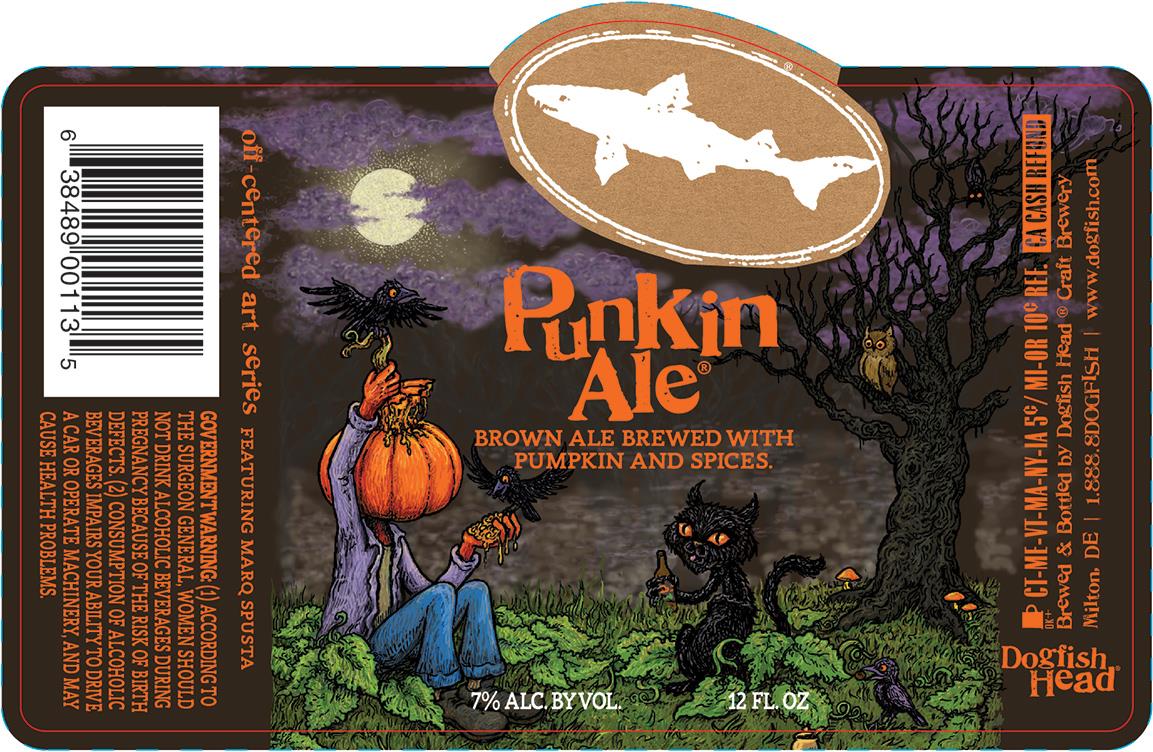 From Dogfish Head's press release:
"Passionate about all things artistic and creative, Dogfish teamed up with longtime friend and highly acclaimed designer, Marq Spusta, a California-based artist known for his distinct illustrative style, to create the Off-Centered Art Series label and artwork for Punkin Ale. The label features Spusta's version of a mystically haunted, Halloween forest with spooky characters."
As you probably know, DFH does an amazing label for Punkin every year. Check out our review of 2016's version here.
Dogfish Head Website
Dogfish Head on Facebook
Dogfish Head on Instagram
Dogfish Head on Twitter
Old Ox Brewery Oxorcist II Imperial Pumpkin Ale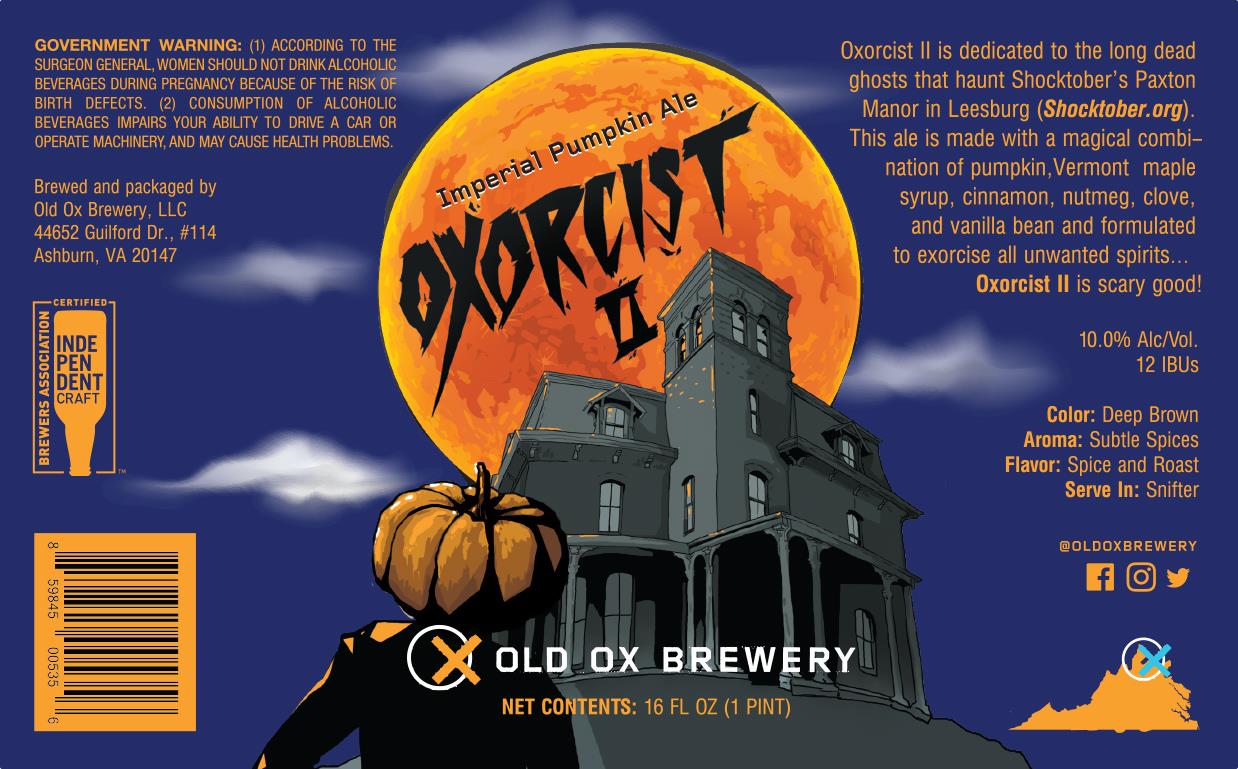 If Oxorcist II is a sequel, we wish we were around for the original so we could see both! This label has some great elements – haunted house (presumably), head-replaced-with-pumpkin, giant, chilling moon, and a historical reference we'd love to hear more about!
Saranac Pumpkin Ale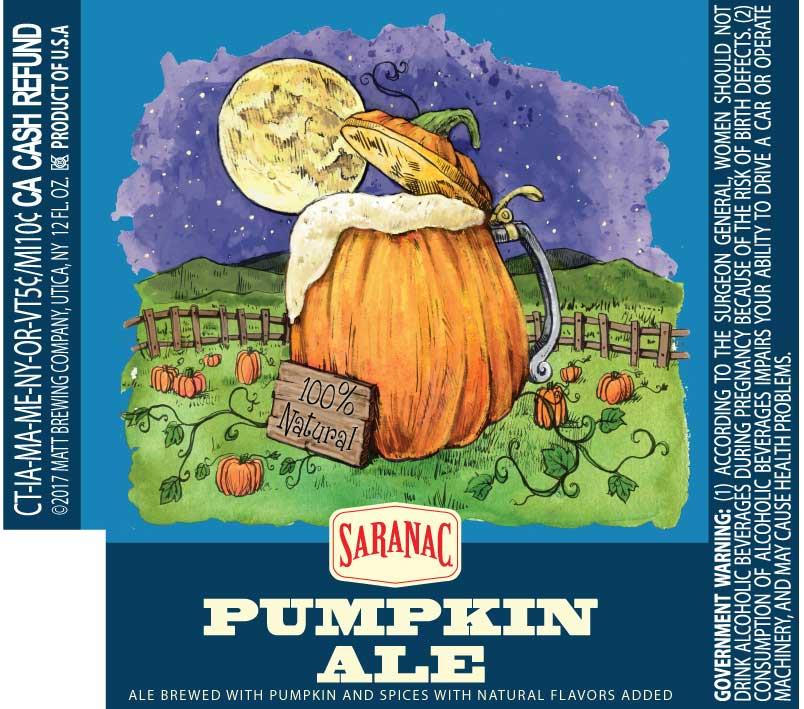 There's not enough tankards made of gourds. Just sayin'.
It's very clever to make the statement "100% Natural" in your illustration and not in the copy on your label. You know, just in case.
We featured Saranac as a great example of how to do a Blonde Ale label without featuring an objectified blonde woman.
Tuckahoe Brewing Holly Beach Pumpkin Ale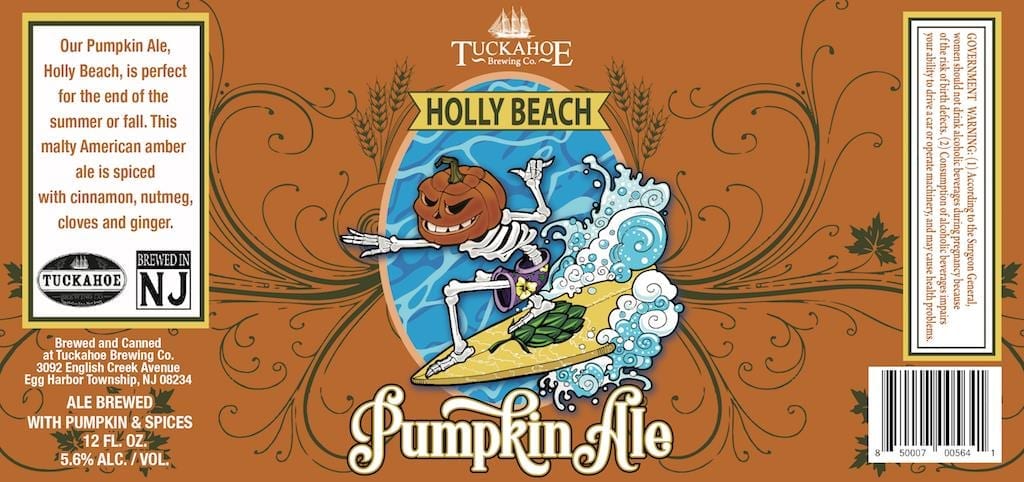 You guys at Ship Bottom were wondering how to make a nautical-themed pumpkin ale label? Did you consider a surfing jack-o-lantern?
Gonzo's Biggdog Hollow Head Pumpkin Spice Ale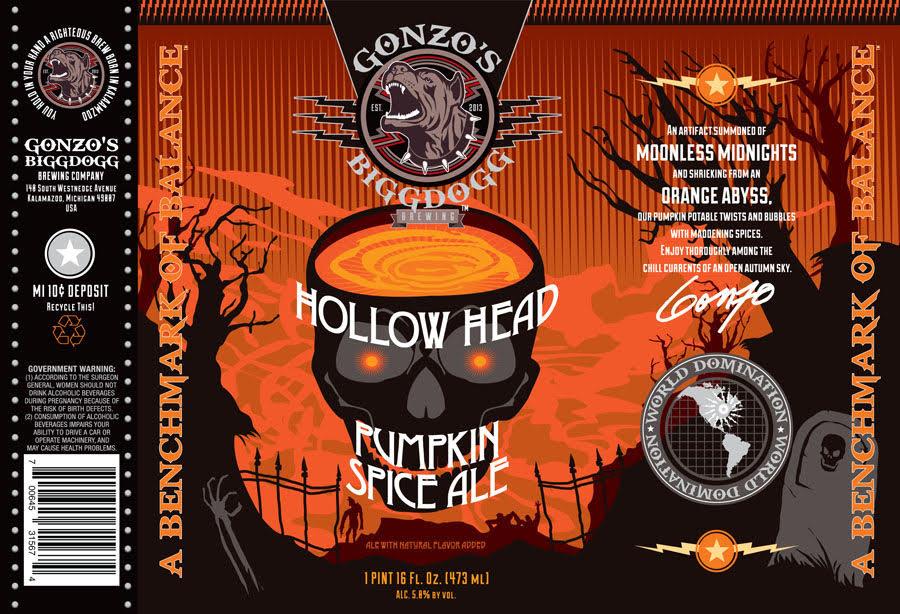 The extra "G" is for "gourd".
There's a lot going on here on this label. Gonzo was not available for comment, so we'll just say that we chose Hollow Head for it's creepy skull-cauldron and misty graveyard scene. Gonzo could do with a few less messages on his labels, it's true, but this label delivers the spooky.
---
…And finally, the worst pumpkin beer label of 2018:
Litra Brewing Pumpkin Ale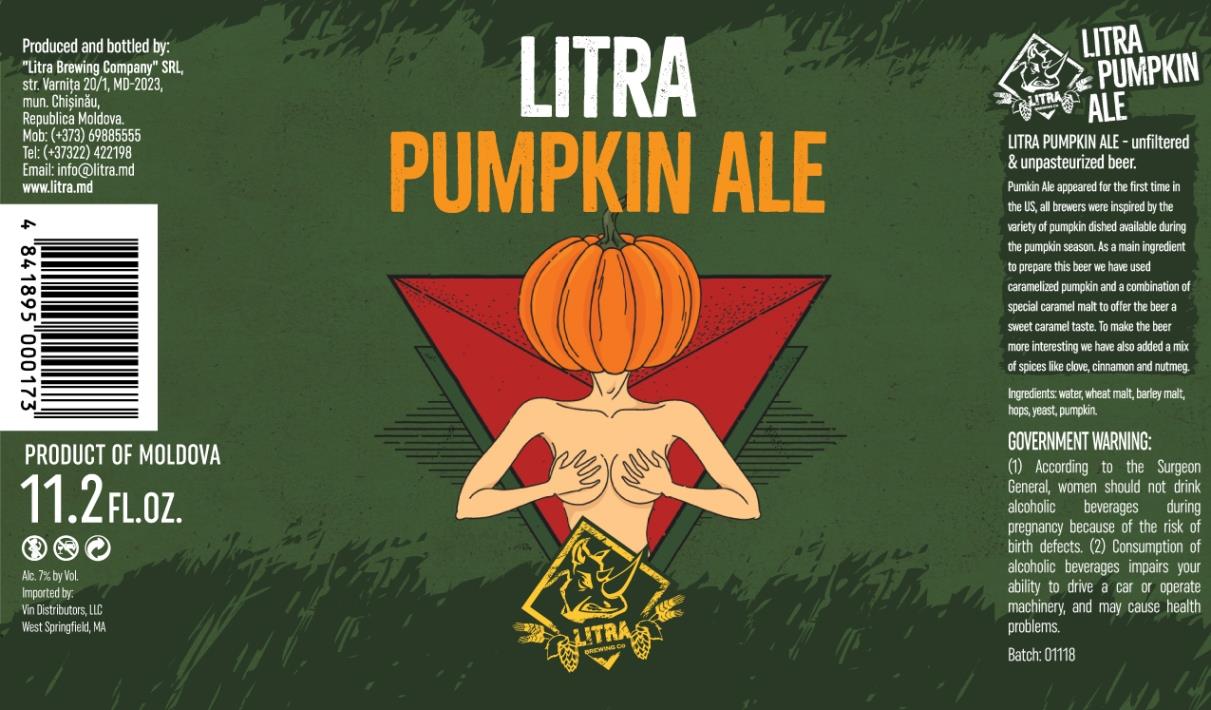 Josh says I should leave out the stinkers that I find, but when they're THIS BAD, I have to call them out.
I don't know how they do things in Moldova, but here in 'Merica, we…
…I can't even.
Label images research made possible using the highly recommended LabelVision search tool at ShipCompliant.