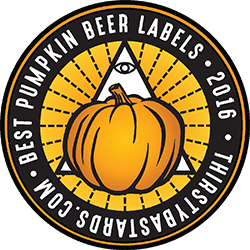 Every year I troll the label submissions of the past 12 months to bring you the Best Pumpkin Beer Labels on the shelves. There are hundreds of pumpkin beers out there with some impressive label art, but these are the 19 best I've found that I hadn't seen before.
I know what you're thinking… "But what about Pumpkin Beer X?!? That label is freaking amazing!" If you don't see it here, there's a good chance that I featured in past years: 2015, 2014, 2013. If you still don't see it, drop me a line and let me know! I love to hear about labels that deserve greater attention.
You can also read about Five Spooky Pumpkin Labels with Amazing Beers Inside I wrote for the Huffington Post.
The following labels were registered with the Alcohol and Tobacco Tax and Trade Bureau in the past 12 months. They have been selected for their aesthetic appeal or simply because I thought they were really cool.
Jolly Pumpkin Artisan Ales La Parcela
This is an update from Adam Forman's original art and while I love the original, you can't get more in the seasonal spirit than this. You've got a full moon, a black cat, bat wings, a dried up corn field, and Jolly Pumpkin's signature grinning gourd.
Adam is a Thirsty Bastards favorite. You can find my interview with him from a couple of years ago on this site as well as a recent piece I wrote about him on Paste Magazine.
Buy Jolly Pumpkin beer
Dogfish Head Punkin' Ale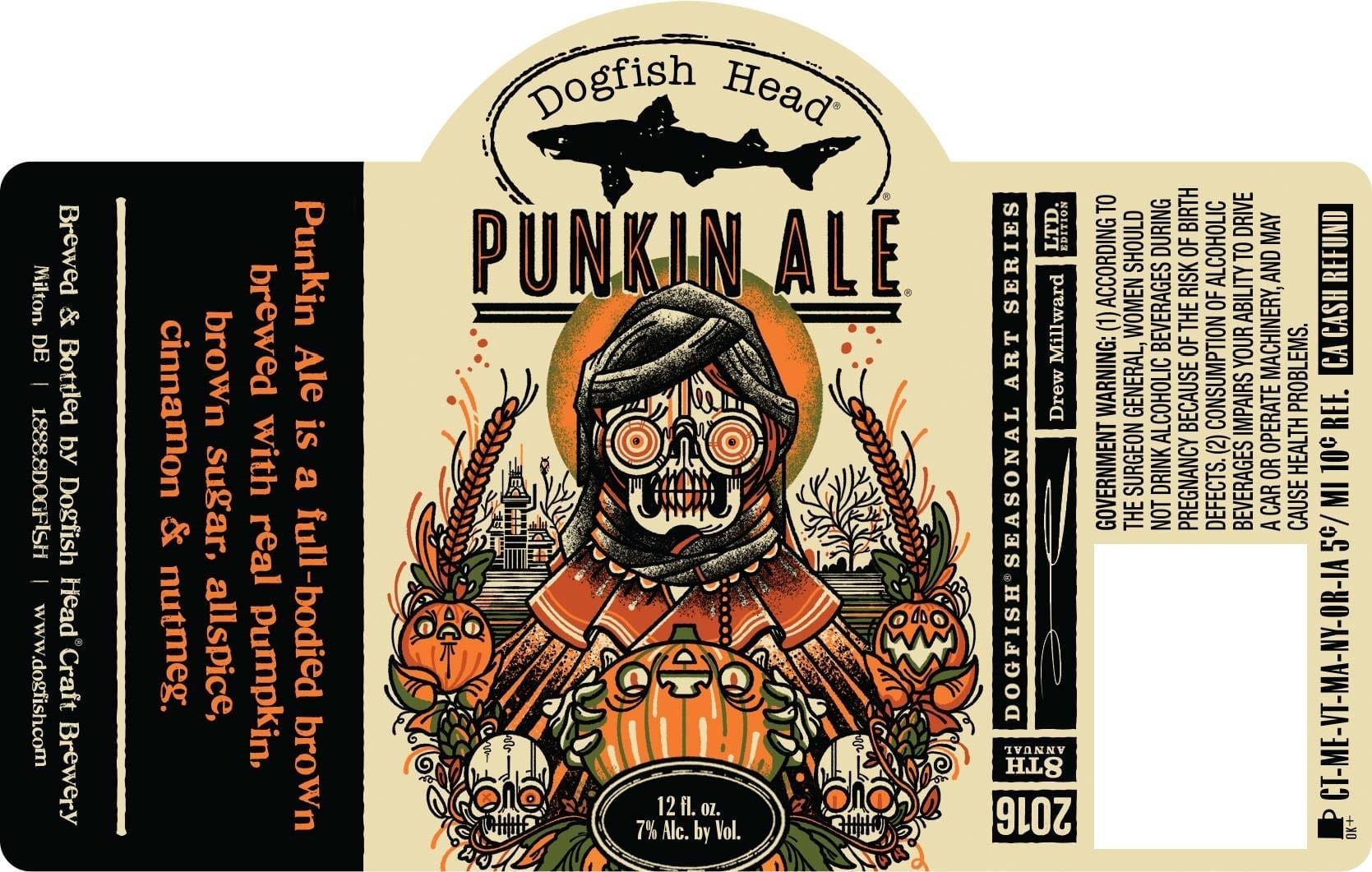 As you may be aware, Dogfish Head elects a new artist to do the labels of their four seasonal ales. This year Drew Millward takes the honor.
Millward has done a spooky take on a gypsy fortune teller whose crystal ball has been replaced with a jack-o-lantern. Her stylized skeleton face and perfectly round eye sockets add up to a hypnotic and penetrating stare.
Drew Millward's Website
Drew Millward on Facebook
Drew Millward on Twitter
Southern Tier Brewing Company Rum Barrel Aged Pumking
If you are like me, you've had a seasonal love affair with the Pumking that started with hard-to-find bottles and ended with year-around availability in my local grocery store. The good news is, there are variants on this beloved gourd beer. The go-to variant is Warlock, an imperial stout, is not aged in any way. Now we have Rum Barrel-Aged Pumpking.
Now we have Rum Barrel-Aged Pumpking. To add to his romantic image, he's portrayed here as a peg-legged, parrot-sporting, cutlass-wielding woodcut guaranteed to shiver your timbers.
I doubt I'll be seeing him at Jewels anytime soon.
Uinta Funk'n Patch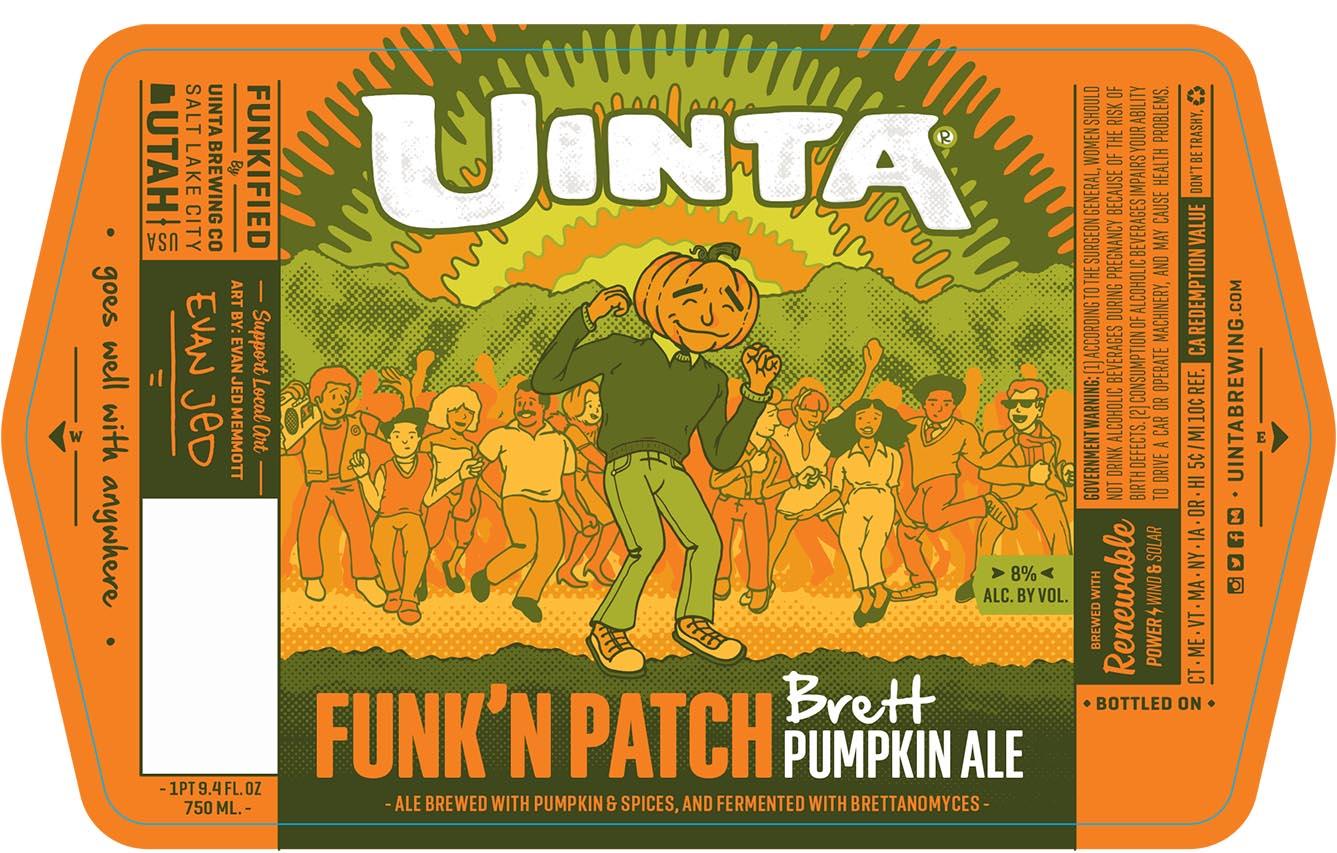 When I think about the fall season, especially going into Halloween, I think spooky. Graveyards, black cats, dark scenes lit by moonlight. The last thing I think of is a dance party led by a funky, sweater-clad pumpkin guy.
And yet, here's this guy and this whole scene is really funny. Look closely at the dancers and their poses. They really crack me up.
Look even closer and you'll notice something that I LOVE to see – artist credit! The tagline encourages you to support local art, so I'm assuming the illustrator, Evan Jed Memmott, is a Utah resident.
Evan Jed Memmott's on Tumblr
Evan Jed Memmott on Twitter
Evan Jed Memmott on Facebook
Greenbush Brewing Unicorn Killer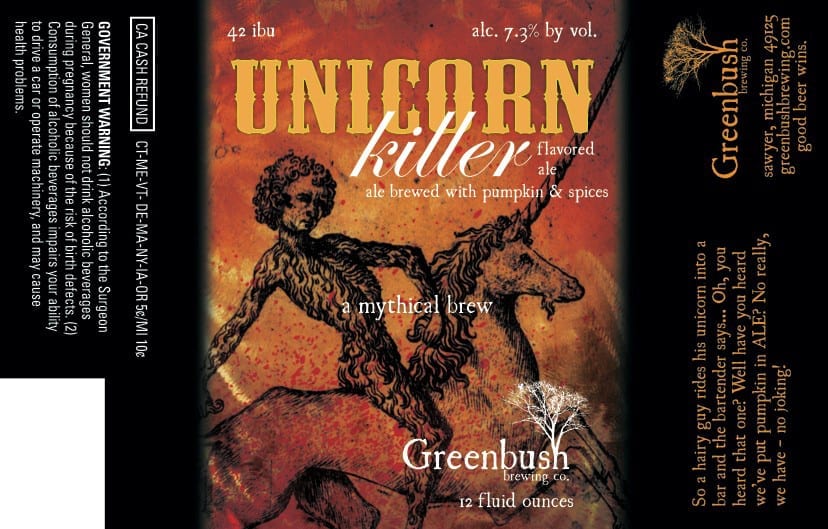 I stumbled on this one at my local Whole Foods just in time to add it to my list. A hairy zombie-looking gentleman, presumably the Unicorn Killer, clings to the mane of the mythical horse.
I'm not sure if this is an existing woodcut, or some montage if images, but it feels like it's a very old illustration.
Also, it's creepy.
Coney Island Freaktoberfest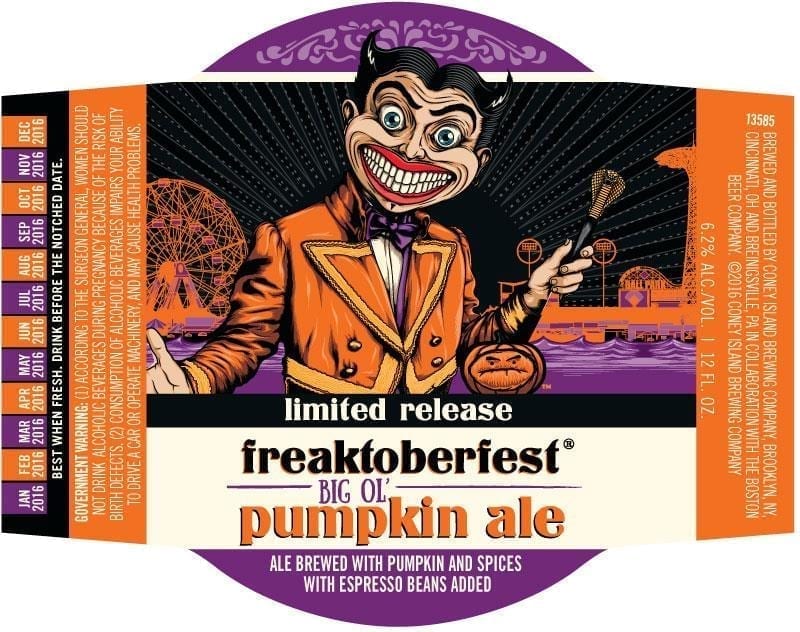 Pouring over labels the way I do, Coney Island's artwork jumps out at me pretty frequently. The grinning, taut-faced carnival barker appears on every label they make. This is the first time I've looked at this creepy barker and said, "Finally, a good reason to be creepy!"
Day Of The Dead Pumpkin Ale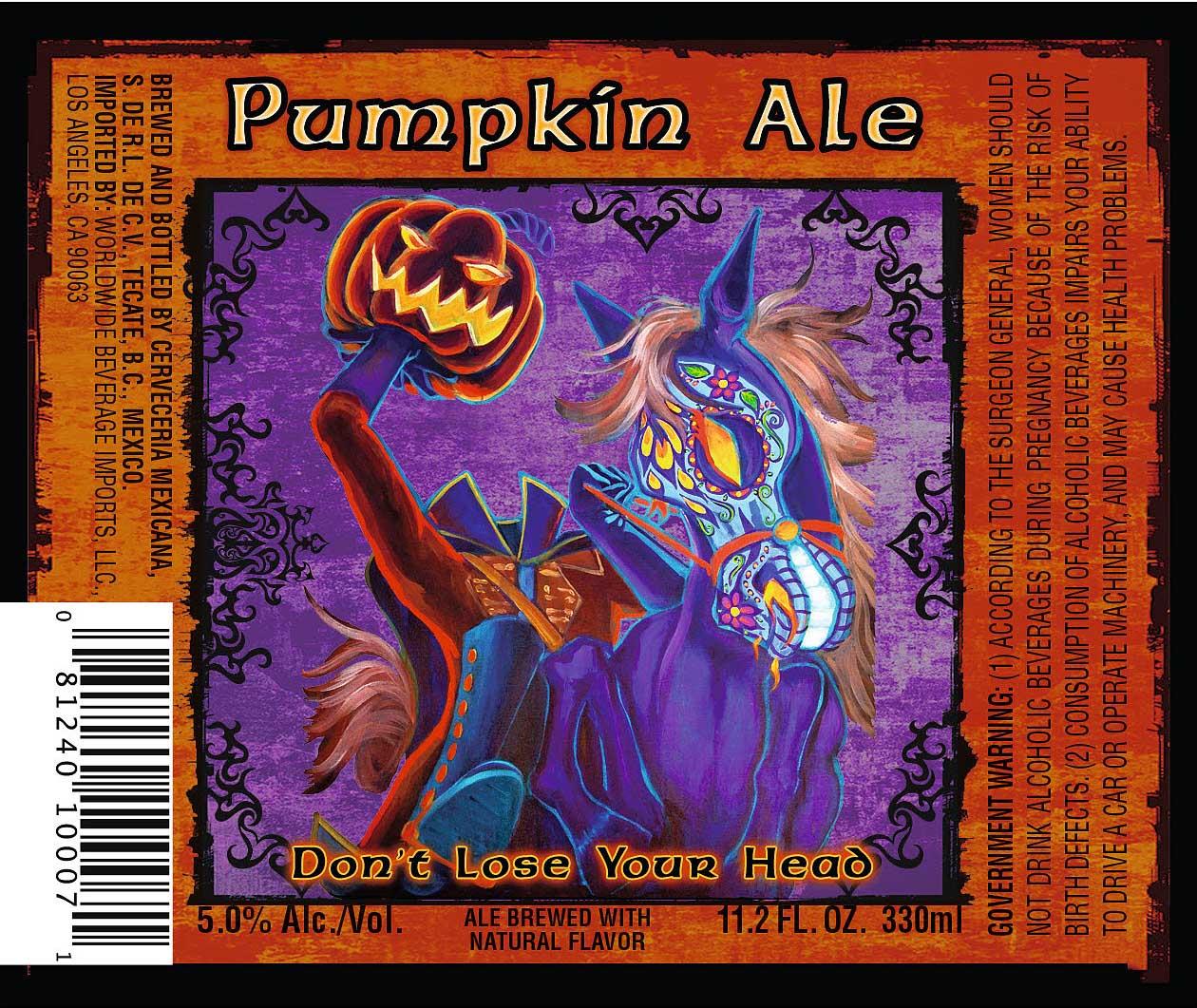 Call it "south of the border" or "Cinco De Mayo"-inspired, but this take on the headless horseman is every bit as scary as the New England original. His grinning, flame-eyed horse seems ready to trample while the horseman winds up to deliver a pumpkin grenade.
Marble Brewery Pumpkin Noir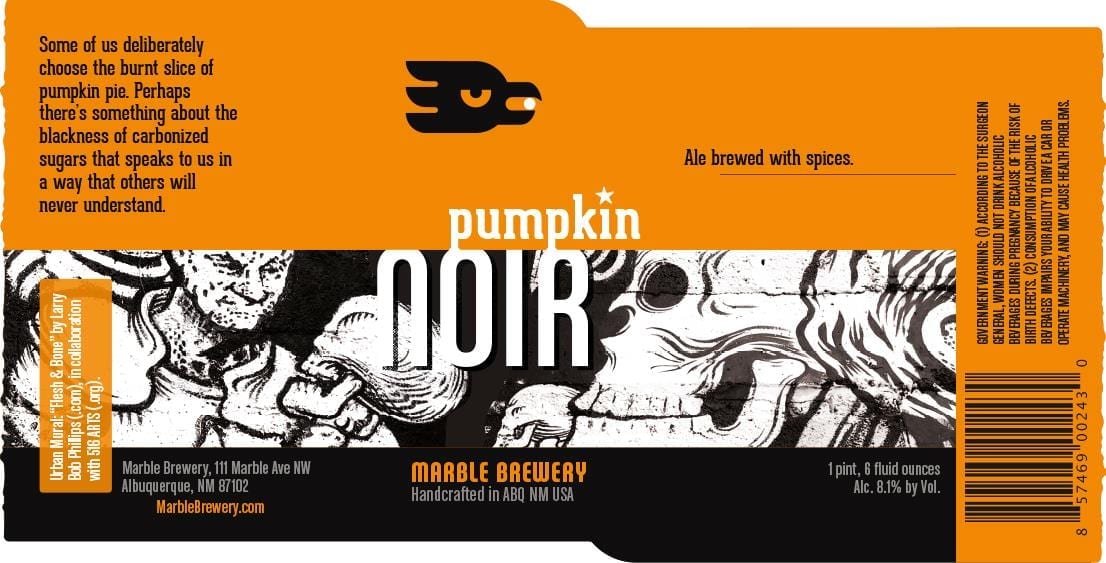 I've written about a few labels that are cropped in a way that make me wish I saw the rest of the image. Pumpkin Noir is just such a label.
Luckily we have the internet here at Thirsty bastards HQ. The artist, Larry Bob Phillips, painted this image on a wall in Albuquerquee. The full artwork can be found here.
Neshaminy Creek Punkless Dunkel Pumpkin Wheat Ale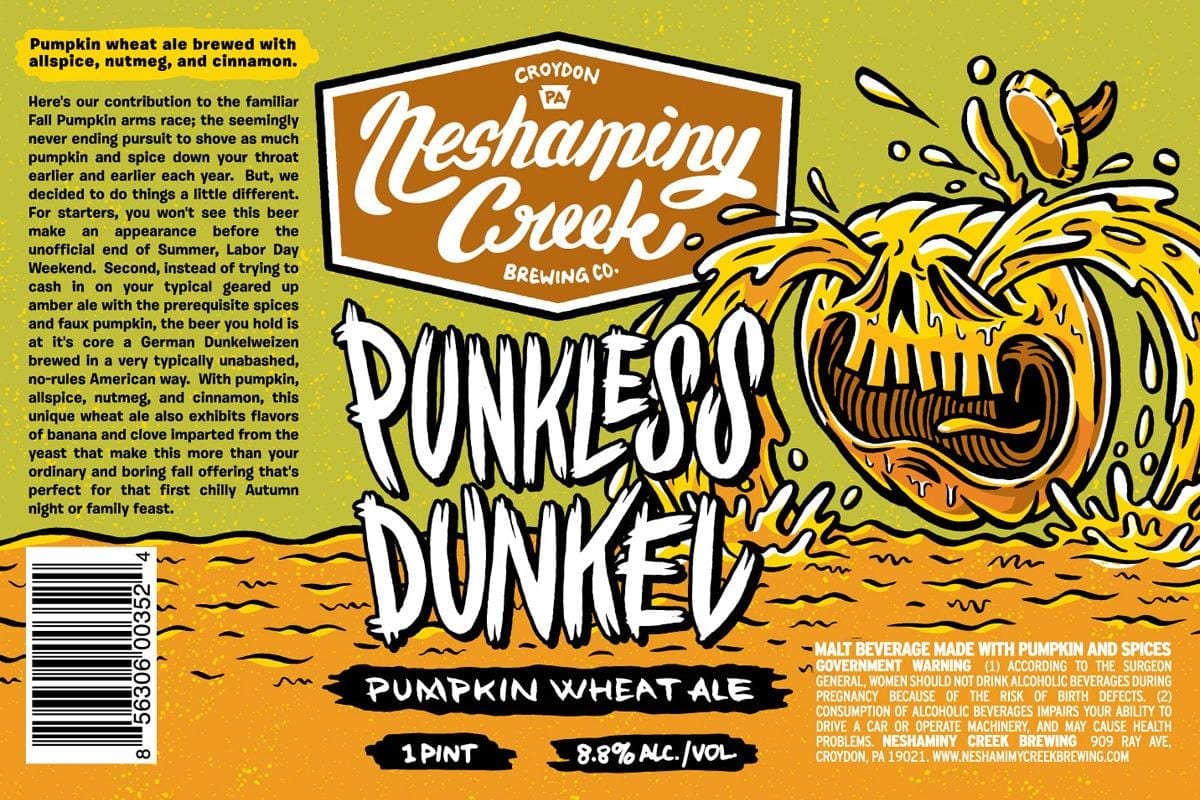 Neshaminy Creek would like you to know that you will not be able to their beer in the Summer time, as seems to be the trend. Perhaps that's why this grimacing jack-o-lantern is crying tears of, well, whatever pumpkins cry. Juice? Maybe it's beer. Is it beer?
At any rate, it seems that jack-o-lantern tears are pretty high in alcohol content. I love a good Dunkelweiss, and you don't need to know German to know that Dunkel means "dark". So maybe a pumpkin Dunkel should be more like, oh, I don't know, jack-o-lantern diarrhea?
Wicked Weed Brewing Barrel-Aged Xibalba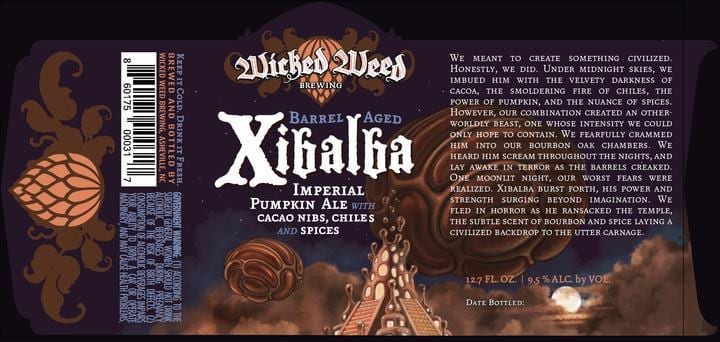 The story on this label describes Xibalba as some sort of pumpkin beer monster, but that's not exactly what's depicted in the artwork. According to Wikipedia, Xibalba is the name for the Mayan underworld and translates to "place of fear".
I am assuming this fine artwork comes from the same hand as the rest of Wicked Weed's labels, namely Howell Golson. You can read my interview with Howell, here.
New Holland Brewing Company Ichabod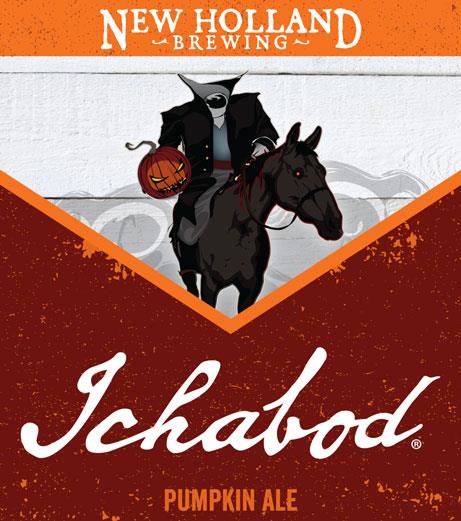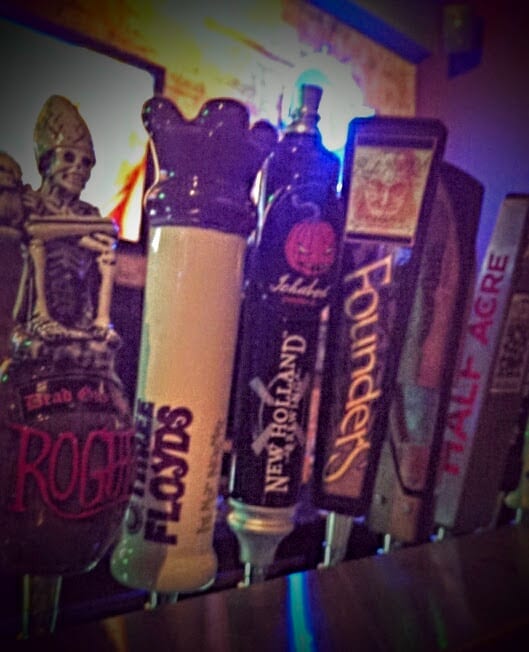 This label got a facelift this year, and I must say, it's a big improvement. I've also seen the horseman's pumpkin head on the tapper handle.
But. Why is this beer called Ichabod, but the headless horseman is on the label? It's like calling a beer "Frankenstein", and then depicting the monster.
Buy New Holland Beer
Barley Mow Brewing Company Lord of the Gourd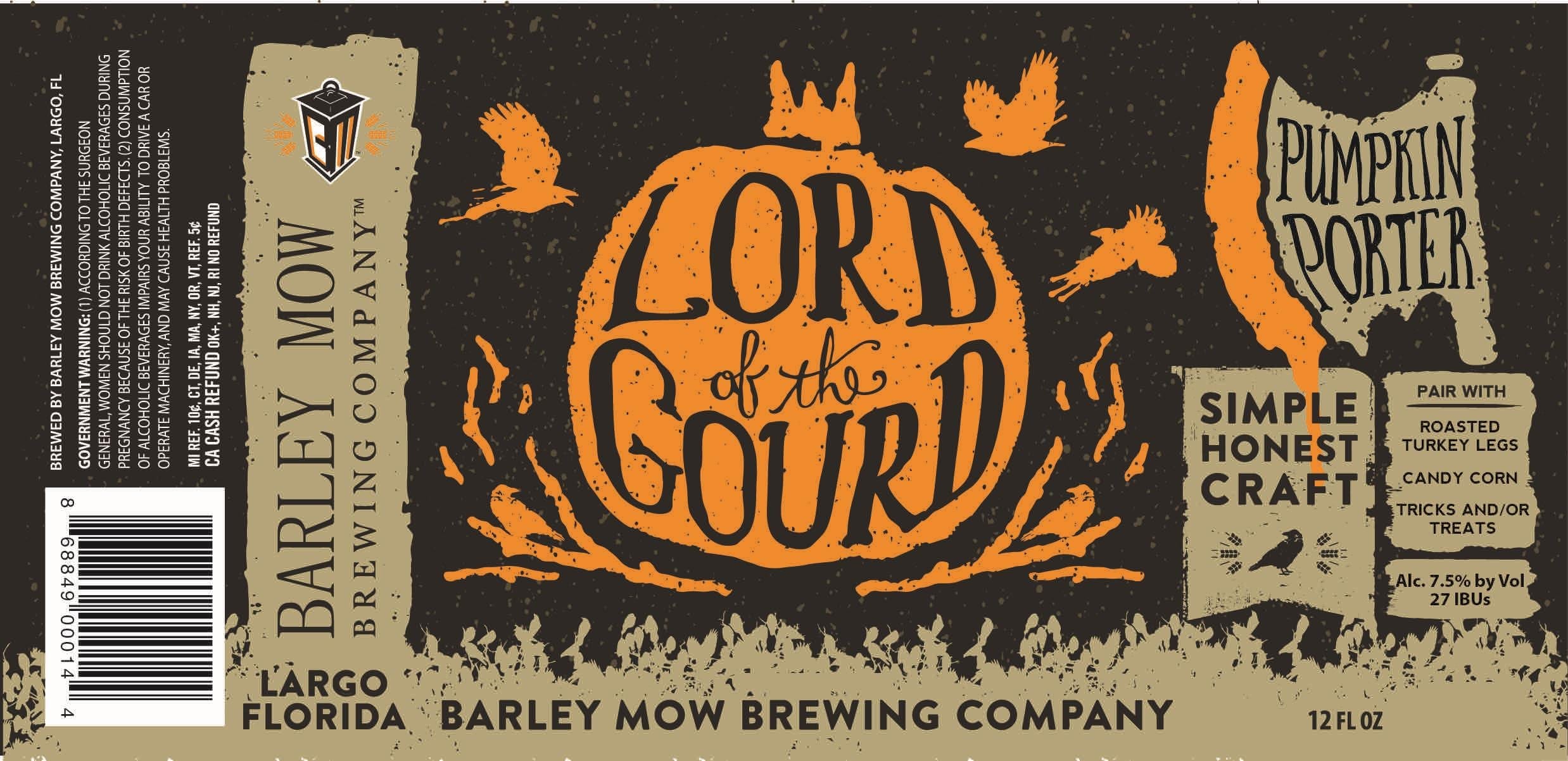 I know there isn't much to this, illustration-wise, but I love the style of this pumpkin beer label.
I'm not quite sure if the axe on the right was used to carve the pumpkin, or maybe to sacrifice other pumpkins to the Lord of the Gourd. Cuz it's definitely dripping with pumpkin blood.
I always find labels that recommend food pairings to be funny. This one recommends that you pair their beer with candy.
Ass Clown Brewing Company Pumpkin IPA

Sometimes I worry about our site name. Is Thirsty bastards too harsh sounding? Will people shy away from linking to a site with "Bastards" in the title? Or is it just right?
Ass Clown doesn't seem to care. Ass Clown gives zero.
So here we have a clown jack-o-lantern who is even sporting some clown make-up. I'm digging the hops and clown collar as accessories.
Beau's All Natural Brewing Co Weiss O'Lantern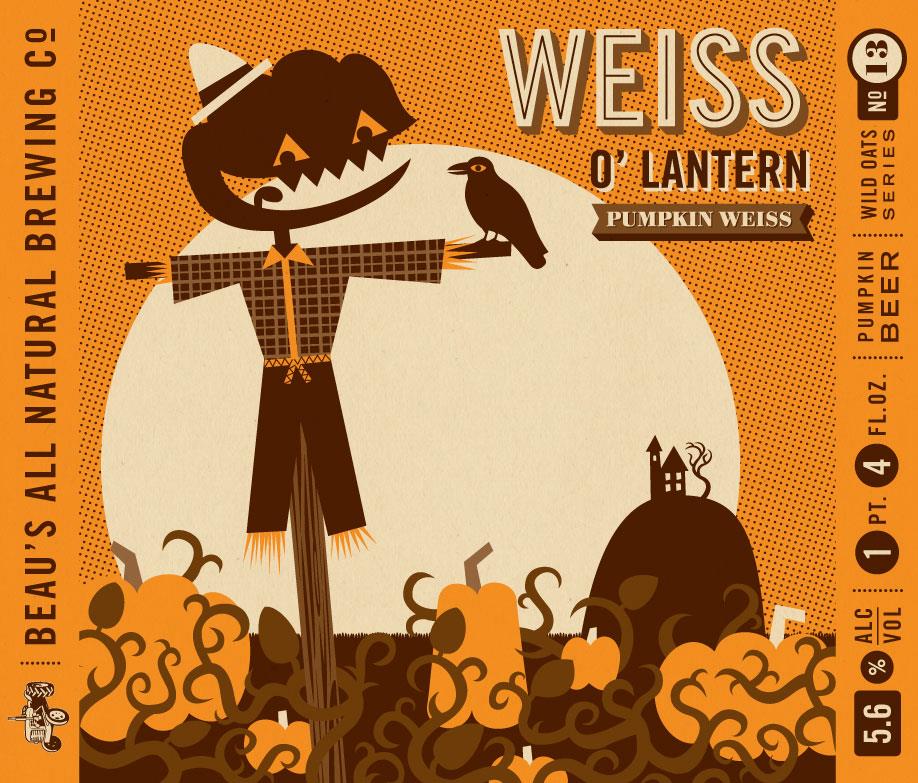 On some level, this pumpkin beer label feels more like a Halloween card than package design. The illustration has a cut-out paper quality. I don't know what this scarecrow has to do with a pumpkin Weiss beer, but he and his pumpkin patch are pretty charming.
Thirsty Dog Brewing Co Imperial Pumpkin Ale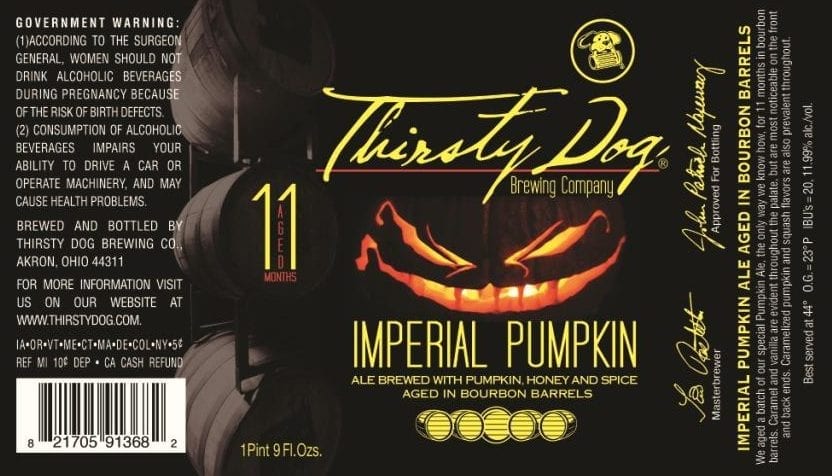 This evil, leering face looks like it was carved right out of a fat, wide pumpkin. The image of the face superimposed over the dark, aging barrels suggests the brooding darkness aging inside. I'd also like to think that's honey dripping in his mouth.
UPDATE: It seems that this jack-o-lantern image is a photo by Eric Freitas. I found him on Deviant Art and it turns out that the image was used without permission. Naturally, we do not condone stealing of artists' work. We're waiting to hear from Mr. Freitas to see how this resolves itself. In the meantime, check out his work.
Heavy Seas Great'er Pumpkin Beer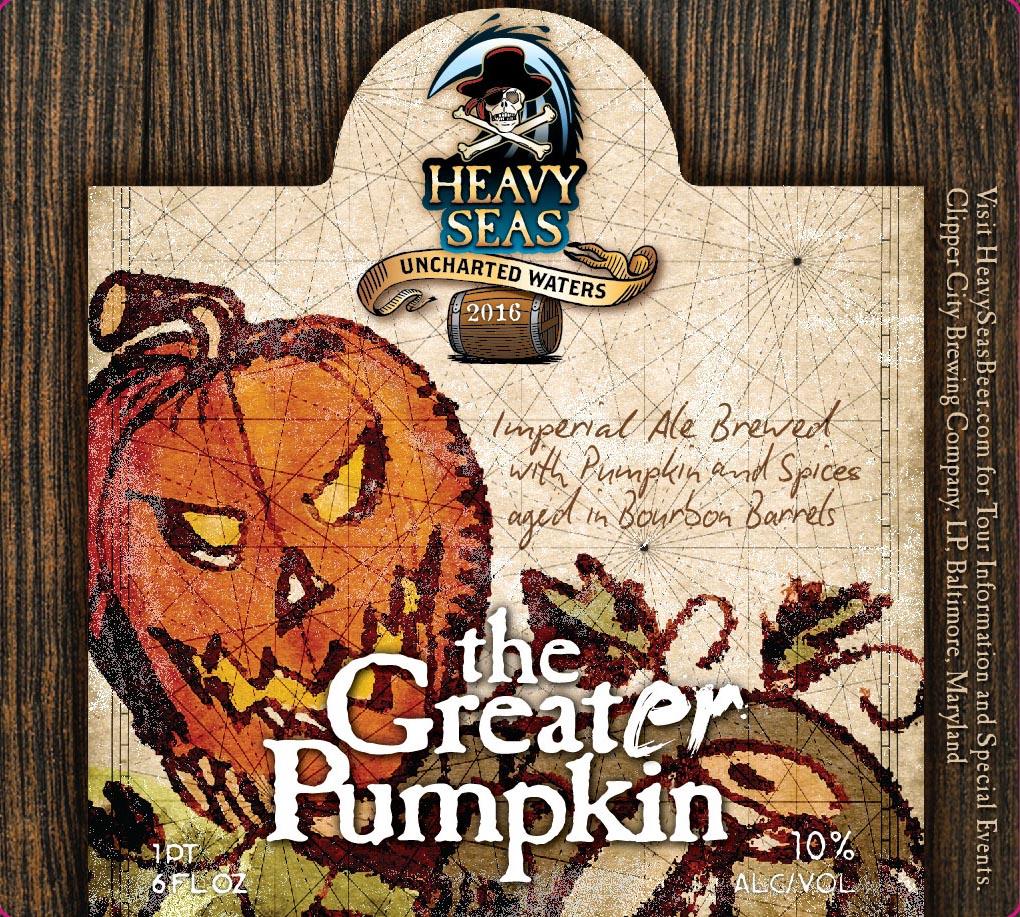 Obviously Heavy Seas is going for a nautical theme. There's a cartographical thing going on here as if this label were a hand-drawn map. Is this jack-o-lantern meant to be a dangerous creature to be avoided like a sea serpent or giant whale?
Regardless of the story or the intention here, I like the heavy, bleeding-ink quality of this drawing.
Elk Valley Brewing Co. Pumpion Pumpkin Spiced Ale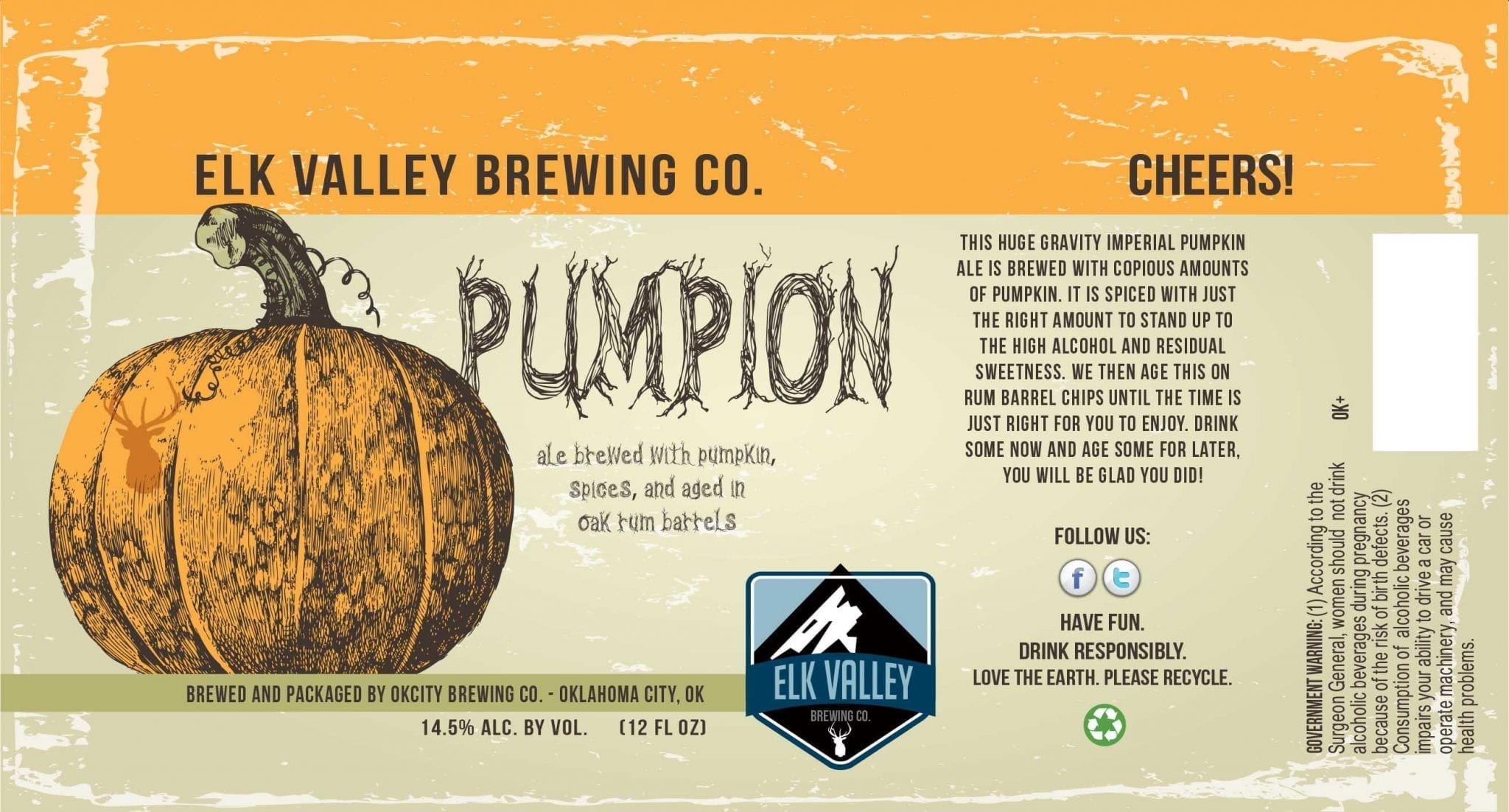 Not much to this label either. It's just a pumpkin with a deer head tattoo. Still, I enjoy the style in which it was rendered, including the vine-y Pumpion logo. It's somewhere between woodcut-style and delicate pen-and-ink.
It's not going to win any awards (except ours), but I'll take it over lots of other crap I see on the shelves.
Boulevard Funky Pumpkin Spiced Sour Ale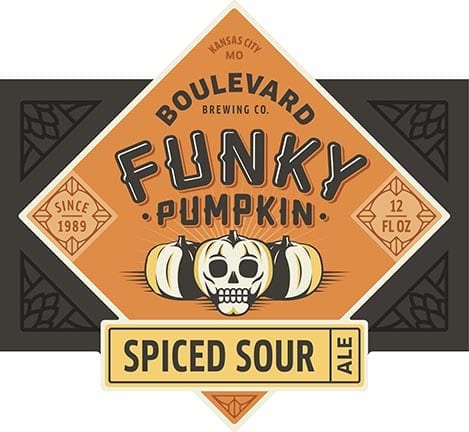 We cut this innocent (or perhaps "sincere") pumpkin open to reveal the evil, leering "skull-o-lantern" inside. THAT'S what we brewed this beer with. Enjoy.
When I think about Boulevard's beer labels, I usually think of bright colors and text- and logo-heavy designs. This is the first time I've found a reason to feature one of their labels before.
Captain Lawrence Brewing Autumn Blaze Pumpkin Ale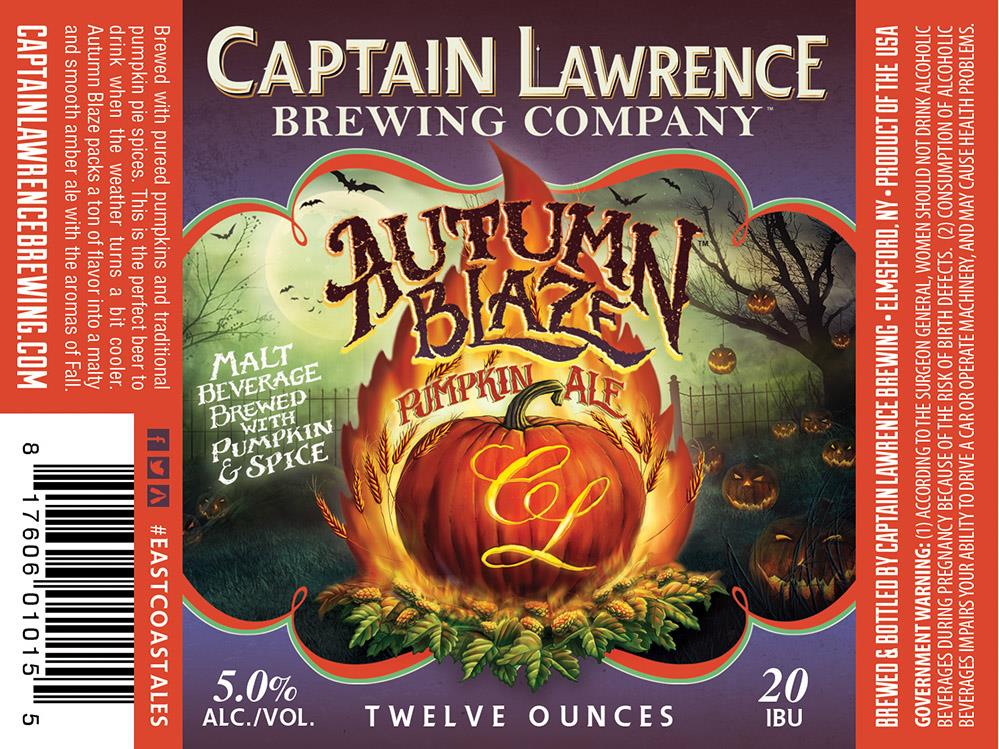 Captain Lawrence Brewing REALLY loves their initials, "CL", as demonstrated here and on every label they print where there's a barrel. So why not replace the barrel and carve them into a pumpkin?
There's also the flaming pyre of hops and wheat. What really makes this label shine is the misty, gorgeous field of jack-o-lanterns and full moon. The perfect Halloween scene!
Hall of Shame: Mankato Brewery Pumpkin Grinder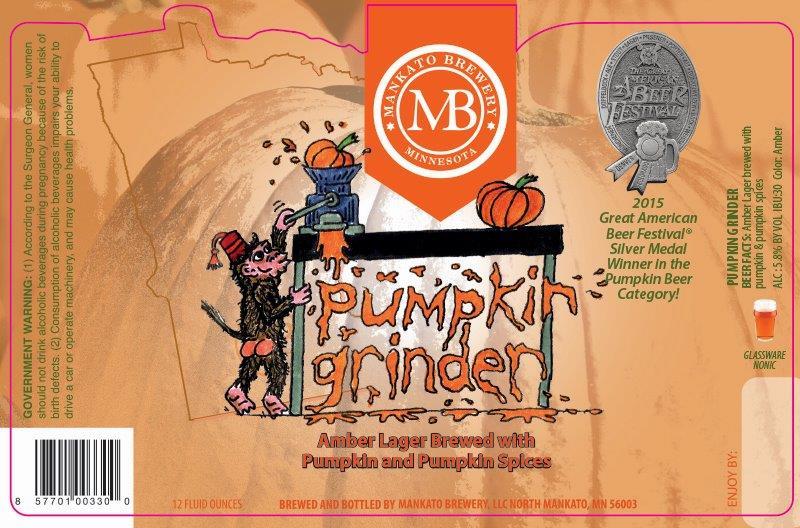 Where to begin with horrifying eyesore? Besides not really making any sense, it's just terribly-drawn. It's as if someone was just looking for an excuse to draw a monkey butt and figured the pumpkin beer was the best candidate.
I mean, if you name your beer "Pumpkin Grinder" I can see where you might go to an organ grinder idea. So that might lead you into "Monkey Territory", but the monkey does not do the grinding.
I don't know why the table is so high. I don't know where the ground pumpkin is supposed to dispense, um, into, nor why the monkey is grinding it at all.
It's all just so stupid.
Label images research made possible using the highly recommended LabelVision search tool at ShipCompliant.