It's that time again! Grinning Jack-o'-lanterns are littering the shelves of your local beer store – some the mundane, pumpkin-plastered fare you are used to. Some are outstanding, morbid masterpieces in the gallery of Fall beer. Each year, I troll through the offerings of gourd-flavored goodness to bring you the best examples of pumpkin label illustration. With so many pumpkin beer brands vying for your hard-earned dollar, it's tough to keep this down to a reasonable number, but here are The Best Pumpkin Beer Labels for 2015!
The following labels were registered with the Alcohol and Tobacco Tax and Trade Bureau during 2015. They have been selected for their aesthetic appeal or simply because I thought they were really cool.
Ballast Point Pumpkin Down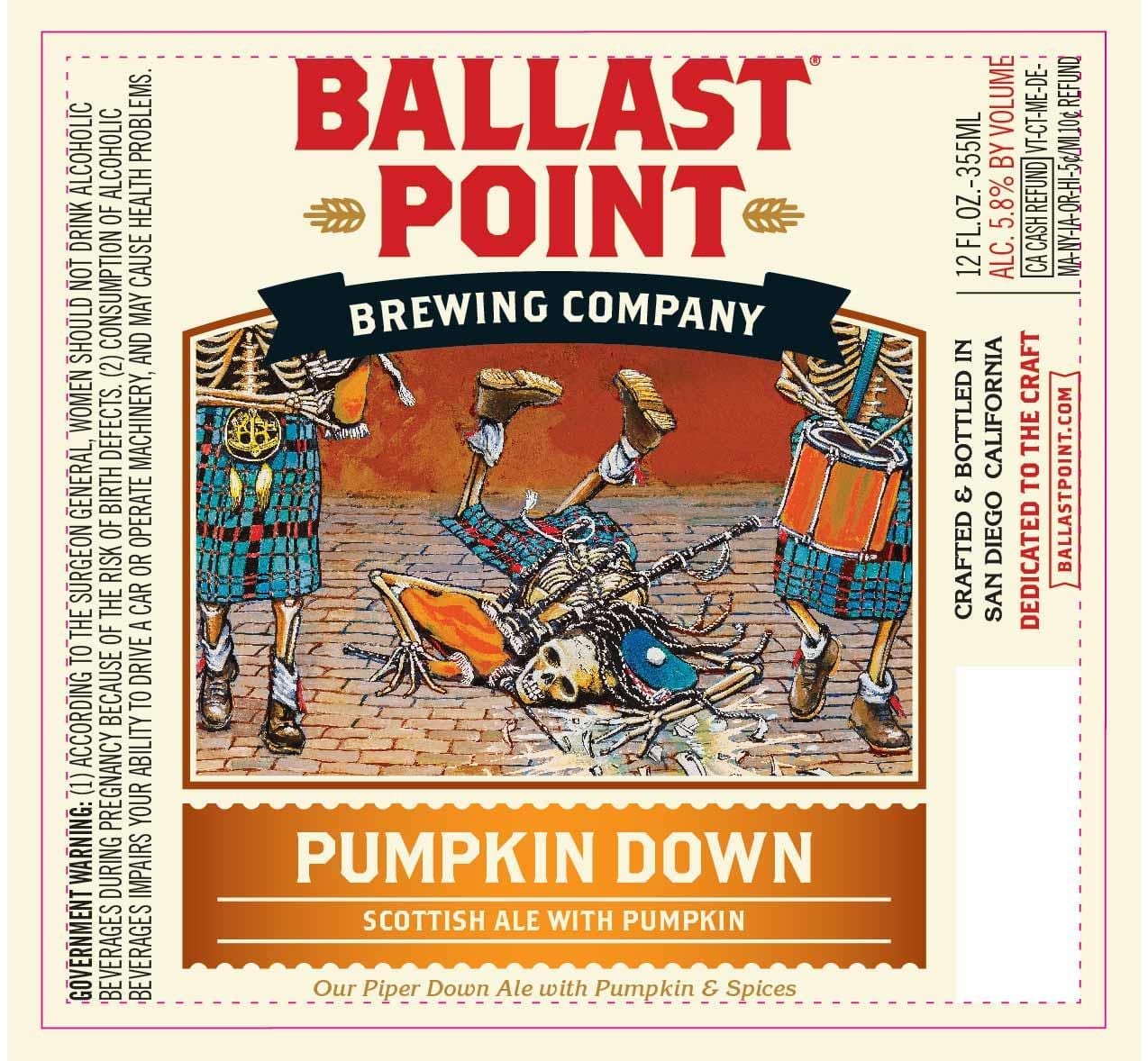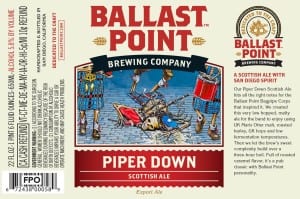 Considering that this pumpkin beer is a reinterpretation of their Scottish ale, Piper Down, it seems appropriate that the label would follow suit. Yeah, it's a subtle difference, but when the original is as amazing as this, who's complaining? A little orange here and there goes a long way to warming this up for the Fall.
That said, how about a smashed pumpkin or two here guys?
Paul Elder is Ballast Point's artist. He has his own page on their site.
Ninkasi Brewing Company Imperial Pumpkin Sleigh'r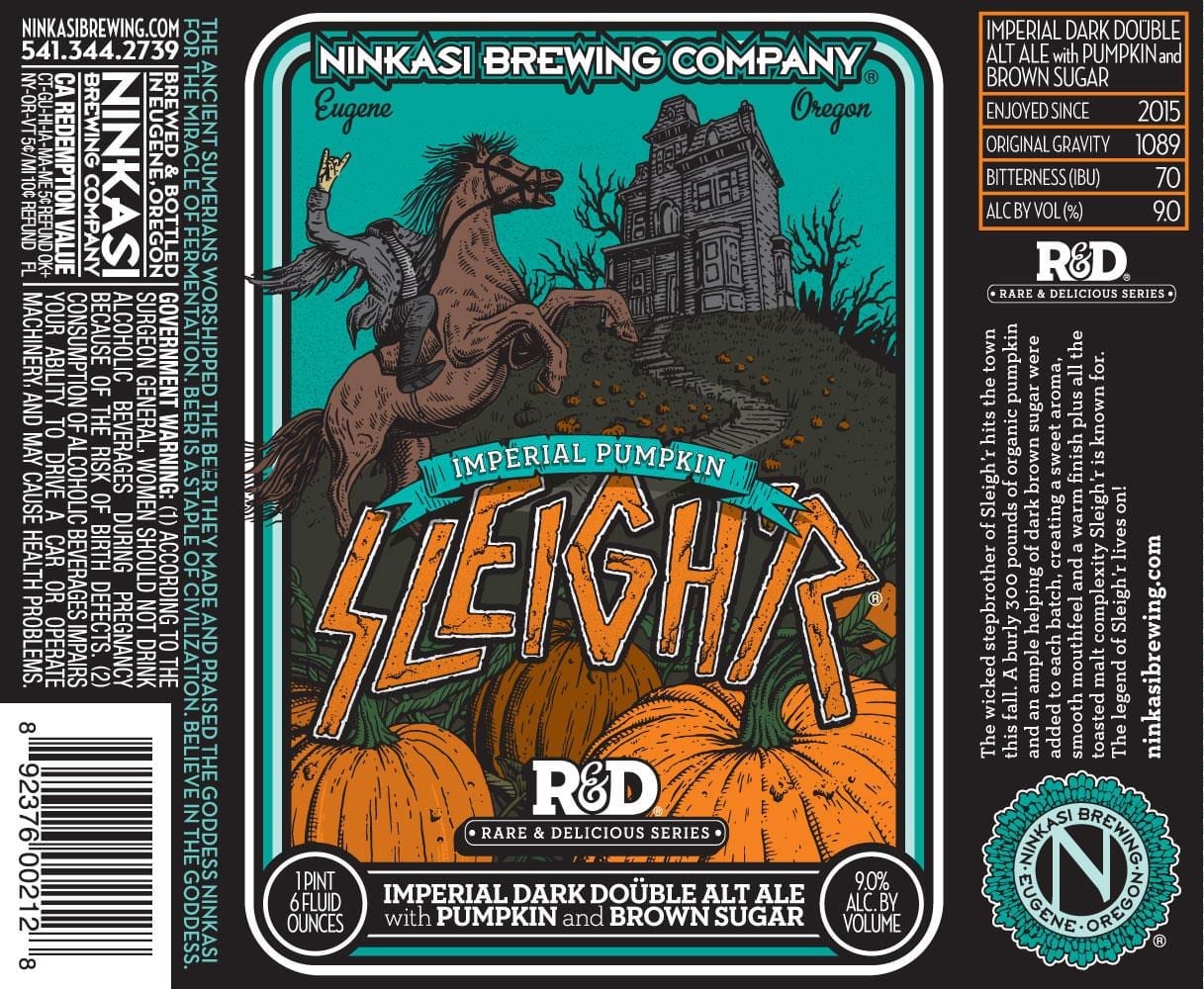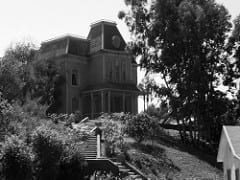 Here we have another brewery creating a pumpkin beer version of one of their flagship beers. Ninkasi likes to incorporate the Sign of the Horns into the art of their labels, so it only makes sense that the Headless Horseman of Sleepy Hollow would "metal up" in the same manner. Added Halloween points for including the Psycho House in the background – a well-known icon of horror and Mommy issues.
Obviously there's a band reference here too. The logo of this, as well as the Alt Ale on which this is based, bears a strong similarity to that of the band Slayer. The band seems to be just fine with the appropriation.
Wiley Roots Brewing Apumpalyptica Imperial Pumpkin Ale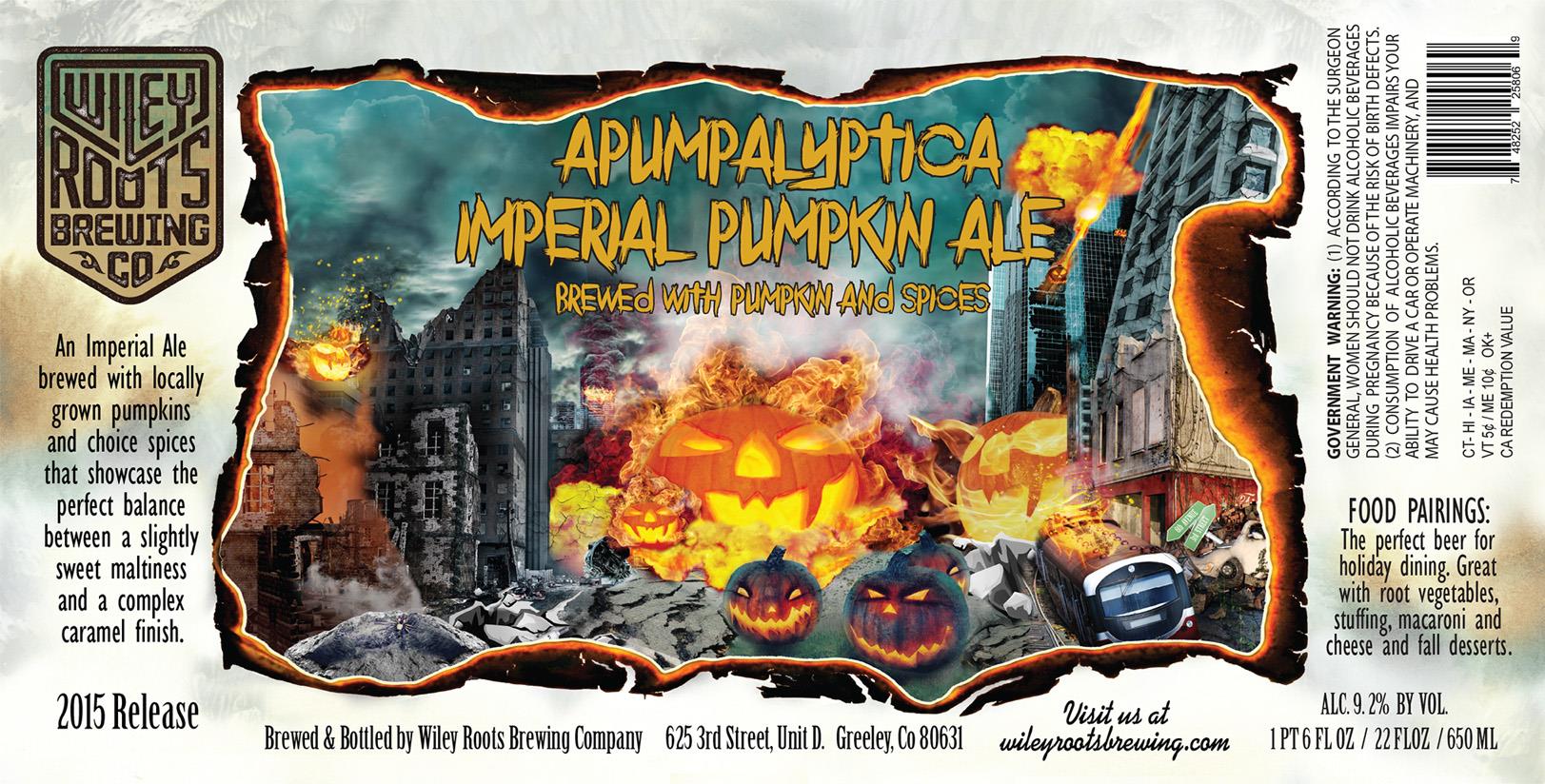 You don't see a lot of photomontage on beer labels, let alone GOOD photomontage. There's a lot going on in this one, but I think it's really nicely done. There's a nice warm-cool, blue-orange interplay with colors going on – flaming hot jack-o'-lanterns and cold, jagged rubble.
What you DO see quite a lot of on pumpkin beer labels is puns and plays on words. This label for Apumpalyptica is no exception. It's the end of the gourd as we know it!
UPDATE:
This photomontage masterpiece was created by Tiffini X of Greeley, CO.
Longwood Brewing Full Patch Pumpkin Ale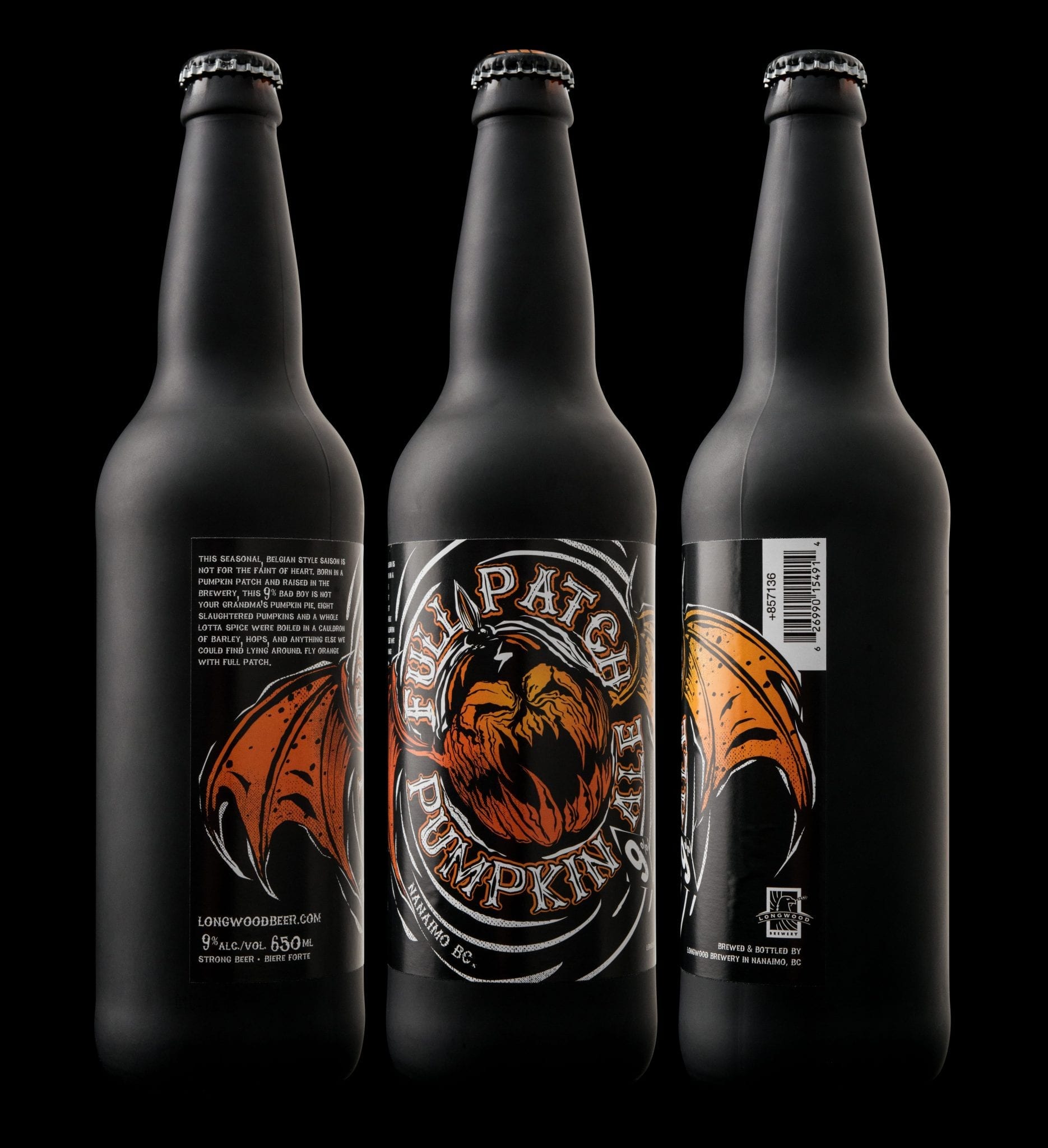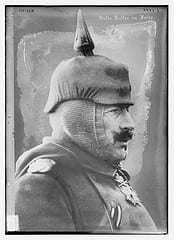 Another pumpkin pun here, this time motorcycle club membership. All I know about motorcycle club culture is what I've seen on Sons of Anarchy. I do know that when a member rises in rank, and he's earned all three of his patches, he's considered "patched in". "Full Patch" means he's risen to the top of the MC.
The art and design for this label were created by Hired Guns Creative of British Columbia. Hired Guns adaptation of the MC "Three Patch" into a kick-ass label is both creepy and clever.
This demonic, winged Jack-O'-Lantern is even sporting a spiked German Pickelhaube.
Horny Goat Hornacopia Pumpkin Ale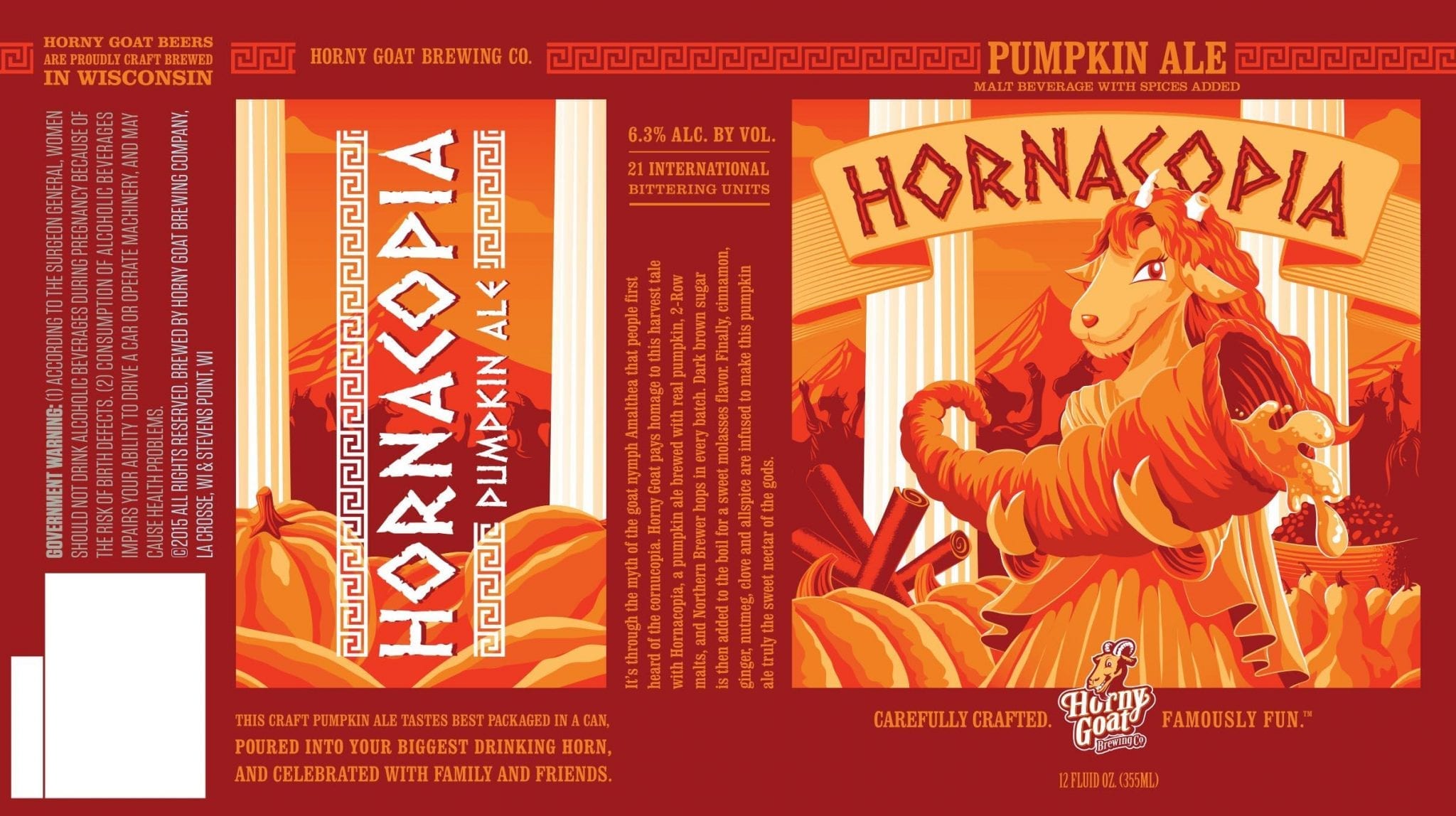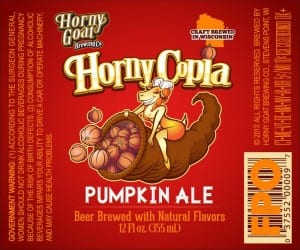 Nothing screams Fall festivities quite like anthropomorphic goats. This beautiful doe, surrounded by gourds and spices, is sporting an ale-filled horn of plenty while revelers whoop it up in the background.
I can only assume this party is happening atop Mount Olympus. The label references Amalthea, which Wikipedia calls "the goat who suckled the infant-god Zeus in a cave".
I love the monochromatic, posterized-style handling of this image. In fact, I wish the Rutty Buck antlers (below) were rendered in this same manner.
If I told you that Horny Goat's Hornacopia was originally called Horny Copia, you probably wouldn't believe me. Good thing I have proof!
Flying Dog The Gourd Standard Pumpkin IPA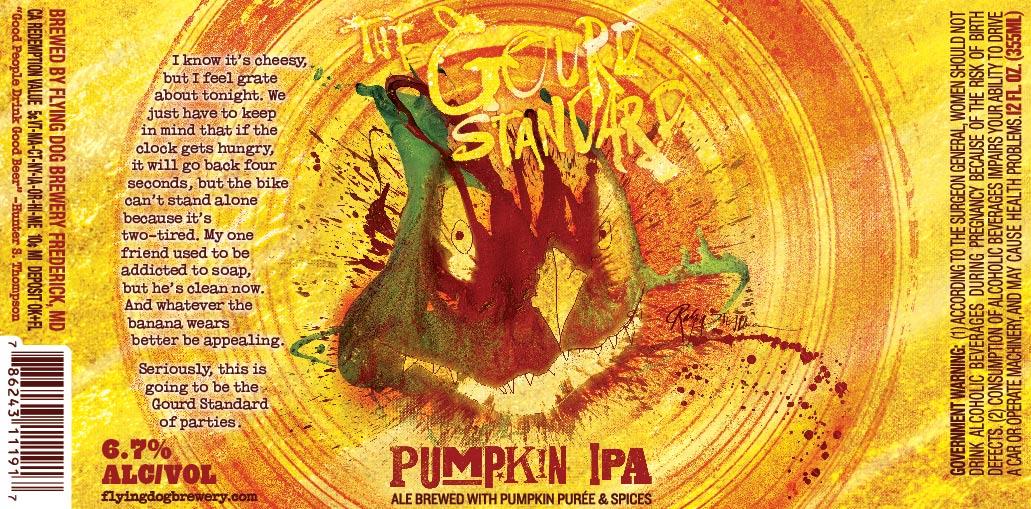 Like all Flying Dog beer labels, this splattery gourd was painted by Ralph Steadman.
What was I saying about puns on pumpkin beer labels? This one squashes the competition.
See what I did there?
Madtree Brewing Company Rum Pumpcan

First of all, this beer sounds amazing.
Second, telling me to expect the Great Captain PumpCan to be "sailing straight for your pie hole" is a terrible way to sell beer.
Third, I can look past that sales pitch. The image of the tree's branches both forming a jack-o'-lantern AND a beer can is just plain brilliant. With bonus points for the eye patch.
Uinta Brewing Jacked B Nimble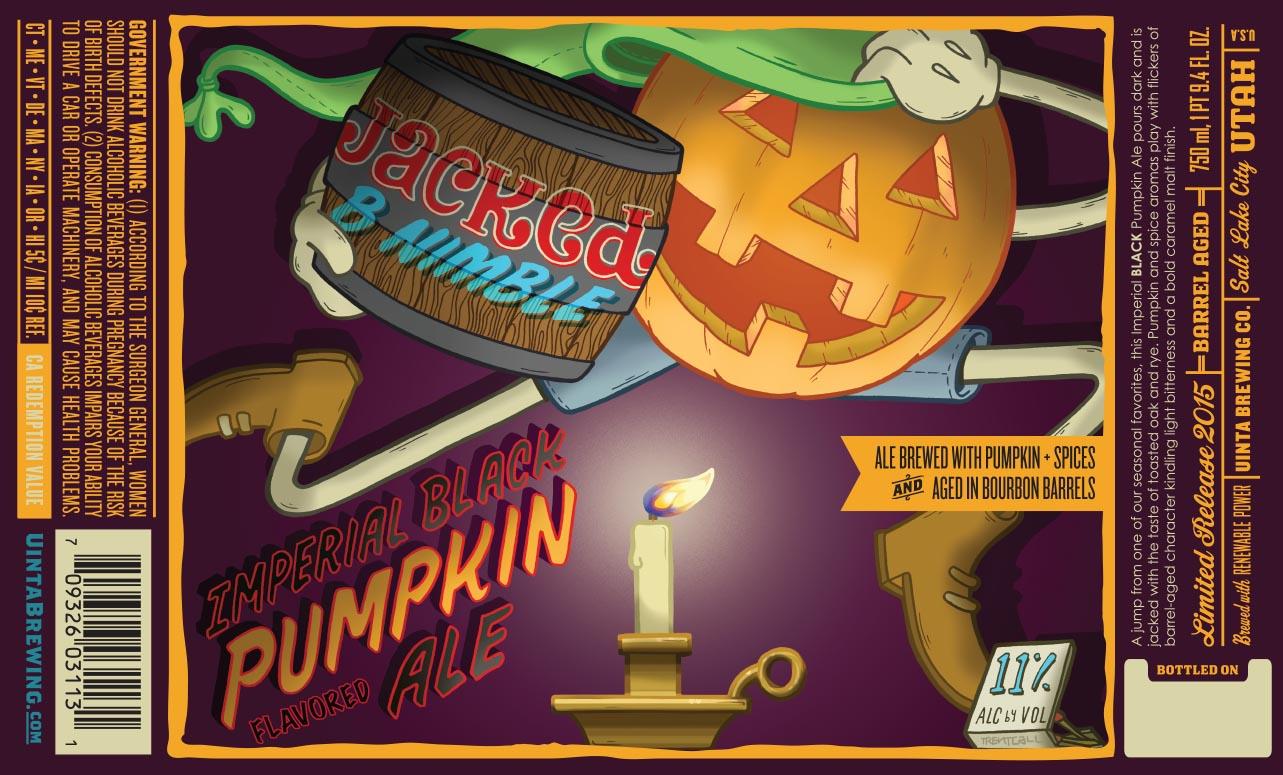 Flashback #1: This guy made an appearance two years ago in my first Pumpkin Beer Labels post as Oak Jacked Imperial Pumpkin. Uinta does some really impressive Pumpkin beers, but this one has not made its way here to the Chicago area.
I like the variation on the original. I guess they could have pushed the envelope on the blackness.
Two Roads Roadsmary's Other Baby
Flashback #2 and another recurring favorite of mine – for reference, I've posted the original Roadsmary's Baby. That carriage transformed into a 3/4 jack-o'-lantern? It's priceless. SO well done!
I also added the back label for this version.
I featured Roadsmary's Baby in last year's post. They're calling this one a "director's cut".
Scorched Earth Crypt Keeper Imperial Pumpkin Porter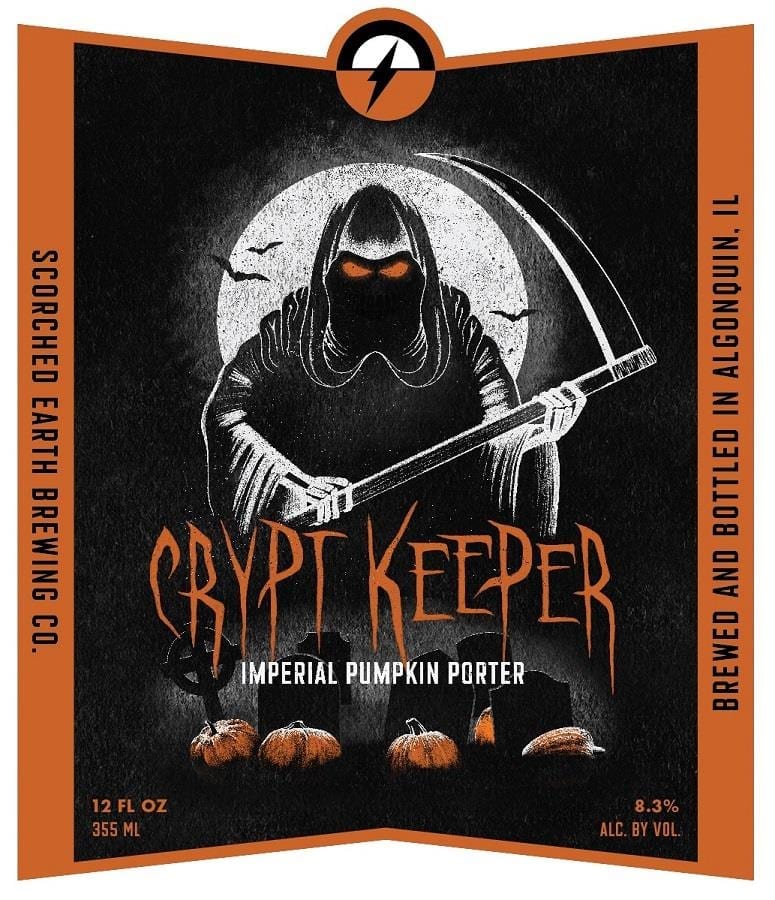 This is my third year writing this post and yet this is my first Grim Reaper label!
I like the chalky look of this illustration. The graininess gives this an old-timey animation still feel. The graveyard pumpkin patch is my favorite part of this. The subtle mist silhouetting the gravestones has a dark and spooky effect. The pumpkins really look like they are lit by that big full moon.
It seems that this is yet another pumpkin beer label facelift – I had a check-in for this on Untappd and the label was completely different.
Appalachian Brewing Rutty Buck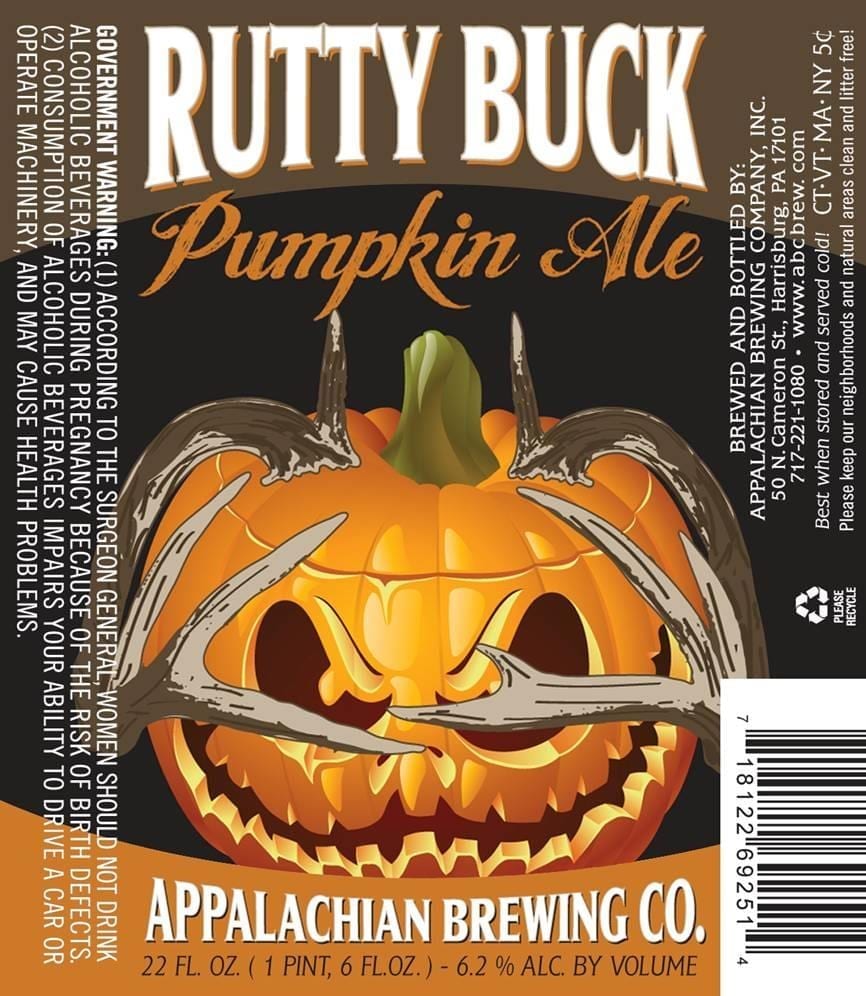 There's something I really like about this composite of Jack O' Lantern and antlers. It's got a pagan feel to it. It makes me wonder how often antlers are used in pumpkin decorating.
I'm not too keen on the mix of posterized and gradient-rendered imagery, however. But it still works.
Oakshire Brewing Big Black Jack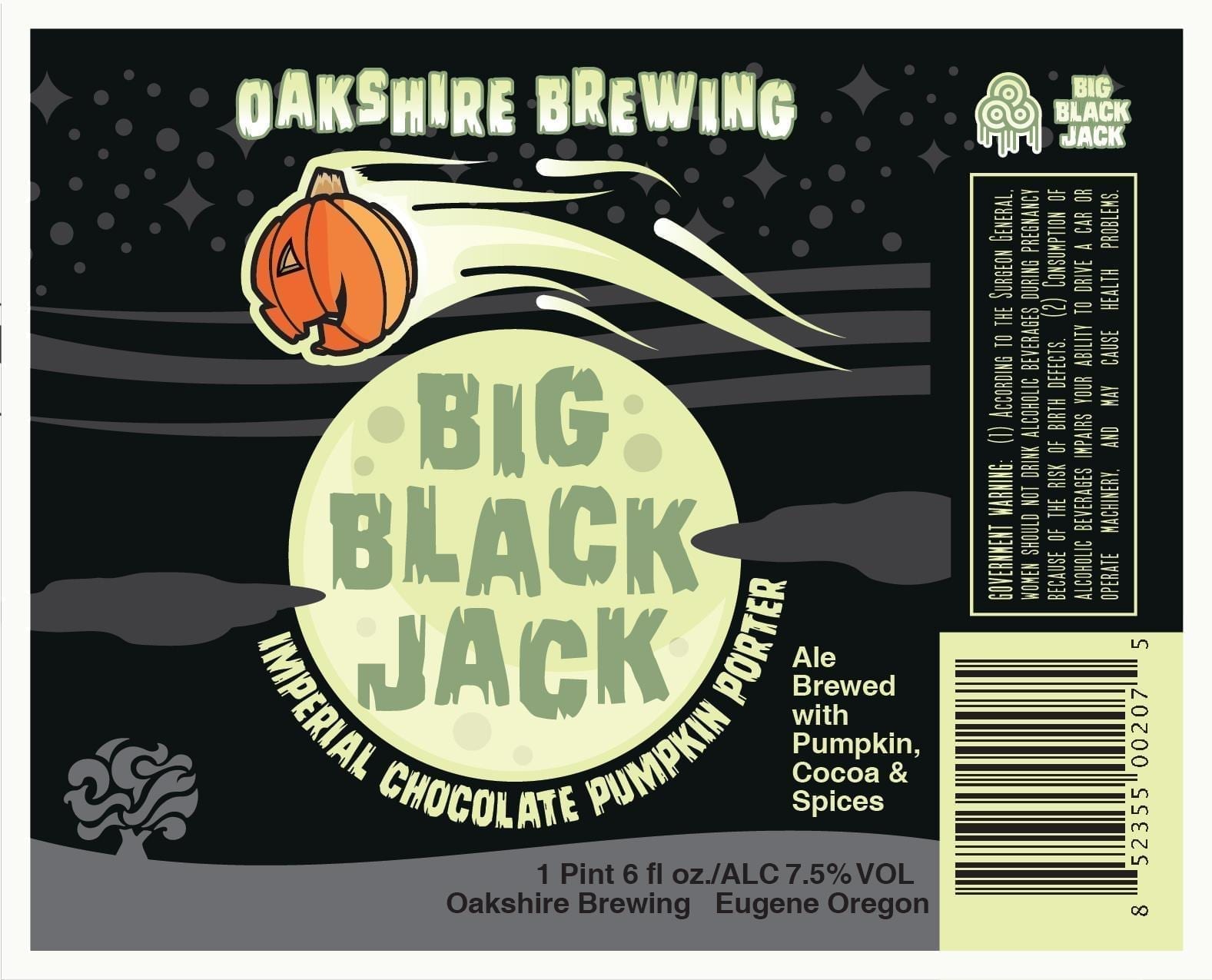 I'm giving this label points for simplicity – I like the basic shapes, big block lettering, and limited palette used here. A spirited flying jack-o'-lantern, hovering over an Oakshire-treed landscape and a full moon. Just the right placement of clouds. Just the right stars in the sky. Simple and effective.
Oakshire's designer, Eric Keskeys, is credited with this label design.
Label images research made possible using the highly recommended LabelVision search tool at ShipCompliant.