I am extremely lucky to be catching Alexandria early in her career. I feel like I found the next Adam Forman or Josh Cockrell. It's easy to look at her work and see that she has an amazing future in whatever path she takes. I hope she stays in the beer packaging. The shelves of my bottle store would certainly be improved exponentially if she did. Clearly Two Tides Brewing of Savannah, GA saw her amazing potential as well.
Liz Pryor, co-owner of Two Tides, knows how important that first visual impression can be. "Since we're such a small brewery and have only been open 3 months, sometimes the can labels are the only kind of marketing we have out there. If someone buys a few cans for their buddy and that person is experiencing Two Tides for the first time, the art on the can really has to represent who we are since they see that before they even take a sip. It's almost like you're asking someone to judge a book by it's cover."
"Alex is easy to work with and super creative. We're planning on working with her far into the future and we'll actually be sitting down together next week to work on some new label ideas. We're really lucky to have found an artist whose style complements what we do so well."
"Alex did an amazing job illustrating our vision and we love that people have enjoyed the labels and the beer they represent! Customers compliment her work every day, the mural at the brewery and the labels."
Currents
Thirsty Bastards: My favorite label you've done is "Currents"? Can you tell me the story behind its conception?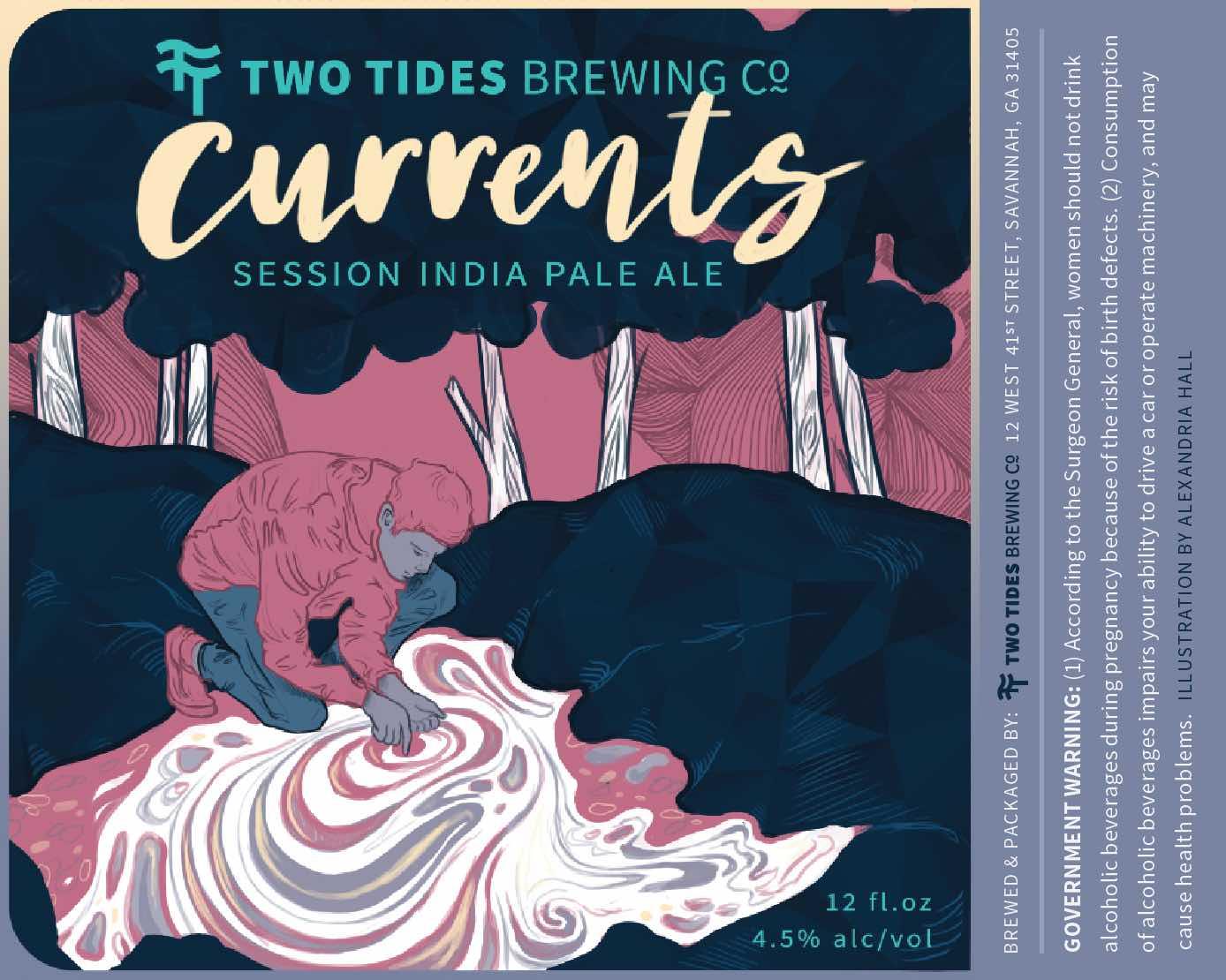 Alexandria Hall: Working on the concept of Currents alongside the owners of Two Tides was such a wonderful experience. Often when creating commissions there may be a disconnect between parties on certain levels of execution or style, but this was not the case at all for this piece (and actually for the entirety of the collaboration)!
There was an original concept that came up in an early conversation about "Currents" being a somewhat psychedelic interpretation of a riverside or creek, and interpreting the water ripples or currents into the visual concept somehow. Immediately I had the composition and concept clearly in my head, and we then worked from there creating several renditions of the piece. We landed on the final design/color choices and I am happy to see it so well received.
Liz Pryor: When we work together we generally have a meeting to discuss the beer, and what my husband (the head brewer) and I are imagining. She then has the creative freedom to run with those ideas and make the label her own. We then do a few reviews along the way while she's working and then I send them to print. It's a smooth and simple process.
Tan Lines
TB: What is your favorite label you've done so far for Two Tides and why?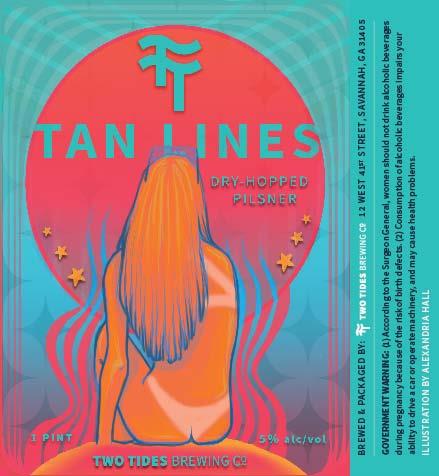 AH: My personal favorite label for Two Tides would have to be Tan Lines.
This was the first label in the mix that was created, and it represented such a wonderful moment in time for me personally – working with the owners, Liz and James, has been such a great experience. It was one of those pieces that I instantly knew what I intended to create visually for them as soon as they told me the title, and they were completely on board. That is always a great feeling.
TB: I feel that your use of female nudity in your label art isn't blatantly sexual in the same way other labels are. Tan Lines is both playful and fairly straightforward without being an attempt at "Sex Sells". As a woman making label art, does sex in advertising enter into your thought process? Do you feel that your portrayal of a nude woman on a beer label is different in some way?
"The art on the can really has to represent who we are… It's almost like you're asking someone to judge a book by it's cover."
AH: As a female creator I try to make everything with strong intentionality, but I never purposefully make any effort to capitalize on the sexualization that often times happens in the advertising markets we see around us. It occurs to me that some may identify any representation of the female form as overtly sexual, but I, as well as many others, disagree with that sentiment. Portraying a subject that is potentially nude is something I wouldn't want to stray away from in efforts to avoid a conversation, but rather a way to bring attention to the capabilities beyond sexualization that exist when using the human form in visuals we see every day. In that way, I think my interpretation is very different from most beer labels that portray a female subject.
TB: How much did the portrayal of female nudity enter into the discussion with the owners (one of whom is a woman)?
AH: When we were brainstorming the concepts for Tan Lines, I believe the initial concept of the tan lines being represented literally through the form of a female figure on a beach with exposed skin came from the owners! I feel really lucky to be able to collaborate with Liz and James on their labels; we have a very similar sentiment and taste that helps create a well-executed vision for our ideas. We discussed how important it was to not make the label overtly sexual, but we really wanted the concept to be forefront and center.
TB: How did you get started making labels for Two Tides?
AH: Originally I had met with the owners to discuss commissioning a few paintings for the interior of the brewery, and that conversation then transformed into the idea of an interior mural! As I created that mural for them they then reached out to me about creating the illustrations for each beer label. Of course, I was extremely excited about that, and I still feel very excited and lucky to be able to continue making more work for them.
Being an Artist and a Student
TB: Where are you from and where did you learn to be an artist?
AH: I am originally from Tennessee, but I have lived in a few states specifically since I entered my undergraduate education. I have always been an artist for as long as I can remember; drawing was an instinctual way to express myself as most children also experience. However, as most of us stop that routine at a certain point I have continued on my whole life. Growing as an artist, therefore, has been a lifelong journey and something I feel very lucky to be able to pursue.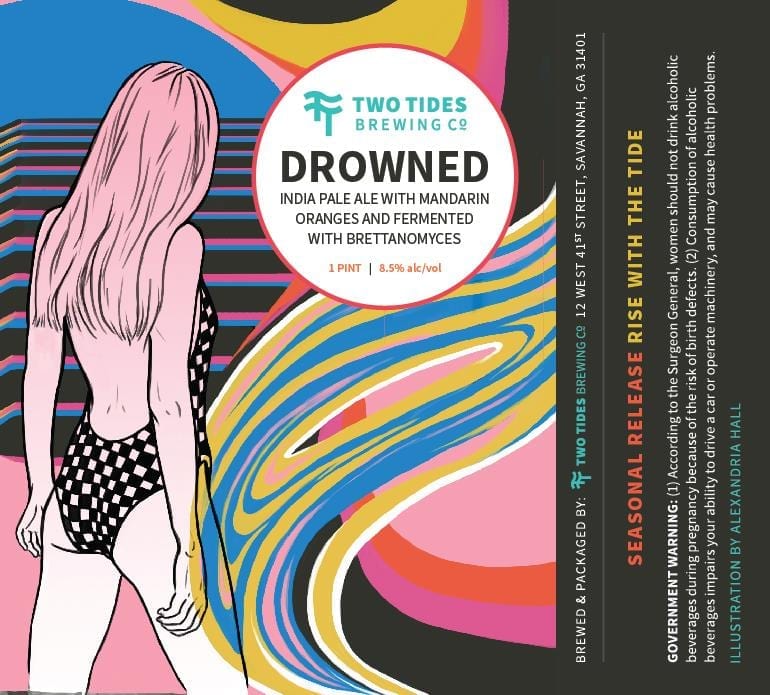 TB: It seems you are a student. Can you speak to the challenge of being a student AND doing freelance work?
AH: Yes, I am indeed a student! Currently, I have a nice balance of school requirements, a service industry job, and working on several freelance projects. It can be quite a challenge at some points where one area is pulling for more of my effort and attention than it normally would. I feel very passionate about the work that I do, and that drive has always helped me push through the difficult moments. However, at the end of the day, I wouldn't change a single moment of the struggle if it means I can do what I love.
TB: Can you tell me a bit about your process? Are you all digital? Traditional? A mix of both?
AH: My process varies from project to project, but all of my work almost always starts with a dialogue of some kind. Getting key topic or points down on paper is the very first step I take in efforts to get visual inspiration. Then I start making initial thumbnail sketches for the clients, we deliberate and move forward with the best parts of each idea. This then becomes a traditional sketch, and we begin working on digital mock ups! All of the final label designs are made digitally but start with a traditional basis.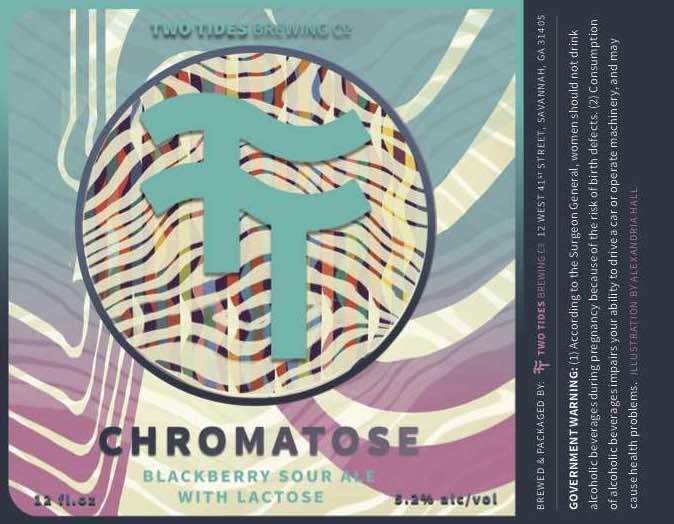 TB: What other art do you make?
AH: I make quite a variety of art, and I actually hope that pattern continues. I find myself being inspired by so many different types of artists and their processes, and that helps me translate my ideas into a variety of mediums. Other than the illustration work I create for editorial/commercial/business outlets I also create fine art paintings and sculptures. I have a huge passion for the ceramic arts, and that is the main way I produce sculpture or functional vessels. I also paint large-scale pieces aimed at gallery showings, and I even do some songwriting in my spare time. I have to say that my most enjoyed medium at the moment would have to be mural work. I really hope to continue enhancing the spaces and places people interact with every day. It has been such a joy seeing that happen with the interior mural at Two Tides Brewery.
TB: How can your fans find you and your work? Can they buy your art?
AH: I would absolutely love to be able to conversate with other artist or individuals that resonate with my work; intentionality and conversation are the main reasons I love creating what I do. I try to be super active on my social media channels, Instagram specifically, and absolutely love interacting with individuals through that! That would definitely be the best place to find me and my work, and I do sell work through Instagram as well as my personal site! I also love making custom commissions as well, and almost always those come from social media interaction.
Alexandria Hall's Website
Alexandria Hall on Instagram
---
Two Tides Brewing on Facebook
Two Tides Brewing on Instagram
Two Tides Brewing on Twitter