Americans can't get enough hops. As long as craft beer drinkers shout their demand for "More Hops!", breweries will continue to find innovative ways to inject as much of that sought-after piney, citrusy, floral goodness into their beers as they can. As a result, we've developed just as many means to measure it, sell it, preserve it, and advertise it. Let's talk about hoppy beer!
What is a Hoppy Beer?
Before hops became standard, the malty sweetness of wort was balanced with other herbs and spices – yes, beer didn't always contain hops! Once brewers started adding hops to their recipes and realized that one ingredient could do the work of several, along with the added antibiotic properties of the plant, the world was hooked on hops!
Measuring Hoppiness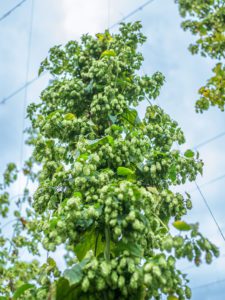 The phrase "hoppy beer" can refer to several things: a beer's smell, its flavor profile, as well as the literal volume of hops in its recipe. When we talk about hoppiness, it is a mistake to think only of bitterness. On some labels, a brewery will state a beer's bitterness in IBUs, or International Bitterness Units. While a high IBU beer will certainly require a dump truck full of hops, bitterness only tells part of the "flavor story". A brewery might also produce a high IBU beer that is balanced against a huge malt profile (like a stout or porter) which you would arguably not call a "hoppy beer".
Most of us want to taste the hops, but again, the bitterness they impart helps to keep beer from being too sweet. Balance AND flavor. "Hoppy" as in "the opposite of malty", as well as "Hoppy" in that "you taste lots of hops". This dichotomy of hops use is why you will see hops classified as being "Bittering Hops", "Aroma Hops", and hops that can serve both functions – "Dual Use".
We could get into all sorts of science on how bitterness, via Alpha Acids, and flavor/aroma, via Hop Oils, is pulled from hops during brewing. That's probably not why you're here, but this is what makes hops "hoppy". The brewery's best estimation is measured in IBU and your preference is measured with your tongue and nose.
The Many Ways to "Hop" a Beer
Many tasting experts will tell you that we don't even have the capacity to taste the level of hops many breweries have been able to achieve. How much is too much? How much is just right? More importantly, how much can we get?!?
The Boil
When brewing beer, the step where hops are typically introduced is called the Boil. Hops are usually added to the brew kettle at distinct stages, depending on their function, be it flavoring, aroma or bittering. Additionally, the length of time hops are boiled brings out different flavor characteristics. The longer hops are boiled, the more bitter the flavor. In fact, many hop flavors can be completely irradicated with too long in high temps.
As an example, you might have a 60-minute boil where you add Cascade hops at the start (60 minutes for bittering), at the 40-minute mark (20 minutes for flavoring), and the 59-minute mark (1 minute for aroma). You might only have bittering hops if you are trying to balance a malty profile or simply want to take it down a notch. You might boil for longer if you want to pull every nuance of hop flavor from different additions, but many brewers will tell you that to preserve the true flavor and aroma of hops, you need to leverage other means besides boiling.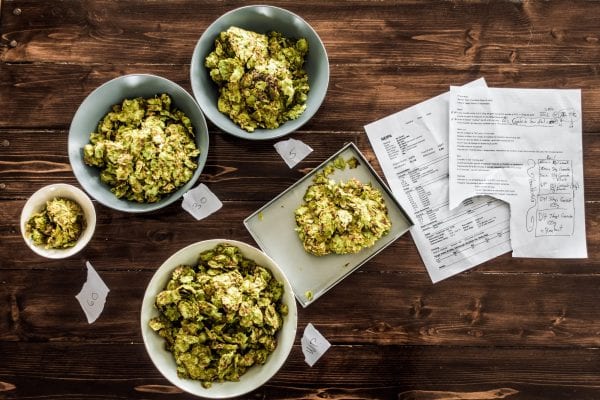 Hopback
Filtering chilled wort through even more hops after the Boil can be accomplished using a Hopback. You can read all about this process in our Hopback deep dive post here.
Whirlpooling
While this method is difficult for homebrewers to achieve, professional brewers have leveraged the power of the whirlpool as a means to extract hop flavors and aromas more efficiently.
Essentially, whirlpooling is forcing the cooling wort to spin. The centrifugal force of this spinning liquid has two results: sediment, trub, and particulates will collect in the center of the whirlpool AND, quite simply, stuff gets stirred up. This is an excellent way to get more hops and their flavors dancing around your wort.
Dryhopping
Once primary Fermentation is complete, you can add even more hop aroma through a process called "dry hopping". Letting your beer sit on additional hops in a secondary fermenter draws out an oil called "myrcene".
Oh hey! FYI… any links on this page that lead to products on Amazon are affiliate links and we earn a commission if you make a purchase. Thanks in advance for your support!
Hoppy Beer Styles
Classic Bitter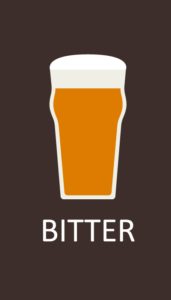 Medium Bitterness (25-55 IBU)
Medium Hop Flavor
You might expect bitterness from a style called "bitter" but, as a classification, it's a big bucket for early English Pale Ale styles. Light, biscuity, and drinkable, Classic Bitters can be earthy and grassy (Target/Fuggle) or citrusy/grapefruit (Apollo), but all on the milder end of potency.
Pilsner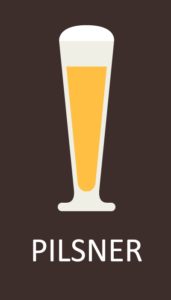 High Bitterness (25-50 IBU)
High Hop Flavor
Saaz hops are the original go-to for this traditionally German lager. Tettnanger, Hallertau, Mt. Hood, and Liberty are also common. Expect herbal and mildly spicy flavors.
Pilsners get a bad rap thanks to huge commercial American brands (now owned by huge, non-American conglomerates), but there are some lovely craft pilsners out there. For more on this style, see our guide to Common Beer Styles.
Pale Ale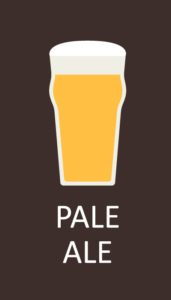 High Bitterness (20-50 IBU)
High Hop Flavor
A proper Pale Ale is very similar to a Classic Bitter and often difficult to distinguish. While the style is a darling in America, it's character is English and so are the hops added. Kent Goldings and Fuggle bring spicy and herbal flavors and aromas. American will use Cascade and Chinook to bring piney bitterness and citrus flavors.
New England IPA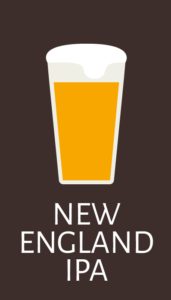 High Bitterness (25-60 IBU)
High Hop Flavor
The baby of the Pale Family, New England IPAs are hazy and opaque with a tropical fruit flavor resulting from aggressive dry hopping. Everybody loves their "hazies" these days and if you like them sweet without the maltiness, this style is for you. You'll see additional qualifiers out there like "Hazy" and "Milkshake" (with or without lactose), so watch to see if the trend sticks around.
India Pale Ale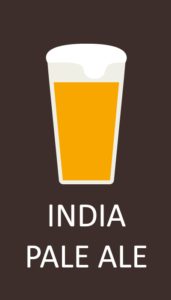 Very High Bitterness (40-60 IBU)
Very High Hop Flavor
The ruler of all hoppy beers is, of course, the IPA – India Pale Ale. Originally designed to be shipped long distances and not go bad, you will find IPAs to me stronger and more bitter than Pale Ales.
Read more about IPAs in our guide to Common Beer Styles.
Double or Imperial IPA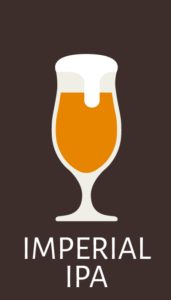 Very High Bitterness (65-100IBU)
Very High Hop Flavor
When you hear "Imperial" today, don't think about the Monarchy. Think BIG. "Imperial" when applied to beer styles hasn't been around all that long and it really just means "a higher ABV version of an existing style". So yeah, a stronger Pale Ale with all of the hops required to tip the scales in favor of bitterness against that huge malt base.
American Barleywine
Very High Bitterness (50-100 IBU)
High Hop Flavor
Like many of these beers, there's an English version and an American version. Take the English version, add an absurd amount of hops, and *ta-da!* you've got the American version. Barleywine is no exception. Brewers will stray from the "Only pale malt" bill to create something a bit more complex than an Imperial IPA, but a Barleywine is just as strong, if not stronger. American Barleywines will employ lots of U.S. hops like California Cluster, Cascade, Golding to bring a bitter resiny, spicy, and citrusy assault to your palette.
Hop Varieties and Their Flavors
According to beer-analytics.com, these are the top eight current most frequently used hops, in order:
| Rank | Hop | Type | Characteristics | Common Beer Styles | Example Beer |
| --- | --- | --- | --- | --- | --- |
| 1 | Citra | Dual Use, "top hop" for Aroma and Dry-Hopping | Tropical Fruit | IPA | |
| 2 | Cascade | Dual Use, "top hop" for Bittering | Citrus and Grapefruit | Barleywine, Pale Ale, Lager | |
| 3 | Magnum | Bittering | Clean and Neutral | American styles of Pale Ale and Lager | |
| 4 | Saaz | Aroma | Spicy and Herbal | Lager | |
| 5 | Mosaic | Dual Use | Tropical Fruit, Citrus, and Herbal | IPA and Pale Ale | |
| 6 | Amarillo | Aroma | Citrus | Bitter, Pale Ale, and IPA | |
| 7 | Centennial | Dual Use | Floral | Bitter, Barleywine, IPA, Pale Ale | |
| 8 | Simcoe | Dual Use | Pine, Citrus, and Earthy | Imperial IPA, IPA, Pale Ale | |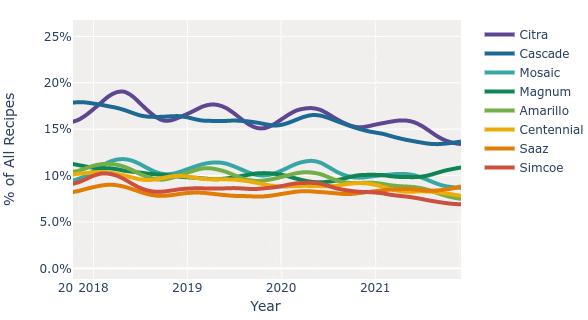 If you guessed that the Top Hops and Top Beer Styles go hand-in-hand, you'd be right. The hoppiest beers are the most popular. At last check, nearly 15% of the most popular styles are some form of Pale Ale.
Pro Tip: Hopslist.com
Are you a Bad Mother Fuggler? A Chinook Chugger? Maybe you're a Mosiac Monster.
Head on over to the Hopslist Beer Hops Style Guide and look at how all of the styles line up. Wondering what your favorite styles have in common? You might discover you prefer a rare hop that only makes it into a handful of beers. Or open you up to others!
Prices pulled from the Amazon Product Advertising API on:
Product prices and availability are accurate as of the date/time indicated and are subject to change. Any price and availability information displayed on [relevant Amazon Site(s), as applicable] at the time of purchase will apply to the purchase of this product.
Some Great Hoppy Beers
To make things simpler, we have decided to sample our way through a massive range of beers to provide you with a list of 21 Hoppy Beers For the Beer-Lover in You (in no particular order). This list will give you a series of brews that will both appease and challenge your palate.
Ninkasi Brewing Total Domination
81 IBU | Northwest IPA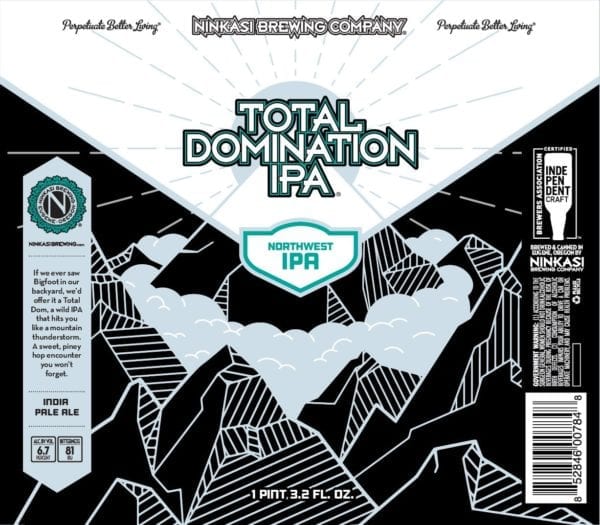 Ninkasi Brewing Company was founded in 2006 and Total Domination IPA is their flagship ale.
Named after Ninkasi, the guardian goddess of beer in ancient Sumerian mythology, Ninkasi Total Domination has become a go-to for many hop lovers. The presence of floral Summit, Amarillo, and Crystal hops make this Hoppy beer incredibly floral. But what tips this tipple over the edge is the mild nutty flavor that comes to play through the brewery's use of Fuller's English yeast.
The Alchemist Heady Topper
120 IBU | DIPA
The Alchemist is a family-run brewery by husband-and-wife duo, John and Jen Kimmich, who are passionate about producing terrific brews.
And frankly, no hoppy beers list is complete without mentioning The Alchemist's Heady Topper. Simply put, Heady Topper is legendary and as of this writing is ranked fifth of ALL BEERS by beeradvocate.com and the very best Imperial IPA. This award-winning ale is created in Stowe, Vermont, and has been responsible for the dramatic expansion of both the brewery and the style due to its increasing popularity.
Since it's inception in 2013, Heady Topper has quickly become the brewery's flagship hoppy beer and showcases some complex flavors designed to impart on every new sip. Known for its light and unique taste, this ale provides consumers with an influx of hop flavors including, orange, pine, tropical, and spice.
"Heady Topper" flickr photo by found_drama. https://flickr.com/photos/found_drama/6175541297 shared under a Creative Commons (BY-NC-SA) license
Beer Valley Leafer Madness
100 IBU | Imperial IPA
The mastermind behind this Oregon-based brewery's legendary Imperial IPA is brewer Pete Ricks. Surprisingly, Pete created the hoppy beer in 2008 when there was a shortage of hops in the early to mid-2000s. By 2006, the worldwide hope acreage was less than half it was 15 years earlier, which meant many American craft beer brewers and breweries were hit hard. However, Pete's risk-taking during the shortage accounted for much of this hoppy beer's success.
As one of the few available on the craft beer landscape at the time, Beer Valley Leafer Madness achieves its distinct hoppy flavor via several classic citrusy hop varieties. This lupulin bomb is supported by a large amount of 2-row malt as well as Honey and Munich Malt.
Leafer Madness #freshie #freshhop pic.twitter.com/weATxDUyz6

— 99BottlesBeer (@99bottlesbeer) October 24, 2015
Avery Brewing India Pale Ale
65 IBU | IPA
Initially, Adam Avery, the president, and head brewer at Avery Brewing Co, founded the company in 1993 just as craft breweries were beginning to increase among mainstream beer drinkers. Now, the Colorado-based brewery is known for its extensive range of product offerings and distribution across the US.
Buy Avery Beers from CraftShack
Released just three years after the brewery's establishment, Avery India Pale Ale was launched to the public as Colorado's first packaged IPA. Since its launch, the pale ale is still just as renowned for its distinctive taste. With a fistful of hops in its recipe, this hoppy beer is known for its intense grapefruit and citrus aroma that leaves a long, sweet and bitter finish.
Laurelwood Brewing Workhorse IPA
65 IBU | West Coast IPA
Laurelwood Public House and Brewery's best-selling brew is their Workhouse IPA, and if you have had the privilege of tasting it already, you would know why – it is excellent! And we aren't the only ones who think so – in 2009; Laurelwood Workhouse IPA beat out 63 other competitors in the National IPA Competition (NIPAC).
Chad Kennedy, the mastermind behind the brew, used some of the most sought-after hops such as Amarillo, Cascade, Columbus, Nugget, and Simco to create this hoppy beer's refined flavor,  often described as fresh bread and pine. In line with our overview, hop additions are introduced at all three stages: kettle, hopback, and dry hopping!
Boundary Bay Brewing Inside Passage Ale
78 IBU | IPA
Boundary Bay Brewing is located in a historic warehouse in downtown Bellingham, Washington. The brewpub is known for its laidback, community-like atmosphere that has customers returning time and time again.
But the brewpub's chilled setting isn't the only thing that has customers returning; one of their most popular brews is the Boundary Bay Inside Passage Ale, an artisan IPA that has been on the craft beer scene for over a decade.
The beverage balances a rich malt taste that works well with its Centennial, Cascade, and Amarillo kicks of hop flavor. With a moderate 6.4% ABV, this brew and its chewy caramel-like bite is a hop head fan favorite.
Ballast Point Sculpin
70 IBU | IPA
If you are a beer enthusiast, this is undoubtedly a hoppy beer that you have been raving about (or will soon want to start raving about). As a gold winner at the 2010 World Beer Cup in Chicago (the world's largest-ever commercial beer competition), this IPA has been a staple on many beer enthusiasts' lists of brews to try.
Ballast Point Sculpin was named after a spike-finned fish that is known for poisoning its enemies. While this hoppy beer will not poison you, it will most likely give your tongue a sharp lashing with its 7% ABV and 70 IBU. The highly bitter brew offers various complex undertones such as citrusy fruitiness from hops that have been compared to the likes of lemon, peach, mango, and apricot.
GoodLife Mountain Rescue
40 IBU | Dry Hop Pale Ale
This dry-hopped ale was masterminded by Curt Plant and is created using a brewing process called "hop bursting". The process involves adding all the hops into a whirlpool as opposed to the kettle. So, instead of getting the hops' bitter flavor during the boiling process of a brew, the process is achieved during the end of the process in the whirlpool. This allows the brewer to add twice as many hops into a beer without the added bitterness which comes from using the traditional brewing method.
Ultimately, the process of hop bursting results in a smooth and balanced citrusy hoppy beer that has a respectable 40 IBU and has made Goodlife Mountain Rescue Dry Hop just one of the many great brews at GoodLife Brewing.
Black Raven Brewing Trickster
68 IBU | American IPA
Based in Washington, Black Raven Brewing's fundamental values are simple – create a beer that people enjoy drinking. As far as hop heads are concerned, they have delivered on their promises. Whether you are looking for an award-winning beer available all the time or looking for a unique seasonal beer to challenge your palate, Black Raven Brewing has something for you.
One of the brewery's most popular hoppy beers is their Black Raven Trickster. The IPA is a brew that is known for its deep, chewy malt flavor. Its strong taste originates from ESB, Munich, and Crystal combined with Amarillo, Cascade and Simco.
Fittingly named, the brew was inspired by the mythological connotations of a raven. Typically, ravens are known to disobey standard rules and stray from the ordinary, and likewise, this brew breaks stereotypes of a hoppy IPA. Black Raven Trickster IPA is well-balanced, light and fruity.
Green Flash West Coast IPA
95 IBU | West Coast IPA
Green Flash Brewing is a warehouse-like tasting room with the availability of craft beers on offer. Their Green Flash West Coast IPA has a 7.3% ABV and 95 IBU and is notorious for layering a wide range of hops throughout its brewing process.
The West Coast IPA is appreciated for its unique fruitiness that is catalyzed by the hop, Simcoe. Additionally, Columbus is infused to create a strong hop pungency, and Cascade is utilized in the recipe for its delicate, floral scent.
Buy Green Flash Beer from Craftshack
As a whole, this brew provides a multi-dimensional hop experience – but this is precedented for Green Flash Brewing. The brewery is a pioneer of San Diego-style India Pale Ales that have been trailblazing the American craft beer scene since the brewery's foundation in 2002.
Sierra Nevada Hoptimum
100 IBU | Triple IPA
Established in 1979 by homebrewers Ken Grossman and Paul Camusi, Sierra Nevada Brewing Company has built up its reputation as the United States' third-largest privately-owned breweries. The influence of Sierra Nevada on the early days of the craft beer movement is the stuff of legend. With a wide range of brews on offer, Sierra Nevada Brewing Company is on almost every beer enthusiasts' list of places to visit.
While the acclaimed brewery's reputation exceeds itself, this specific brew is on this list for its merit – Sierra Nevada Hoptimum has a staggering 100 UBI and 10.4% ABV. Hoptimum is a beer that produces an array of flavors with an interesting blend of hops, with notes of grapefruit, flowers, and tropical fruits.
Buy Sierra Nevada Beer from Craftshack
Created with a base of Sierra Nevada's California Ale Yeast, Simcoe, Citra and Chinook are all hops that are given a chance to showcase their distinctive flavors in this complexly-blended brew.
Hopworks Urban Brewery Ace of Spades
100 IBU | Imperial IPA
Hopworks Organic Ace of Space is a champion IPA, winning a gold medal at the 2009 Great American Beer Festival. But that isn't the only reason this brew is on this list.
Buy Hopworks Beers from Craftshack
Ace of Spades is a true killer with a 9.5% ABV and 100 IBU. With prominent flavors of Amarillo, Cascade, and Centennial hops, this brew is one that truly delivers on taste. It is citrusy and hoppy with a clean and bitter finish, making it one of the finest hoppy beers in the United States.
Ice Harbor Fresh Hop
60 IBU | IPA
Located in Eastern Washington, Ice Harbour Brewing has a reputation for producing some of the nation's best beers.
Their Ice Harbour Fresh Hop IPA is a spearhead hoppy beer that won first in the 2011 Yakima Fresh Hop Festival, crowning it the Number One hop ale in the Number One hop growing region in North America.
Ice Harbour's IPA is brewed using various hop methods, including traditional kettle hopping, dry hopping, mash hopping, and first wort hopping. These various processes allow 12 pounds of fresh Amarillo and Centennial hops per keg of this beer, giving it a complex depth of hoppy flavors such as oranges, pine, and wood.
Three Floyd's Alpha King
68 IBU | Pale Ale
Three Floyd's Brewing is well-known across the American craft beer scene for producing countless amazing brews; from seasonal ranges to their barrel-aged brews, FFF has a stellar reputation. You didn't think they were just about their imperial stout release and metal festival, did you?
With a strong and powerful name like Alpha King, this hoppy beer indeed delivers. The American Pale Ale features a 6.66% ABV and 68 IBU and has bold citrus flavors created using Centennial, Cascade and Warrior hops.
Since its release, Alpha King has become a benchmark against which other hoppy pale ales are measured. Hail to the king!
Russian River Pliny the Elder
100 IBU | Imperial IPA
Consistently holding a position of one of the top 100 beers of all time, as well as the #3 Imperial IPA, on beeradvocate.com, Russian River Pliny the Elder is a Double IPA that is incredibly sought after.
If that isn't enough to convince you to give it a try, its intense hoppy recipe will: Amarillo, Centennial, CTZ, and Simcoe are the hops used in Pliny the Elder's brewing process.
Although this hoppy beer only has 8% ABV (which is on the low end for a DIPA), what also makes this brew one of a kind is the various hop infusion methods used to create this brew: hop backing, dry-hopping, and hop extractions all help give this brews it citrus and pine-like qualities.
"Pliny The Elder" by scottb21. 2021. Flickr. https://www.flickr.com/photos/scottb21 shared under a Creative Commons (BY-NC-SA) license
Odell Brewing Myrcenary DIPA
80 IBU | Double IPA
Based in Colorado, Fort Collin's Brewery offers a vast range of beer styles to its customers. The Odell Myrcenary Double IPA is one of the many beers that demonstrates the brewery's dedication to innovation.
Described as being tropical and bold, this hoppy beer delivers. Named after Myrcene, an essential oil in the hop flower, this double IPA certainly provides on its advertised hop potency. A centrifugal filtration process occurs during its brewing so that all fresh aromatic properties are preserved in this beer. It is a double IPA that shines with its tropical fruit-like taste, muted floral aroma, and a clean getaway – it is champion IPA!
Dogfish Head 90 Minute
90 IBU | Imperial IPA
Dogfish Head Brewing is a brewery that has experienced rapid growth since its start in 1995. Between 2003 and 2006, the brewery grew by around 400%. With sales of nearly 300 barrels in 2019, the company then merged with The Boston Beer Company (makers of Sam Adams). The brewery was featured in the documentary Beer Wars and was the Discovery Channel's series, Brew Masters.
The brewery's media exposure, alongside its genuine passion for crafting great beers, is what brings us on to our next hoppy beer, the Dogfish Head 90 Minute IPA. This East Coast IPA has been named "One of the most important American craft beers ever brewed" by Food & Wine Magazine, and it is one that every beer lover should try getting their hands on. Luckily enough, it is available in several states and is released all year round!
Using a continuous-hopping method, the beer is flavored throughout the brewing process to create a rich, fruity, and pine flavor, making it a hop masterpiece and a staple on this list of 21 Hoppy Beers.
Why is there an old-school electronic football game on the label? Founder Sam Calagione used this device to continuously add hops to the boil of his wort when concocting the 90 Minute recipe. The vibration of the game board, set at an angle, allowed the hops to slowly trickle into the wort. Fun fact: That game board now lives in the Smithsonian!
The Dogfish Head Book: 26 Years of Off-Centered Adventures
Recounts the rich history of the Dogfish Head Brewery and Distillery

Explores the founders' unique and successful business philosophy

Reveals new details about the future of this fast-growing brewery

Celebrates the 26th anniversary of Dogfish Head
Prices pulled from the Amazon Product Advertising API on:
Product prices and availability are accurate as of the date/time indicated and are subject to change. Any price and availability information displayed on [relevant Amazon Site(s), as applicable] at the time of purchase will apply to the purchase of this product.
Lompoc C-Note
100 IBU | Imperial IPA
Lompoc Brewing named Lompoc C-Note appropriately – it's an assault on your senses by "The Seven 'C' Hops". Brewed with Cascade, Centennial, Crystal, Cluster, Columbus, Chinook, and Challenger hops, this Imperial IPA exposes your palette to a vast expanse of flavors. They even worked all of those hop varieties into the design of the label!
Baxter Brewing Stowaway
69 IBU | IPA
Although we are rounding off our list with Baxter Brewing's Baxter Stowaway IPA, it does not make it any less worthy. The Lewiston, Maine-based brewery, has received much acclaim recently as its founder, Luke Livingston, was named by Forbes as one of the top movers and shakers in the food and beverage world under the age of 30.
It is an interesting blend of aroma, delicious hop bittering, and smooth, sweet caramel malts. Fans of this IPA report pine and citrus notes with a strong malt backbone to balance out the bold hop profile.
Victory Brewing Prima Pils
43 IBU | Pilsner
New beers drop all the time, but sometimes you need to hit up the classic. You can't argue with the late Michael Jackson and his list of 500 Classic Brews, of which Victory Brewing's Prima Pils is one.
A classic German recipe, with Saaz hops, with a slight American push toward the hoppy side, you're going to find a light, drinkable friend in Prima Pils.
Founders Brewing Mosaic Promise
50 IBU | IPA
In a world where breweries are hell-bent on getting as much hop flavor into the IPAs, single-hop beers are fairly rare, let alone one that highlights a single malt as well. Homebrewers refer to this as "SMASH Brewing" – Single Malt and Single Hop. Drinking a Founders Mosaic Promise is an opportunity to taste ingredients paired for the sake of appreciation and simplicity. Give your mouth a rest and put your brain to work for a change!
---
And that concludes our list of 21 Hoppy Beers!
Whether you prefer a hoppy beer that has complex flavors, intense aromas, or a bitter after taste, hopefully, this list has given you an array of hopped-up beers that will help widen your beer horizon and challenge your palate.
References
Mosher, Randy. Tasting Beer: An Insider's Guide to the World's Greatest Drink. 2nd edition, Storey Publishing, 2017.
Bostwick, William, and Jessi Rymill. Beer Craft: A Simple Guide to Making Great Beer. Rodale Books, 2011.
"Exercise Your Beer Know-How". 2021. Food & Wine. https://www.foodandwine.com/beer/exercise-your-beer-know-how.
"Beer Analytics – The Analytical Beer Recipe Database". 2021. Beer-Analytics.Com. https://www.beer-analytics.com/trends/recent/.