Are you ready to become a craft brewer? Have you considered buying a one-gallon kit to try homebrewing out? If you've been around thirstybastards.com a bit, you know that we like to take a minimalist approach on getting started homebrewing. We encourage our readers to start small and scale up when they are sure that homebrewing is right for them, and they have the space to expand their home brewery. Making your first brew a one-gallon batch is the perfect way to do that and luckily there's lots of kits out there for just this purpose. Is Craft A Brew's Home Beer Brewing Kit the perfect starting kit for the new home brewer? Let's find out!
We didn't just unbox this kit – we brewed the beer step by step. All photos in this review are of the exact brewing process for their Chocolate Milk Stout as prescribed in the included booklet.
Craft A Brew American Pale Ale Reusable Make Your Own Beer Kit – Starter Set 1 Gallon
BEER INGREDIENT KIT – It's bad luck to leave a carboy empty. Restock your beer making kit with the home brewing ingredients you need to brew your next beer of the month, including sanitizer, dry malt extract, hops, grains, yeast, and a grain steeping bag.

BREW-S-A – Exercise your right to brew! Our decidedly patriotic American Pale Ale makes a crisp, hoppy, and bitter pale ale with light malt flavors. Fans of Sierra Nevada Pale Ale will love this recipe.

HOME BREW INGREDIENTS – This 1-gallon brew is for the beer maker in you! Keep your brew beer kit stocked and ready for more, and make your beer making kits complete again.

SMALL BATCH BEER BREWING KIT – Beer brew again! If you've already enjoyed the beer brewing starter kit, don't buy more home brewing starter sets – grab a recipe refill!

CRAFT A BREW QUALITY – Each beer crafting kit and all our home brew recipe kits for beer are assembled by hand in Orlando, FL instilled with the core values of providing high-quality ingredients, elegant and effective design, and an environmentally sustainable mindset. Enjoy beer the right way with your own Craft a Brew kit.
Prices pulled from the Amazon Product Advertising API on:
Product prices and availability are accurate as of the date/time indicated and are subject to change. Any price and availability information displayed on [relevant Amazon Site(s), as applicable] at the time of purchase will apply to the purchase of this product.
Oh hey! FYI… any links on this page that lead to products on Amazon are affiliate links and we earn a commission if you make a purchase. Thanks in advance for your support!
Ready? Let's GO!
Features and Benefits of the Craft A Brew Home Beer Brewing Kit
There are three kinds of recipes in homebrewing – All-Grain, Extract, and Partial Mash. Many consider All-Grain Brewing to be reserved for the seasoned brewer because there is more control required and therefore more margin for error. We're not going to get into that here, but the question needs to be asked: what kind of recipe comes in a Craft A Brew Kit?
It's worth noting that Craft A Brew kits are "Extract Brewing" kits. This means that the bulk of the fermentable sugars will be coming from Dried Malt Extract (DME). Yes, powdered beer! This will create your base and additional malted specialty grains will be added to create the more nuanced flavors that embody the style of your beer. Think of it as making tea and then adding Kool-Aid powder, and then forget I said anything so ludicrous. Additional ingredients may be included like Lactose and Cocoa Nibs, depending on the recipe.
Everything you need to brew a gallon of beer is included in this kit
If you decide that homebrewing is a hobby you want to pursue, you only need to buy ingredients for your next one-gallon batch
Craft A Brew offers more than 10 starter recipes, including a gluten-free recipe for the Celiac beer lover in your life!
Includes absurdly easy-to-follow instructions to guide you through your first homebrew journey
The equipment included in this kit will be useful for anyone who is a homebrewer, regardless of skill level
Craft A Brew Home Beer Brewing Kit
Special Features (Pros) of the Craft A Brew Home Beer Brewing Kit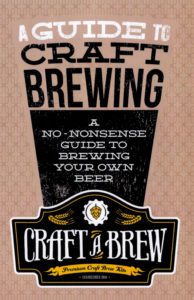 The Guide To Craft Brewing included in this kit is what really sets it apart. The steps are easy to follow and straight-forward. The booklet that is included will be something you can refer to for many new batches in your future, until you get the hang of it or upgrade to more complex and bigger batches.
Additionally, each of the ingredient packets has instructions on when to add them to your brew. You might need to make some notes to remind you, but there's no mystery about what goes where.
Craft A Brew has a "Brewmaster's Tips" page which features some great advice on getting the most from your kit beyond the basic instructions. For example, there are some good tips about separating the hops from your wort after the boil.
You could cobble together the individual items that make up this kit by purchasing them yourself, but you can save some significant hassle and money by getting it all in one box. Craft A Brew thought of everything you'd need, assuming they have a recipe that appeals to you as your first brew.
Drawbacks (Cons) of the Craft A Brew Home Beer Brewing Kit
All this to be said, the Craft A Brew starter kit is not perfect. You won't be getting an education in homebrewing from this kit. In some ways, that's exactly the point – get me from zero-to-beer with the path of least resistance. "Don't overwhelm me, let's just make beer!" You will, however, want to get yourself a book on homebrewing basics, but that can certainly wait until you are happily hoisting your first homemade beer!
Here's a handful of additional drawbacks to using this kit:
Speaking of educating yourself, one thing was severely missing from the instruction booklet: the term "Mashing" or "Mash". We simply could not find it anywhere and it's important for anyone starting homebrewing to know. Mashing is the process of extracting sugars from grains with hot water. Step One: Mash. Step Two: Boil. Craft A Brew simply refers to this as the "Brew" step and we think you should talk the talk AND walk the walk!
Many reviewers have reported broken items in their boxes like funnels, thermometers, and airlocks. Amazon delivery services may be mostly to blame for this and not Craft A Brew, the company, themselves. Our kit came perfectly intact even though the product box was used for shipping (no additional shipping container).
Generally speaking, siphoning with a tube and lock is pretty messy. Most of us seasoned brewers will use an auto siphon to transfer our beer to bottles (also known as "racking"). Add "auto siphon" to your list of investments should you want to move forward with homebrewing as your next new hobby.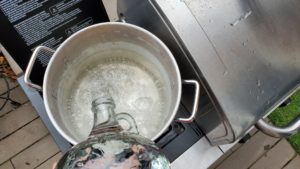 One thing I'm confused about with this kit is why the recommended strike water (the water you start with in your brew kettle) is exactly one gallon. To the beginner, this might make sense since that is the size of the batch, but mashing and boiling cause quite a lot of evaporation. The instructions state that if you don't have a full gallon of beer when you transfer it to the carboy for fermentation, "you will need to add cool water" to the fill line. This is an opportunity for bacteria to make its way into the beer that we feel can be circumvented by starting with more water – like 50% more. Other kits we've looked at instruct you to use 1.5 gallons.
No bottles are included with this kit, nor caps or capping device. If you are a beer enthusiast, I'm sure you can scare up some empties in the 2-3 weeks it will take to ferment your beer. We recommend you go with 12-ounce bottles since your batch will likely yield less than ten by volume. Make sure they are brown glass! If you can find swing-tops, you are set. There's a lot of great German beers with swing tops you can try. If you go with regular capped bottles, you need caps and a capper. Make sure your bottles feature a "single edged neck". Here's a good starter package:
Brewland Beer Bottle Capper and Caps Kit
Buy Brewland Beer Bottle Capper and Caps Kit on Amazon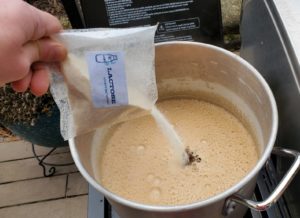 As good as the instruction booklet is, it is not specific to whatever recipe you are brewing. Additional instructions regarding special ingredients are detailed on each ingredient packet. Yes, it's good to be able to have the basics on hand, but it seems a bit shortsighted to rely on disparate sources of steps when you are brewing for the first time. We made a Post-It note of each extra step and stuck it in the booklet for quick reference.
Step One in the booklet is to pour water into your brew pot. We have a Step ZERO: Wash EVERYTHING before you use it. I even wiped down the ingredients packets because they were covered with burlap fibers from the sack they came in. Cheers for style, but jeers for burlap-flavored beer potential.
This is a minor gripe, but I'd like to see more illustrations in the instruction booklet. Craft A Brew has some gorgeous illustrations, like, everywhere on the packaging and website. The only page that gets any love is the bottling/syphoning instructions. Okay, I'm just now realizing that there are a lot of strikes against the included booklet, so maybe you should pick up that book on the basics sooner rather than later.
Video: Craft A Brew Home Beer Brewing Kit
Buy on Amazon
About the Craft A Brew Company
Founded by Kyle Westfall, Craft A Brew has been operating out of Orlando, FL since 2010. Since its launch focusing on beer kits, the company has branched out into cider, mead, hard seltzer, kombucha, and other fermentables. In addition to starter equipment kits, they also sell over 20 ingredient kits for your future beer recipes.
Craft A Brew is also the inventor of the Catalyst Fermentation System – a stylish 6.5-gallon conical vessel.
As self-proclaimed "tree-huggers", they make every effort to use environmentally friendly-sourced materials for their packaging and manufacturing.
Craft A Brew Home Beer Brewing Kit Reviews
Independent Reviews and Recommendations
Reddit
This Redditor received a broken thermometor, but got a replacement pretty quickly. They found the Craft A Brew kit to be a great fit for their small apartment. They also said that it helped them understand what upgrades they would need to make in order to scale up to larger batches (which is what we love in a kit!). One note, and we get this 100%: One gallon is NOT a lot of beer. But better to screw up on one gallon than five!
---
At Home Brewer
This website is pretty quick to point out some things that would be needed as additional equipment. We don't necessarily agree. Do you need a wort chiller for 1 gallon of beer? We don't think so! They gave points for ease-of-use, good brewing experience, and the reusability of the kit. They also pointed out that one gallon is not much. We get it… WE GET IT. Read More…
---
Brew Drink Run
This reviewer asked his mom to help him try his first batch of beer! They were quick to note that the kit is a good cost-effective way to find out if homebrewing is something you are interested in. That's EXACTLY what we are going for. They were critical of the small-ish funnel that came with the kit and blamed it for spilt wort. Read More…
---
Craft A Brew Home Beer Brewing Kit
What Amazon Customers Have to Say About the Craft A Brew Home Beer Brewing Kit
One verified reviewer on Amazon said the instructions were great and they loved the taste of their freshly-brewed beer. They did not like how messy transferring their beer to the carboy and siphoning into bottles can be.
---
A second verified reviewer appreciated that the carboy is glass instead of plastic as they saw in other kits. They also had issue with the included equipment for siphoning into bottles stating that there was some spilling. The reviewer liked it so much, they bought another ingredient kit.
---
Another reviewer called the equipment "rudimentary", but enough for someone to get started.
---
Comments from a final verified reviewer enthusiastically recommended the kit for beginners. They made a point of mentioning that you will need a brew pot if you don't have one as well as lots of ice. They also recommended brewing with a friend for the extra pair of hands.
---
Buy on Amazon
The Bottom Line
Overall, the Craft A Brew Home Beer Brewing Kit is a great first kit for anyone looking to see if Homebrewing is something they'd enjoy. It would also make a great gift for a craft beer lover who has always wanted to understand what the brewing process is all about. When the day comes that brewing one-gallon batches is not enough, there's nothing in this kit that won't be useful.
Homebrewing, as a hobby, takes up a lot of space. A kit like the Craft A Brew Home Beer Brewing Kit does not. Someone with a small apartment or limited counter space will find brewing with this kit to be hassle-free.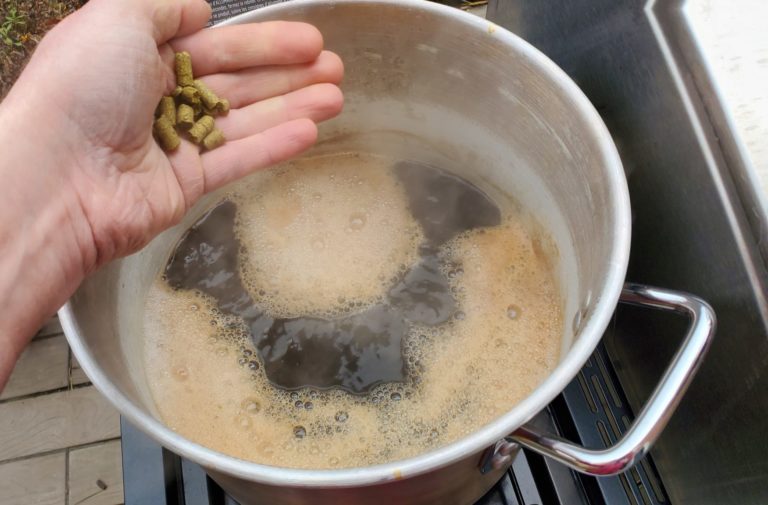 With a few caveats we've detailed here, we can confidently recommend this starter kit. As stated, we brewed this beer and followed the guide exactly. As of this writing, the beer is in the fermenter and will be bottled in about two weeks. So we're still a month away from tasting it, but we're pretty excited. I've never brewed with Lactose or Cocoa Nibs and the color is mouth-watering. It smells AMAZING. This post will be updated immediately after we crack open our first bottle. Cheers!
---
Bottling Update
Well, I'm just going to go ahead and say it: Transferring beer without an auto siphon is just ridiculous. When your precious liquid is only one single gallon, it is in your best interest to make sure you can bottle up as much as possible. Syphoning with a cane, tubing, and clamp presents way too many opportunities for spillage. Also, I found very quickly that three feet of tubing is not enough to go from counter to floor.
Do yourself a favor. Buy an auto syphon and bottling wand.
More updates as the beer carbonates!