I've owned a PicoBrew Pico Pro from its initial launch on Kickstarter. Since then, it has evolved from "The Kuerig of Homebrewing" to a more customizable brewing appliance. I have been keeping an eye out for opportunities to do more with it. If you don't own a PicoBrew Pico, or even know what one is, this article isn't for you.
I did a little experiment recently where I basically hacked the Pico Hops Pak to add my own ingredients to the boil. This is a short guide for anyone who'd like to do the same.
Not Manual Brewing… PakHacking!
First, I should mention that Manual Brewing is absolutely an option with the PicoBrew Pico. This entails creating your own recipe, putting your ingredients into filter bags, and some manual interaction with the device to set temperatures and add your boil ingredients. I am aware of this and I'm not about making more work for myself. I have a bunch of PicoBrew Packs just waiting to be brewed and I simply wanted to experiment with more customization.
In this case, I'm brewing a Scottish Ale – a clone of Zephyrhills Brewing's Way Off Kilter. I'm a huge fan of this style and it's the first I'm brewing in the Pico.
I have brewed Scottish ales in the past, however, and if there's one thing that they benefit from, IMO, it's heaping amounts of Heather Tips! I could have added them after the boil, using a dry-hop method, but I saw this as an opportunity to do a little PakHacking! I want my Heather in my Boil!
Opening the Hops Pak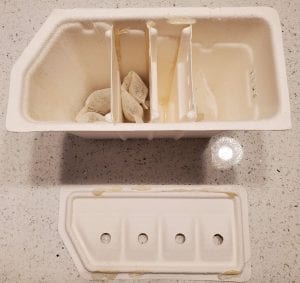 I was pretty surprised at how easy it is to get the lid off of the Hops Pak that comes with the PicoBrew Pack. They use a food-grade glue, but fairly minimally on the Hops Pak. I slipped the edge of my pocket knife into the seam of the lid and gave a little push toward the inside of the pack. It separated easily as long as I took my time.
As you can see, there are four compartments for the boil. You can see the little sachets of hop pellets. This particular Picobrew Pack only had three hops additions in the recipe – all East Kent Goldings.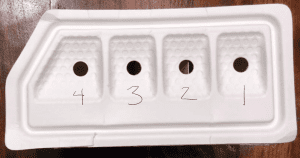 According to the PicoBrewers Facebook Group, the compartments are engaged by the device in linear order, from the large square compartment to the beveled corner compartment (right to left in this photo).
Adding Heather Tips
My reference recipe for Scottish Heather Ale only called for adding Heather at 60 minutes and 5 minutes in the boil. To be sure that it coordinated with the recipe and sequence of the PicoBrew Pack, I knew I needed to add my Heather to compartments that contained hops sachets. So I concluded that my Heather sachets should go into the first and last compartments. I took the hops sachets out of those compartments and left the small sachet in Compartment 3 (I'm not a monster!).
Oh hey! FYI… any links on this page that lead to products on Amazon are affiliate links and we earn a commission if you make a purchase. Thanks in advance for your support!
Adjusting my 5-gallon reference recipe down to 1.7 gallons, I arrived at 0.7 ounces of Heather for each sachet. I can't say enough about this AmazonBasics Stainless Digital Scale. It works great and it's super cheap! I put the Heather into the bags that came with the PicoBrew Manual Brew Kit and dropped them into Compartments 1 and 4.
Closing Up The Hops Pak
Knowing that I'd need to get back into the Hops Pak later to retrieve my bags, I didn't want anything TOO INVOLVED for closing up the lid. I already had a Speedy Stitcher Sewing Awl handy which I use for repairing straps and belts. It worked great to quickly stitch up the corners and keep the lid secure.
Prices pulled from the Amazon Product Advertising API on:
Product prices and availability are accurate as of the date/time indicated and are subject to change. Any price and availability information displayed on [relevant Amazon Site(s), as applicable] at the time of purchase will apply to the purchase of this product.
The Brew Cycle
Everything seems to have gone just fine. No hiccups.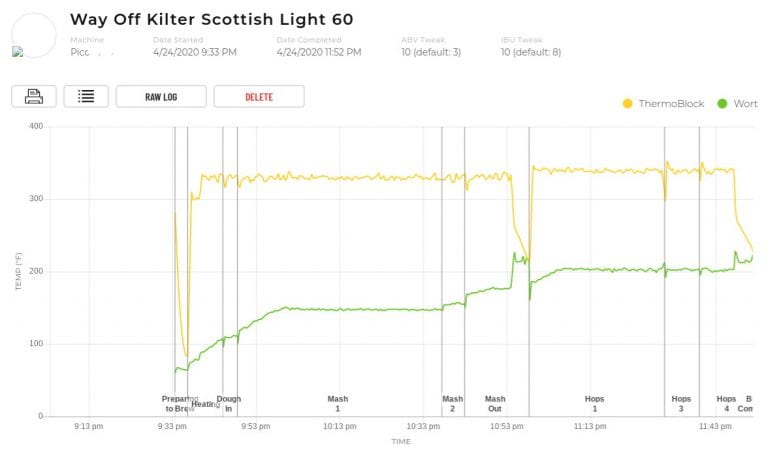 The Hops Pak was in great condition after the brew. The in-line filter was reasonably clear. I was able to get my bags out and they were intact.
One MAJOR plus of this process is that you will be less likely to throw away your Hops Cradle when disposing of your PicoBrew Packs. If you know you need to retrieve your bags, you are wont carelessly dump the entire contents of your Step Filter into the trash, as I have. I'm on my second one!
PakHacking Post Mortem
It remains to be seen if the Heather flavor was imparted in the wort in the intended strength. I'll be sure to update this post in a few weeks when my Scottish Heather Ale is drinkable.
This method can be applied to add additional or replacement hops to your boil instead of outright replacing the ingredients as I have. You should be cognizant, however, of empty compartments in the Hops Pak. These empty compartments may not be cycled through by the device at boil time as the recipe requires.
I hope you found this post useful. By all means, please comment below if I've missed something or there are questions.