Update November 15, 2021: So you are the proud owner of a PicoBrew machine and now you're wondering "Where can I get Pico Paks?" Well, I have bad news for you: PicoBrew (the company) folded and no longer sells parts or ingredients. Any Paks out there for sale are at a premium cost and likely have expired ingredients. Fear not! Your machine is still usable, but not in the way the company intended.
This post has been adjusted to accommodate more recent developments in brewing with these appliances. If someone gave you one or you bought one on the cheap, you can still make great beers with it. You just need to do a little extra work. It is still possible to load up a PicoBrew Pico Pro, C, S, or even Z model with ingredients and run a hands-off brew day.
I've owned a PicoBrew Pico Pro from its initial launch on Kickstarter. Since then, it has evolved from "The Kuerig of Homebrewing" to a more customizable brewing appliance. I have been keeping an eye out for opportunities to do more with it. If you don't own a PicoBrew Pico, or even know what one is, this article isn't for you.
What's Changed About Brewing with These Machines?
Since the company no longer exists, the way you brew with these appliances has changed a bit. The PicoBrew ecosystem had three components: The Hardware, Ingredients, and the Server. Let's talk about each.
Hardware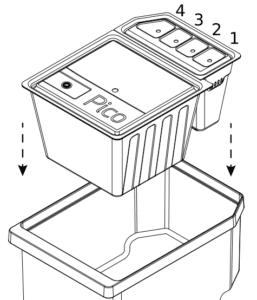 A PicoBrew devices is essentially a sous vide with water spouts for 5 different compartments. Each compartment holds the different ingredients – one for grain and four for hops. These compartments in the Pico Paks had holes in the tops that lined up with the spouts and this is where the "set it and forget it" aspect of PicoBrewing came in. You just inserted the Pak and the machine knew where to send the water and for how long.
Each device features a large drawer to hold the ingredients called a Step Filter. "Step" for the distinct phases of the brew cycle and "filter" for some unknowable reason. It doesn't do a great job of filtering without other barriers.
As you might have already guessed, this presents a huge problem if the company doesn't sell them anymore.
Ingredients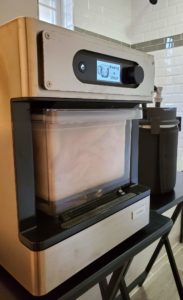 Since you can no longer buy Pico Paks, you need a way to load ingredients into these devices without small particles clogging up the tubing that cycles the wort through. Pico Paks were basically disposable pods with filter screens built into them. If you want truly hands-off brewing, you need to find a way to separate them and line them up with the spouts.
Ingredient Bins
At the end of the day, if it fits in the Step Filter bin and is food safe, it will work to hold your grains. That said, the hops bins present a specific challenge.
Several industrious members of the community have tried different ways to hold ingredients in temperature-safe bins. The most organized effort to date has been the Pico-Free boxes which were commissioned overseas by an industrious gentleman named Jonathan Gregory. They are currently out of stock. While these are no longer available, they might be for sale on eBay used.
Manual Brew-In-A-Bag
What the company had offered up before closing as a means of brewing without paks was referred to as "Manual Brewing". This is where "hands off" becomes slightly more hands-on.
This entailed putting all of your ingredients in separate brew bags and dropping them into the Step Filter at specific times. Get it? "Manual".
Where Can I Buy Pico Paks?
You can't. You might find some on eBay or included in PicoBrew devices for sale second hand. Many sellers have them sitting around and have listed theirs on CraigsList with the disclaimer "I haven't used it since xxx and looking for a good home."
I was able to get a Pico C for free with a Pak for a six pack trade. They're still out there, but supply is dwindling.
Server
This is the big one. These machines connect to "the mothership" via wifi (or in the case of the Z series, LAN is available) in order to access the step of the brewing cycle that are stored there. This applies to the Pico Pak recipes as well as any custom recipes you might have created with your PicoBrew account.
As of this writing, the PicoBrew server is still running, but we don't know for how long. As a result, some genius individuals have created replacement servers that can be launched form your home. This is not as daunting as it sounds.
Oh hey! FYI… any links on this page that lead to products on Amazon are affiliate links and we earn a commission if you make a purchase. Thanks in advance for your support!
"ChiefWigms" Raspberry Pi Server
One option is to get yourself a wifi-enabled Raspberry Pi computer and install this server on it to host your recipes and brew cycles. Then you point your appliance to the Pi as a wifi hotspot and your PicoBrew will talk to this server instead.
Chiefwigms PicoBrew Server on Github
CanaKit Raspberry Pi Zero W (Wireless) Complete Starter Kit – 16 GB Edition
Raspberry Pi Zero W (Wireless) Board with on-board WiFi and Bluetooth

Official Raspberry Pi Zero Case with 3 Interchangeable Lids

SanDisk 16 GB MicroSD Card (Class 10) - Pre-loaded with NOOBS

CanaKit 2.5A Micro USB Power Supply with Noise Filter (UL Listed) specially designed for the Raspberry Pi (5-foot cable)

USB OTG Cable, Mini HDMI Adapter and Heat Sink
Prices pulled from the Amazon Product Advertising API on:
Product prices and availability are accurate as of the date/time indicated and are subject to change. Any price and availability information displayed on [relevant Amazon Site(s), as applicable] at the time of purchase will apply to the purchase of this product.
Small Brew Companion
Another great piece of software is the Small Brew Companion. This version of a PicoBrew server can be installed on a Windows computer in your home and connect to your PicoBrew via wifi hotspot.
I've used both of these replacement servers and they work amazingly well. The developers are diligently adding new features constantly and are saving these devices from the landfill. For my personal experience, I need to connect via LAN with my PicoBrew Z1, so the Raspberry Pi worked better for me. However, the wifi signal on the RPi is lousy, so for my Picobrew Pro, I need to use Small Brew Companion. It's complicated, but they work GREAT!
If You JUST Acquired a PicoBrew Device Today, What Would You Do?
If I were just starting today with a PicoBrew Pro, C, or S, I would Manual brew with it. This would require a server and bags to hold the ingredients. Yes, it is more involved than hands-free brewing, but without compartmentalized containers for ingredients, this is your only option.
If I just acquired a PicoBrew Z, you woul donly need the server to get up and running. The filter screens (and hops bins) that fit into the Step Filter do the work of a thrid-party or homemade bin, so you are all set.
Would You Buy One Today?
I would only buy a PicoBrew Z today. If someone offered me a Pro/C/S device for free, I would take it for parts, but I would not pay for one, that is, UNLESS it came with a set of Pico-Free bins. If the device for sale includes a Pico-Free bin, I think it would still be worth $75-$100 (depending on condition) to enjoy automated brewing at this scale.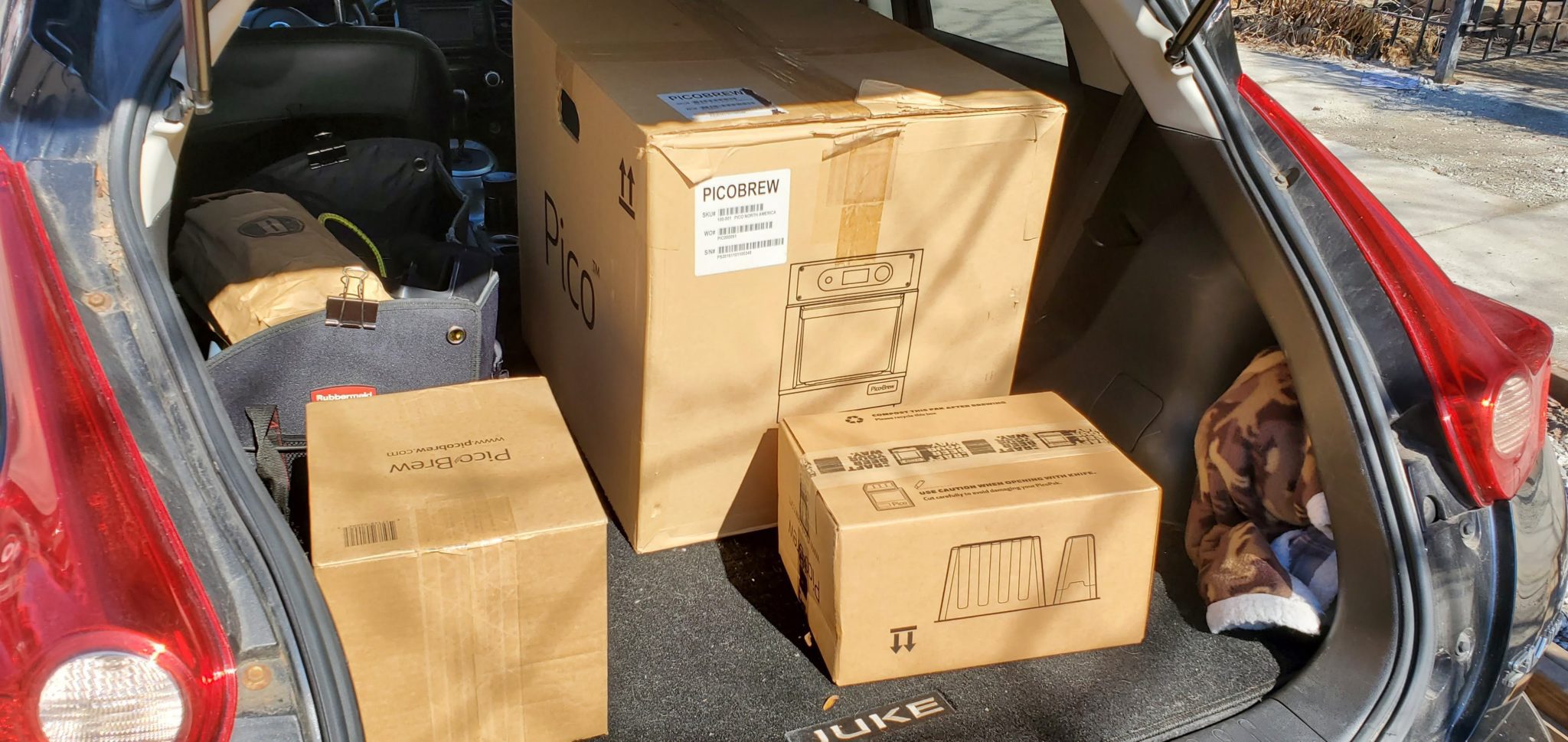 Resources
How to get set up with these different options is well beyond the scope of this post. the best resource for continuing to use your PicoBrew device is the Picobrewers Facebook Group (I know, I know… shut up). Join the group and have a look around before asking your question – there's every chance it's bee already asked.
Not Manual Brewing… PakHacking!
When I was still able to get Pico Paks, I did a little experiment where I basically hacked the Pico Hops Pak to add my own ingredients to the boil. This is a short guide for anyone who'd like to do the same. If you can get a Pico Pak cheaply, this method might still be worth trying. We encourage you to experiment so long as you can keep your ingredients from flowing out of the Pak.
I should mention again that Manual Brewing is absolutely an option with the PicoBrew Pico. This entails creating your own recipe, putting your ingredients into filter bags, and some manual interaction with the device to set temperatures and add your boil ingredients. I am aware of this and I'm not about making more work for myself. I have a bunch of PicoBrew Packs just waiting to be brewed and I simply wanted to experiment with more customization.
In this case, I'm brewing a Scottish Ale – a clone of Zephyrhills Brewing's Way Off Kilter. I'm a huge fan of this style and it's the first I'm brewing in the Pico.
I have brewed Scottish ales in the past, however, and if there's one thing that they benefit from, IMO, it's heaping amounts of Heather Tips! I could have added them after the boil, using a dry-hop method, but I saw this as an opportunity to do a little PakHacking! I want my Heather in my Boil!
Opening the Hops Pak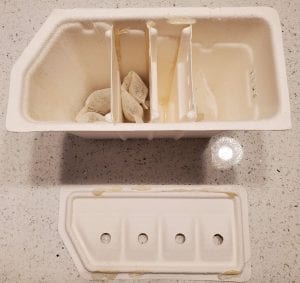 I was pretty surprised at how easy it is to get the lid off of the Hops Pak that comes with the PicoBrew Pack. They use a food-grade glue, but fairly minimally on the Hops Pak. I slipped the edge of my pocket knife into the seam of the lid and gave a little push toward the inside of the pack. It separated easily as long as I took my time.
As you can see, there are four compartments for the boil. You can see the little sachets of hop pellets. This particular Picobrew Pack only had three hops additions in the recipe – all East Kent Goldings.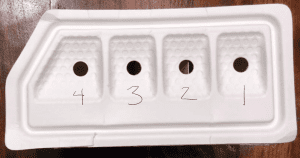 According to the PicoBrewers Facebook Group, the compartments are engaged by the device in linear order, from the large square compartment to the beveled corner compartment (right to left in this photo).
Adding Heather Tips
My reference recipe for Scottish Heather Ale only called for adding Heather at 60 minutes and 5 minutes in the boil. To be sure that it coordinated with the recipe and sequence of the PicoBrew Pack, I knew I needed to add my Heather to compartments that contained hops sachets. So I concluded that my Heather sachets should go into the first and last compartments. I took the hops sachets out of those compartments and left the small sachet in Compartment 3 (I'm not a monster!).
Oh hey! FYI… any links on this page that lead to products on Amazon are affiliate links and we earn a commission if you make a purchase. Thanks in advance for your support!
Adjusting my 5-gallon reference recipe down to 1.7 gallons, I arrived at 0.7 ounces of Heather for each sachet. I can't say enough about this AmazonBasics Stainless Digital Scale. It works great and it's super cheap! I put the Heather into the bags that came with the PicoBrew Manual Brew Kit and dropped them into Compartments 1 and 4.
Closing Up The Hops Pak
Knowing that I'd need to get back into the Hops Pak later to retrieve my bags, I didn't want anything TOO INVOLVED for closing up the lid. I already had a Speedy Stitcher Sewing Awl handy which I use for repairing straps and belts. It worked great to quickly stitch up the corners and keep the lid secure.
Prices pulled from the Amazon Product Advertising API on:
Product prices and availability are accurate as of the date/time indicated and are subject to change. Any price and availability information displayed on [relevant Amazon Site(s), as applicable] at the time of purchase will apply to the purchase of this product.
The Brew Cycle
Everything seems to have gone just fine. No hiccups.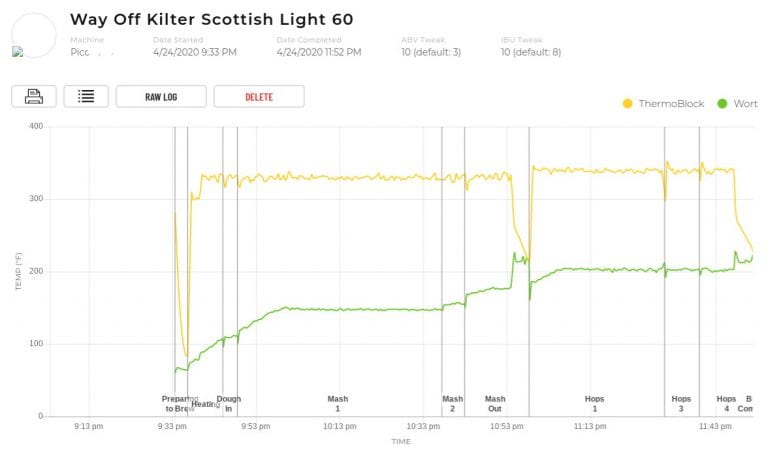 The Hops Pak was in great condition after the brew. The in-line filter was reasonably clear. I was able to get my bags out and they were intact.
One MAJOR plus of this process is that you will be less likely to throw away your Hops Cradle when disposing of your PicoBrew Packs. If you know you need to retrieve your bags, you are wont carelessly dump the entire contents of your Step Filter into the trash, as I have. I'm on my second one!
PakHacking Post Mortem
It remains to be seen if the Heather flavor was imparted in the wort in the intended strength. I'll be sure to update this post in a few weeks when my Scottish Heather Ale is drinkable.
This method can be applied to add additional or replacement hops to your boil instead of outright replacing the ingredients as I have. You should be cognizant, however, of empty compartments in the Hops Pak. These empty compartments may not be cycled through by the device at boil time as the recipe requires.
I hope you found this post useful. By all means, please comment below if I've missed something or there are questions.