So you're thinking about buying a wort chiller, which means you've graduated in the world of home-brewing as a serious enthusiast with boss-skills. We're so proud.
Wait, you haven't started brewing? We've got a guide for that. Come back here when you have a few successful batches under your belt, newbie!
Now that you are a boss-brewer, you have to decide what gadgets are worth the investment and whether they will actually improve your brewing experience. Set aside your dreams of super-infusing your wort with hoppy goodness – get fast before you get fancy! That said, I highly doubt we need to convince you to buy a wort chiller – you're here to find a way to convince your significant other that spending more money on your "hobby" is a good idea. Or perhaps you simply want to know what's the BEST wort chiller.
We've got you covered. Armed with the unassailable list below, you'll be chillin' in no time.
Improves The Flavor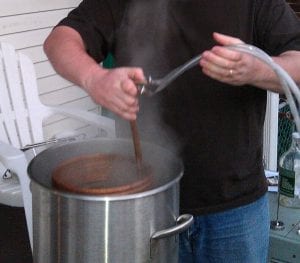 Believe it or not, cooling your wort quickly will improve the flavor of your beer. We won't get into all the science here, but basically, when the temperature of your beer drops suddenly, there is less time for a compound called dimethyl sulfide (DMS ) to grow. While DMS isn't bad, it has a flavor and smell that is similar to cabbage or creamed corn.  I'm fairly certain we can all agree that we don't want our beer to taste or smell like cooked cabbage.
Limits Bad Bacterial Growth
You want your beer to actually turn out, right? The more time your beer spends at bath temperature, the more likely you are to encourage bacteria growth of the kind that you don't want growing in your beer. Think spore-forming bacteria, not the yeast that makes your beer delicious. You can encourage the good bacteria and inhibit the bad bacteria by speeding the cooling process with the best wort chiller you can afford.
Improves Beer Clarity
Cooling your wort quickly will improve what is known as the "cold break," a process in which the malt proteins in your beer coagulate and settle out. These proteins contribute to the haziness of your beer, so the faster you chill your wort, the clearer your beer will become as these proteins separate out of the wort and settle at the bottom of your beer.
Makes The Brew Day Fly By
While we all love a day of beer brewing, the "hurry up and wait" part of brewing is rarely enjoyable. The faster your wort cools, the sooner you can get to the fun parts of brewing. Tell your S.O. that you just want to spend more time watching Downton Abbey with them. If that doesn't convince them that you need a wort chiller, maybe the beer will
Which Wort Chiller Should I Buy?
For our money (and YOURS), we recommend the JockeyBox 25 Foot Stainless Steel Immersion Wort Chiller. It's the best wort chiller for most people because it comes with connectors and tubing. It also strikes a balance in dimensions to meet your needs regardless of the volume of your brew – big brew or small this rig will have you covered. You'll need an adapter to connect it to your home faucet, but if the garden hose is your jam, you're all set right out of the box.
Oh hey! FYI… any links on this page that lead to products on Amazon are affiliate links and we earn a commission if you make a purchase. Thanks in advance for your support!
Parameters of a Wort Chiller
When shopping for the best wort chiller for your needs, you'll notice three parameters that should be important to you: the material the wort chiller is made of, the Coil Height, and the Coil Diameter.
Materials
You'll see wort chillers made of stainless steel and copper. The biggest difference between the two is how well each material conducts heat (or cold). Copper is the clear winner here, but comes with additional caveats. While you should be keeping your chiller as clean as possible, there are additional risks with copper that using stainless avoids completely.
Another feature of the two materials that might not be obvious are their flexibility – you can bend copper a little if you need to. Stainless steel, not so much. This flexibility can be an asset if you tend to brew different volumes of beer. That is, you can expand your copper wort chiller's height slightly to accommodate and cool more liquid evenly. Just don't go nuts!
Coil Height
This is where the volume of beer you are brewing, relative to the size of your brew kettle, are important. You want the coils of your wort chiller to be as immersed (hence the name "immersion") in your wort as possible for greatest efficiency. Simply put, if you have coils that aren't IN your wort, they won't be doing much cooling, will they?
Coil Diameter
Obviously, you want your wort chiller to fit in your kettle. That's where diameter comes in. Can you buy a wort chiller that is too small? Will your wort be asking, "Is it in yet?" Well, sure, but generally speaking, if the coils are fully submerged, you'll be chilling the wort.
How Big Should My Wort Chiller Be?
Take your brew kettle and fill it with as much water as your target batch size (1 gallon, 3 gallons, etc.)
Take a measure of the inside of the top lip of your kettle from one edge to the other (diameter)
Take a measure of the height of the liquid (height)
The best wort chiller for you will have a Coil Height no taller than the height of your liquid and a Coil Diameter at least 2 inches less than the diameter of your kettle.
Here are some of the best wort chillers for all sorts of configurations and dimensions to fit your particular needs. These all ship with Amazon Prime and have the highest ratings we've seen:
Title
Height
Diameter
Price
Buy

Top

Top

Top

Top

COLDBREAK Wort Chiller, Pure 100% USA Copper, includes 4' Vinyl Tubing
3"
6.75"
Buy Now

Top

Top

Top

Top

Top

JockeyBox Stainless Steel Immersion Wort Chiller with No-leak Fittings and Accessories
4.25"
8"
Buy Now

Top

Top

Top

Top

Top

Top

NY Brew Supply Immersion Wort Chiller
6.5"
9"
Buy Now

Top

Top

Top

Top

HomeBrewStuff Copper Immersion Wort Chiller - Deluxe Package with 2X 12' Hoses, Fittings, and Faucet Adapter
???
9.25"
Buy Now

Top

Top

Top

Top

COLDBREAK Wort Chiller, Stainless Steel, includes 4' Vinyl Tubing, Copper
6"
6.75"
Buy Now

Top

Top

Top

Top

Top

Top

NY Brew Supply W3850-CV Super Efficient 3/8 x 50' Copper Wort Chiller
11"
9"
Buy Now

Top

Top

Top

Top

JockeyBox Stainless Steel Immersion Wort Chiller with No-Leak Fittings and Accessories
7.5"
9.5"
Buy Now
Product prices and availability are accurate as of the date/time indicated and are subject to change. Any price and availability information displayed on [relevant Amazon Site(s), as applicable] at the time of purchase will apply to the purchase of this product.
Prices pulled from the Amazon Product Advertising API on:
Now go get yourself the best wort chiller for your setup. You won't regret it until the third season of Downton Abbey, but at least your beer will be awesome, and that can get you through anything.
---
The images, "Cooling the wort" by zolakoma and "time for the wort chiller" by fatherspoon, are licensed under CC BY 2.0