To say that Pipeworks Brewing is a local gem for us here in Chicago would be a "kick to the stones" to the science of gemology and a wet willy to mineralogy. Since January of 2012, Pipeworks has grown from very humble beginnings into a beloved Chicago craft beer staple.
Of note to myself is the fact that, from the beginning, the owners have reached out to local artists for their artwork. Pipeworks Brewing goes above and beyond to give their illustrators credit, often including contact details and even the artists' personal logos on the label.
I've interviewed another Pipeworks Brewing artist, Jeff Kuhnie, a few years ago. Josh connected me to Jason Burke – another long-time contributor to the Pipeworks brand. He tells a similar story of being approached by the owners to create beer vessel masterpieces.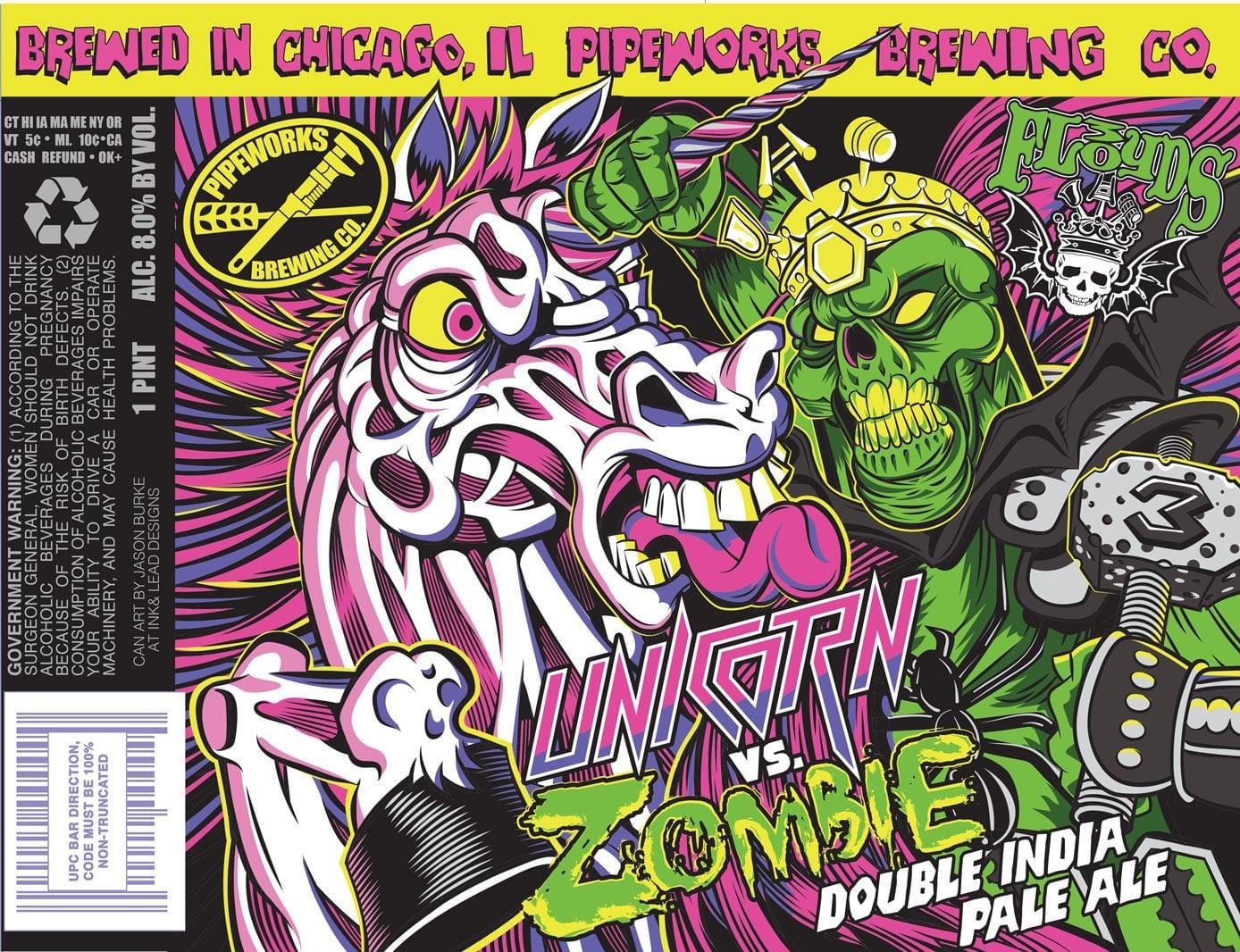 Ninja Cat Challenge
Thirsty Bastards: Can you tell me about your favorite label you've done for Pipeworks Brewing and the story behind its conception?
Jason Burke: Tough to pick a favorite! Everything I create with Pipeworks is a true collaboration. Beejay and Gerrit guide the creative process from start to finish and frequently bring in the rest of the staff to talk about the designs. They say it takes a village to raise a child and the same is true with each label.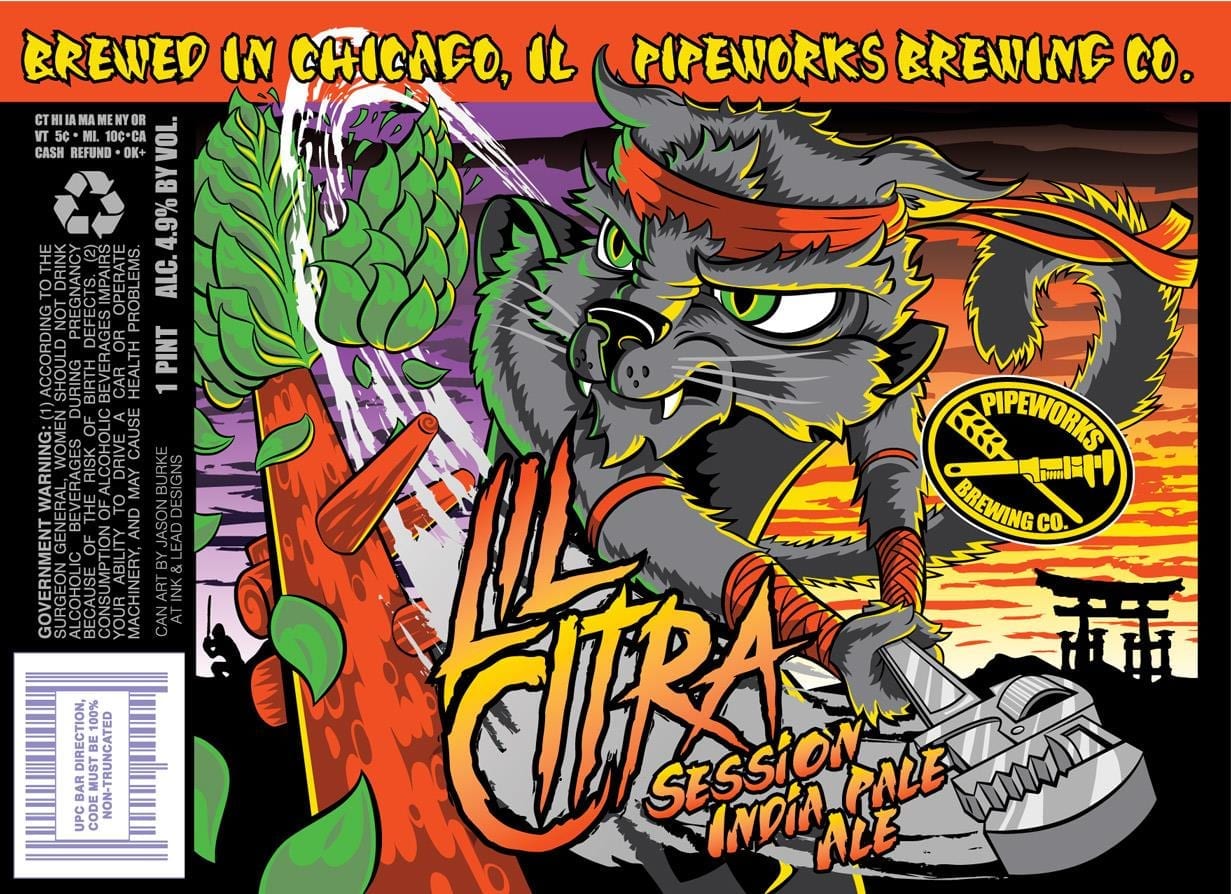 One label that stands out is Lil Citra. It was one of the most challenging layouts in terms of concept. It's a ninja cat (modeled off of one of the Pipeworks shop cats) slicing through a hop leaf that is mounted on top of a Wing Chun wooden dummy with a dojo in the background. When you can really only see about 1/3 of the can design at one time it takes a lot of massaging to fit these stories on the cans. The narrative quality of the labels is something we really strive for. The story reveals itself as you rotate the can and Lil Citra is one design that truly unravels as you turn the can.
Getting Started With Pipeworks Brewing
TB: How did you get started making labels for Pipeworks Brewing?
JB: About seven years ago, my buddy Chris went to the Sacred Art beer tasting and dropped my name to a couple of guys that were brewing some really good beer. He mentioned to me that they were sourcing local artists and also really interested in my illustration work. A few days later I got an email from Beejay (Olson) telling me that my internet server blows but he really dug my artwork (my website was admittedly awful). He had also mentioned that they were looking for someone to design a label for some crazy beer named Ninja vs. Unicorn.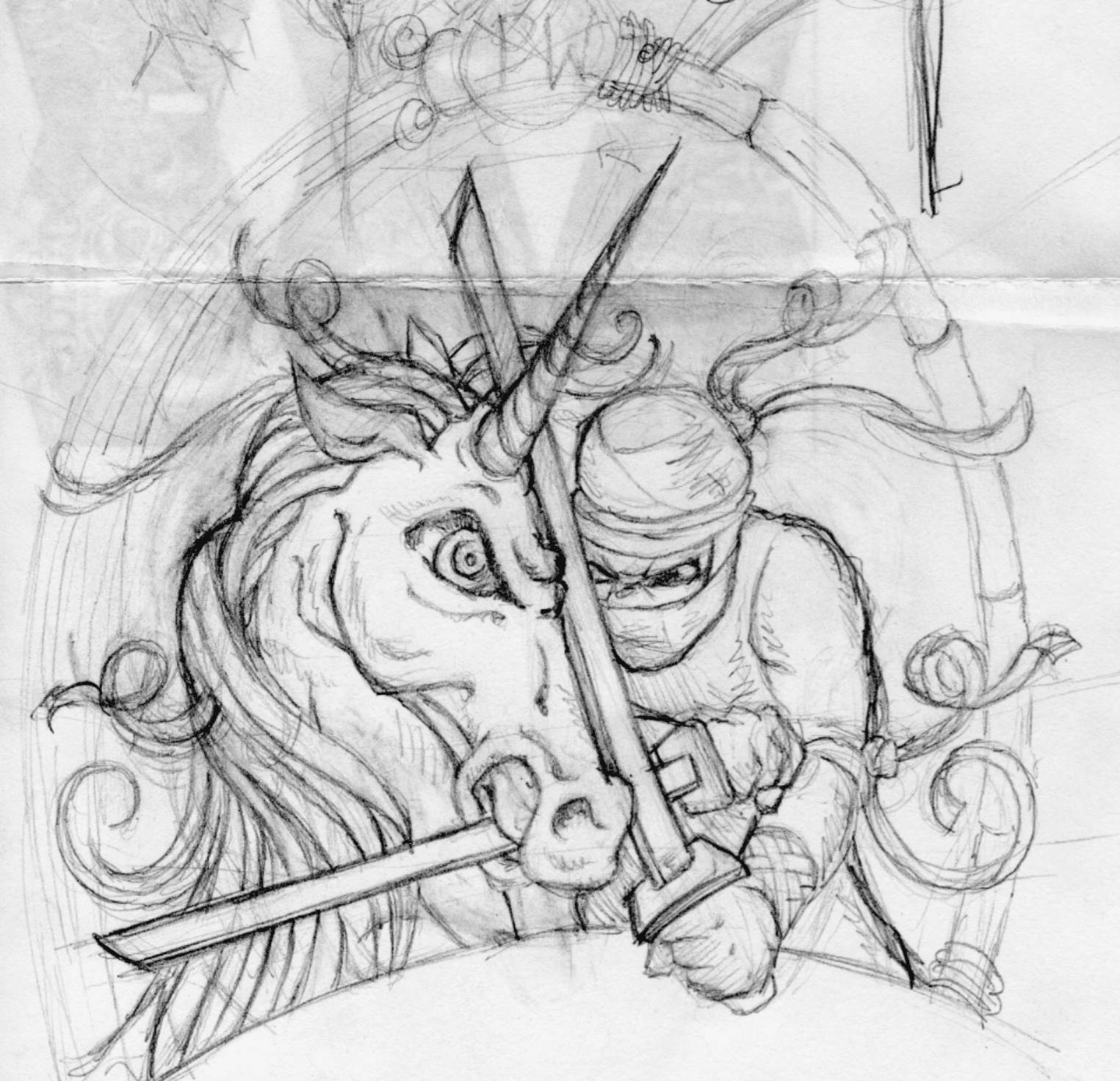 I had zero experience illustrating beer labels, a crap website, and hadn't even heard of Pipeworks before this email. They told me they were "some broke mofos" but they could pay me in beer. I thought it would probably be a one-off label and I'd at least get a few beers out of the deal. Yeah, that worked out a little differently!
TB: Where are you from and where did you learn to be an artist?
JB: I was born in Chicago and my parents moved to he NW burbs where I grew up. I had always loved art and by my senior year in high school was taking four art classes and pretty much tolerating all other subjects. I was kind of an outcast or at least lived within the fringe cliques in high school. I was picked on and bullied (I literally got spit on by some dude while waiting at the bus stop) so I was an art class refugee.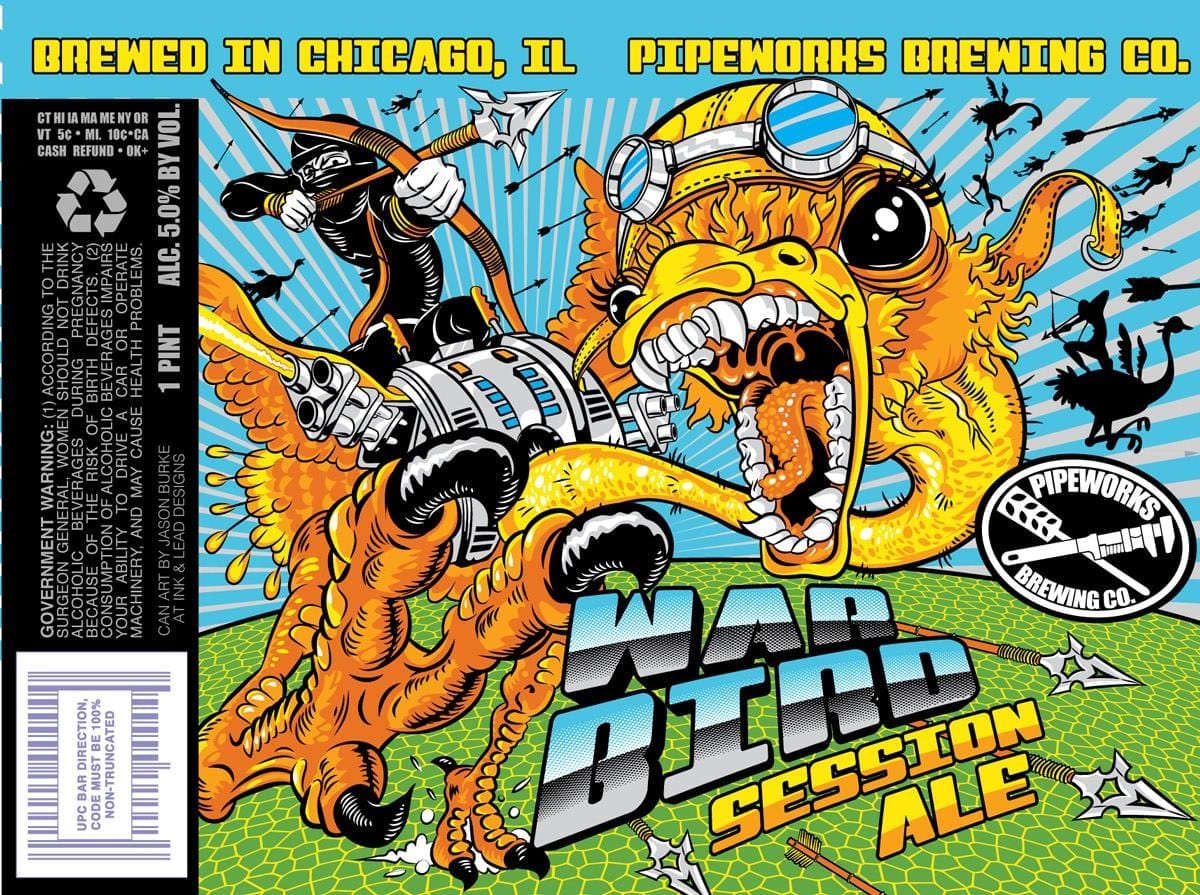 I also hung around with bands and went to a lot of punk shows at Fireside Bowl, VFW halls, and basements. The visual culture was xeroxed collages, hand-drawn, or screen printed posters and t-shirts. That lowbrow DIY aesthetic probably informs a lot of what I do today.
Buy Pipeworks Beer from The Beer Temple
TB: Can you tell me a bit about your process? Are you all digital? Traditional? Mix of both?
JB: My process is in a bit of a transitional period. I used to work completely analog, sketches as well as inks, and then scan for coloring in Photoshop. Then I started to do inks in Illustrator after pencil sketching. I was working with a mouse at this point and suffering the worst carpel tunnel of my life.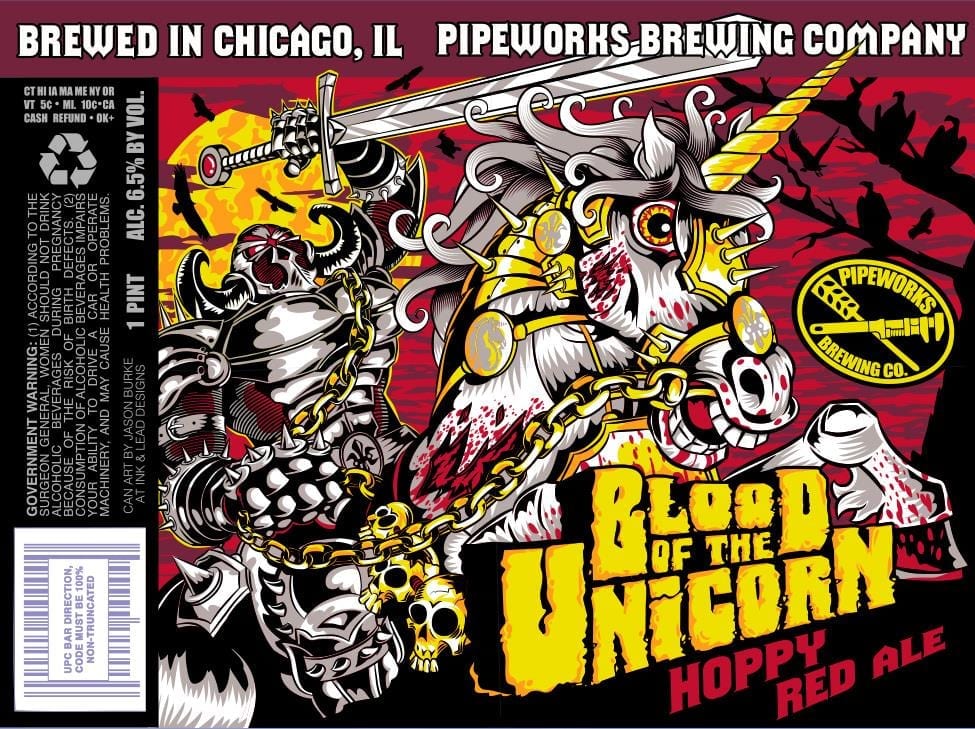 I finally broke down and purchased a Wacom drawing tablet. The tablet was a HUGE step-up but still didn't didn't allow for any of the serendipitous discoveries that sketching seemed to provide.
About a year ago I got my hands on an iPad Pro with an apple pencil. Now I sketch, ink, and color completely digital. I'm way too cheap to splurge on a Cintiq but I still drool over them when I see other artists working on one. I also work mostly at my kitchen table so economy of space is a bit of an issue.
TB: What other art do you make?
JB: I'm a ceramics teacher so I do a lot of work with clay and sculpture. I've consulted on tap handle designs and done some trophies for clients as well.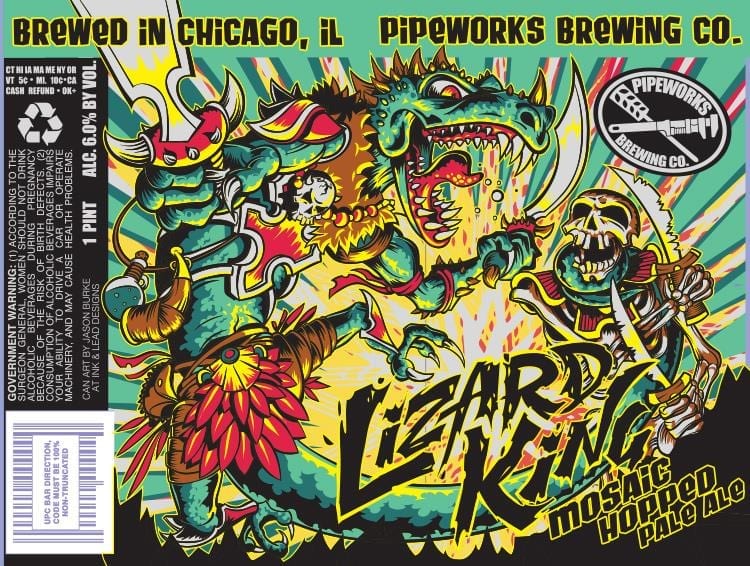 I also enjoy restoration work. I have a 1963 Runabout that I restored from a pile of trash. I love giving old objects new life. I play bass for Stolen Airplane and we just released a 4 song EP available online for free! Screen printing will always be near to my heart but I haven't screened my work in a few years.
---
Jason Burke on Facebook
Jason Burkeon Instagram
Jason Burke's website
---
TB: How can your fans find you and your work? Can they buy your art?
JB: You can check out everything and buy some prints at www.inkandleaddesigns.com.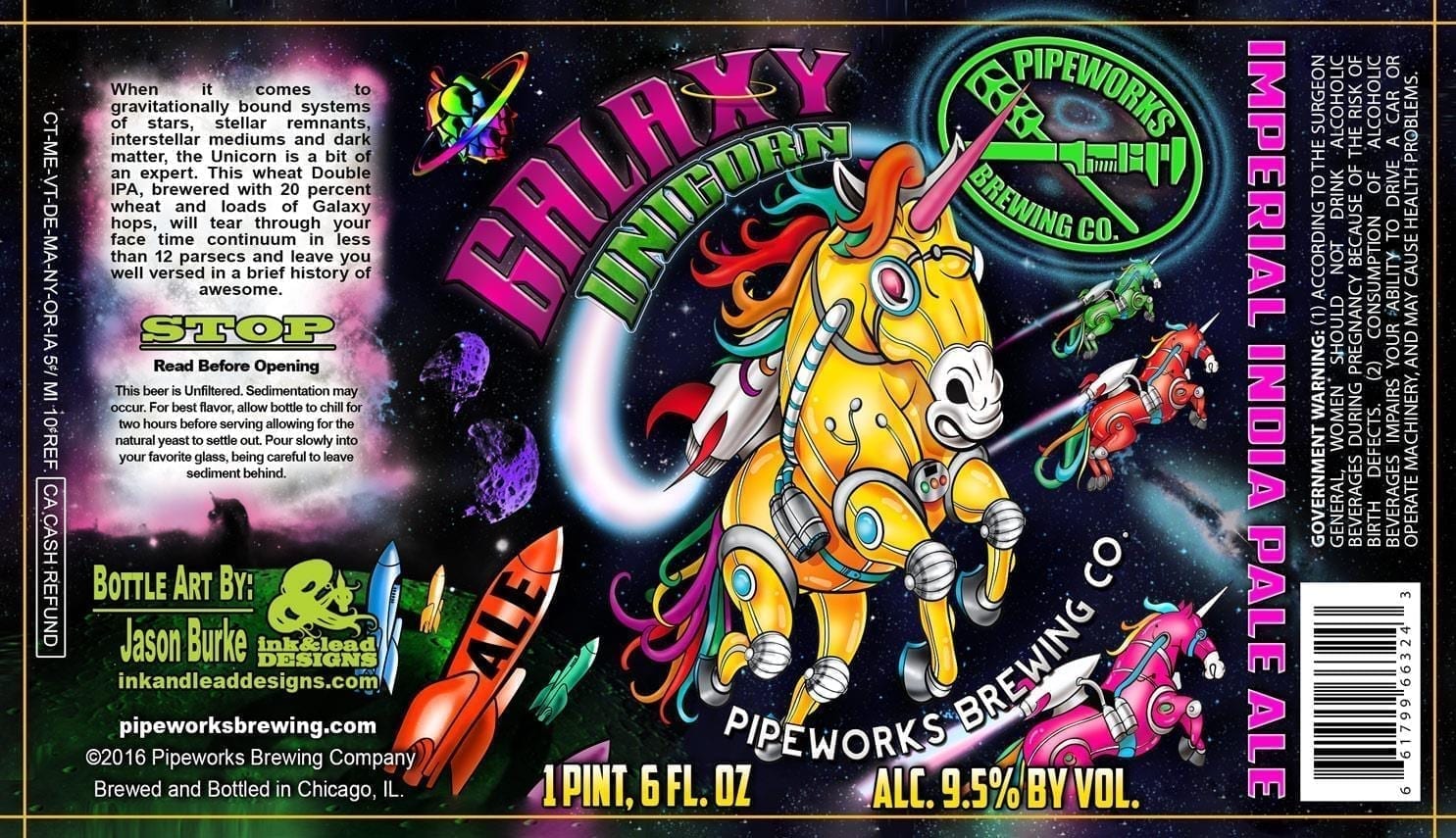 Beeric: The Drinkening
TB: True or false: The best beer label art looks like it could also be Magic: The Gathering card art.
JB: Wait, this is brilliant! Can we make beer magic cards? Ninjas, Unicorns, space aliens, and Greek gods casting spells and summoning minions! What if other breweries got in on this too? We could call it "Beeric the Drinkening". Oh man. Make this happen.