November was a month of old favorites – there are beer labels from three artists I've interviewed before. This post is like a Beer Labels Art reunion. This is awesome because it means great artists are out there doing more amazing work. But fear not! There's plenty of new stuff too!
The following beer labels were registered with the Alcohol and Tobacco Tax and Trade Bureau during the month of November, 2015. These 8 labels have been selected out of the 2095 that were registered for their aesthetic appeal or simply because I thought they were really cool.
To Øl Wit Is The New Black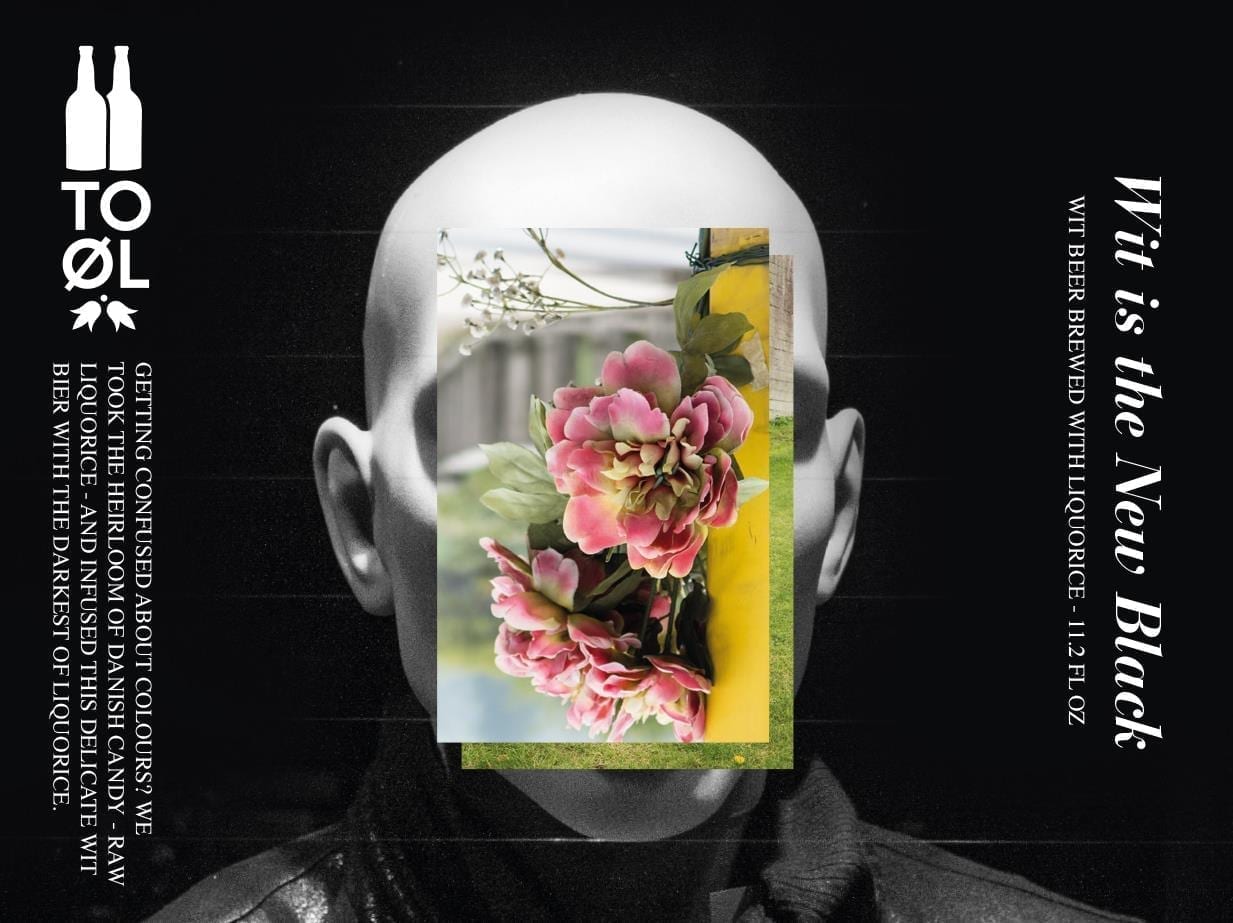 Breweries that go that extra mile to make their bottles into art objects are few. They really stand out on the shelves from the usual packaging. If you ran into this label from To Øl, you'd know exactly what I mean.
The theme of this beer is color. Maybe you've had a beer that you've bought by style and you've been surprised by the color. Ingredients have the biggest influence here, obviously, but sometimes color is not always consistent with a beer's style. JP's Casper White Stout is a great example. Randy Mosher stated in a great article about beer tasting that, "A slight variation in beer color creates irresistible expectations of flavors to match." Your brain has an idea of what it expects your beer should taste like when you only see the color of it.
Late in 2014 Terrapin created Black is the New Wit in collaboration with New Belgium Brewing. By all accounts, the roasty malt flavor was very prominent. I'm assuming that this beer inspired To Øl, at least in naming their beer.
Rather than rely on the malt to darken their brew, To Øl brewed their light-colored wit with licorice to achieve the darkness.
So, finally, the label – a black and white portrait of a bald person (a genderless clean slate?) with bright color photos superimposed over the face. A colorless face is obscured by the vibrancy found in nature. It's about perceptions and expectations being thwarted by color. What comes out of this bottle is not what you'd expect upon tasting it and that's an exciting notion.
Jolly Pumpkin Artisan Ales Innovator Man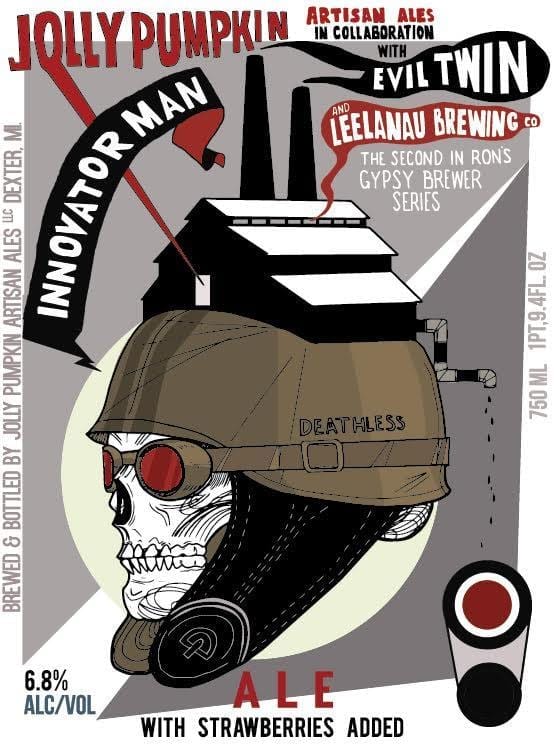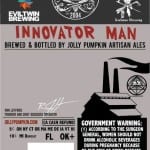 I've gushed aplenty about the Jolly Pumpkin work of Adam Forman. You can read my interview with him here. You can be assured that any time a new label of his hits the shelves, it will make my Best Of… list.
Innovator Man seems to be an undead pilot of industry – chugging forward and billowing exhaust.
Straight To Ale 6 Alberts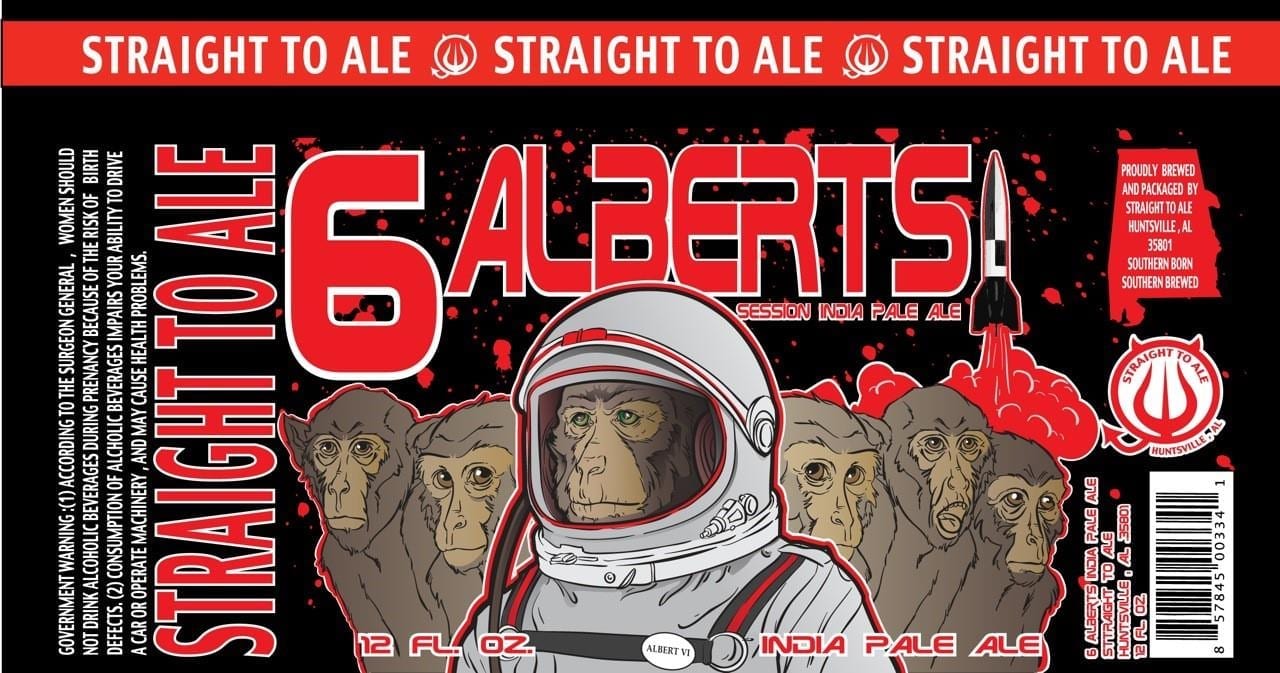 I've run across so many space monkey beer labels, they may warrant their own post.
Personally, I did not know that the US sent six Rhesus monkeys into space named Albert (I – VI) until I looked it up on Wikipedia. These furry fellows met all sorts of demises, some seriously tragic. This marks the second label I'm aware of to honor any of the Alberts, but definitely the first to honor ALL of them.
I couldn't say whether these are accurate portraits of those space monkeys, but they certainly are Rhesuses.
I wonder why breweries are so obsessed with the monkeys we've shot into space so that humans could safely embark on such missions.
Uinta Brewing Biere De Mars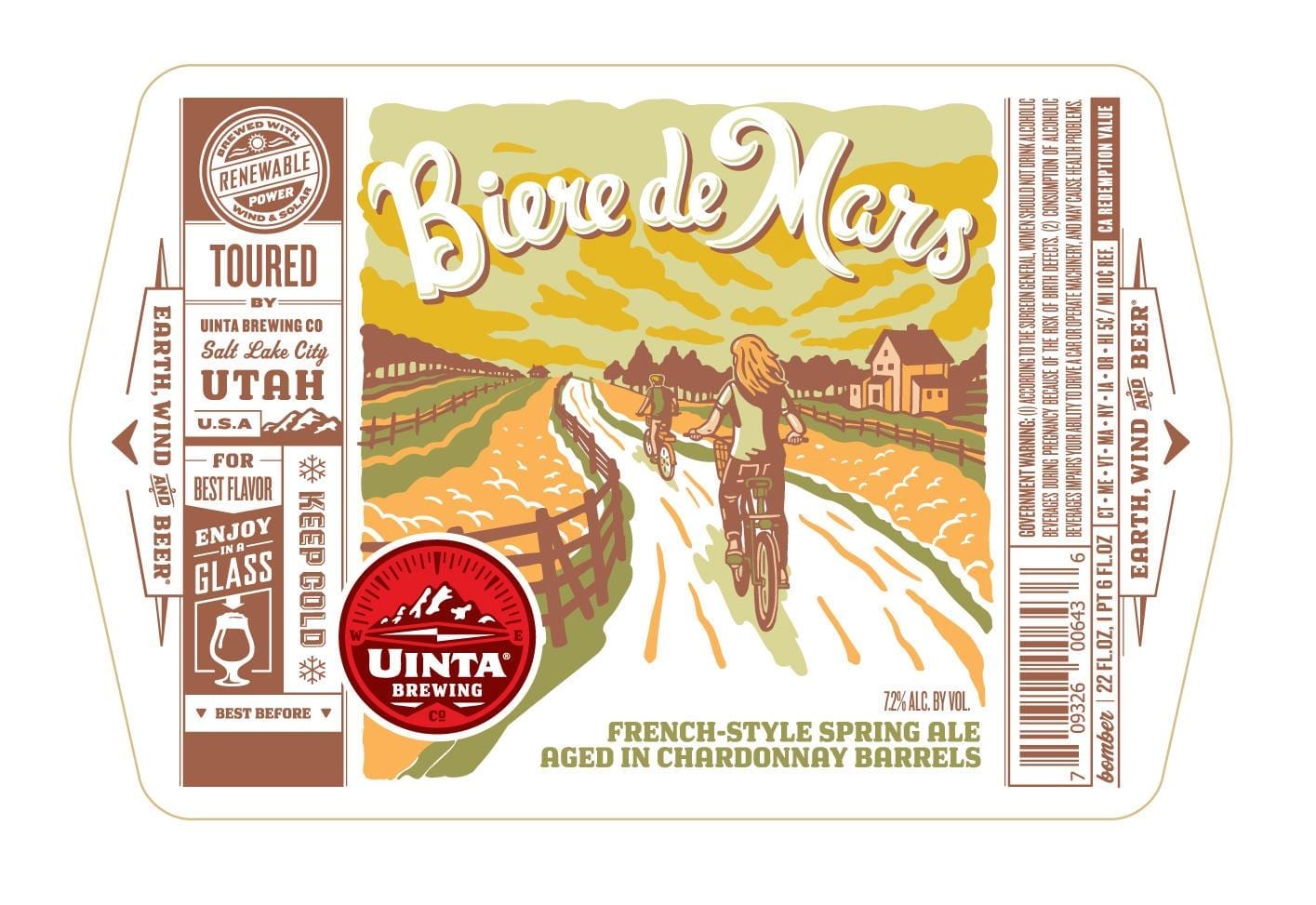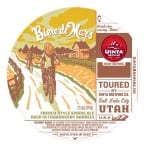 Uinta consistently does beautifully-designed beer labels. The art is simple and limited in palette for a beautiful, poster-inspired effect.
Considering this beer is both aged in chardonnay barrels and a french-style spring ale, I can't think of a more fitting scene to depict.
Clown Shoes Vic Secret Space Cake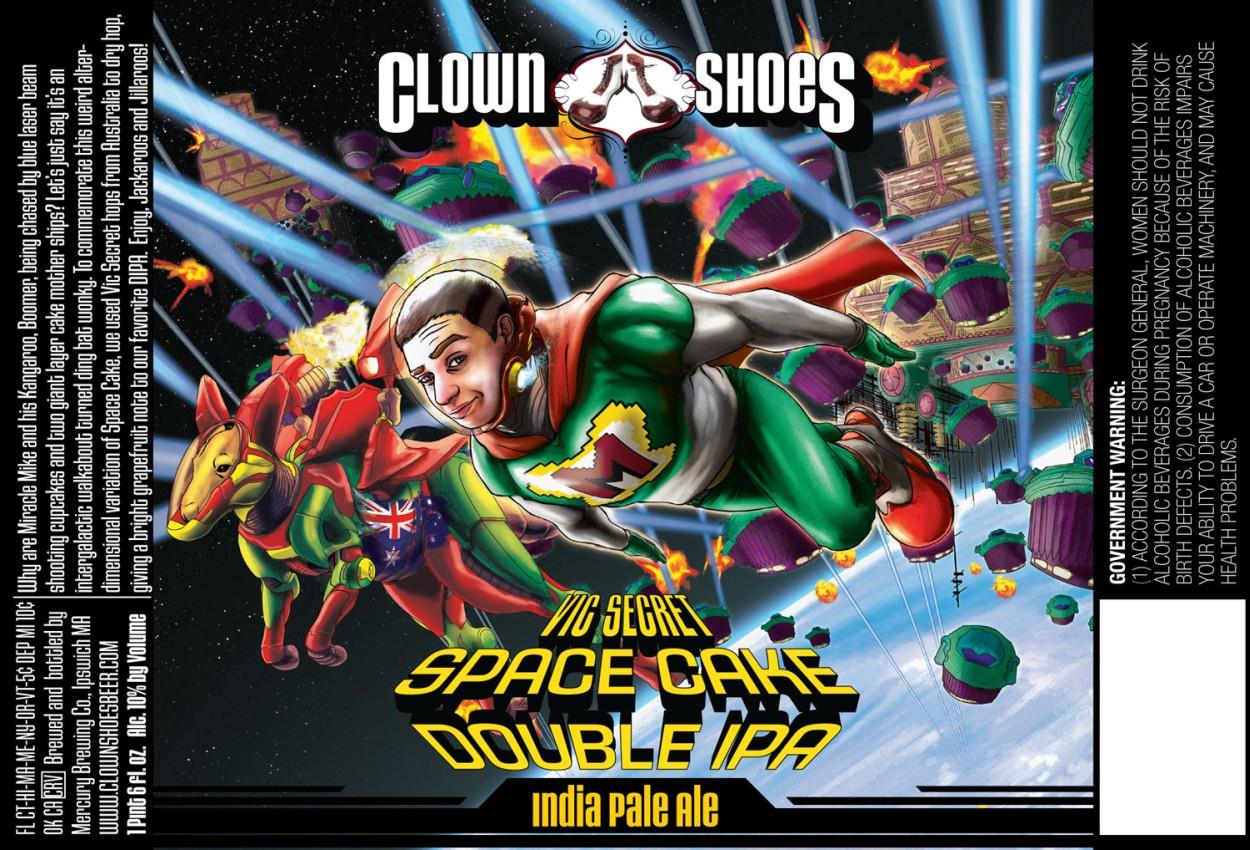 Another artist that I've interviewed and will always make my Best Of.. lists is Micheal Axt. His comic cover-style beer labels are dynamic, colorful, playful and clever.
I'm really glad the text on this label is essentially a description of WTF is going on, even though I've read it and I still don't fully understand. Clown Shoes really threw in everything they could!
Buy Clown Shoes Beer from West Lakeview Liquors
Dieu Du Ciel Disco Soleil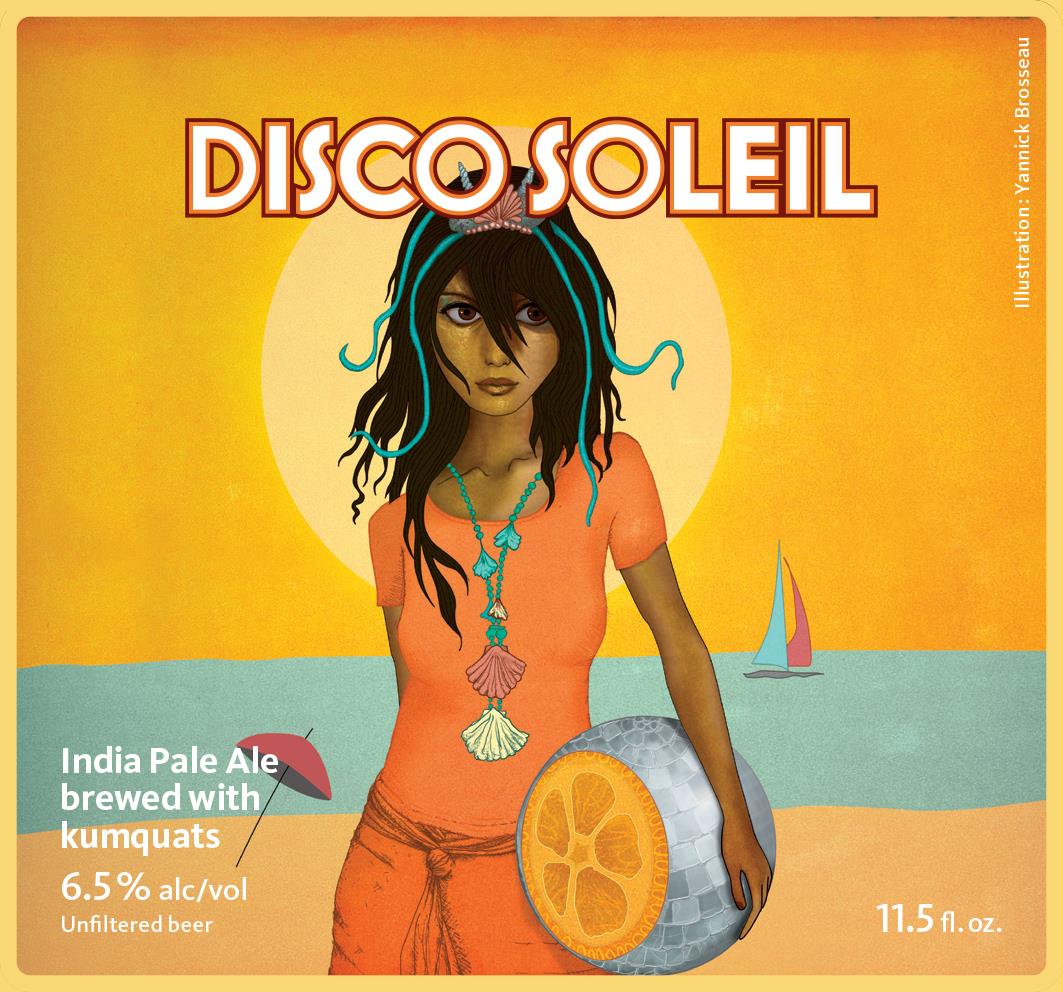 The beers of Dieu Du Ciel! make their way to my city in bursts and infrequently. This month I was lucky enough to find a few bottles of Équinoxe du Printemps, a Scotch ale brewed with maple syrup. When I find them, I am sure to snatch them up because they are amazing, but also because I love the art of Yannick Brosseau.
Disco Soleil is the first new artwork I've seen from Brosseau since I interviewed him. This dark-haired beach-comber is carrying a kumquat disco ball. She almost seems sad that the sun hasn't gone down yet. "Each label for Dieu du Ciel! represent a divinity from an imaginary pantheon." I wonder what she is the goddess of?
Karben4 Lady Luck Imperial Red Ale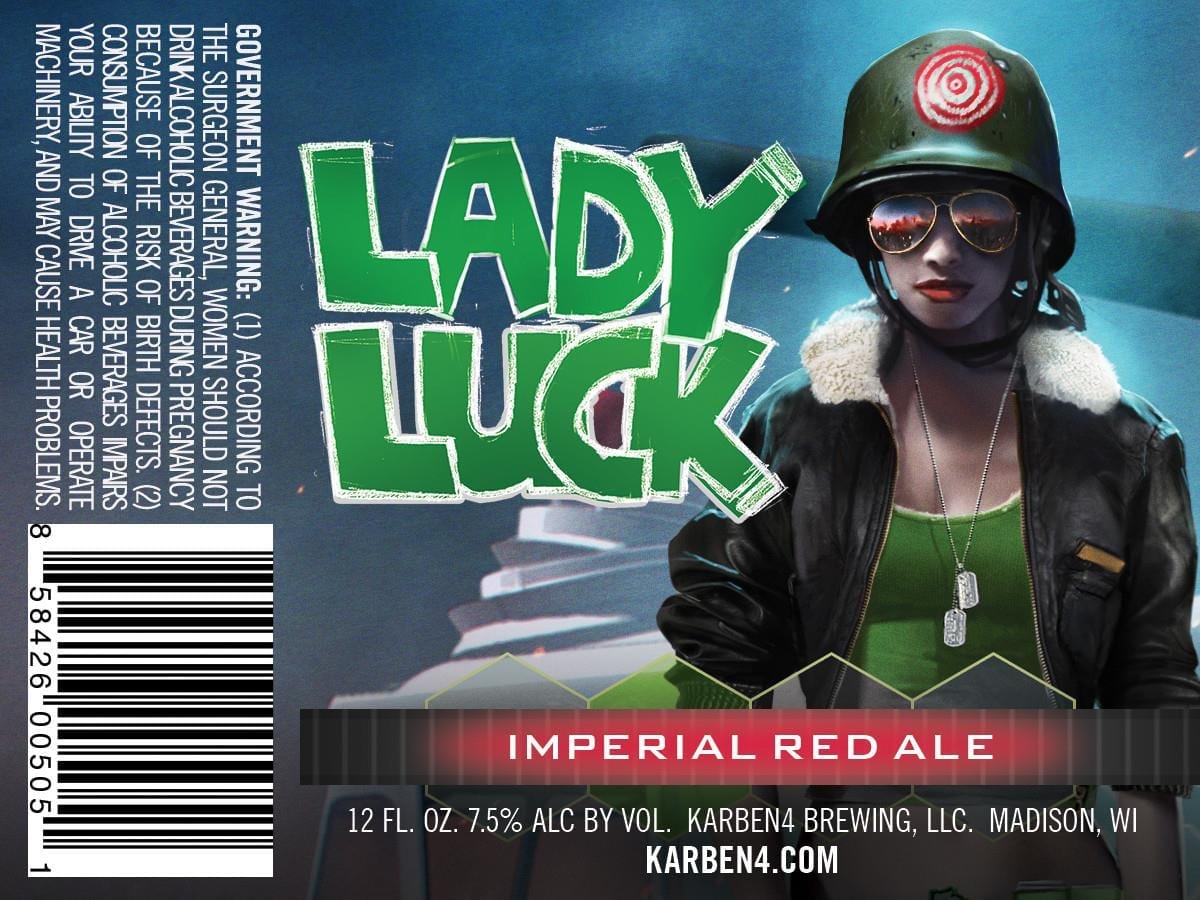 When I hear "Lady Luck" in the context of a military theme, I think of the pinup art found on the sides of planes and other vehicles. I'm guessing that the brewery was going for a "Tank Girl look" for this label instead, throwing out what has become a stale standard in the label world. I like this image because it keeps me guessing about how it was created. It seems photographic and painted at the same time.
I like this image because it keeps me guessing about how it was created. It seems photographic and painted at the same time.
Dry River Brewing Para Sol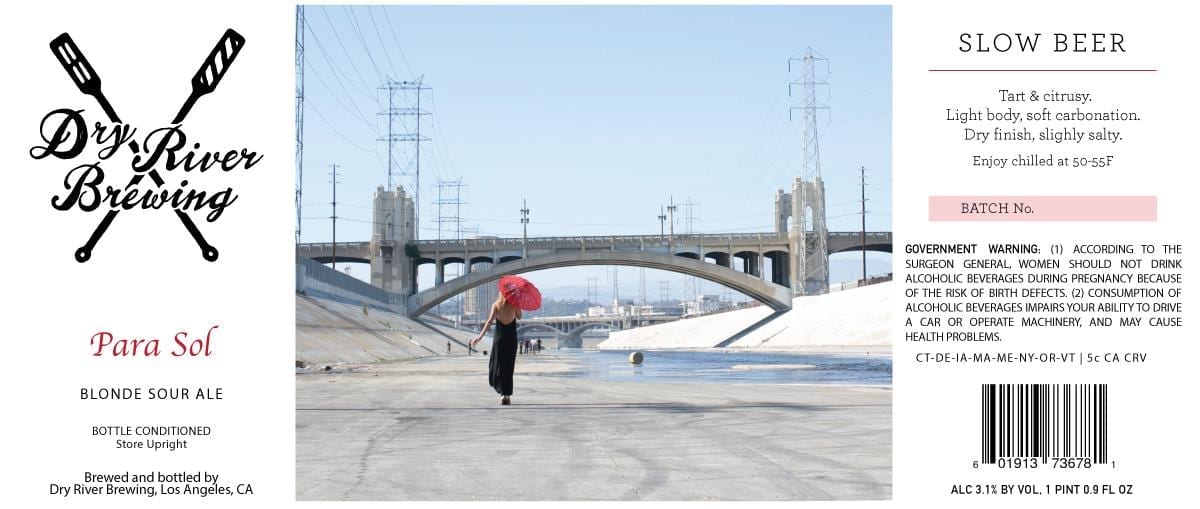 Speaking of stale standards, here's a label for a Blonde ale with, what else? A blonde woman of course! So typical of you marketers and your limited scope of image choices.
HA! Not quite!
I've seen a handful of these beer labels from Dry River and, like this one, they feature some excellent photography. They appear to be shot at the aqueducts of Los Angeles which never seem to actually be full of water – hence the "dry river", I suppose.
References
Monkeys and apes in space. n.d. https://en.wikipedia.org/wiki/Monkeys_and_apes_in_space#United_States (Accessed December 29, 2015).
Beer As A Path To Self-Awareness. 2014. http://allaboutbeer.com/article/beer-path-self-awareness/ (Accessed December 29, 2015)
Label images research made possible using the highly recommended LabelVision search tool at ShipCompliant.