It's pretty sweet when we can find an artist who has done labels for more than one brewery and it doesn't happen often. We featured the label art of Dylan Nadsady when we asked for you, our dear readers, to vote on the Best Beer Labels of 2020. While Nadsady's beer label for Emerald Republic Brewing did not make the Top Ten, his loose, raw, style stood out and we were compelled to reach out to see what makes him tick.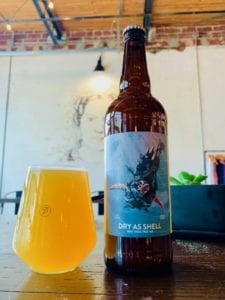 Thirsty Bastards: My favorite label you've done is Perfect Plain Brewing "Dry As Shell"? Can you tell me the story behind its conception?
Dylan Nadsady: Thank you for saying that! I love that one as well. It was a collaboration with the Gulfarium Marine Adventure Park and their C.A.R.E center for sea turtle rescue and rehabilitation, and really that's all the prompt that I was given at first. That meant a lot creative freedom.
Honestly it's been so long, I can't remember too much of that process. The main thing of significance that I do remember is that I learned that part of some scientific study was to attach small radio transmitters to sea turtles to help provide migration data. The application fascinated me, that combination of technology and organic always fascinates me. I knew I had to make it more whimsical though. So I took that concept to a hyperbole of radio DJ sea turtle. Like the concept of a pirate radio sea turtle just narrating and interviewing everything he saw made me laugh, and that's when I knew I had something. It was also the first label that I entirely painted rather than drew, so that was cool. I'm glad Perfect Plain went for it because I love that little guy.
TB: What is your favorite label you've done so far for Perfect Plain and why?
DN: I'd say the one for that "Coco Gnar" stout. It's the first time I felt like I grasped the concept of "subtle monumental" composing of a drawing, of a figure in motion with weight and gravity that made such a simple pose feel almost Greek statuesque. Everything just kind of fell into place with this one, just a big confidence boost during every step. That was one of the first moments I really felt like I knew what I was doing; all my training and education were forming as instincts during that creation process. Using Rodney Mullen as reference was fun too. That was a cool little full-circle moment to that skate-rat time of my childhood when art was first really becoming a part of me.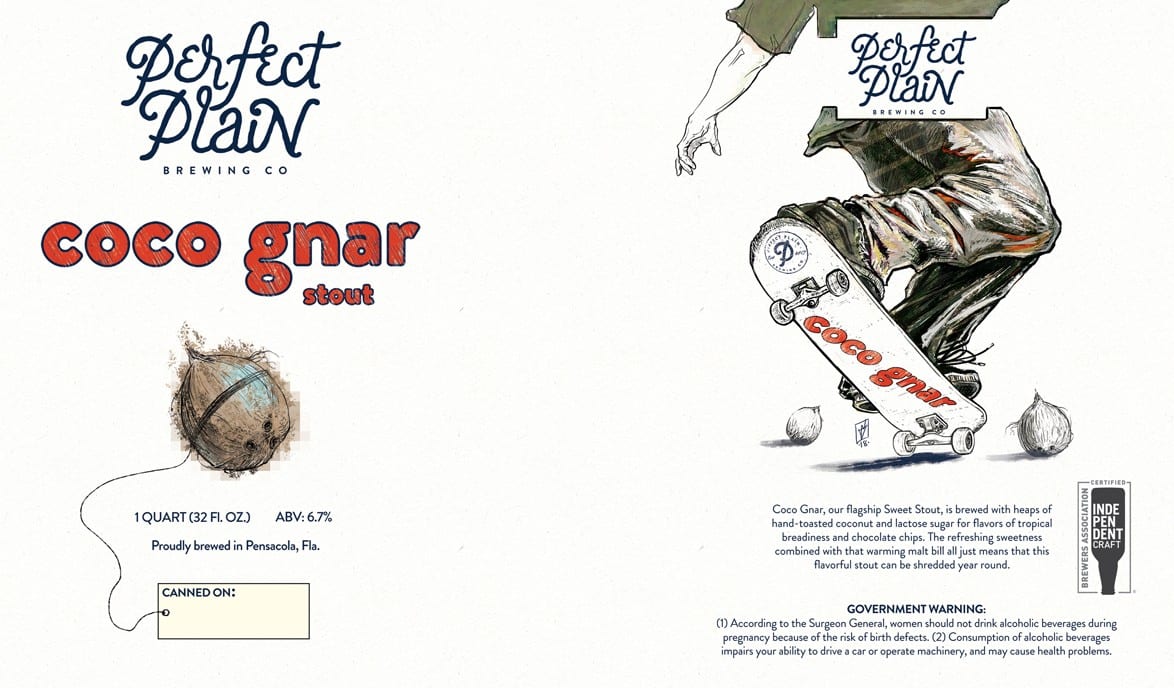 TB: How did you get started making labels for Perfect Plain?
DN: Whenever I go to bars, I usually always draw, and my first visit at Perfect Plain was just me and my sketchbook. I drew my bartender pouring a busy night at the taps, and posted it on Instagram. Didn't think twice about it. Sure as hell a couple days later I got an email from the owner that he really liked my style and wanted to work together. That first project was for the Running Man IHMC collaboration beer, and quickly after they gave me more and more work until I was their lead artist for a bit.
TB: I see you've also done labels for Emerald Republic Brewing. In fact, we featured "Down Halo" in our The 169 Best Beer Labels of 2020. How does it feel to have your work on multiple breweries' products?
DN: It's a really sweet feeling. Being part of a larger body of collaboration makes my stuff feel bigger and better, and more in line with my values of art. It's not just in a museum, it's anywhere you put that bottle or can down. More people can get a dash of art this way. It puts a face to a product crafted with heart and elbow grease. That's what I always want my art to represent.

Having my work in multiple breweries is kind of a dream come true. The growth my art has gone through between the times of both breweries is so immense, it's almost like two different artists did the work. Content-wise, design-wise, style-wise, it's kind of drastic, which I love. I'd love to see how even more different I can make my next batch of brewery labels (wink). I pride myself on that range in my work, and I'm really happy that that's on display between sips.
TB: Where are you from and where did you learn to be an artist?
DN: I'm originally from southern California, but I consider this area [Pensacola, FL] more my home by tenure and how much it's taught me, especially in art. It was a fun journey to grow up in an area where what I thought was cool wasn't always the norm, so when I did find things that I really resonated with, they felt special and like a gift to learn from. That attitude was very prominent during my time at University of Western Florida when I was getting my first real direction. My collective of professor mentorship with the creative freedom to play with different tools and ideas really helped shape and wrangled what I wanted to express through my art. The support by my professors, friends, and most importantly my family, especially my mom, was significant to my artist journey. It's a huge bonus to have when breaking into such a tough field, which is years and years in the making.
TB: Can you tell me a bit about your process? Are you all digital? Traditional? Mix of both?
DN: It depends on the purpose of the project and the deadline, but I still love sitting down with a physical sketchbook. That simplicity has a different idea flow than if I start digitally. I may often do both, if I have the time, see what I could bring to the others table. A lot of times though, the seemingly infinite nature of digital really helps bring something new to the idea out of pure spontaneity and fearless editing capabilities. Change the tool, change the results, you know?
My process is a lot of visual, but also academic/textual research as well. With symbolism and structure being so important to my art, I always want that foundation of understanding so that the decisions I make in the design and composition have weight. I always strive for a full exploration of the themes in the work.
TB: What other art do you make?
DN: Commissions keep my output in almost constant variety. I've currently been doing T-Shirt graphics, logo design, album covers, fine art traditional commissions, and storyboarding/animation. Past projects include web comics, poster design, chalk painting advertising, and pet portraits.
On the personal project side, I'm currently writing and illustrating a few novels that I plan on getting out in the world when the time is right. Storytelling is my number one passion. It's what made me see art as my path.
TB: How can your fans find you and your work? Can they buy your art?
DN: I'm most prominently on Instagram, as well as my portfolio website (for a more in-depth tour of my body of work). I have a Redbubble shop for assorted goodies and a Big Cartel shop for prints!
Message or email me from my website for any commission or special purchase inquiries.
Dylan Nadsany on Instagram
Dylan Nadsady's Website
Dylan Nadsady on Behance
Dylan Nadsady on Redbubble
Dylan Nadsady on Bigcartel