Regular readers are well aware that I am a Chicagoan and that many of the articles here are of Chicago breweries. I make no apologies for posting this, my second article about the labels of Arcade Brewery. These guys only have four beers on the shelves at the time of this writing, but they are doing labels very differently right out of the gate.
How, you ask? Arcade takes submissions for their beer labels in the form of contests. They are turning to both comics industry talent, AND formats, to break the mold on the level of art quality on their labels. They are also extending the visual aspects of taking beer to market to new levels, right down to the tap handles.
A brewery named "Arcade" is going to conjure up some pretty specific brand visuals. The label for Grapefruit IPA does feature that familiar 8-bit game look, but to date they aren't going over the top with game imagery. Perhaps the most ingenious implementation of gaming influence on their brand is the aforementioned tap handles. They are replicas of the classic NES zapper pistol (of Duck Hunt fame) designed by local artists.
These "zapper" handles are absolutely gorgeous. Pop over to their Instagram page for a closer look at each one.
Arcade's Co-Founder/Owner Lance Curran was kind enough to answer some question I had for him about how the brewery approaches beer labels.
Beer Labels Art: At Arcade you guys do labels differently across the board. I suspect this comes from your personal background in other visual media (like t-shirts). What else inspires your approach to Arcade's beer labels?
Lance Curran: I'm a huge comic book fan so a lot of time I think of art in a narrative sense so I'm always looking for an artist I feel can make the packaging say as much as possible. Beer has such a great story from the ingredients, to the brewing, and finally the packaging. I just want the art to fit and enhance that as much as possible.
BLA: What inspired you to do a contest for your label art?
LC: This actually started with my partner Chris who was doing what he called Public Brews at area art galleries. He would have people bring ingredients and participate in making beer as an art project. At the time Chris and I were in a band together and he invited me to come check it out. The community aspect of it really spoke to me and I really wanted to be able to make it possible for anyone to help create our beer from ingredients, name, and label design. It's amazing to have people from around the world get excited and help you create something new. It's a way to make the customer part of your company and that's important to us and I feel the beer is all the more enjoyable when you know you had a hand in creating aspects of it.
We will be doing these seasonally as our "Public Brew" series.
BLA: Your latest "break the mold" venture in beer label design is your "6 Pack Stories" comics. What other plans do you have for labels? Any secrets you'd like to share? Any ideas you've wanted to do but had to abandon?
LC: Back in 2010 I created a similar idea on t-shirts at Threadless called Comics-On Tees and I felt that 6 packs were an even better fit for the idea. This goes back to my love of comics and being able to combine it with beer. The idea was to have the comic written and the artwork done and then brew a beer inspired by it all. So we created the beer around the story and art. Our first one is called Festus Rotgut and it's a western zombie comic across six bottles of black wheat ale written by Jason Aaron and illustrated by Tony Moore. We plan on doing 6 Pack Stories annually. They will be limited and at a higher price point than your typical 6 pack. There's a lot of added expense and complication with the packaging but we feel the idea is worth it and we already have our next one ready to get started but aren't ready to release the talent behind it yet.
The above images from the Festus Rotgut comic labels have been cropped to maintain the delectation of the tale.
We are full of ideas for things that have yet to be done on beer that are fun and engaging for what we consider our niche market of comic, video game, and beer fans. Besides beer labels we have our token arcade bottle cap that we encourage people to save and turn in at our events for exclusive merch and items. We also have our zapper tap handles that are a mold created based on the old Nintendo light gun but we have each one uniquely designed by a different artist. We are working on our Tap Handle museum for our website where you can see each one and see where it's been. This makes each of our tap handles its own unique work of art that can be featured at the venue who has us on draft. You can see many of these now on our Instagram page.
I can't think of any ideas we've had to abandon but certainly a few ideas that we haven't reached the capability of pulling off yet.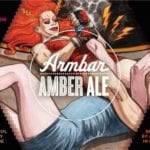 BLA: Any future plans to enlist other comics artists to do labels?
LC: We've already worked with the amazing comic artist Jill Thompson who did our Armbar Amber Ale label and we do have some more comic artists working on labels currently. I've been more of a fan of doing original stories and art but you will see our first partnership with an already established comic coming in time for Chicago's C2E2.
BLA: Are you an artist as well?
LC: It's always hard to call yourself an artist. I think of myself more of a hardcore art fan who is always looking for ways to help artists be as creative as possible.
Festus Rotgut begins distribution December 10th, 2014.
Label images research made possible using the highly recommended LabelVision search tool at ShipCompliant.