2016 was a roller coaster of a year. In some ways, the worst year I can recall. We lost so many amazing celebrities, but we also got a kick-ass Star Wars movie! We had to drink infected Goose Island Bourbon County Brand Stout but also got refunds and fresh, uninfected bottles in November. Here in Chicago, we saw homicide rates go through the roof, but the Cubs broke their curse and won the World Series. We elected a narcissistic, orange, lady-groping, monster to the highest public office in the universe, but… Well, no silver lining there.
Luckily, when things get tough, you can always go shopping for beer. The beer labels of 2016 were outstanding, and if the eye-massaging visuals of beer bottles on the shelves can't lift your spirits, surely the contents will do the job! Or at least help you forget.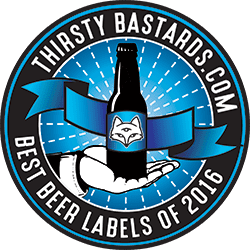 The following labels were registered with the Alcohol and Tobacco Tax and Trade Bureau in 2016. They have been selected for their aesthetic appeal or simply because I thought they were really cool.
18th Street Brewery Beware The False Prophet

I was able to reach out to the artist, Joey Potts, for some tidbits around the inspiration of this beer label.
"This idea actually started off as an idea for a beer with a different name—in fact, we hadn't even come up with the Beware the False Prophet name yet. I was having a hell of a time coming up with ideas for the initial beer, so I was just sketching and sketching and trying to figure something out that would work. Somehow in all that brainstorming I came up with these hands and the idea for the head. After showing a rough idea to Drew (founder/head brewer) and talking with about it, we decided to rename the beer and came up with Beware the False Prophet."
3 Floyds Necron99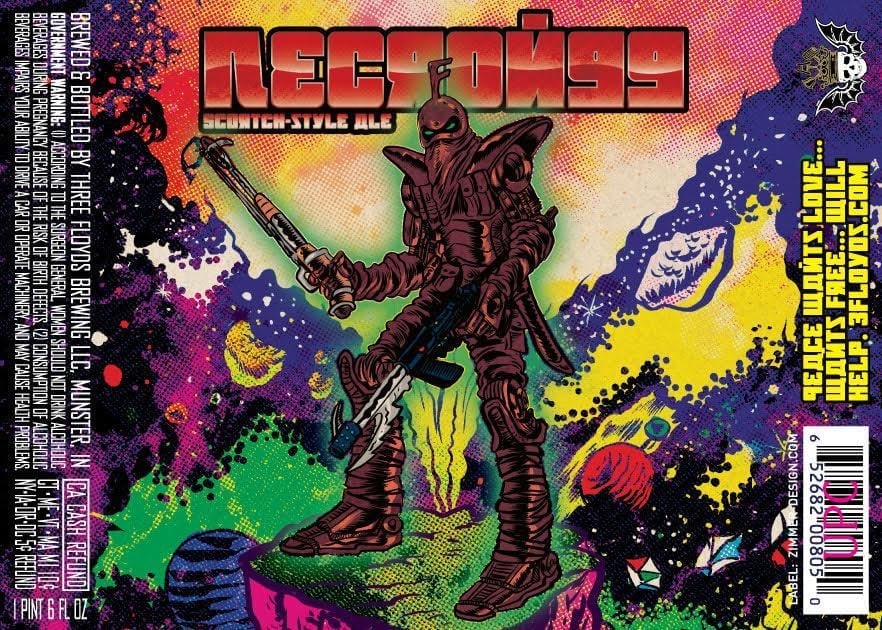 Josh: Whenever I get a couple of beers in me I invariably start imagining myself as a 1970's space-wizard. I'm glad to see that I'm not alone on that one. Pictured on this beer label is Necron 99, the robot assassin of Ralph Bakshi's 1977 animated feature 'Wizards' in all his bad-ass glory. Hell Yes!
Wicked Weed Brewing Genesis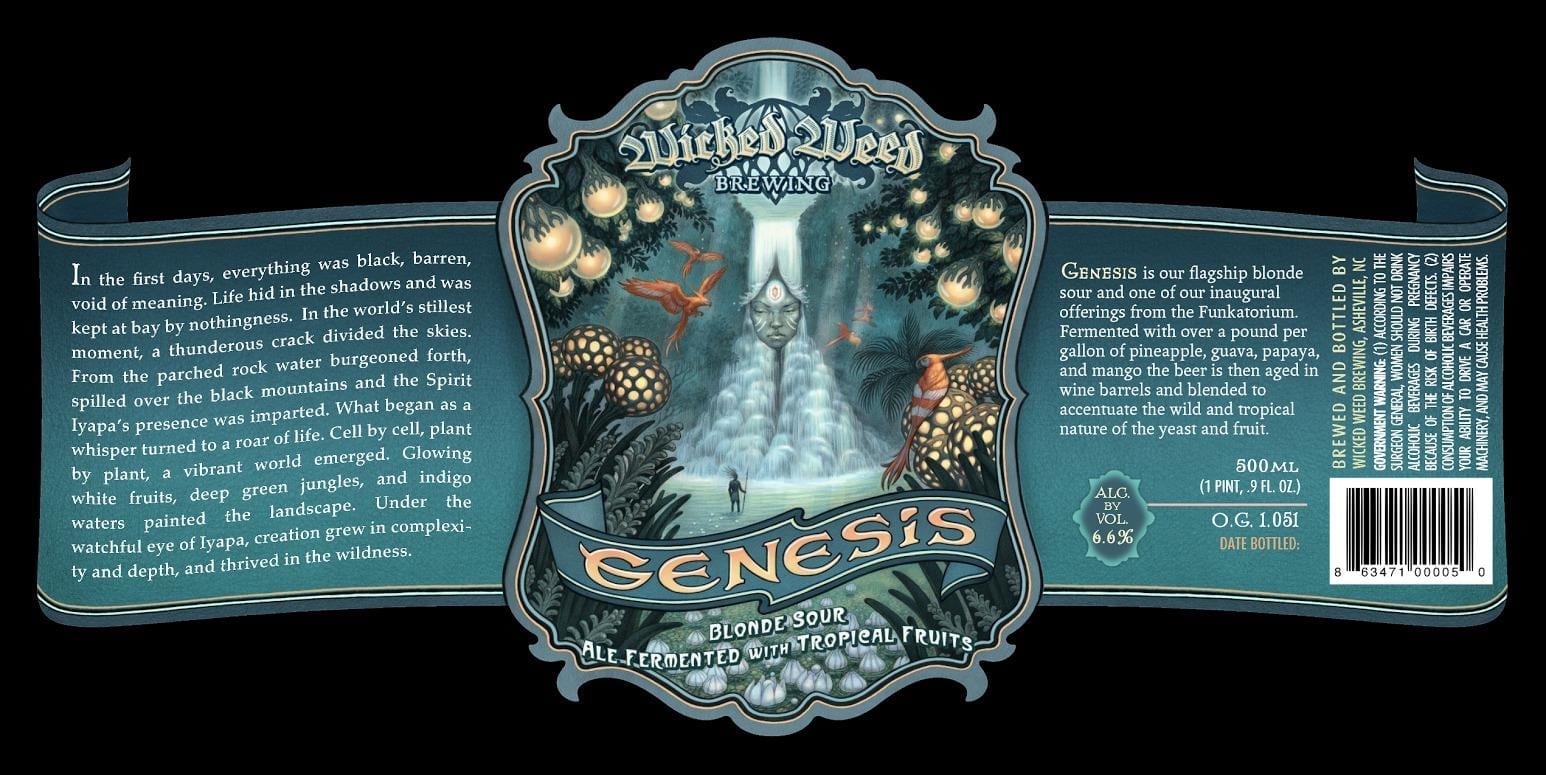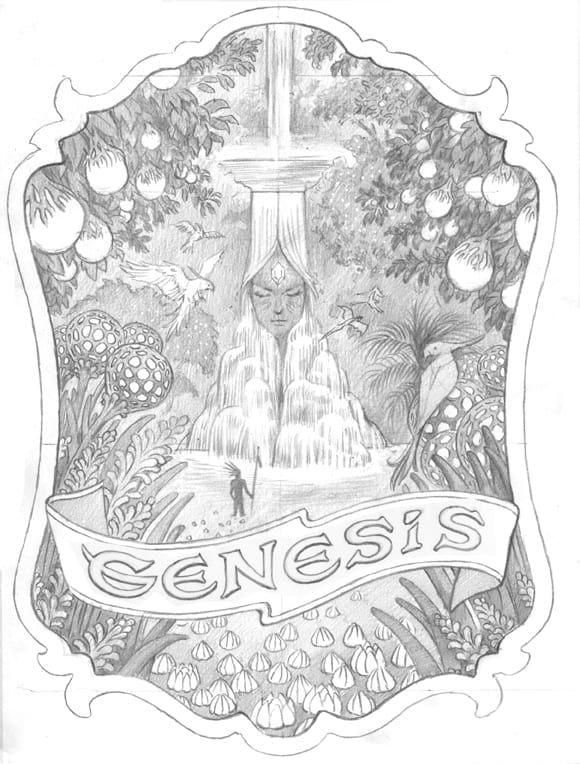 I've interviewed Wicked Weed artist Howell Golson before. WW and Golson have a very high standard for the artwork and design of their beer labels. Here Golson has latched onto a key ingredient of the beer, tropical fruits, and created an exotic landscape. The alien fruits seem to be bending on their vines and laid out as in offering to the waterfall god at center.
"I thought the concept of the waterfall was a good opportunity to use a pet color palette of mine, plus it implies both the tropical fruitiness of the beer and the gorgeous scenery of Western North Carolina. I really think I went a little crazy with the composition and details on this one. We really have a pretty small canvas to work with on a beer label, and I remember this was the point when I started pulling back a bit in the interest of better impact on the shelf."
Burial Beer Co. Ceremonial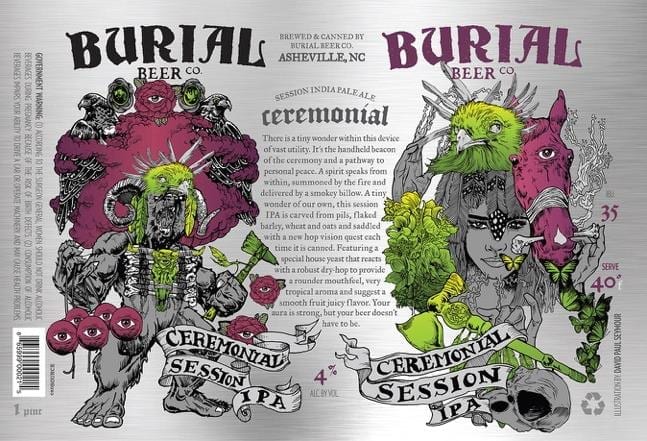 Josh: Holy Shit! Is that a war-bear-shaman? Sweet. Great use of line drawing and simple color works exceptionally well with the transcendental energy/one with everything theme. It maintains the spirit-quest nature zen theme without being too hippy-dippy (which is no easy task). Just be sure to remember, no matter how fuzzy that bear looks, please don't squeeze the shaman…
I'll see myself out.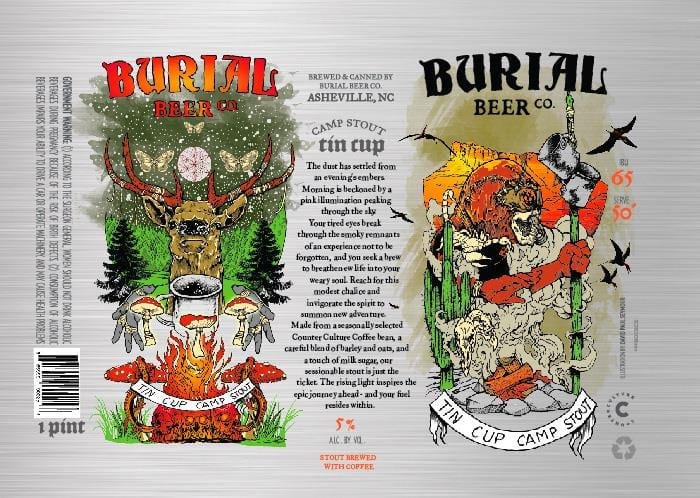 Here's a bonus beer from Burial so that we don't have to end with them on that stinker of a joke. I love this label because (in addition to being well executed) it reminds me of one of my favorite movies of all times; (no, not Tin Cup you window-licker) Altered States. The thing with that film is whenever I try to explain it, and why it's so awesome, to anyone they look at me like I'm a crazy person and start sidling toward the exit. I appreciate being reminded of something I love without being made to feel like a C.H.U.D., so whenever I get around to doing my drug-induced deprivation tank devolution, I'll be sure to bring along a sixer of Tin Cup along for the ride.
Both labels were created by David Paul Seymour.
Clown Shoes The Stranger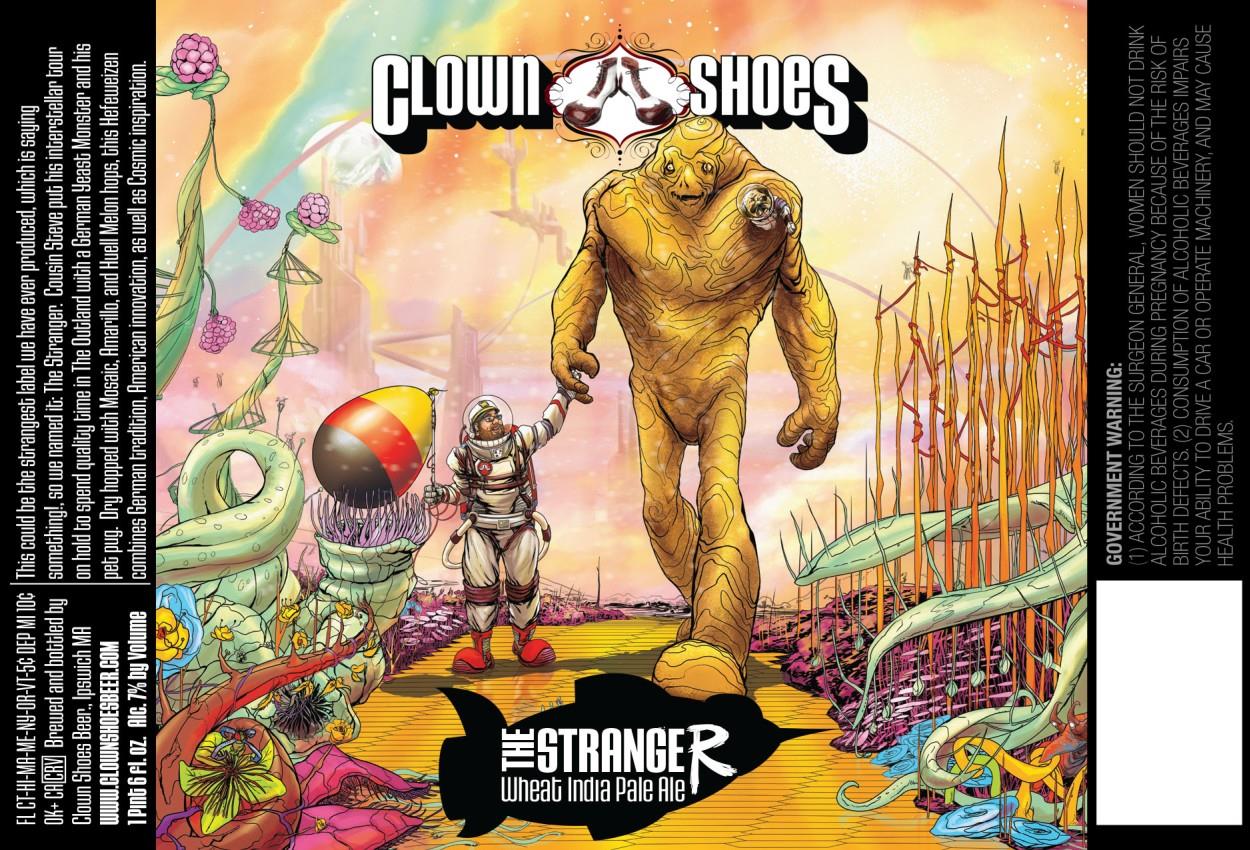 There's SO MUCH going on here and to be honest, most of the time when I look at a Clown Shoes label, I suspect I'm only supposed to get half of the jokes.
An astronaut and an alien seem to be walking the Yellow Brick road of another planet. An astronaut pug seems to have been absorbed into the alien's shoulder. The chief supplier of ballons to this world seems to be Germany.
All of this has been masterfully rendered by the extremely talented Micheal Axt, another Thirsty Bastards favorite.
New Belgium Brewing Voodoo Ranger IPA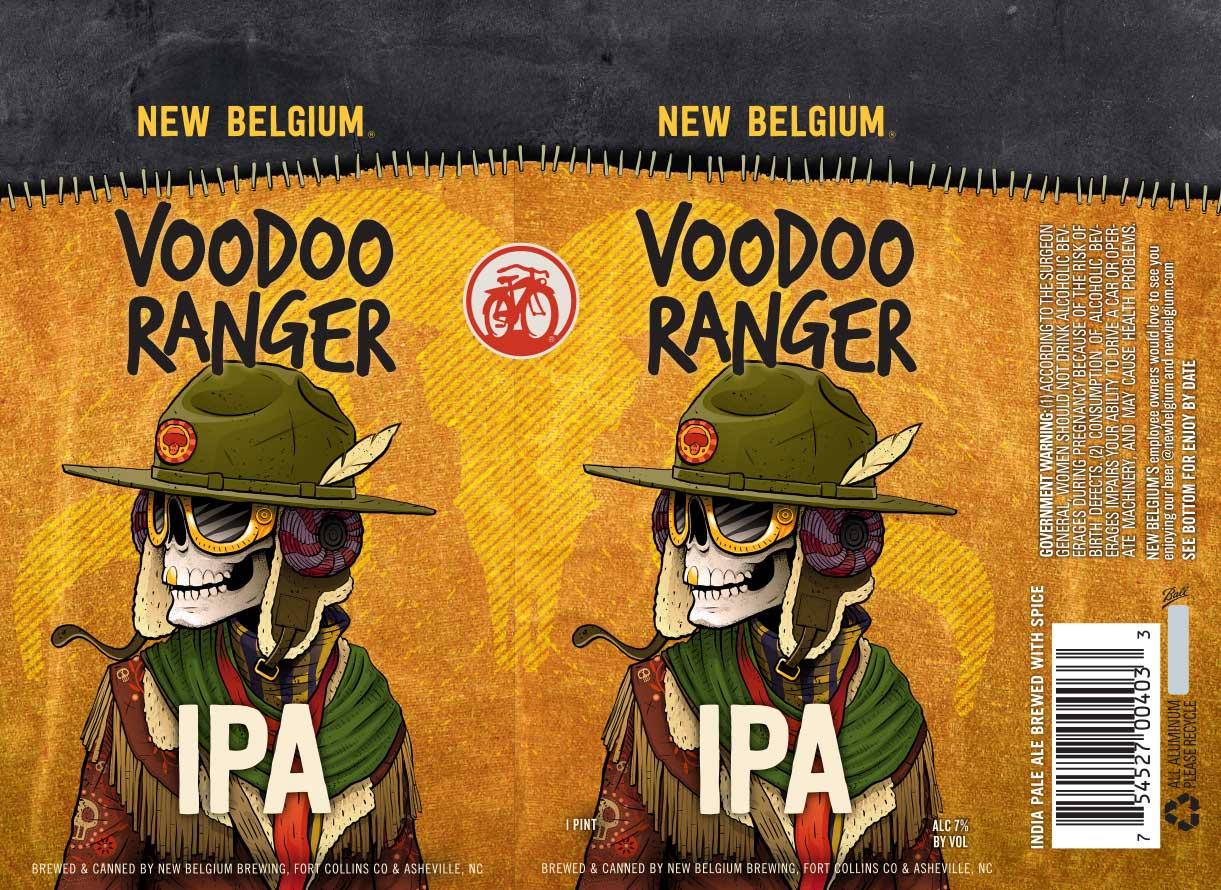 Josh: This label has to be the most surprising of the bunch simply for how far off of the carefully branded NBB package design this one strays. It looks like New Belgium took the basic Ranger IPA label and gave it a hip-injection in the style of Jamie Hewlett (Tank Girl, Gorillaz). It looks amazing and I'm interested to see if there might be upcoming releases from NBB that color a bit further outside of their tried-and-true 'logo above text above image of inanimate object and/or bird' format.
Jolly Pumpkin Artisan Ales Vestuvinis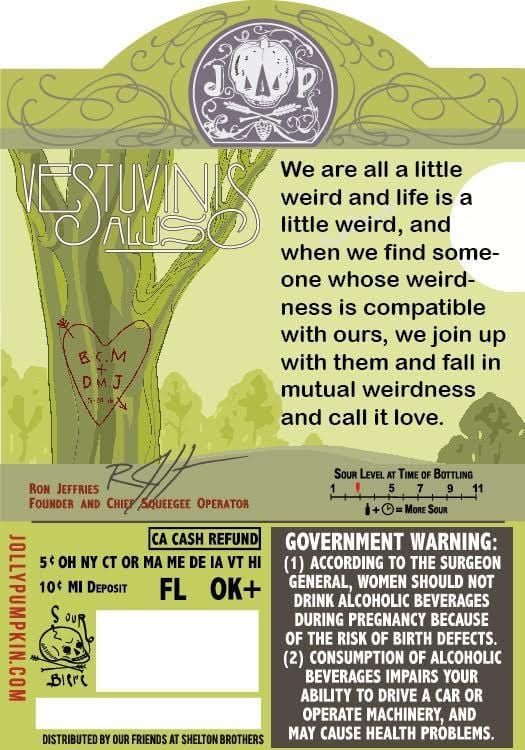 Adam Forman is a favorite of ours here at Thirsty Bastards. His work for Jolly Pumpkin Artisan Ales is some of the best you'll find on store shelves.
Adam was kind enough to speak to the creation of this gorgeous label.
"So Vestuvinis was a beer that was brewed especially for a super talented guy we had working with us at the brewery. He is a good friend of Ron's and I guess his job was to control all our packaging and the logistics of such. But Brian was, more importantly, this natural cool breeze, fluid communicator of sorts who effortlessly created the connective communications web that interwove itself through the brewery. Brian was getting married and this label was sort of a tribute to him and his lovely bride to be.
"I wanted to keep it young and about an ideal version of love and their coming journey ahead. So imagining the wedding as a picnic on a beautiful spring day I thought what better way to show these two "love wolves" than to be completely engaged with one another, oblivious to the beautiful day around them. Hopefully, all the composition tools, like lines and colors worked drawing the onlooker to the emotional point of the two gazing into each other's eyes."
Buy Jolly Pumpkin beers from Inside The Cellar
Red Cypress Brewery Devil's Chair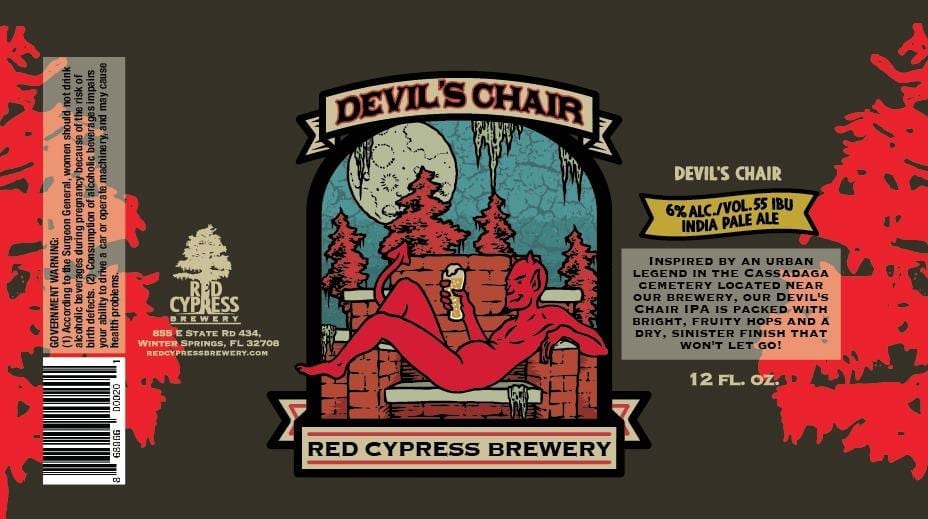 Josh: The story behind this label is that there is a graveside bench in the Cassadaga cemetery that if you leave an unopened beer on said bench overnight (as one is wont to do) it will be empty come daybreak. The legend states that this is the work of the Devil instead of (let's say) a groundskeeper with poor impulse control, because Florida. If one is so bold to sit on the bench there is a chance that Old Scratch will appear to you and… I don't know, whatever Satan does, probably launches into an endlessly detailed critique of the Gilmore Girls Netflix revival. That seems hellish. The label itself is nice and clean but has a good balance, depth, and texture to the composition. It works well.
Heathen Brewing Barrel Aged Highland Charge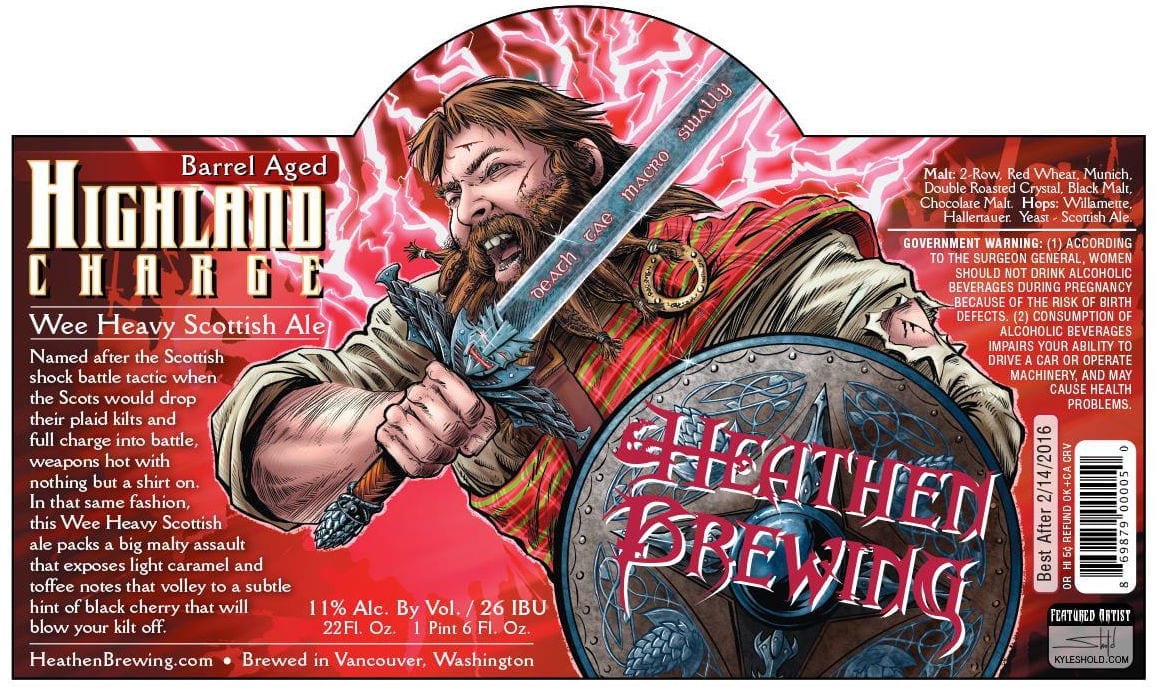 We've interviewed Kyle Shold, the artist of Heathen beer labels, in the past. He's also made some of our older "Best of" lists. So it's no surprise that his work would show up here!
"The direction I received for Highland Charge from the start had to do with the Scots dropping their kilts and charging bottomless into battle. Some of my early concepts tackled the challenge depicting the kilt-less battle scene play out tastefully for store shelves. The final approved concept ended up very close to the final composition where I skipped over a full on battle charge and focused on one burly warrior.
"The folks at Heathen Brewing loved it but requested that the warrior be a likeness of their Operations Manager, and resident beard expert, Danny McCabe. So I met up with Danny and shot reference photos in order to properly depict his manly visage! Of course, I wasn't going to let this label get by without some powerful lightning strikes 'Highlander' style! The design itself is a bit unconventional though with the title placed off to the side. My desire was that the large, striking image of a charging warrior with a futuristic broad sword would entice someone to pick it up off the shelf.
"The blade text was specifically requested by Heathen Brewing and roughly translated means, 'Death to Big Beer.'
"The label has received a great response so I think it did the job! Big thanks to the folks at Heathen Brewing for the opportunity to work on this!"
Novo Corvo Negro Imperial Stout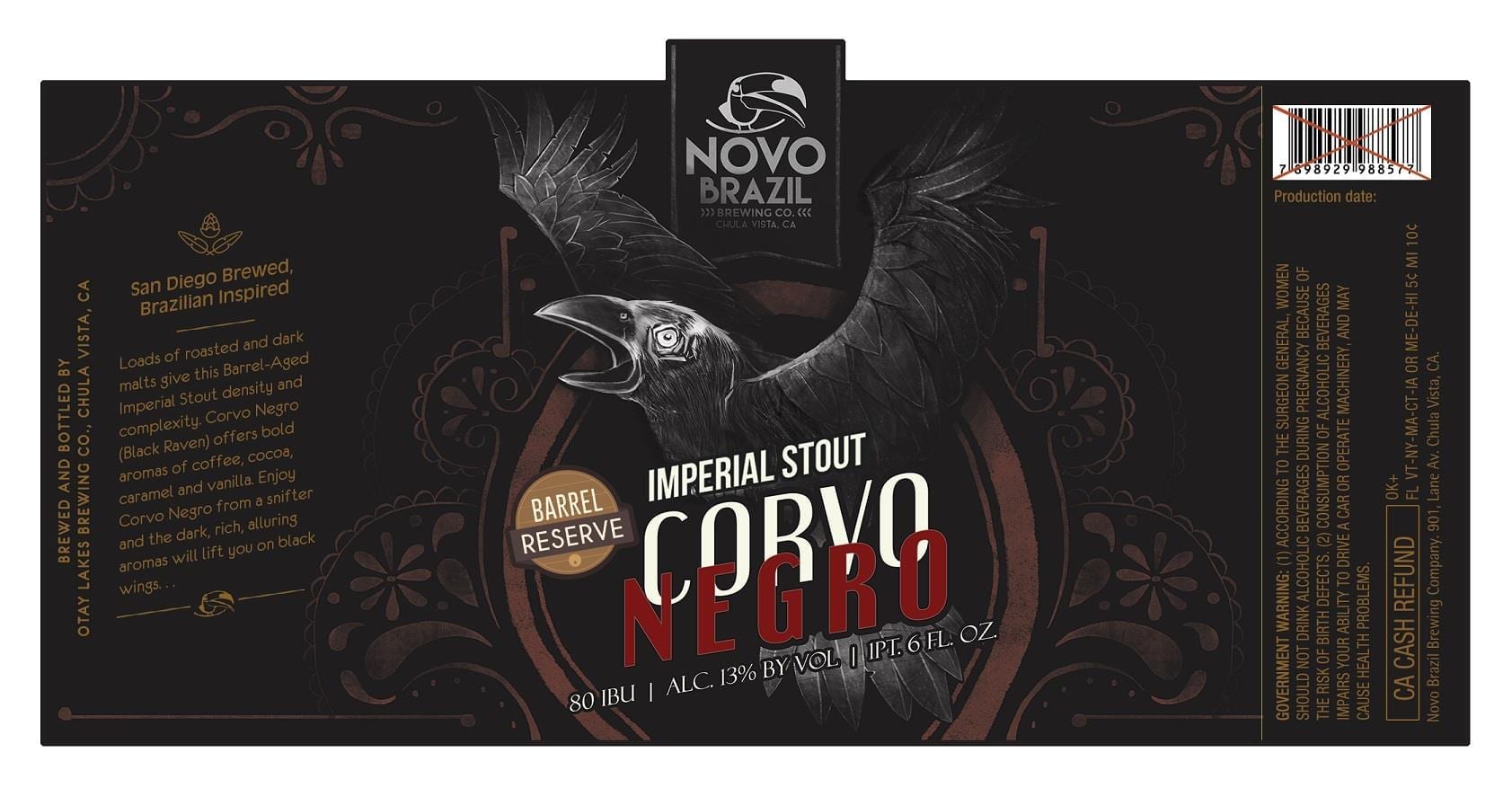 Nothing like a ghostly black crow to sell a nice black stout, eh?
Old Nation Two Crow Blackened Sugar Stout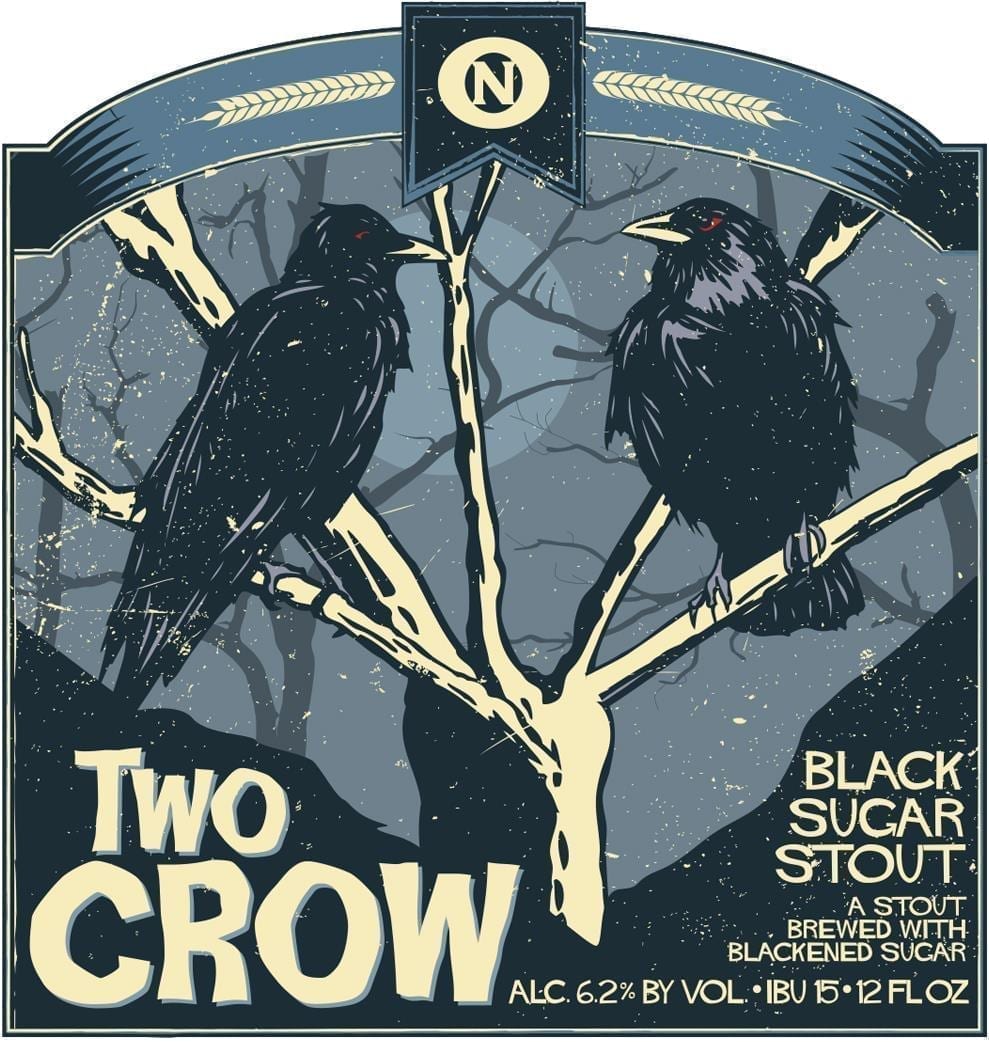 …Except for two crows, that is.
These two handsome black birds are illustrated in a silk screen-style.
Tin Man Wired White IPA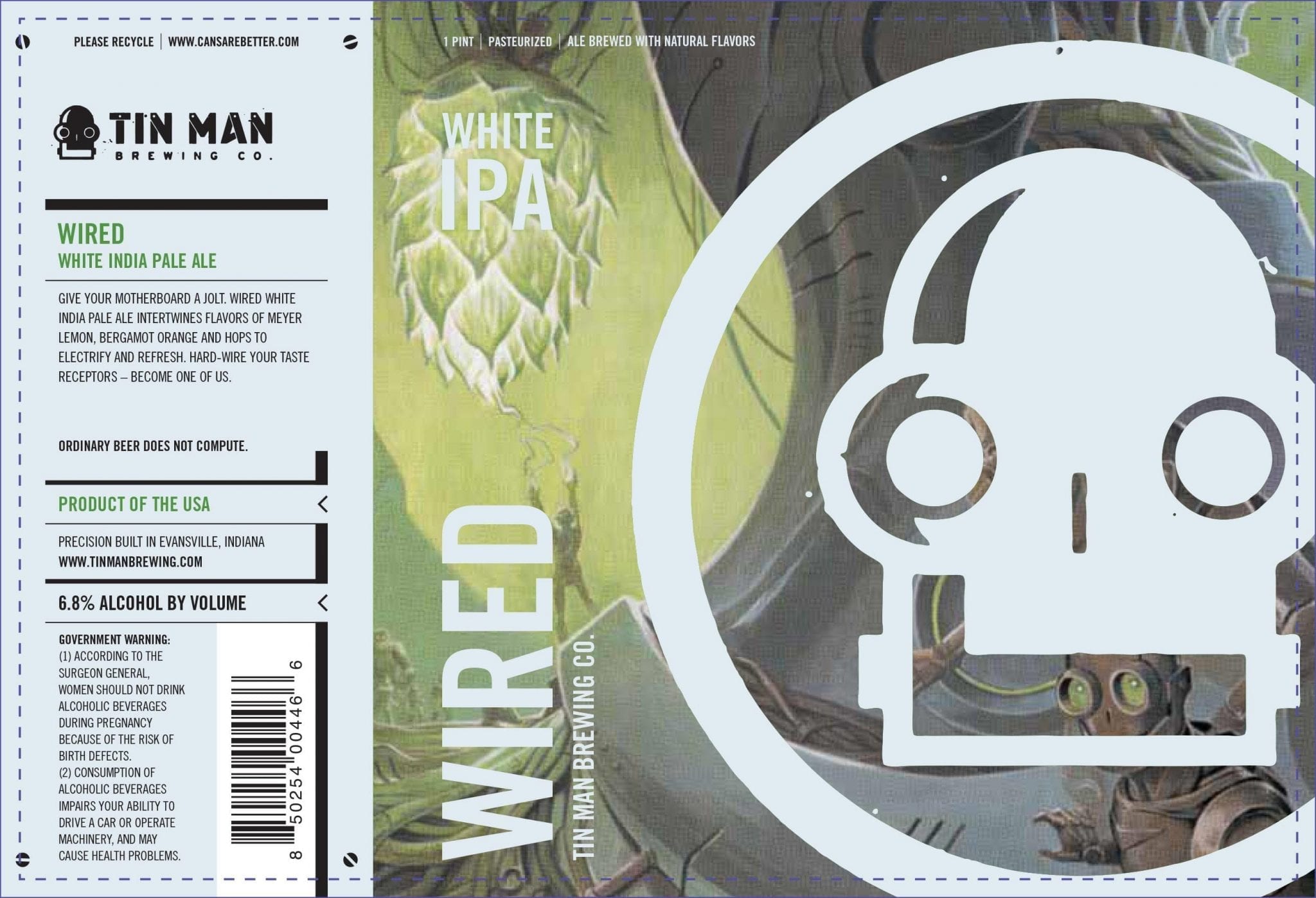 At the risk of sounding like a broken record, Tin Man's beer labels are the best sci-fi illustration you never see. I've featured them before and every time I rant about how badly I want to see more of the illustration under their huge robot head logo.
Three Heads Brewing Rochestafarian Scotch Ale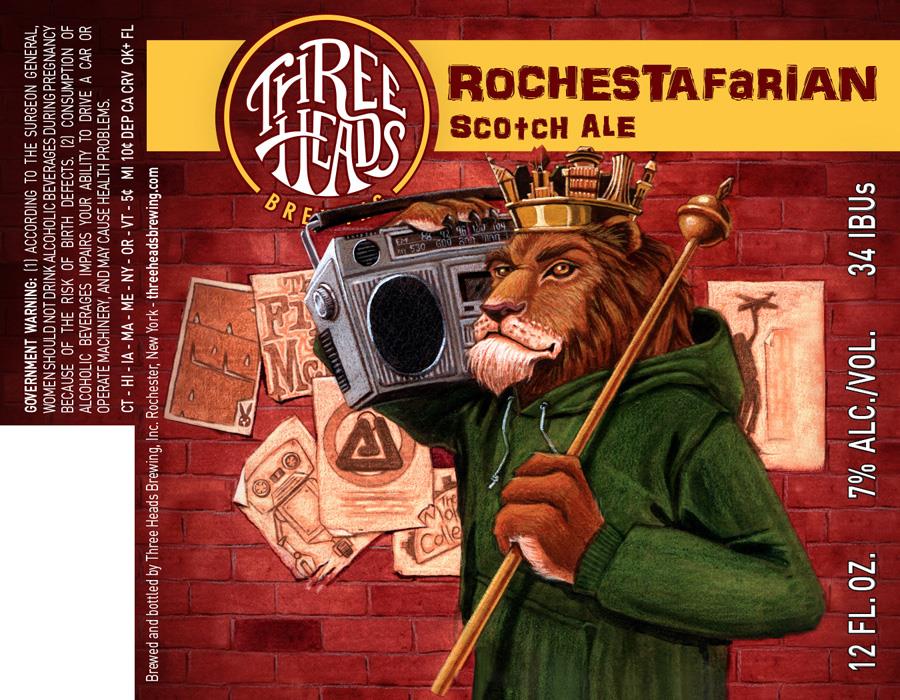 This very wise-looking King of the Urban Jungle is sporting everything you need to know that he's from Rochester, NY. I've never been, so I'll have to guess that they haven't upgraded to audio streaming (let alone the compact disc).
The labels of Three Heads are created by Allen Firlit.
Old Bust Head Brewing Co. Shorthorn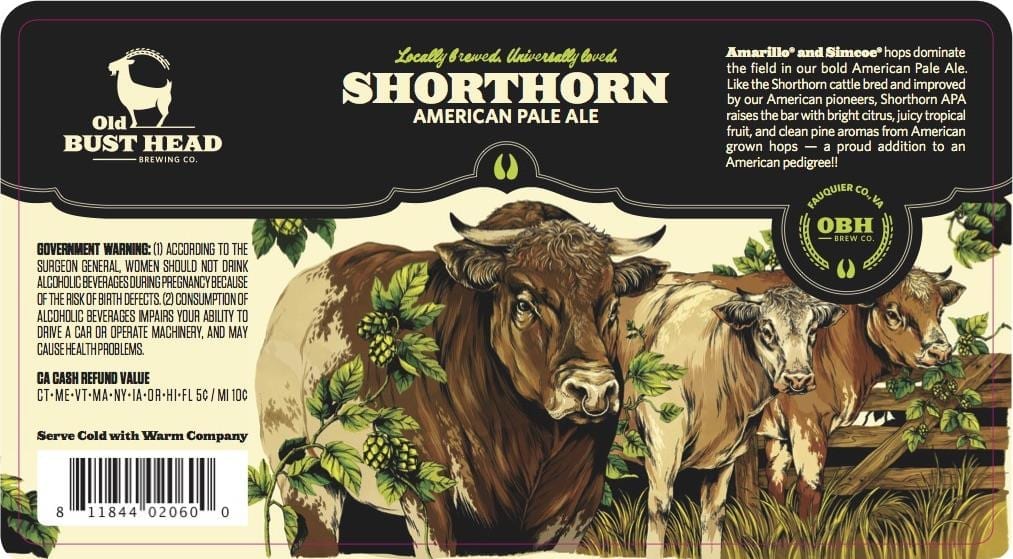 There's a connection being drawn here in the label text between the hops used in brewing and the tradition of cattle breeding. I just see a well-executed cattle illustration, plus hops. Moo!
Old Bust Head's beer labels are created by Minnesota illustrator Teagan White.
Talisman Brewing Company Uplifted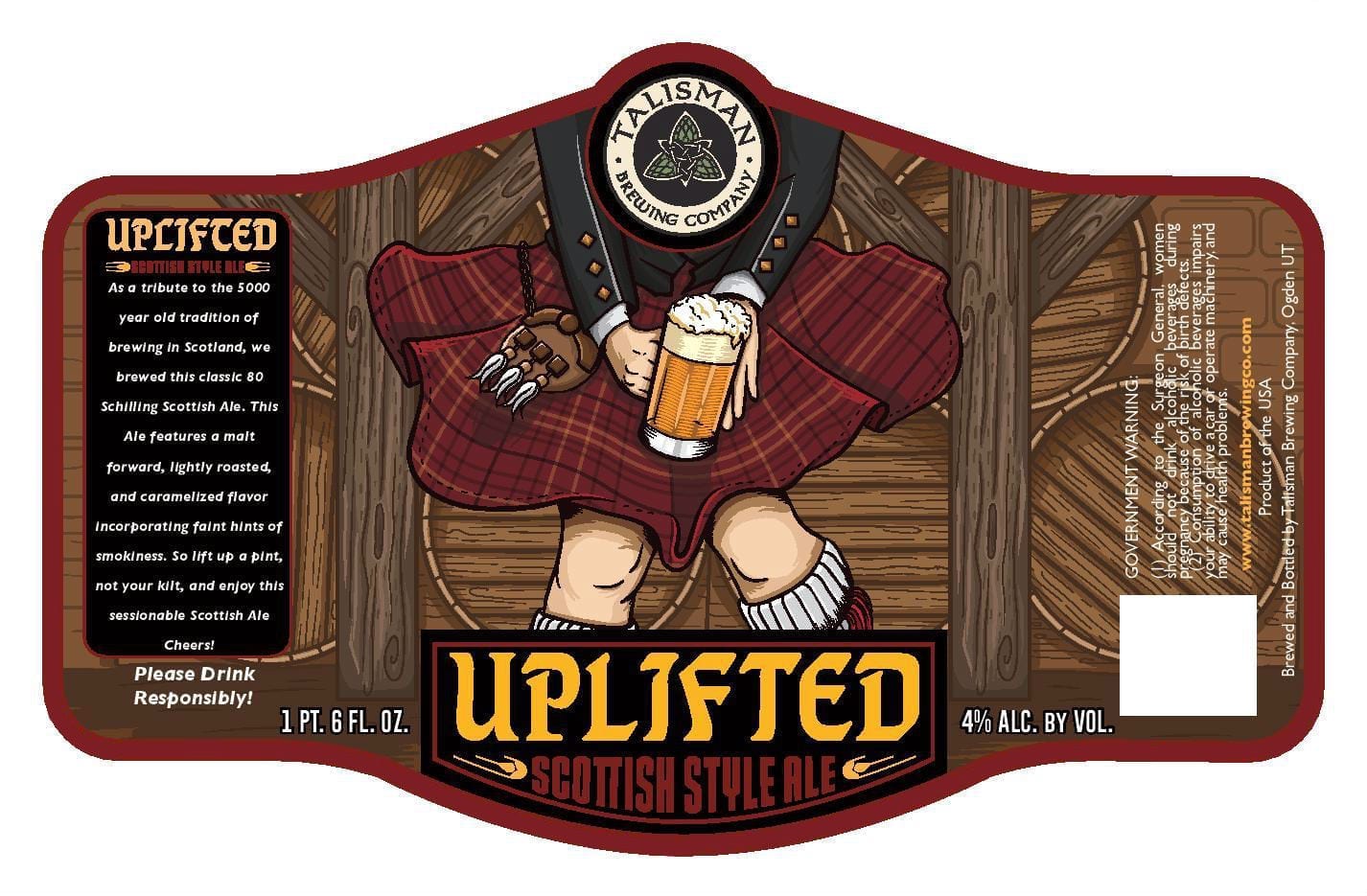 This isn't the first "kilt lifter" beer label I've seen, but it's probably the best. For the record, no one really wants to know what you're wearing underneath.
Beau's All Natural Brewing Co. Embittermint IPA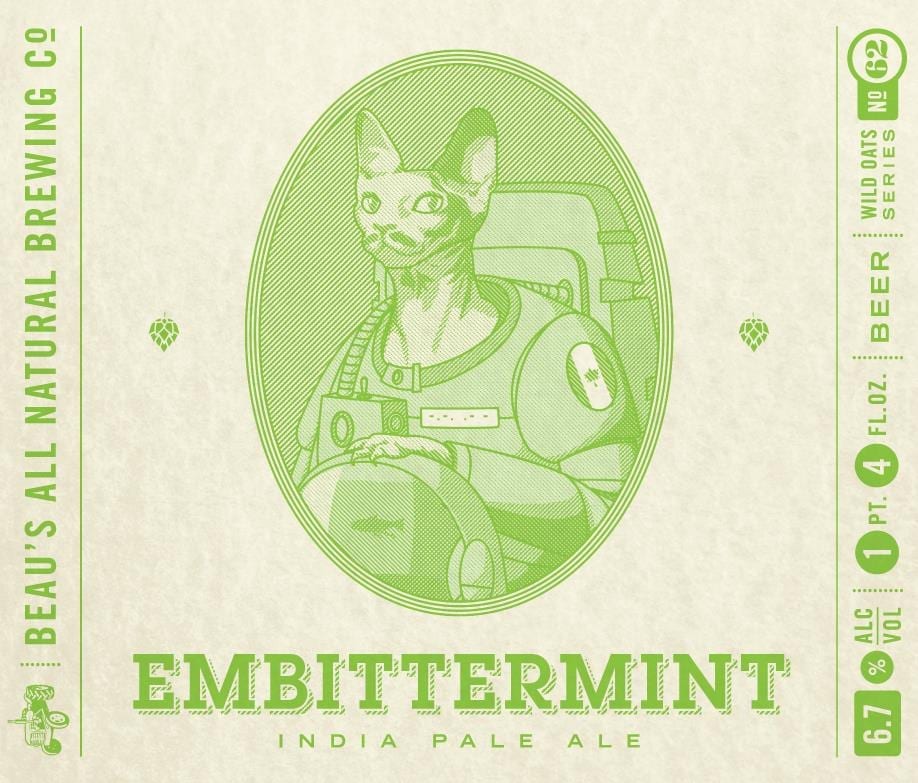 Beau's made our list of Best Pumpkin Beer Labels and here we are looking at another.
We've also seen our fair share of astronaut animals (although they've mostly been monkeys), but this one is pretty unique. Is that cat… hairless?
Sprecher Irish Stout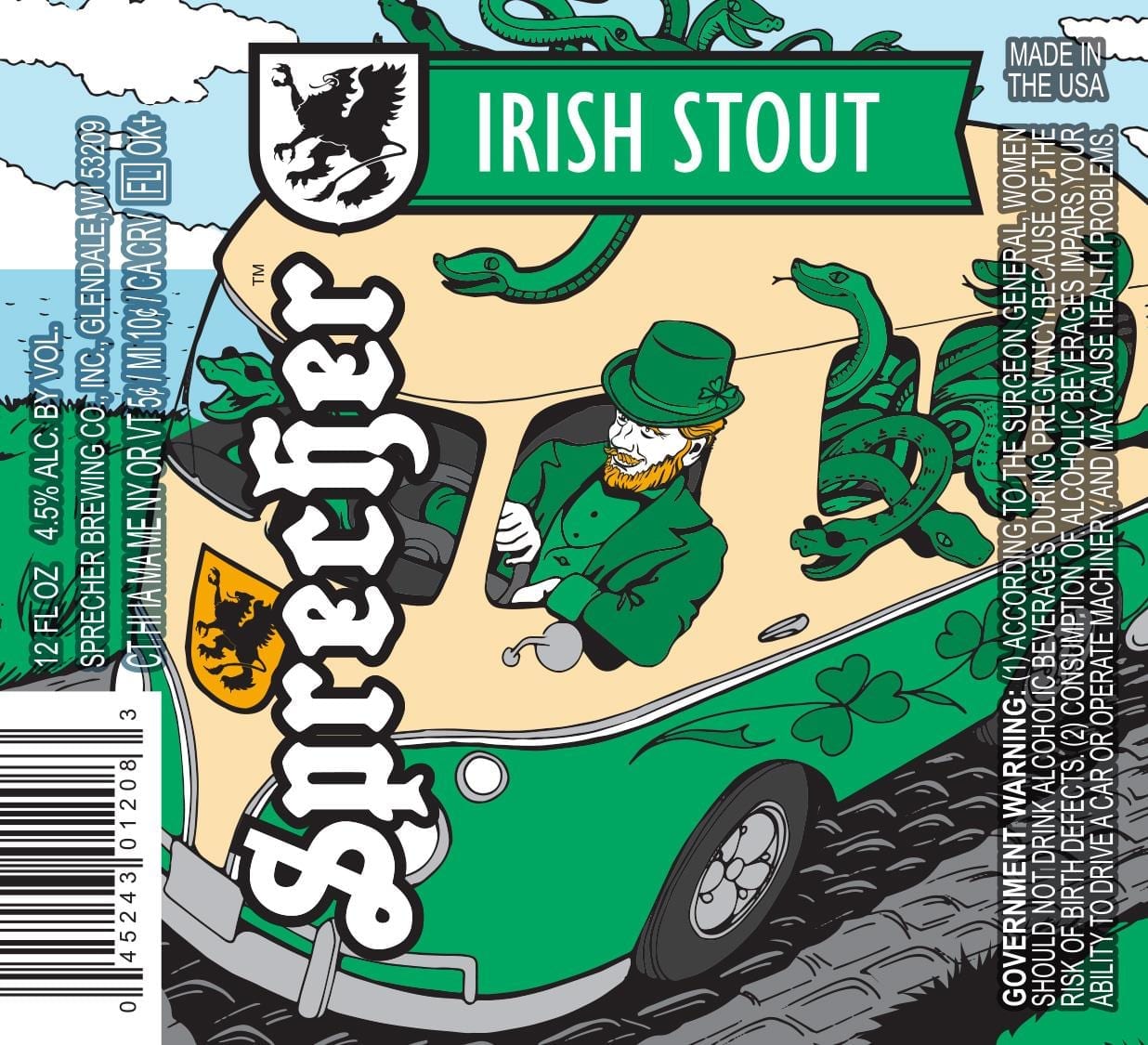 I've never seen a literal interpretation of St. Patrick driving snakes out of Ireland… and I'm pretty sure I haven't seen one now. However, this is a pretty hilarious interpretation of it!
Thimble Island Brewing Company The Four Horseman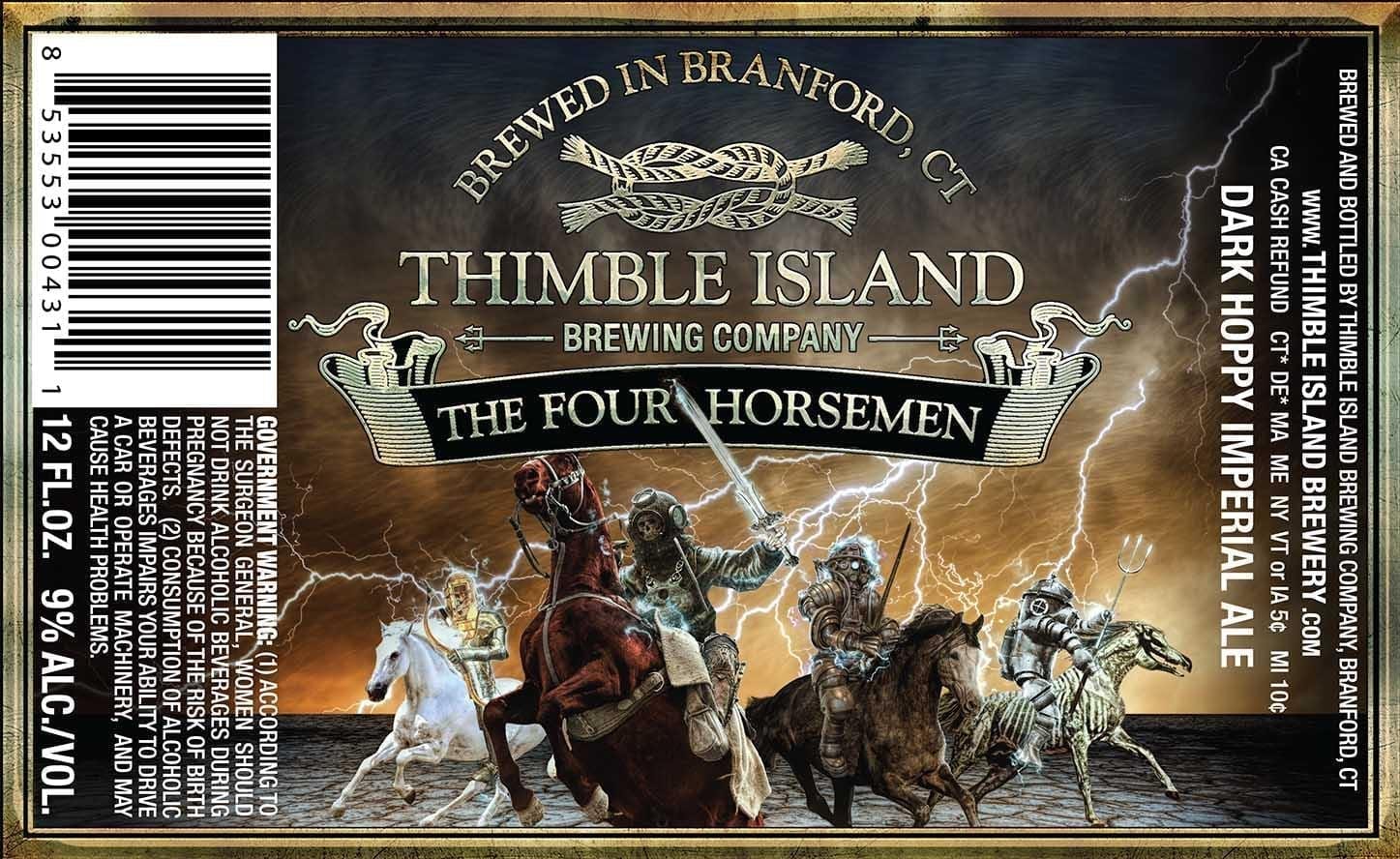 This appears to be a nautical-themed version of the Four Horsemen of the Apocalypse. Because… the brewery is on an island? I don't quite get it, but it's a kick-ass concept.
Great Raft Creature Of Habit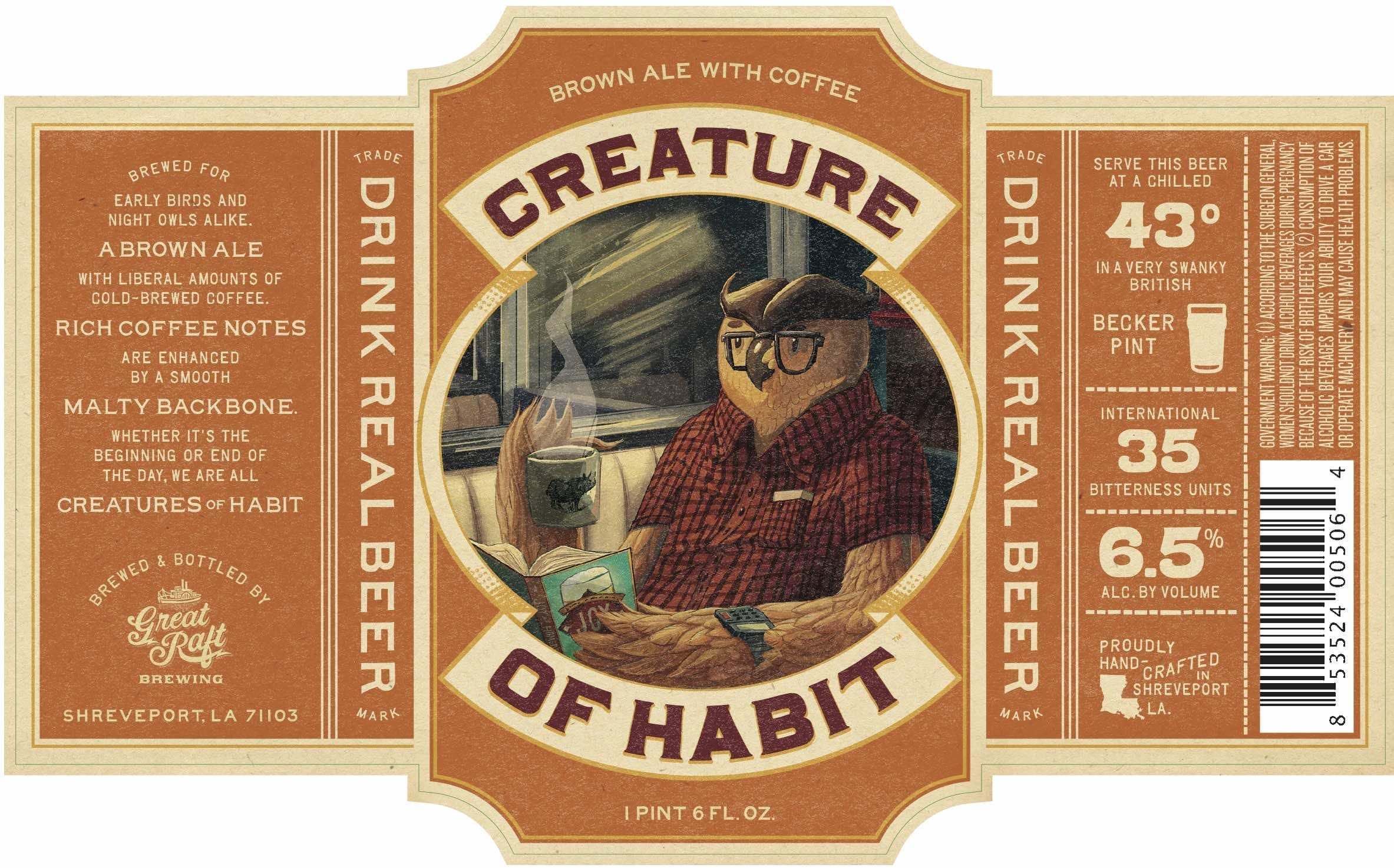 Here we have an owl guy in a coffee shop, kicking back with the Art of Homebrewing by Charlie P. He's sporting a calculator watch, so you know he takes his homebrew calculations seriously.
Illustrator and character designer Rob Chandler is the artist for this beer label. His site is fuyll of gorgeous and quirky images as well as sculpture!
Colt 45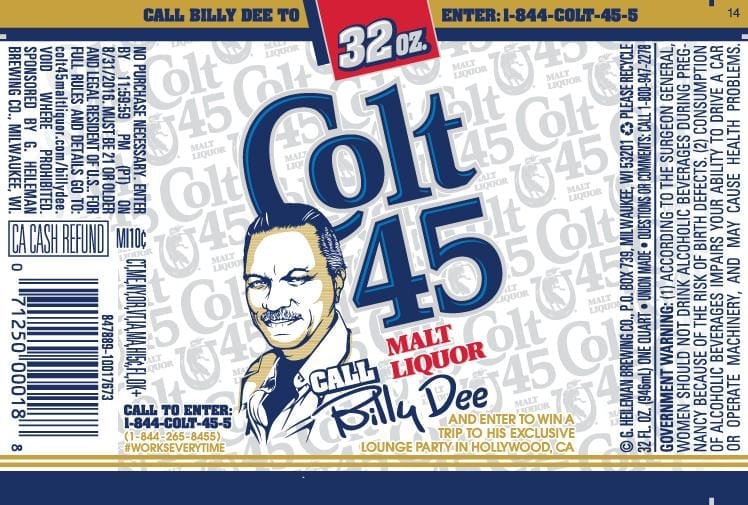 I'm not sure if this is the first time Billy Dee Williams has been featured on a Colt 45 label, but if it is, it's LONG overdue.
The label says "Call to enter", so I assume there's some sort of contest? There's no end date so of course, I gave Billy Dee a call.
Here's what I found out: The guest list is closed. But, "Don't worry…" Billy Dee says in his panty-dropping voice, "You can always enjoy a cold Colt 45 with your friends."
TO ØL Kaffee & Rog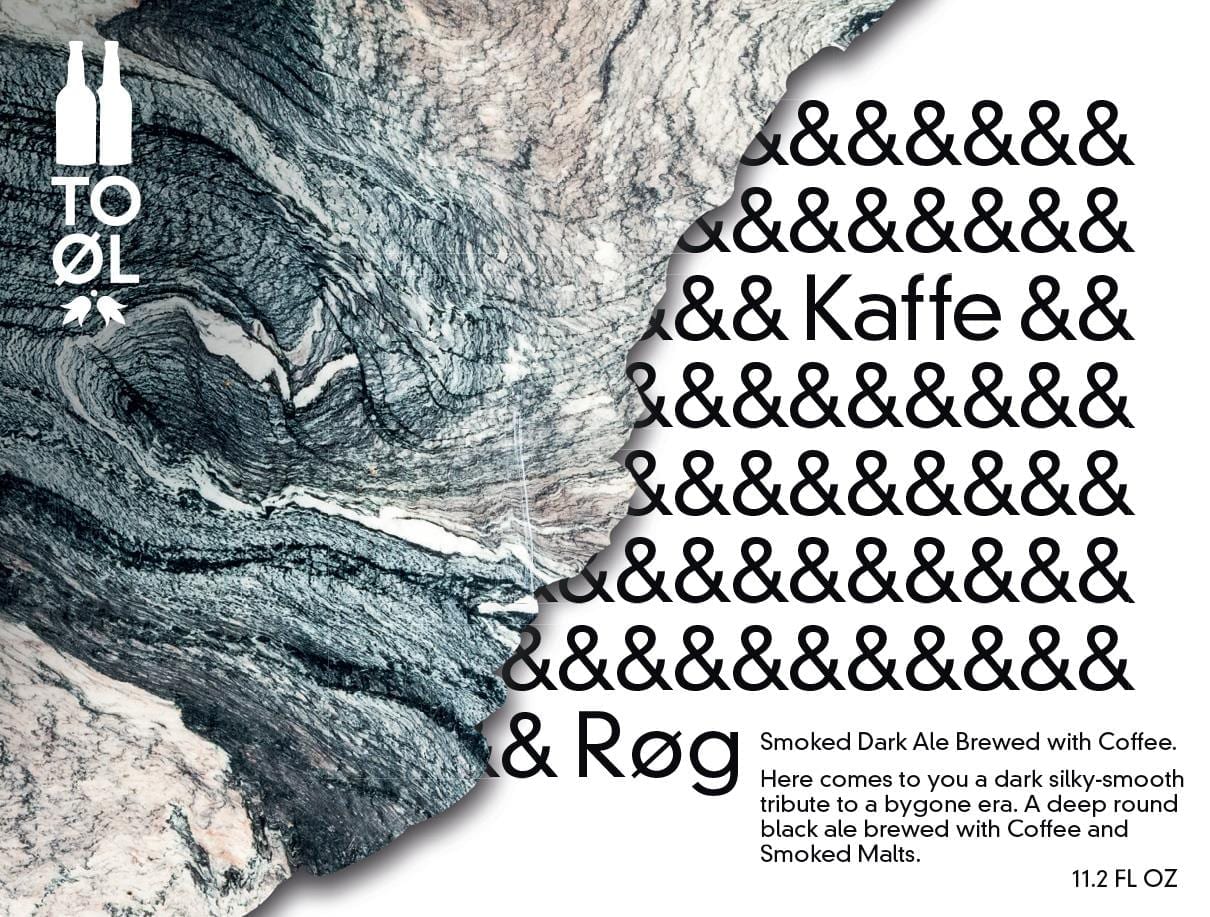 I've featured TO ØL's labels before. Obviously this label is more about design than our usual illustration-heavy fare. TO ØL wants to take us back to "a bygone era" by featuring this image of an earthy patterned stone. Not that it should remind you of the Stone Age, Captain Literal. Think nature, fire, and smoke.
Buy TO ØL Beer from Inside The Cellar
Solemn Oath Brewery Fun Sponge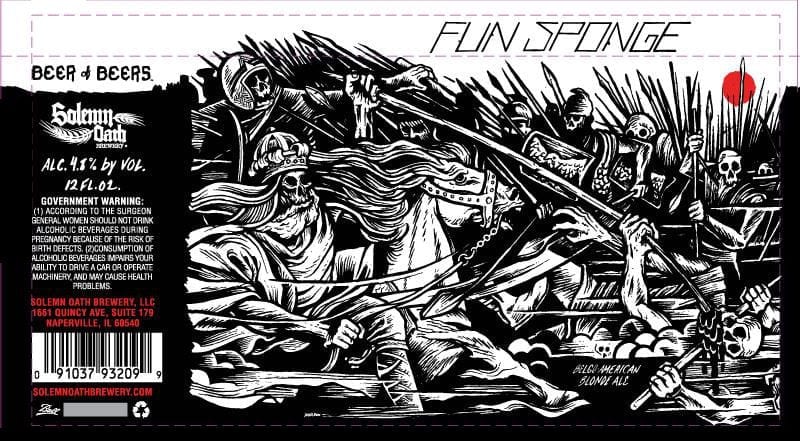 I have no idea what is going on in this illustration. It's a stunning woodcut of a grim, swampy battle between skeletal medieval warriors. They might just be skull-faced as their arms appear to have muscle and skin. Maybe they wear skull masks or helmets. They definitely seem to be undead.
So what the hell is a "fun sponge"? Is it the drippy rag-looking thing on the end of the spear? It seems like they are holding one guy down and forcing it into his mouth. Is it a sponge soaked in beer, and thereby somehow, well, fun?
Solemn Oath put some dark, heavy metal inspired imagery on their labels and I'm really happy to finally feature one in a "Best of…".
Atwood Ales Lodge Scottish Style Ale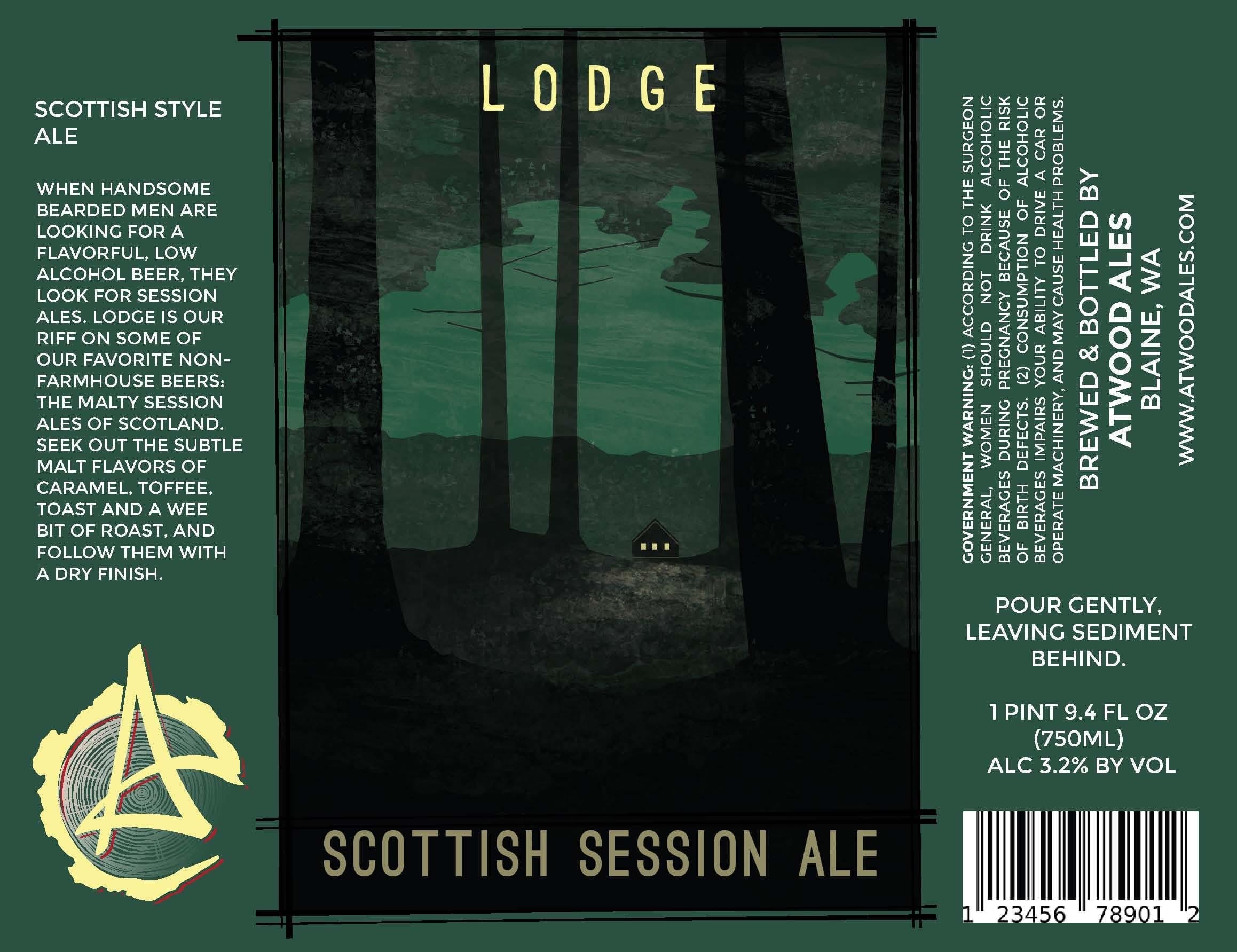 At first glance, this label is rather simple, but if you look closely, there's some beautiful handling of color and tone that's moody and dramatic.
"The label was designed by our good friend, Erin Ramsay, BFA, MLA, in Vancouver, BC. She's working up some new labels for us in the coming months, so keep your eyes peeled!"
Upland Brewing Company Darken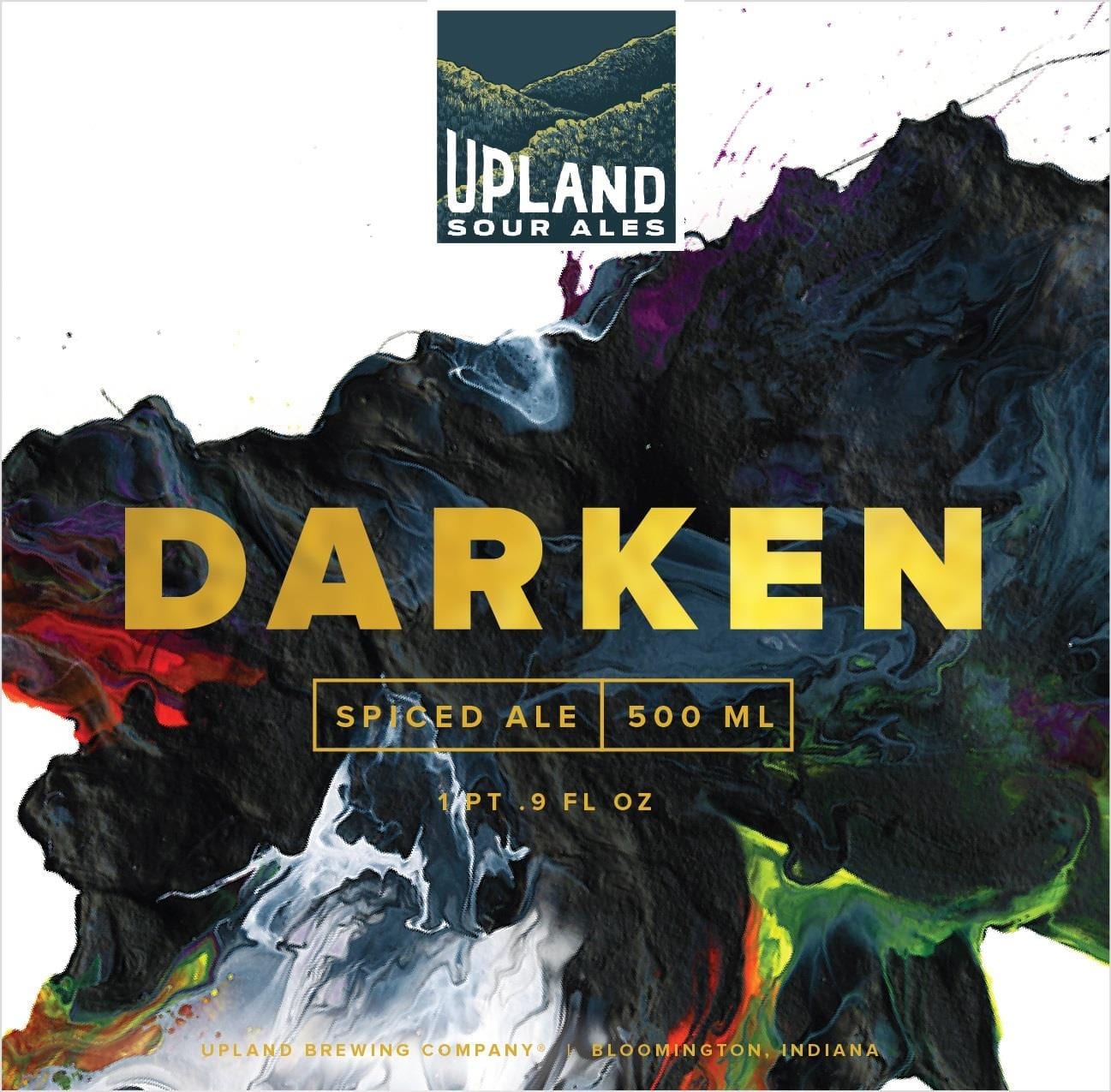 Upland had a few similar, but beautifully-designed labels this year. I've included both the back label of the Peach, as well as Darken here. They are GORGEOUS.
Wolf Tree Brewery Spruce Tip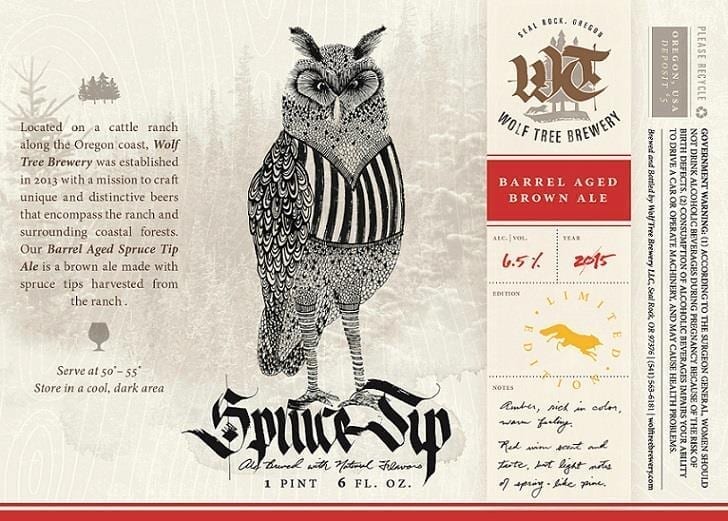 I'm a big fan of spruce tips as brewing ingredient, especially to replace hops for bittering. It is a far from common practice, even "old school". That's why this folk art-style creature of the woods seems like a great representative for this brew. I love the subdued background, suggesting a misty forest.
Grimm Brothers Brewhouse 13th Door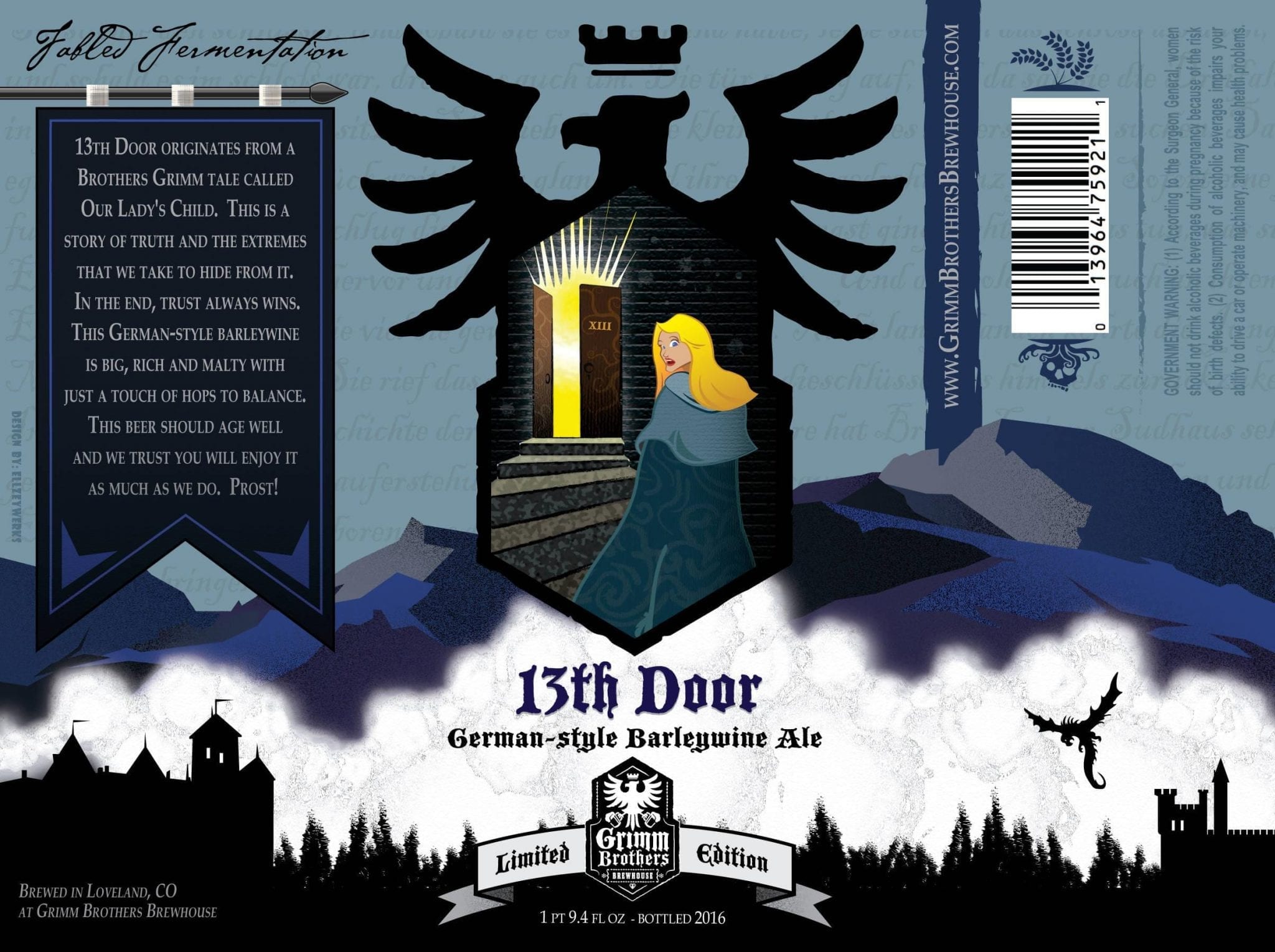 I've been looking to feature a Grimm Brothers label for years and now I'm dying to know what a German style barleywine tastes like!
As their name implies, the imagery on their labels is rooted in fairy tales. As this one states, it is inspired by the Grimm story, "Our Lady's Child". In the story, a starving child, whose parents can't take care of her, is raised by the virgin Mary until the day she presents the child with a choice.
"Dear child, I am about to make a long journey. Take care of these keys to the thirteen doors of heaven. You may open twelve of these doors, and behold the glorious things inside, but the thirteenth door, to which this little key belongs, is forbidden for you. Be careful not to open it, or you will be unhappy."
I'm pretty sure she doesn't open the door, but… shit… spoilers!
Curtis Ellzey is Grimm Bros' artist for this label:
"The good folks at Grimm Brothers Brewhouse wanted to go in a fresh direction with some of their upcoming limited release beers. The Brothers Grimm produced such a huge collection of folktales, so there are lots of opportunities to weave those stories into these beers. So many are dark in tone. The original tales are full of cruelty and violence – much less sanitized than the versions most people today grew up on, and "Our Lady's Child" fits that mold nicely. It's a cautionary tale. Thankfully, those who partake in 13th Door need not be concerned with such warnings – only good things lie within!
"Grimm Brothers already has the next beer in mind for this Limited Release series, and therefore this label was designed as a sort of template – we can change the colors and tone of each subsequent label as well as the imagery within the central shield (and the text of course), but they'll still look like a cohesive set. Grimm Brothers already has some fantastic label artwork featured on the rest of their lineup, so I was trying to tie in some elements from those and make it look like a "Grimm beer" while also taking it in a new direction.
"Here's a little "easter egg": the silhouette of the mountain peak on the right side of the label is Longs Peak. This fourteener, with its distinctive notch, can be seen prominently from just about anywhere in Loveland, Colorado, where Grimm Brothers Brewery is located. 13th Door has gotten a lot of positive buzz in the craft beer community, and a Bourbon Barrel Aged version has just been bottled, so keep an eye out for that!
"13th Door has gotten a lot of positive buzz in the craft beer community, and a Bourbon Barrel Aged version has just been bottled, so keep an eye out for that!"
Flying Dog Thirty Year War Imperial Oatmeal Porter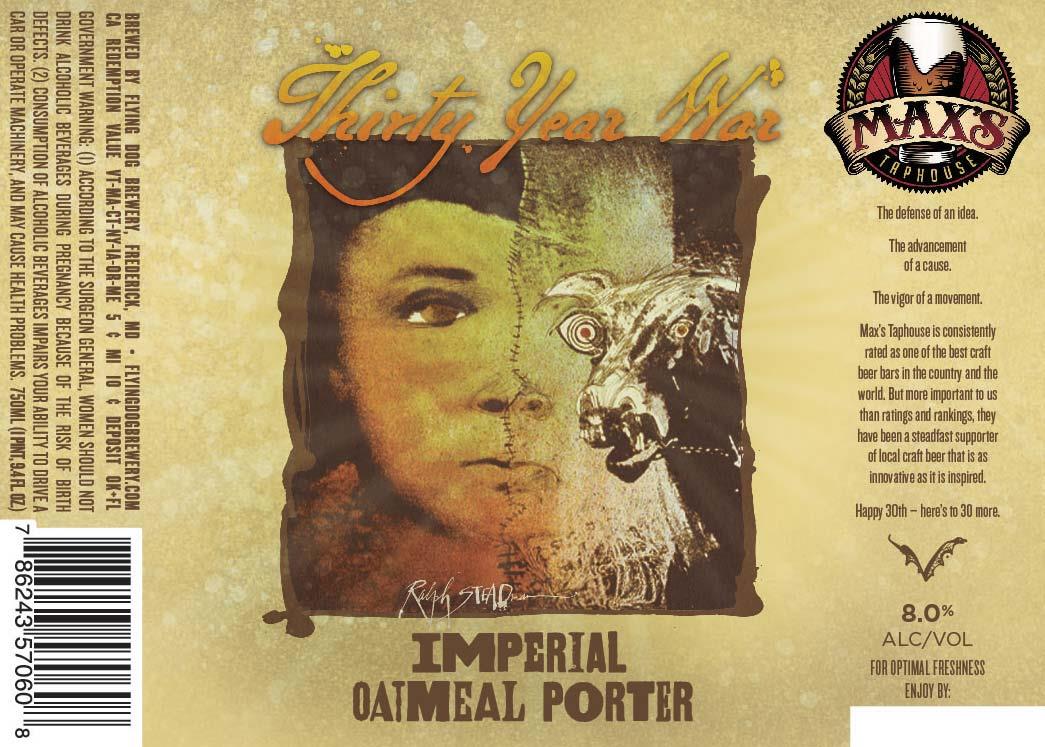 I've never seen a Ralph Steadman label that wasn't created specifically for Flying Dog Brewery, so this came as a real surprise! I've also been pretty vocal about the fact that, while I respect him as an artist, I'm not generally a fan of the Flying Dog labels. That said, I LOVE Thirty Years War.
Perhaps it's the departure from what we usually see from Mr. Steadman that makes me such a fan of this. It's not overwrought with brush spatter. It's MUCH more representational than his usual work. There's also a lot more attention to using composition to convey the soul of the piece.
But just when I thought maybe this was about the pain of War, the Duality of Man (Sir), and the eternal inner struggle, the contemplation of which an imperial oatmeal porter might force one to contemplate, I read the label and found out that it's just about Max's Taphouse's 30th anniversary.
Woof.
7brau Korean Pilsner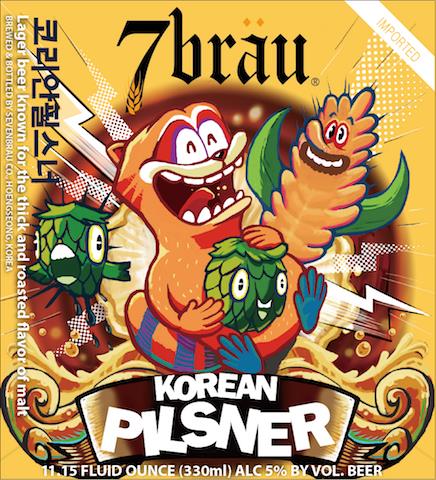 This raccoon has a Stimpy quality to him. I feel like I could just as easily have found this image as graffiti on a wall.
Apparently, 7brau likes it so much, they use it on a whole of their labels and only edit the beer name and color palette.
Sudwerk Brewing Co. The Bourbonator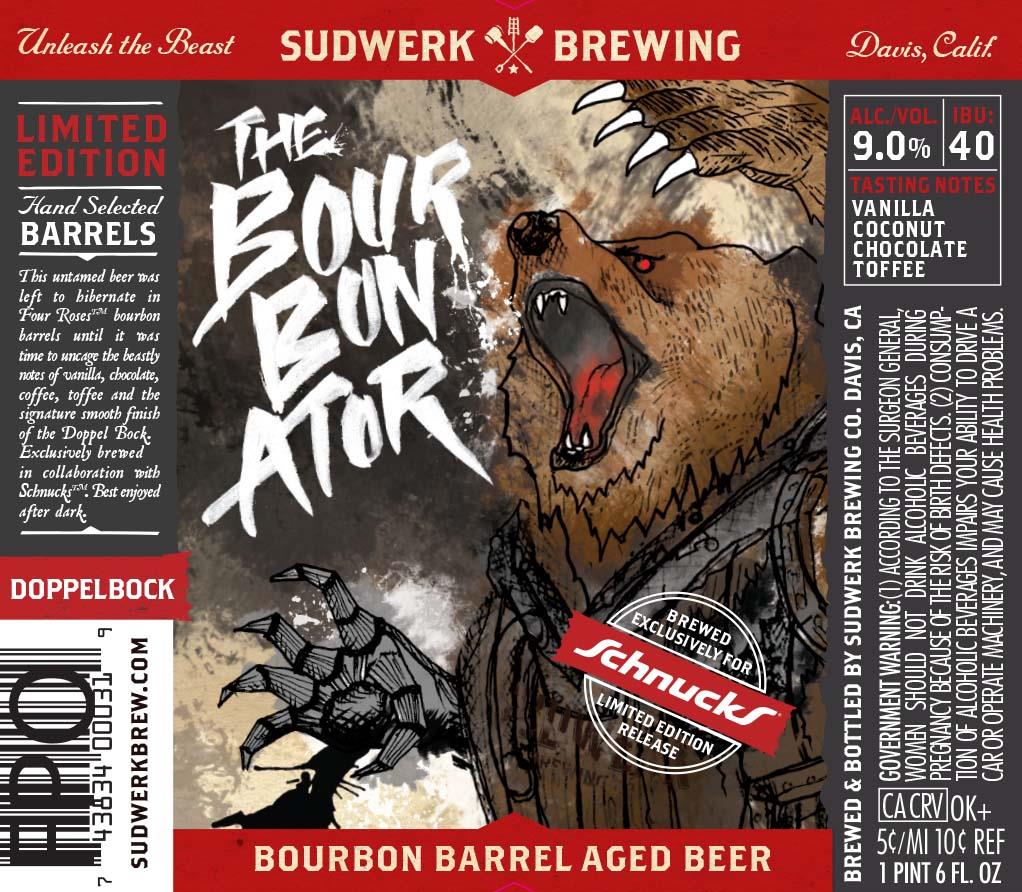 Cyborg Bear prefers his beer barrel-aged.
Crazy Mountain Brewing Company Amber Ale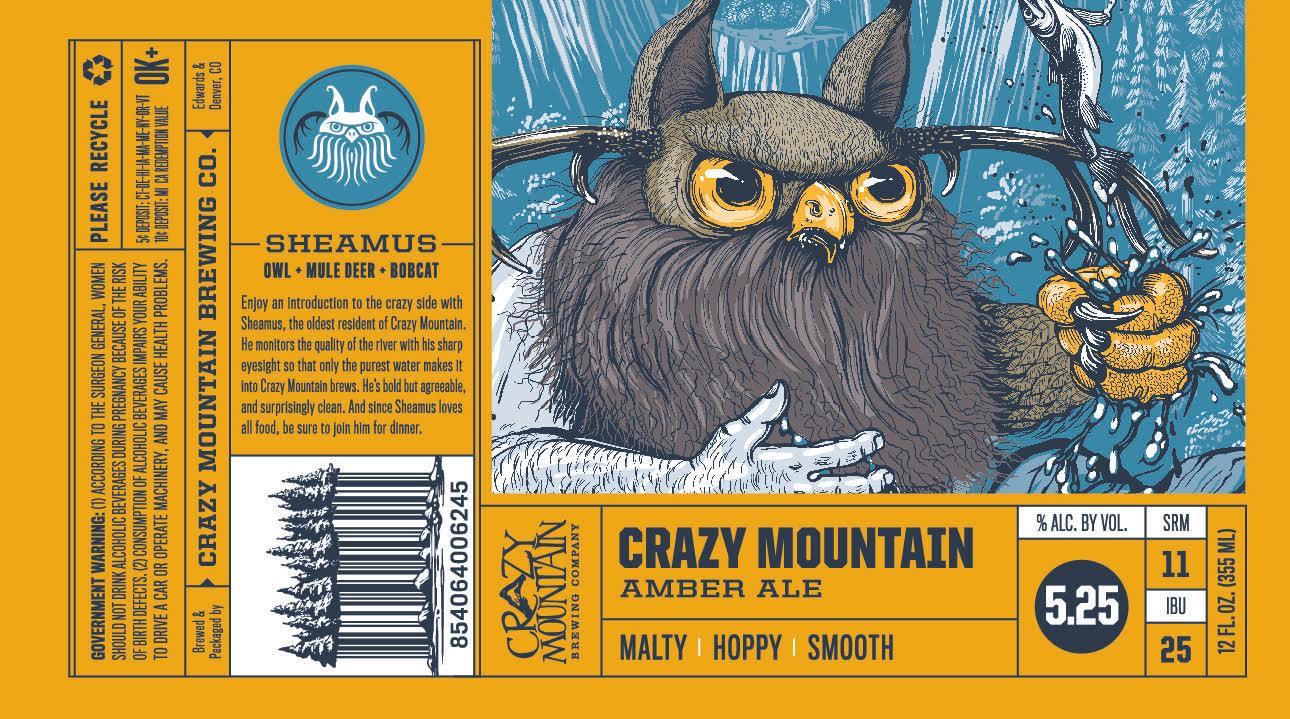 I have long admired the images of insane creatures that adorn the labels of Crazy Mountain. They almost always seem to be hybrids of different animals, like griffins and manticores, either totally made up or ripped from classic mythology.
I took this photo of the Crazy Mountain booth at the Great American beer Festival this past October. I love that they display this artwork so prominently.
Pivovara Medvedgrad Božićno Pivo (Christmas Beer)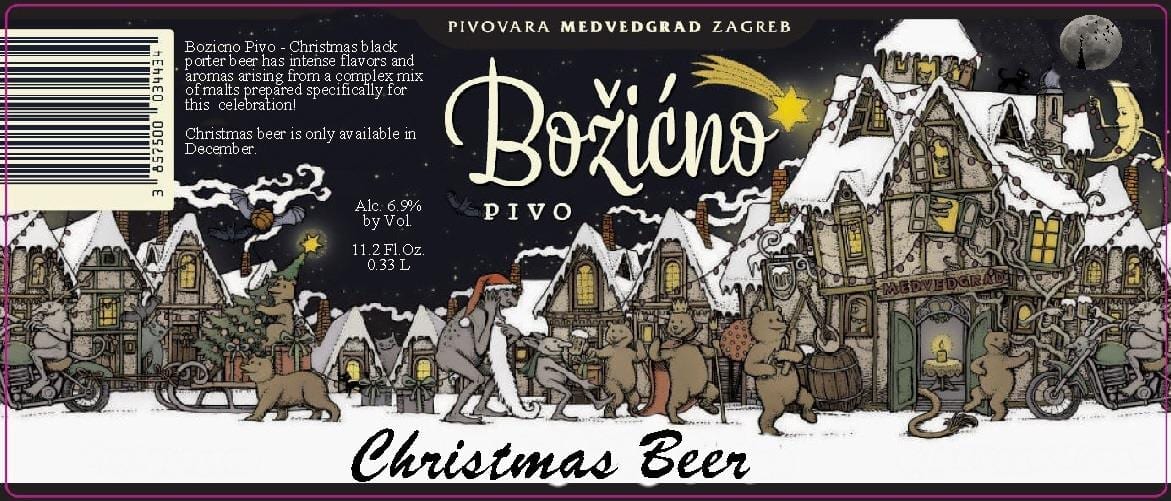 So at this point, I need to announce my retirement from blogging. I'll be leaving it all behind in order to locate this bear-and-troll-populated Croatian village. I intend to spend the rest of my days brushing their hair, tuning their motorcycles and stringed instruments, changing the bulbs in their string lights, and drinking their beer.
In case you missed it, this charming label also tiles horizontally. Should you decide to buy a case and add this ass a wallpaper border to your bedroom, your work will be seamless.
Angry Erik Brewing Hop-N-Awe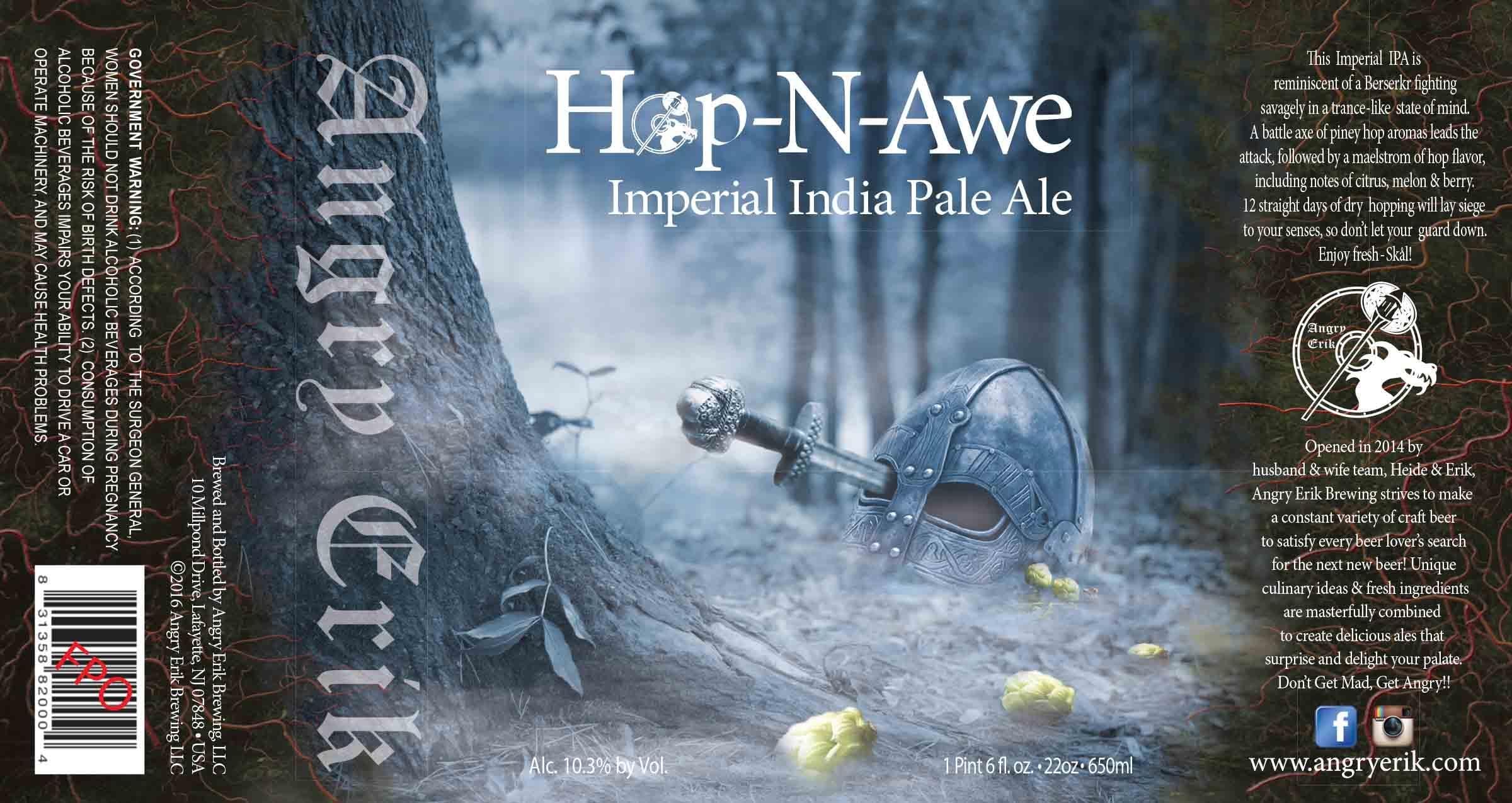 At first, I thought this was an elaborate airbrush or digital painting. On closer inspection, it seems it is photographic and composited in Photoshop.
I'm a sucker for all things "Viking" and I do enjoy a label that attempts to tell a story – even one where the viewer needs to fill in the blanks. So, left to my own devices, I'm going to assume this Norse warrior was struck down by an opponent in the forest. He was a heavy beer drinker and, as such, disintegrated into a pile of hops. Whoever it was that gouged his eyes out was so freaked, they left without retrieving their sword. Annnnnnd…. Scene!
Maybe I'm not so good at this.
Blue Point Brewing Company Honey Robber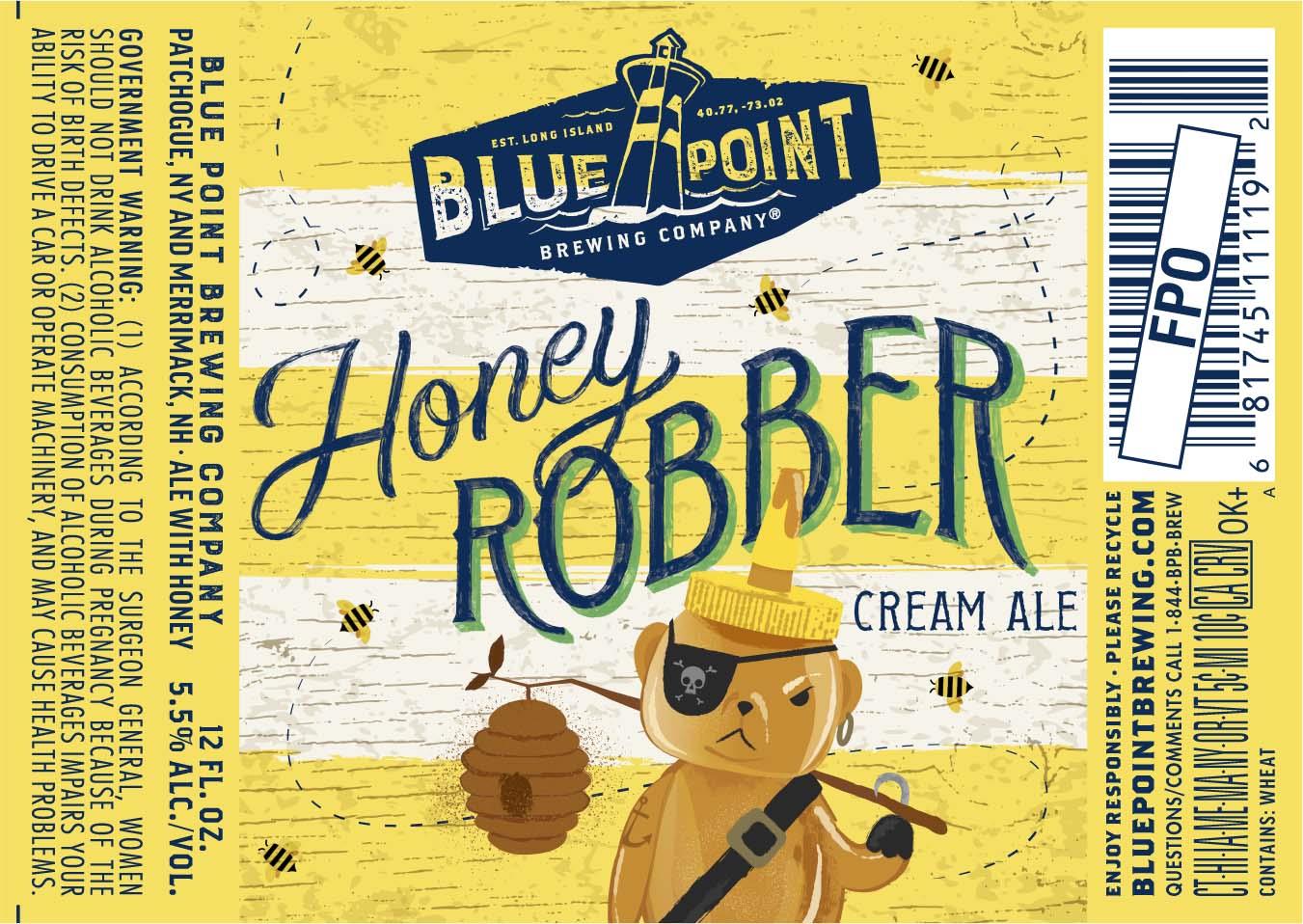 Tasked with the mission of interpreting the name of this beer, Honey Robber, into a fitting illustration, this artist is clearly a genius.
"Well, when I think about honey and who might in the business of stealing it, of course, bears come to mind. In fact, I love those little honey bottles that are in the shape of a bear. But those bears are so cute. If I made one of those into a 'robber', he'd have to be a proper scoundrel. Eyepatch… Earring… Pirate hook for a hand… TATTOO! He'd have to be really surly looking too."
Mission ACCOMPLISHED!
Hydra Beer Company Lilith Citra Dry-Hopped Ale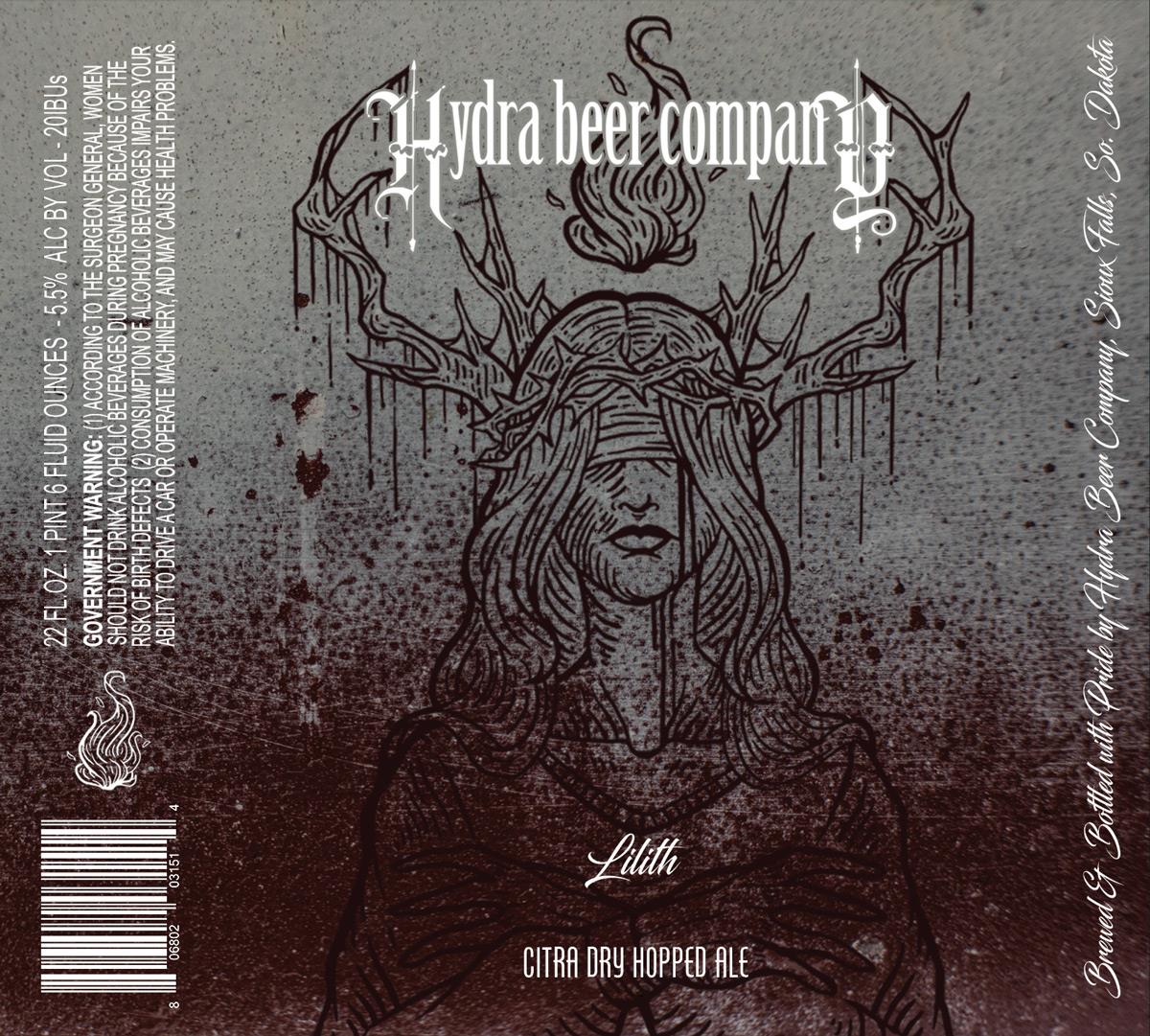 As I write this, there are women's marches occurring in all of the major cities of the U.S. to raise awareness on the first day of the Trump presidency. So the tug of war over Lilith in popular culture and the struggle we're anticipating over the next four years make writing about female demon adopted by a music fair a bit precarious.
I love the woodcut style and splashy, drippy treatment of this image. She wears a crown of thorns as well as the antler of a deer, combining pagan and Christian imagery, perhaps to transcend belief systems and ground her in a more lasting, primordial origin.
Hydra will only tell me that this illustration was created by and artist known as "Dark Providence" who can be found on Instagram.
Brickway Brewery Chocolate Stout Bella Diva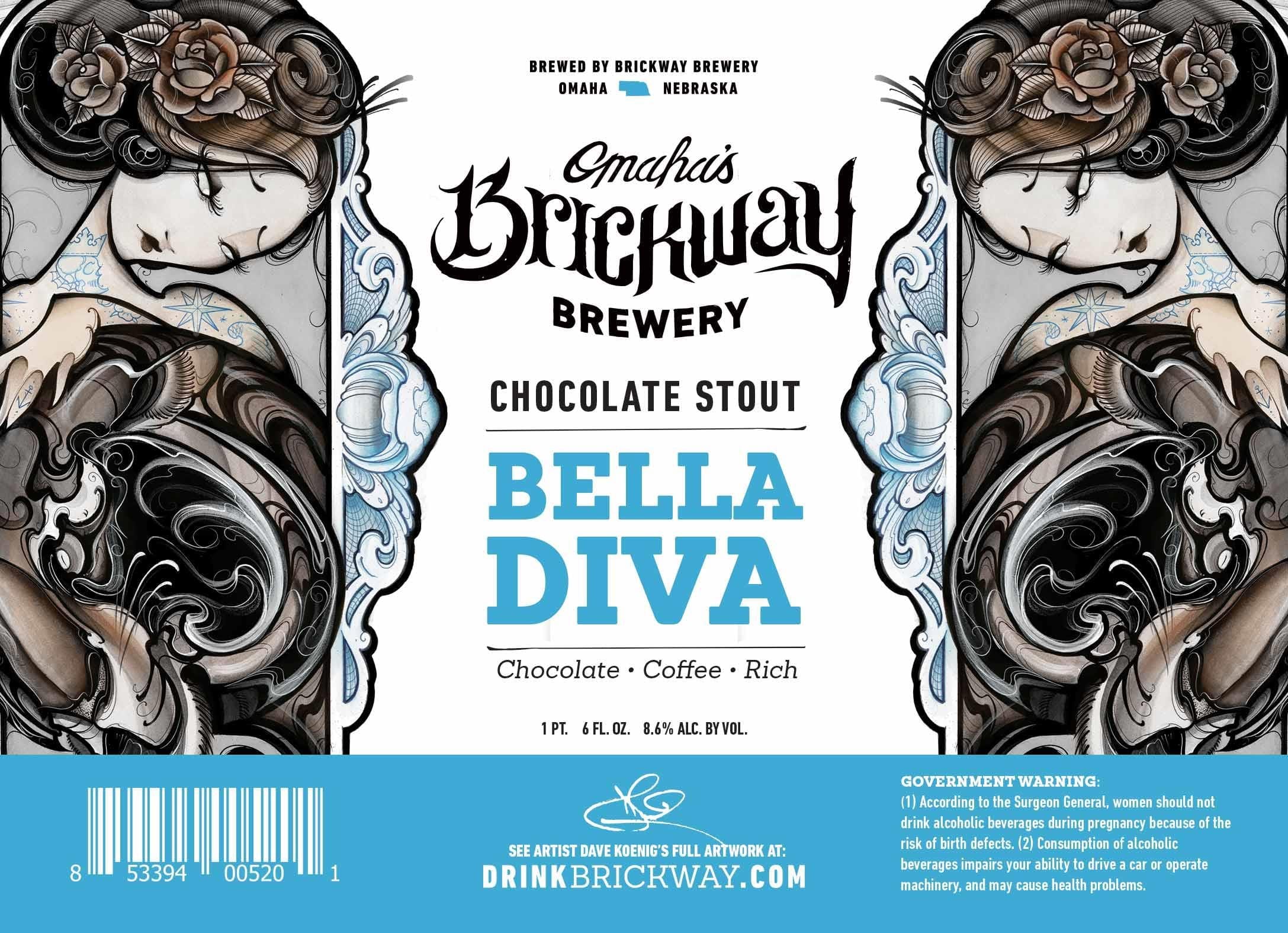 This label features a ton of influences, most prominently, Art Nouveau and tattoo flash art. I love how the curves of the dress become like marbled paper.
Collective Arts Brewing Saint Of Circumstance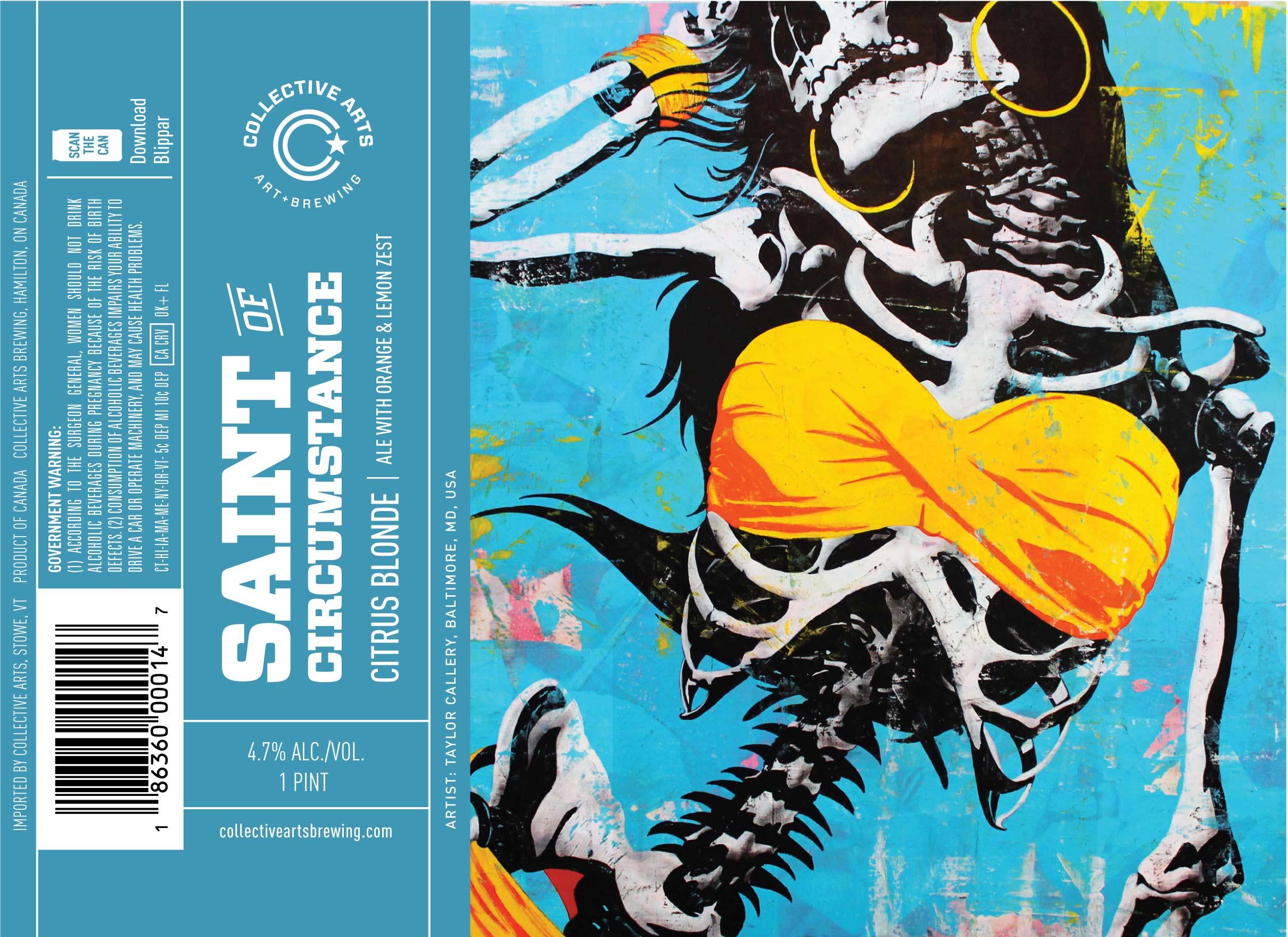 While you might argue that there's a serious anatomical problem with a skeleton filling out a bikini top as well as this, I doubt you would say this isn't a really cool image for a beer label.
I'm guessing this mostly a manipulated photo made to look like silk screen.